The Zanily Aging Rock Stars of the Aughts
Jack White and Julian Casablancas once championed stripped-down sounds, but their new albums are shaggy and strange.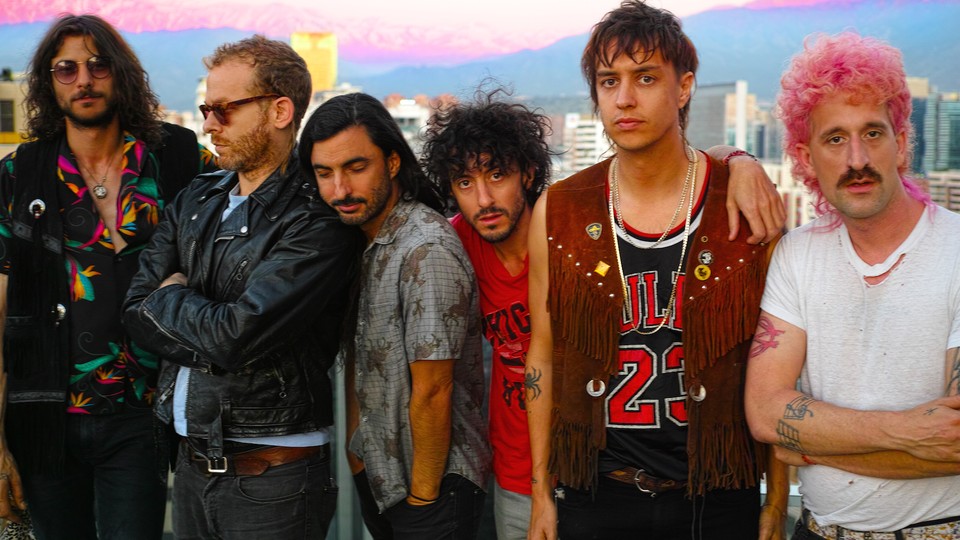 Diane Keaton once said that with age comes a sense of freedom. Judi Dench once said that with age comes silliness, adding, "I don't know what wisdom means." And Jack White now sings, "The rock 'n' roller, the young and older / Rolling back to the stroller," which might mean he agrees with those ladies.
The vision of maturation as a journey to DGAF kookiness may help decode vexing new albums by two former young guns of rock. White, famously of the White Stripes and less famously a solo artist, and Julian Casablancas, famously of the Strokes and less famously of the Voidz, both broke out in the early 2000s with "back to basics" songs, sparse and immediate. The orderliness of "Seven Nation Army" might have predicted the Marie Kondo movement. "Last Nite" bore the kind of effortless verve that means great effort was put into creating it. But these two guys' new albums are shaggy and strange, evoking disorderly attics or overgrown flower gardens. It's not a matter of searching through the mess to find the treasure—it's a matter of appreciating the mess as a treasure in itself.
Among the kitchen-sink blues freakouts on White's third solo album, Boarding House Reach, the one to really give the flavor of the thing is the single "Corporation." It's a nearly six-minute, largely instrumental workout, with session players taking their turns laying down cartoon-boogie solos over a classic bongos-and-drums breakbeat. From the middle of the din, White makes like a street preacher or guerrilla drill sergeant, riffing on the refrain, "I'm thinking about starting a corporation. Who's with me!?" It's not unpleasing to the ear, this party, just a little inscrutable. Answer the man: You're with him, or you're not.
If you're with him, you'll throw up devil horns at every zany decision: the sci-fi opera chorus punctuating the Rage Against the Machine-esque tumble of "Over and Over and Over"; the Schoolhouse Rock! speech on artistic borrowing in "Ice Station Zebra"; the escalating guitar squiggles announcing an ode to female dominance on "Respect Commander"; the multiplicity of songs that amount to little more than ironic spoken-word doggerel. Does any of it mean anything? Well, it's almost too obvious how White's disregard for sonic decorum dovetails with his lyrics and interviews bemoaning the modern condition—fashion-chasing, gossip-lusting, cell-phone addicted. But there's not much to meditate on, much less sing along with. It's music with which to thrash and grin, and then forget.
Julian Casablancas's second Voidz album, Virtue, doesn't really sound like Boarding House Reach, but there's a similar mentality: The virtue of the title might just be described as "lolwut." The single "QYURRYUS" is the mascot piece, boasting a clompy, machine-like groove over which Casablancas alternately grunts and whines short little slogans. The bridge has an oddly pretty call-and-response involving what seems to be Auto-Tune. And somehow, the thing is catchy. Underneath his vocal filters, amid his bandmates' cutesy sound effects, he still can sneak in a useful tune.
If the name "QYURRYUS" didn't get across the underlying deconstructionist mission the Voidz are embarked upon, the title of a different song —"All Wordz Are Made Up"—spells it out. Musically, that latter song is typically atypical: A stewing cauldron of funk cowbell—the "Got to Give It Up" vibes might be a lawsuit trolling effort—gives way to a pining chorus that resembles some '90s R&B cut I can't quite identify but definitely deeply love. Two tracks later, on "Wink," a Xeroxed industrial beat joins surf-rock guitar strums that, hypnotically, seem to move in and out of focus as the song goes on. Casablancas warbles a confession close in the ear: "I was playing it too safe / Playing it too safe is dangerous."
Lines like that one are scattered throughout the album, nearly begging fans to contextualize them with Casablancas's public ambivalence towards the Strokes' accessibility and the larger state of pop music ("Just because something's popular / Don't mean it's good" goes another lyric). There's more overtly political material, too: "What, are you blind? We're in Germany now, 1939." Which shouldn't be surprising to anyone who read his much-derided Vulture interview in which he spoke of being awakened politically by Oliver Stone and Howard Zinn—and made a number of baffling errors about the history of rock and roll while ridiculing the state of the genre.
That interview drew obvious comparisons to the archetype of the smug teenage boy like the one played by Timothée Chalamet in Lady Bird (he spouts Zinn, too). And there's indeed a petulance, and an inside-jokiness, to the Voidz's experimental world, as well as to White's. But listen to both albums, and you may start to think less about youthful naiveté than about one of the perks of a long career: inoculation from what other people think of you, which can enable giddy breakthroughs as well as, yes, embarrassment by some other name.