I Feel Pretty Is a Message Movie That Can't Stay on Message
The new Amy Schumer vehicle tries to be a feminist fable—and fails badly.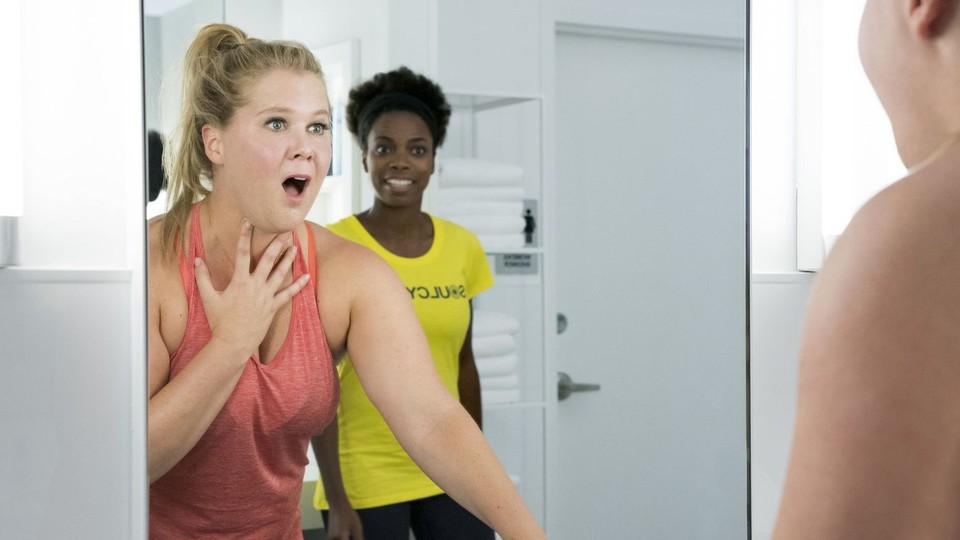 Where's Judd Apatow when you need him?
The comedy I Feel Pretty seems like an Apatowian undertaking in almost every regard: modestly high-concept, gently moralistic, and starring Amy Schumer, who had her big-screen breakthrough in Apatow's 2015 movie Trainwreck. All that's missing is any actual participation by Apatow himself—which is a pity, because the intelligence and nuance (not to mention humor) customary in his work are precisely what this film could have used.
The directorial debut of Abby Kohn and Marc Silverstein, I Feel Pretty is a would-be feminist fable about beauty and self-esteem—specifically, how the former is valued far too much and the latter far too little. Alas, the movie is a hopeless muddle of conflicting messages that frequently upholds the very stereotypes it is intended to rebut. In short, it's very much the type of "feminist" comedy one might expect from Kohn and Silverstein, the screenwriting duo responsible for the infuriatingly ill-spirited He's Just Not That Into You, among other sexual-politics misfires (Valentine's Day, How to Be Single).
Much of the criticism directed at the film has centered, correctly, on the fact that narrative "ugly duckling" Schumer is not, in fact, unattractive by any standard except the borderline-impossible ideals of Hollywood. But that is only the beginning of the movie's problems with its putative theme.
The plot in essence (and it never moves meaningfully beyond that): Renee Bennett (Schumer) works in a basement office, tending to the web site of the cosmetic company Lily LeClaire. Insecure about her looks, she joins a SoulCycle class in which she suffers multiple humiliations—she splits the crotch of her leggings and breaks her bike! Get it?—before eventually falling off the cycle altogether and hitting her head. Miraculously, now when she looks at herself in a mirror, she sees not her old self, but rather a version of her that is the most beautiful woman in the world. (More miraculously still, she never asks herself how this transformation might have taken place.)
Though Renee still looks the same to everyone else, she is brimming with the confidence of the newly gorgeous. Giddy, she quits her old job and sets her sights high, high, high: Rather than maintain a website for Lily LeClaire, she applies for, and wins, a job as the company's—wait for it—receptionist. That's correct: She doesn't accept a high-powered business internship or rise to be a corporate CEO. She welcomes people to the office of the beauty company and then offers them bottled water. Why is this considered such a triumph? Because normally this entry-level job goes to pretty women, and until now Renee didn't consider herself attractive enough for so lofty a role.
In no time, of course, she has used her Everygirl common sense to wow the company's CEO, Avery LeClaire (a very oddly cast Michelle Williams, saddled with a chirpy squeak of a voice); her hunky brother Grant LeClaire (Tom Hopper); and the company's founder and matriarch, Lily LeClaire (Lauren Hutton). The company is launching a "diffusion" (i.e., down-market) product line for "ordinary" women and Renee is the perfect helper/explainer, because she knows how "they" think. (That said, she is never promoted into marketing or sales, or shows any interest in such advancement. "Pretty receptionist" remains the pinnacle of her career ambition.)
Along the way, Renee wins the love of a sweet guy, Ethan (Rory Scovel), who has an affinity for Zumba. She meets a size-zero beauty (Emily Ratajkowski), who teaches her the valuable, grade-school-level lesson that even stunning women have issues with self-esteem. And her elevated sense of self leads to friction with her two best friends, Jane (Busy Philipps) and Vivian (Aidy Bryant), who have not ascended to Renee's heights of glamour and whom she encourages to "just be better."
But what will happen when Renee bumps her head again, and comes to realize that she looks exactly the same as she always has? I suspect anyone who's been to the movies can guess, although they might not surmise that the film finds yet another off-note to hit in conclusion, when the Big Speech about loving oneself for oneself, regardless of looks, is also a pitch for women to purchase Lily LeClaire's new line of beauty products. (I kid you not.)
Look: I Feel Pretty is not a mean-spirited movie. (This is no Shallow Hal.) And it does have moments of actual charm and wit, most of them courtesy of Schumer and Scovel. I believe it was genuinely meant to be an uplifting movie about women and self-confidence. But every time it manages to get on-message, it—like Renee on her bike—immediately falls off again.
Perhaps the movie's most painful moment takes place when Renee decides to join a bikini contest full of skinny models and gets on stage for a sexualized bump and grind. Is this scene meant to show a liberated woman who doesn't care that she's not 20 pounds underweight? Or are we meant to find it funny that Renee (who, remember, at this moment thinks she looks just like the other swimsuit models) is unwittingly making a spectacle of herself? I suspect the filmmakers would claim they intended the former. And perhaps if she had won the contest through sheer infectious exuberance and personality, they would have had a case to make. But no: She loses to a woman who looks like she walked straight off the cover of Maxim. This movie, premised on the idea that self-esteem trumps physical beauty, doesn't even believe in the product it's selling.