Howards End Is a Lavish Portrait of Cultural Division
The new Starz miniseries is a masterly adaptation of E.M. Forster's novel that affirms its relevance.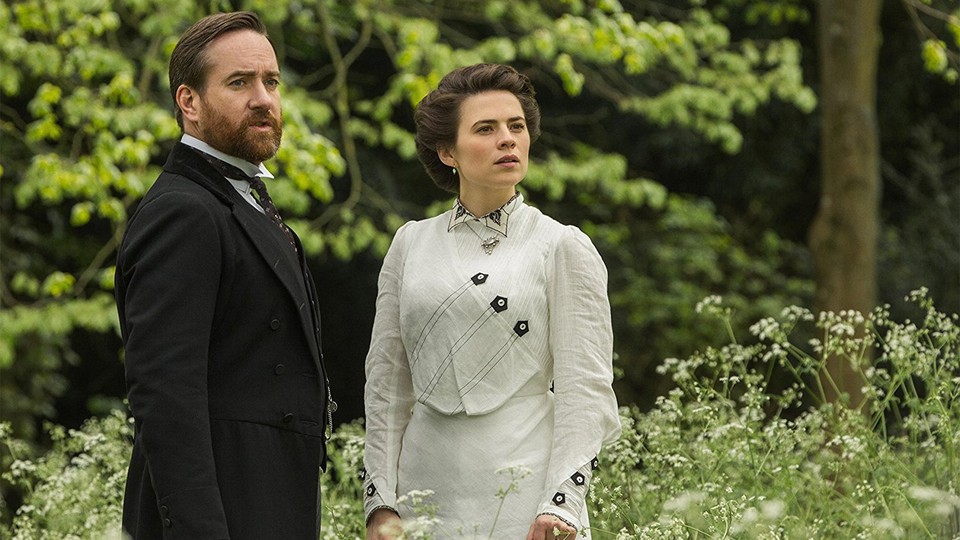 The 1992 film adaptation of E.M. Forster's novel Howards End is still so sumptuous, so thrilling in its excavation of buried Edwardian desire, that you might question whether a new version is necessary. Yet Kenneth Lonergan's four-part miniseries, which arrives Sunday on Starz, is its own masterpiece, visually lavish and narratively restrained. Lonergan and the director Hettie Macdonald find something profound in the story's clash of cultures between the liberal, bourgeois Schlegels and the emotionally repressed, establishment Wilcoxes that feels vital in this particular moment. If people disagree on such fundamental levels, it asks, can they still love each other? Should they?
There's something almost comforting in the familiarity of the characters at play—their intellectual sparring matches and their philosophical objections to one another. The show opens with a man delivering mail, a clue that communication is imperative to the plot. Helen Schlegel (Philippa Coulthard) writes a letter to her older sister, Margaret (Hayley Atwell), from the home of the Wilcoxes, who are acquaintances from a German vacation. Helen's infatuated with their house, Howards End, with its apple trees and dog-roses, and with the family, who are enthrallingly alien to her. Mr. Wilcox (Matthew Macfadyen), she writes, "says the most horrid things about women's suffrage so nicely." She's thrilled by how efficiently he dismantles her ideas about equality, but reports to Margaret that he's not actually the dominant force in the household—his wife is.
This observation is underlined when Helen's fleeting relationship with one of the Wilcox sons goes awry, thanks to a delayed telegram and a calamitous visit from Helen's Aunt Juley (Tracey Ullman). Ruth Wilcox, played by Julia Ormond, effortlessly restores harmony to Howards End. And months later she forms a friendship with Margaret Schlegel that occupies not much time in the series but leaves an indelible impression. The stakes seem curiously high for a relationship between two women; Macdonald conveys it more like a love affair, with early misunderstandings, and then an instinctual connection that draws the pair together.
If Margaret and Ruth are kindred spirits, the rest of the plot hinges on different worlds colliding. A chance encounter at a concert and a mistaken umbrella introduces the Schlegel sisters to Leonard Bast (Joseph Quinn), an insurance clerk with humble living circumstances but cultural aspirations. After Ruth's death, Margaret forms a relationship with Henry Wilcox that surprises everyone, even her. The age difference between Atwell and Macfadyen is much slighter than the difference between Margaret and Henry in the novel, and so the dynamic between them feels more equal. The scenes of their early romance are both awkward and touching, as Henry's emotional reticence clashes with Margaret's frank affection and independence. But she seems genuinely fascinated with him, and how different he is. "I don't intend to correct him, or to reform him," she tells Helen, in one of the book's most famous lines. "Only connect."
A miniseries that can boast Ullman and Ormond in minor roles has a lot to work with, and Howards End is rich in every aspect and detail, from the frequent street scenes in Edwardian London to the bohemian-chic interiors of the Schlegel home at Wickham Place. Atwell, though, is the core of the adaptation's success. Her Margaret is curious and loyal, generous to a fault but unflinching when it comes to her personal code. In early episodes, the costume designer dresses her and Helen in red and blue, as if to signal their primary-color alliance, but as Margaret grows closer to Henry her palette becomes more monochrome. In gaining him, the series suggests, she's willingly sacrificing something of herself.
Macdonald emphasizes the aesthetic aspects of the divisions between the Schlegels and the Wilcoxes. The Schlegel home, occupied by Helen, Margaret, and their younger brother Tibby (played in endearingly eccentric fashion by The End of the F***ing World's Alex Lawther), is full of musical instruments, paintings, and books. The Wilcox home has more practical objects: croquet mallets, calisthenic machines, maps. The two families frequently clash both in their ideologies and in their taste—when Margaret brings flowers to Ruth's funeral, she chooses a red bouquet that glares obscenely amid the other, all-white posies.
Margaret is obviously the most sympathetic figure in both the series and the novel, with her Schlegel idealism tempered by a necessarily pragmatic streak, given that she raised both of her siblings after her parents' death. But Lonergan, who wrote and directed the Oscar-winning 2016 movie Manchester by the Sea, conveys that no one in Howards End is entirely correct. The Schlegels' privilege allows them to pursue culture and philanthropy, while Leonard is forced to learn that art is less crucial to survival than money. In the end, Howards End suggests that life comes down to a different choice: the loneliness of rejecting difference, and the possibilities that come when people try, instead, to connect.