Chef's Table: Pastry Isn't About Pastry
The dessert-focused continuation of the Netflix series is a fascinating study of creative ego.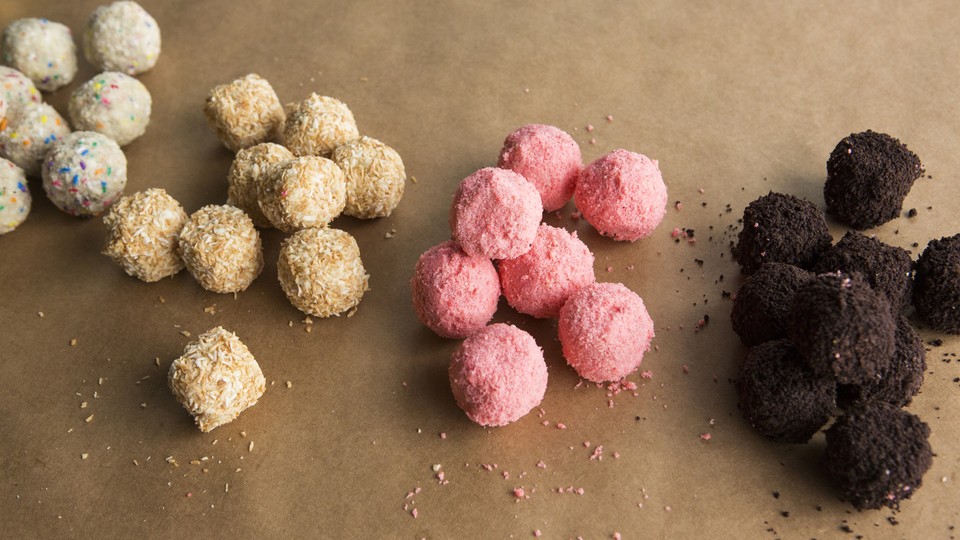 "The curse of the pastry chef," Michael Laiskonis says in the final episode of Chef's Table: Pastry, "is always having to follow someone else." Laiskonis would know: For eight years he was the executive pastry chef at Eric Ripert's three-Michelin-starred New York restaurant, Le Bernardin. Working in the realm of desserts means never getting to be the main event, the raison d'être, the star.
So it's fascinating that the newest clump of episodes from the Netflix documentary series Chef's Table, which focuses on sweets, treats pastry almost as a secondary subject. All the usual elements are there—Vivaldi-scored montages of culinary creation, kitchens gleaming with cold steel, close-ups of modernist concoctions filmed in impossibly high definition. But the four new entries have an underlying theme that in some moments relegates dessert (again) to the back of the kitchen. Chef's Table: Pastry is all about ego.
You might not sense it in the first episode, which features Christina Tosi, the Momofuku Milk Bar creator and human embodiment of everything Julie Andrews lists in "My Favorite Things." It becomes clearer in the second, in which the Sicilian baker and gelato maker Corrado Assenza explains the core of his gastronomic philosophy while milking sheep for ricotta and single-handedly saving Sicily's almond groves. It's further exposed in the third, as the eccentric Spanish pastry chef Jordi Roca details his Shakespearean sibling rivalry in a dramatic, laryngitis-ravaged whisper. And by the fourth, as the American chef Will Goldfarb reveals why he abandoned New York's restaurant scene to move to Bali, the series's real subject is in full focus. "You think you're special, you think you're the center of the universe," is how Goldfarb describes finally getting rave reviews. "After that, the new minimum standard for me was to try to be the best in the world."
When the subjects for Chef's Table: Pastry were announced back in March, there were outcries over the fact that while pastry chefs are predominantly women, the season was (like all Chef's Table seasons) mostly about men. The disparity becomes clearer watching the four episodes, and comparing Tosi's attitude to cooking with the worldviews espoused by Roca, Goldfarb, and Assenza. While they agonize over redefining the art of dessert, changing the world, making it new just like Ezra Pound said, Tosi has created an empire by creating things that make people happy. People don't go to cookies and cakes for sustenance, she says, let alone for a drastic reinvention and deconstruction of the medium. The reason for dessert, rather, is that it makes "the weight of the world … just a little bit lighter on your shoulders."
It's no surprise that Tosi's film is the most joyful of the four new episodes. It captures all the zany, gratifying, mad-genius, unmistakably American appeal of the chef and her signature products, which have become pop-cultural phenomenons of their own. It's easy to look at Milk Bar staples like crack pie, compost cookies, and birthday cakes and see nostalgic simplicity. But as the documentary details, Tosi's technical credentials are impeccable, starting with the pastry-arts program at the French Culinary Institute, then the "immersive-dining" restaurant Bouley, then a stint at Wylie Dufresne's wd~50. While her creations are no less innovative than Goldfarb's Balinese meringue or Roca's cigar-infused ice cream, they're designed to look and feel comfortingly familiar. Her cereal-milk soft serve is a sensory, emotional production that disguises rather than blasts how brilliant it is.
Watching the rest of the episodes, a thesis emerges. Corrado Assenza, the proprietor of a bakery and gelato shop that's been in his family for four generations, tried to revolutionize Sicilian staples, to "push the boundaries of sweetness in dessert." His customers—given dishes like almond granita with raw oysters—rebelled. Assenza had an emotional crisis and ended up finding fulfillment by reinventing his sense of what it meant to be a chef, instead. Creation, for him, became less about acclaim and more about giving back, whether to his customers (in the form of transcendent flavors) or to his homeland. "Now," he says, "every time a child tastes my apricot jam, I feel joy."
Roca and Goldfarb have similar evolutions. Roca, who was bullied by his much-older brothers as a child for the size of his nose, reluctantly took a job in their restaurant in Girona, Spain, but goofed off relentlessly. "I felt small," he says. "Inferior. There was no place for me. That was clear." Then he started working with the pastry chef, who refused to treat him like a privileged relative of the bosses, and aroused his interest in the process of creation. Finally, he says, "I understood the game of the kitchen. I understood the passion of my brothers." Goldfarb was an enfant terrible in New York whose early, Stefon-like culinary experiences featured "syringes, a lot of sensory deprivation, blindfolding, darkness. I think we had some handcuffs in there." Bad reviews devastated him, but when he finally started receiving raves it wasn't much better. Suddenly he was a celebrity chef, flying around the world, filming TV spots, and addressing rapt audiences. "I was onstage every night," he says. "It was intoxicating. I became absorbed in my own importance."
After relations with his colleagues and investors deteriorated, Goldfarb's restaurant closed and he moved to Bali. He now runs a restaurant in the small village of Ubud called Room 4 Dessert, which he describes as "a chance to restart and rebuild from the ground up." These days he thinks "it's much more charming to take care of actual people" than to make something abstract in service to his own ego. It's a surprisingly zen way for Chef's Table: Pastry to end. But it's not unfamiliar. The third season of Chef's Table, which was released last year, opened with an episode featuring Jeong Kwan, an Buddhist nun who cooks not for fame or money, but simply for the sake of good food. "With food," she explains, "we can share and communicate our emotions. It's that mindset of sharing that is really what you're eating."
It's an odd thing for a documentary series about the world's most accomplished chefs—and all the baggage that accompanies reaching that plane—to espouse. But David Gelb, the creator of Chef's Table, has always seen cooking as a multi-faceted activity, an art form that nourishes on more than one level. With Chef's Table: Pastry he uses dessert, an under-appreciated discipline within fine dining, to challenge the principles and power structures of the culinary world. It's a call for revolution, made more palatable by the fact that there are cookies.