The Revelation of Cardi B
The rapper's debut album, Invasion of Privacy, insists that individuality can thrive amid trends and social media.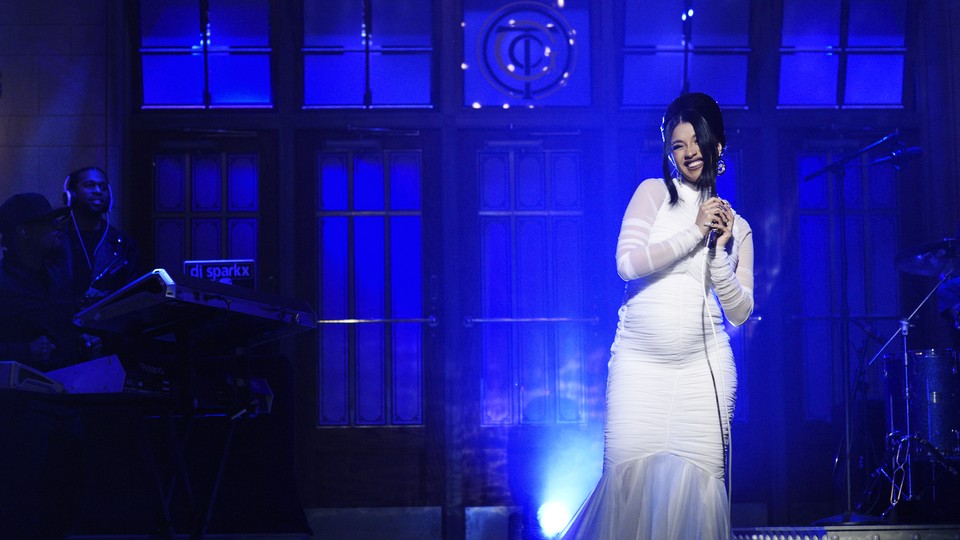 It's one of the best things mass entertainment has produced this year: Cardi B's rendition of "Be Careful" on Saturday Night Live. As her band turned a loungey and minimal beat into a hushed, tense Latin jazz jam, the 25-year-old rap arriviste born Belcalis Almanzar addressed a cheating partner: "You still stutter after certain questions / You keep in contact with certain exes." Shot from the waist up, using her jewel-studded nails to alternately clutch the mic and point blame, she seemed to wince with each syllable, yet kept each one legible, forthright. As her movements and inflections became more animated, the camera pulled out. She wore wedding-dress white. She appeared to be pregnant.
The pregnancy revelation itself did what celebrity pregnancies always do—outshine all other tabloid topics, at least for a few days—but the arresting performance itself, and what it represents, shouldn't be discounted. Cardi B joins Beyoncé and M.I.A. in smashing, among other things, preconceptions about motherhood as a career derailer. She's done so while rapping about male betrayal, coinciding with gossip that her fiancé, the rapper Offset of Migos, had cheated on her. It's another chapter in the post-modern celebrity cookbook, with the mixing of the musical and meta making for a savory, complex meal.
Cardi B dishes in similar fashion across her perfectly pitched debut, Invasion of Privacy, which arrived on Friday and should be infiltrating party playlists for the rest of the year. Her story is all-American, 2018: Of Dominican and Trinidadian parentage, she went from Bronx exotic dancer to Instagram phenom to reality-show curio to Taylor Swift–dethroning hitmaker at an accelerating rate in the space of just a few years. Throughout that rise, her savvy has been indistinguishable from her talent and charm. She molds herself to her surroundings as need be, raps openly about doing so, and still radiates individuality—crass and brash, woundable but not beatable. There is no one else like Cardi B, and she practically commands that people relate to her.
She's talked a lot about sweating the details on her long-awaited first album, and the effort pays off as Invasion of Privacy confidently ticks through the popular subgenres of rap. The cinematic opener sketches her story with riffs on the rags-to-riches formulation: "I was covered in dollars, now I'm drippin' in jewels," goes one typical flip. Then there are the dance songs. "Drip" distills the with-our-powers-combined shtick of collaborators Migos to its mechanistic essence. "I Like It" is blockbuster-scale Latin trap, outfitting a 1967 boogaloo classic with thunderous bass and of-the-moment Spanish-language stars J Balvin and Bad Bunny. "She Bad" offers the strip-club anthem only she could make, with the rapper YG hissing the song title as Cardi B brags of writing verses while twerking.
Whatever the backdrop, she thrives. After all, her breakout hit "Bodak Yellow" conveyed how Cardi B didn't need all that much more than a steady beat to command attention with her voice. It's a precision-trained shout, pushing words in distinctive directions without losing their shape. On "Money Bag," one of a few fearsome Privacy tracks that feel like "Bodak Yellow" sequels, the electro pings behind her are distorted and jagged, and her delivery is similarly spiky, spitting. Meanwhile, the words mold rap tropes to her own persona, with delightful results. "With them pretty-ass twins, you look like Beyoncé," her man marvels, to which she adds, "And my bitches with me pretty, too, they look like bridesmaids."
The rebellion of lyrics like that is obvious enough: She's embracing femininity with a snarl. But the musical surroundings are so energizing, and she so at ease, that there's nothing try-hard about such subversions. The same could be said of the matter-of-fact way she raps about the anxiety that comes with trying to commodify one's self-image, as social media encourages everyone to do and stripping encouraged her specifically to do. She portrays her boob job in the same way as her Lamborghini truck—trophies of going "from WIC to lit"—which, somehow, only bolsters her claims of realness. "'Fore I fixed my teeth, man, those comments used to kill me," she says, referencing her now-famous dental makeover. "But never did I change, never been ashamed." It's an appealing message for the Instagram era. Why not revel in, rather than hide, doing what it takes for the likes? Likes, she insists, aren't just for vanity. They're money.
She raps about sex and love with refreshing candor, too. Though a real highlight, "Be Careful" is just one in a diverse set of spurned-lover confessions that reconcile toughness and sensitivity. That she sometimes mentions Offset in song, and has given interviews talking about the trust issues between them, only makes the drama crackle more. Kehlani or Ali Tamposi will sing an aching hook and Cardi B will mourn that her lover doesn't reply to her texts sooner—but she'll also threaten to poison his cereal, upload his mistress's nudes, and rat on him to his mom. This is Cardi B rollickingly sharing her feelings and preempting the gossip machine. It's also, perhaps, a prophecy about her relationship with the public that she's so ably courted. Ignore her at your own risk.