What's at Stake in Cannes's Battle With Netflix
The famed festival is trying to strictly define cinema as a theatrical experience, but it may be fighting a losing war.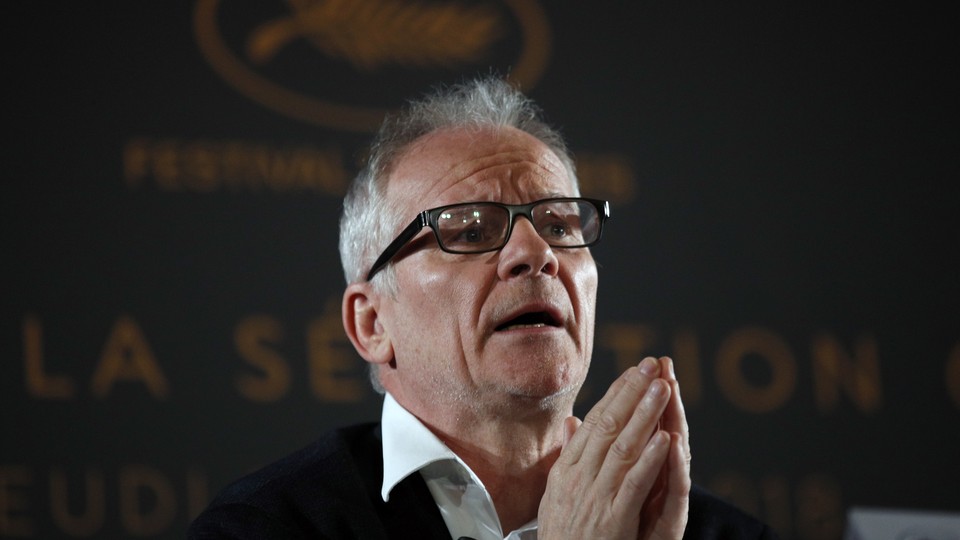 The ongoing publicity battle between one of cinema's hoariest institutions (the Cannes Film Festival) and its loudest new "disruptor" (Netflix) is a standoff where it's tough to really sympathize with either side. Last year, after some internal uproar over the presence of Netflix's Okja and The Meyerowitz Stories (New and Selected) at Cannes, the festival announced it would require all competition titles to receive theatrical distribution in France going forward. This year, the Cannes director, Thierry Fremaux, stuck to that edict. In response, Netflix pulled all its movies from the 2018 festival—even the out-of-competition premieres unaffected by the rule change.
Demanding a theatrical run for a Cannes entrant may not sound like an especially strict requirement. Netflix releases many of its original films, like the aforementioned Okja and Meyerowitz Stories, in U.S. theaters so they can qualify for Oscars consideration. But France has much tougher release criteria—films aren't allowed to appear on streaming platforms for three years after screening in cinemas. That runs so counter to Netflix's model (which puts movies in theaters and online for subscribers on the same day) that it's tough to imagine a compromise that doesn't involve France changing its law.
As extreme as the country's distribution regulations might seem, however, the central conflict isn't that much different than the stateside debate over Netflix. By putting its movies online immediately, the streaming service represents an existential threat to the French theater industry's business; the Cannes rule change is just the latter's mode of resistance (as the festival director, Fremaux is under tremendous pressure from French exhibitors). In announcing his decision to pull the company from Cannes, which is widely viewed as the world's most prestigious film festival, Netflix's chief content officer, Ted Sarandos, framed it to Variety as a battle between cinema's past and future.
"The rule was implicitly about Netflix, and Thierry made it explicitly about Netflix when he announced the rule," Sarandos said. "The festival has chosen to celebrate distribution rather than the art of cinema … We are choosing to be about the future of cinema. If Cannes is choosing to be stuck in the history of cinema, that's fine." Sarandos called the rule "punitive" and one that "[defines] art by the business model." Of course, that's something Netflix has been guilty of as well: Though it sometimes offers limited theatrical runs, the company mostly uses its original films as a key selling point of its home streaming service.
As I (and many others) have pointed out, the model Netflix follows is aggressive and unusual even for a streaming company. Amazon, the other big streaming platform producing films, runs movies in theaters for months before putting them on its online platform exclusively. Netflix insists on "day-and-date" releases, which means most theater chains in the U.S. won't do business with them (and means they can't release original films in countries with stricter laws, like France). Sarandos has, in the past, accused exhibitors of "[trying] to strangle innovation and distribution" by demanding a theatrical window for releases, warning that they were "not only … going to kill theaters, they might kill movies."
Since it entered the movie business, Netflix has been on a collision course with the film-distribution establishment. This Cannes dispute is the biggest front in what will be an ongoing war; the question may be which side will lose more. Cannes confers automatic prestige on its entrants, and Netflix could find it harder to attract the kind of big-name directors it likes to work with if it can't guarantee access at top festivals. Alfonso Cuarón, Paul Greengrass, and Jeremy Saulnier are among those who are seeing their movies pulled from competition this year. There's also an unreleased Orson Welles film called The Other Side of the Wind, which wasn't affected by the rules change but is being kept away from Cannes anyway, despite the public consternation of Welles's daughter, Beatrice.
But Netflix may well get Cannes to cave. New films from prominent artists like Cuarón will be hard for other festivals to resist, and by closing itself off to the streaming company, Cannes risks other, more flexible rivals (like Venice, Berlin, Toronto, and Telluride) becoming the place to premiere major works. The 2018 official selection announced last Thursday by Cannes is exciting, with new movies from big international directors on the docket. But the lineup did lack some of the glitzier entries that had been expected from filmmakers like Terrence Malick, Brian De Palma, Luca Guadagnino, and Claire Denis (though a few more titles may be added to the list later).
Fremaux, for his part, has called the standoff with Netflix a "sad situation" that he hopes will be resolved. "I believe in miracles," he told Variety after the company pulled its films. "We're having constructive discussions with Netflix and the door is not shut." But the ideological dispute will be hard to resolve. Fremaux, like many others, sees the theatrical experience as the bedrock of cinema, while Netflix is openly dismissive of that idea.
"A lot of directors will come in and they will talk about the movies that they saw, and these are the movies that influenced them and made them want to be a filmmaker, and in almost every case they watched them at home on a VHS tape," Sarandos told Deadline in a 2016 interview. "There's a romantic notion about the film being on a big screen … We have to get rid of the romantic part. I don't really think that they're mutually exclusive. I think over time that these films will get booked into theaters at the same time they're on Netflix." (Upcoming Netflix rivals, like Disney's planned online streaming service, likely won't follow that model.)
Relatively little would be lost if Netflix were to bend its rules and give films a limited run in theaters before putting them online (the company's objection to the French law is more understandable). The company would still be offering consumers a choice between a theatrical and home-viewing experience. People who don't live near a variety of cinemas might have to wait slightly longer to see an art film, but they'd still get the kind of access with a Netflix subscription that a movie fan could only have dreamed of 10 years earlier.
Netflix's biggest objection seems to be against any kind of constrained market. Sarandos's underlying argument is that the notion of a "theatrical window," which limits movies to a particular mode of distribution, doesn't exist in another artistic industry, nor should it. Cineastes might view the theater as hallowed ground, but many people would happily consume films in the comfort of their own home—and Netflix argues that a free-market approach will bear that out. What's at stake is the idea of what a "film" really is—if it matters where or when you see it—and whether the movie industry will broaden its thinking as Netflix wants, or start to put stricter definitions in place.