Blockers Is an R-Rated Prom-Night Comedy With Heart
Kay Cannon's film—about three parents trying to stop their daughters from having sex—has a silly premise and surprising depth.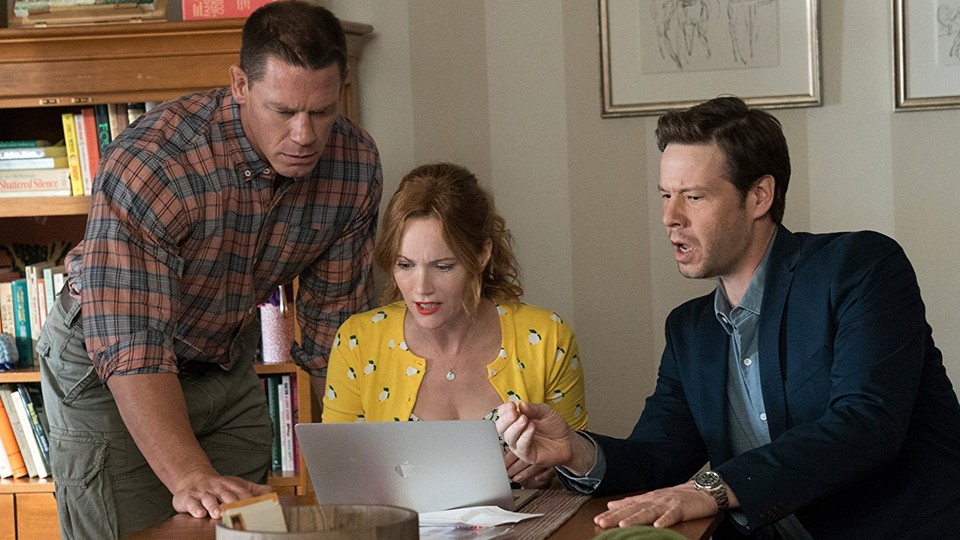 Let us consider, for a moment, the plight of the middle-class suburban American parent, as told through some of the recent comedies centered on them. I'm referring to films like 2017's The House, or the two Neighbors movies, nearly anything directed by Judd Apatow, and now Blockers, the directorial debut of Kay Cannon (the writer of the Pitch Perfect series). These moms and dads have homes that are roomy, but lacking in personality. Their children are usually competent and savvy, more than ready to head off to college armed with their smartphones and a fairly evolved sense of how the world really works.
What will these aimless parents do once their kids are gone? That's the empty-nest nightmare facing the trio at the center of Blockers, played by Leslie Mann, John Cena, and Ike Barinholtz. But this nightmare is related to an idea driving so many similar R-rated comedies—that there's an entire cadre of adults who never wanted to grow up, and who seem generally horrified at the idea of a world beyond their kid-focused bubbles. In Blockers, that concept is taken to a logical (and, on paper, frightening-sounding) extreme: These three parents discover that their daughters are plotting to lose their virginities on prom night, and resolve to stop them.
But Blockers is more self-aware than its premise might suggest, even acknowledging that this scheme isn't exactly au courant with the sex-positive youth of 2018. So the film gives the parents' a more measured rationale: Lisa (Mann) and Mitchell (Cena) are afraid of their kids having sex, not because they want to protect the girls' virtue, but because sex signifies a passage into adulthood and independence. Blockers offers a surprisingly apt framing for a generational clash as old as time—the parents who think of themselves as progressive and cool, versus their mortified children who view them as anything but.
Lisa is a single mother who is intensely close with, and protective of, her daughter Julie (Kathryn Newton of Big Little Lies and Halt and Catch Fire). Though Lisa initially thinks Julie is off to college nearby in Chicago, she learns that Julie's instead planning to go to UCLA along with her boyfriend, Austin (Graham Phillips). Mitchell is a hulking, cargo short–wearing creature of the suburbs who seems like the polar opposite of his loosely wound kid Kayla (Geraldine Viswanathan). Hunter (Barinholtz) is a divorced screw-up who's despised by both his fellow parents and his daughter Sam (Gideon Adlon)—but he recognizes the foolishness of the "blocking" crusade, and only tags along with Lisa and Mitchell to try and stop the pair.
Blockers works because of the time it invests in its teenaged characters. Each is a delight, particularly the supremely chilled-out Kayla (who decides to lose her virginity largely on a whim) and the more introverted Sam (who knows she's gay but hasn't quite figured out how to tell her friends and family). Despite Blockers' title, the script (by Brian and Jim Kehoe) is much more invested in the girls' parallel mission to have sex—a plan hatched in a group text that the parents accidentally see.
The discovery of this pact is one of the film's many clever nods to the most confusing elements of our connected world. Hunter's limited, Dan Brown–inspired cryptographic understanding of emoji-speak ("Have you seen Inferno?" he excitedly asks Lisa and Mitchell) is enough to crack the baffling code of the kids' text chain. But by and large, 2018 is a time that truly confuses these grown-ups, who seemingly can't comprehend that their kids might feel comfortable with their own bodies or be ready to embark on new levels of emotional intimacy. Haven't these teens even seen a John Hughes film?, the parents might be wondering. Don't they know they're supposed to feel awkward and isolated all the time?
As these parents' Sisyphean chastity quest continues (almost the entire film is set during and right after the prom), Blockers quickly shifts into life-lesson mode: Lisa must learn to be less clingy, Mitchell has to toughen up and accept his daughter's ability to make decisions by herself (his wife, played by Sarayu Blue, is the more pragmatic of the family), and Hunter needs to make strides toward maturity. Blockers ends up being a mirror-image coming-of-age film, where the kids have to help the adults make some grand realizations.
Mann, who's played high-strung moms in many of Apatow's movies, gives a deft and witty performance that smartly morphs from self-delusion to self-acceptance. Cena, whose massive frame has mostly been deployed as a sight gag in films like Daddy's Home and Trainwreck, is finally used to his fuller potential here as a gentle giant. His character is a fundamentally decent fella who still has trouble letting go of his more old-fashioned notions about his daughter's "innocence." And Barinholtz, often too impish for his own good, tamps down his worst impulses to make Hunter more than an anarchic purveyor of one-liners.
The silly set pieces of Blockers—including a car chase, an extended frat party sequence that includes the use of a "butt funnel," and a neighboring couple's blindfolded sex game—feel rote alongside all the emotional development. These more spectacular scenes are there to gin up big laughs, but none of them feels remotely original. It's the smaller things that stick out—the banter between the teenage girls, the shifting dynamics of awareness among the parents, the loving, Julia Child–like descriptions that Kayla's boyfriend, Connor (Miles Robbins), delivers about his strains of marijuana. It's enough to make Blockers a cut above the comedy standard—and a worthy watch.