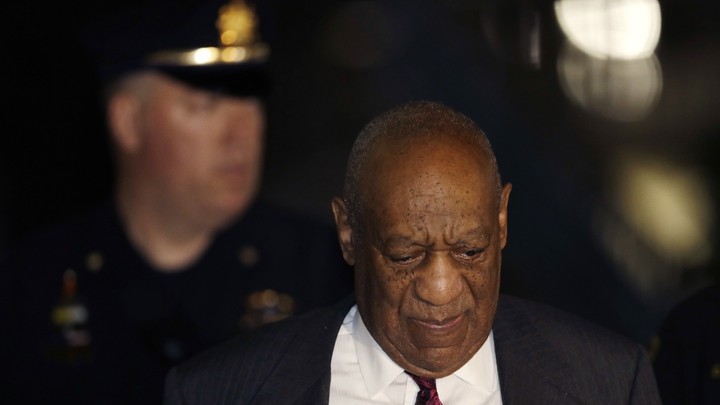 "Let's face it: She went up to his house with a bare midriff and incense and bath salts. What the heck?"
That was one of the jurors in the 2017 trial of Bill Cosby, in which the actor and comedian defended himself against charges that, in 2004, he had drugged and then raped Andrea Constand, at the time a Temple University employee for whom he had served as a mentor. The jury in that trial, after more than 50 hours of deliberation, found itself unable to reach a conclusion about the facts of the case. And that anonymous juror suggested to the Philadelphia Inquirer why the jury couldn't bring itself to convict Cosby: It wasn't clear to all 12 members, it seems, that the sex that took place between Cosby and Constand wasn't consensual. After all: the bare midriff. And the incense. What the heck?
The mistrial declared in the 2017 case of Andrea Constand v. William H. Cosby Jr., however, came several months before the outing of Harvey Weinstein as a serial sexual predator—and several months before #MeToo would expand so broadly as to put a dent in the culture. The hung jury, in other words, arrived at its indecision several months before #MeToo would come to suggest—if in the tentative tones of people who have become accustomed to being disappointed—that the world really can get fairer. That things really can get better. That injustice really can be met with its opposite.
On Thursday, several months after the #MeToo revival, the fact of progress's possibility found one more piece of evidence: Cosby, in a retrial, was found guilty on three counts of aggravated indecent assault. (The jury, this time around, took 14 hours to come to its conclusion.) Cosby now faces the possibility of up to 30 years in prison: 10 years for each count.
The jury's decision represents a striking reversal—and not just for a legal system whose workings have sometimes run counter to the whirling machinery of the court of public opinion. American culture, for all its talk of democratization, has developed an uncanny ability to make excuses for its celebrities. That certain people (most often male-type people) are talented and/or powerful and/or rich and/or famous has served, very frequently, to wrap them in a cloak of moral immunity. Roman Polanski. Mel Gibson. Woody Allen. Charlie Sheen. Floyd Mayweather. Donald Trump. They have been protected by the physics of fame itself. "Hollywood has the best moral compass, because it has compassion," a cultural power player noted in 2009. It was Harvey Weinstein, staging an impassioned defense of his friend Roman Polanski.
Bill Cosby has been, up until now, similarly protected by celebrity's sheen, as well as by a powerful combination of legal mandates and social biases: the statutes of limitation, the mistrust of women, the stubborn cultural inertias that make people so resistant to change. And he will undoubtedly appeal Thursday's decision: The "fight is not over," his lawyer has declared.
But the fact of Cosby's conviction itself suggests that the world's moral machinery has reassembled itself, subtly but irrevocably, over the past year. #MeToo has become #WeToo. Its effects are steadily being systematized—not merely in workplaces or on Hollywood red carpets, but also in courtrooms. And in the minds of jurors who can no longer treat bare midriffs and incense as reasonable pieces of evidence against victimhood. As Gloria Allred, who represented 33 of the more than 50 women who accused Cosby of sexual assault, put it, just after the news of the conviction came through: "We are so happy that finally we can say women are believed, and not only on #MeToo, but in a court of law where they were under oath, where they testified truthfully, where they were attacked, where they were smeared."
We want to hear what you think about this article. Submit a letter to the editor or write to letters@theatlantic.com.
Megan Garber
is a staff writer at
The Atlantic
, where she covers culture.