Beyoncé Masters the Fierceness of Crowds
The pop star's dazzling Coachella set further honed her career-long fascination with democratizing messages through mass movement.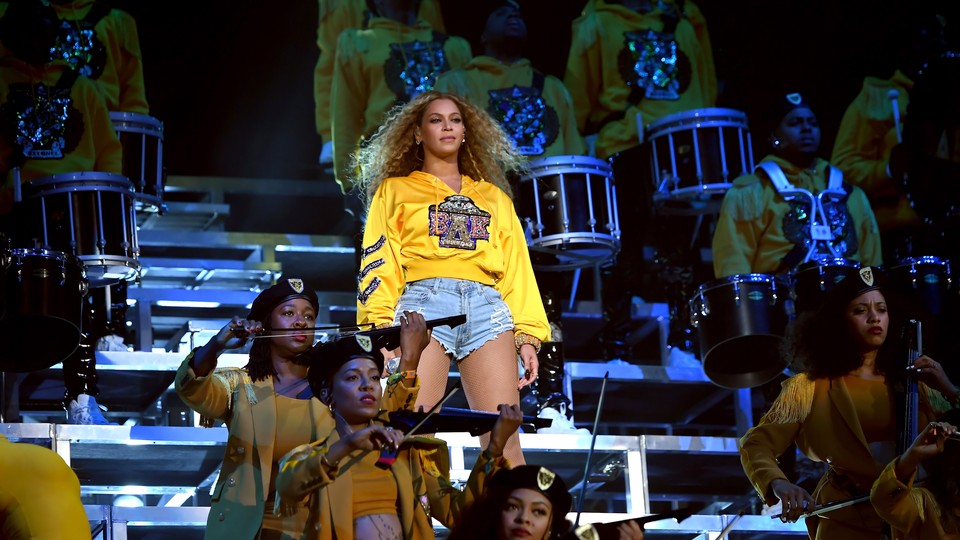 More than 100 dancers and musicians get hired for a mononym's megafestival performance: We know, in some ways, what it's going to look like. It's going to look like the first moments of Beyoncé's conversation-breaking Coachella set, in which leotard-wearing women formed two lines on a catwalk into the crowd, making way for Beyoncé in regal cape and headpiece. When people talk about pop stars as gods, they are drawing from imagery such as this. Or such as Madonna's 2012 Super Bowl show, in which she commanded a hard-bodied Roman batallion. Or Kanye West's 2016 Madison Square Garden event, when a village of models stood, supernaturally frozen, for an album's length.
Like with superheroes or presidents, the modern pop star—another of America's favored entertainment archetypes—engineers hierarchy and order, in ways that are viscerally satisfying and, at times, intellectually creepy. Mass choreography dazzles in part because it tells us that individuals need not individuate all the time, and that there is glory in surrender to a collective cause. Don't read too much into this comparison, but Susan Sontag once noted such an aesthetic dynamic in the works of the Nazi propagandist Leni Riefenstahl. "Triumph of the Will uses overpopulated wide shots of massed figures alternating with close-ups that isolate a single passion, a single perfect submission," she wrote. "Clean-cut people in uniforms group and regroup, as if seeking the right choreography to express their ecstatic fealty."
Ecstatic fealty: There's a term for what pop stars inspire in their fans, and what their dancers often seem to be expressing, no? But one aspect of Beyoncé's brilliance is that she channels the dynamism of mass movement to make statements that are, relentlessly, democratizing. "Queen" feels like an inapt title for her when she presents herself as a squad leader for a revolutionary justice squad, or throws herself into a mosh pit of multicultural punk rockers, or gathers together an intergenerational group of women united in their struggle with personal betrayals and social mistreatment. At Coachella, Beyoncé's staged her starkest and most joyful subversion of lockstep choreo yet. She fostered a mass ecstasy less of fealty than of solidarity.
The basic concept: Coachella became a pep rally for Beyoncé's imagined black college or university, with scores of horn players and drummers summoning a ruckus from bleachers behind her. The yellow and black color palette was symbolically layered; it also happened to be visually fresh during a generally drab pop moment and following the sepias and greyscales of Lemonade. Embedded in this portrayal of an African American educational tradition were call-outs to other legendary institutions of black excellence—the Nubian kingdom (the bleachers formed a pyramid), and Southern hip-hop (snippets of classics showed up in surprising places). When Beyoncé noted she was the first black woman to headline Coachella, it emphasized the cultural inequalities that made the performance an underdog story's, no matter how exalted Beyoncé may be.
Though stars of Beyoncé's standing get routinely accused of stealing from disparate musical traditions and graphical systems for their fresh, flashy collages, this performance clearly and cleverly built on the singer's previous interests. On Beyoncé's earliest solo albums, the defining sound—beyond her honeyed and supple voice—was marching-band snares and cymbals amid synthetic R&B. As her career has developed, her aesthetic interest in lockstep sound and motion has become a thematic topic in itself. For "Single Ladies" she offered up a hand gesture and chorus to unite an entire class of wearied women at the nightclub. "Formation," in title and lyrics and visuals, repurposed her favorite mode—not exaltation, but arms-locked togetherness—for regional, racial, and gendered pride. Now at Coachella she's less abstract than ever, connecting HBCUs and everything they represent to her collective improvement project—and following through with a real-life scholarship program.
She does still, to be sure, love to wear a crown. The first magic trick of the night came in her transformation from Nefertiti chic to campus casual, emerging in cut-offs at the peak of the bleachers-slash-ziggurat. But later, during "Flawless," she asked the crowd to participate in the refrain "I woke up like this," making clear that the fantasy of effortless excellence that Beyoncé projects is meant to be accessible to everybody. She'd likely argue that her ability to inspire—through sweat more than divine right—is why she can style herself as royalty. To judge the flood of haters that Perez Hilton retweeted into my feed on Sunday, some people will simply never buy that explanation, seeing her Queen B persona only as arrogance—in some cases out of healthy skepticism for messianic figures, and in others out of more unseemly biases.
For her fans, though, to watch the snippets of Beychella that have circulated online is to marvel at how she's taken a common pop move, the mass rally, and made it fresh yet again. I think about how her shows differ from Madonna's oeuvre—the Super Bowl, or the Marie Antoinette–themed 1990 VMAs, for example—which thrive more on the spectacle of dominance by the diva, often with queasy racial implications. I think about how much Beyoncé takes from Janet Jackson's Rhythm Nation 1814 period, with an explicit political mission undergirding the dancing phalanx. I think about other examples of group choreography being flipped into something inclusive rather than authoritarian, like with M.I.A.'s "Borders" video that made mass migration look fabulous.
In the end, Beyoncé's symbolism works only because of the art itself: the thoughtful choreography, the committed execution, the moments of humor and subtlety. The hundreds in her Coachella bleachers hit their marks impeccably, echoing or complementing their leader's every shimmy and twerk. But from afar, in the videos, they also give the impression of a teeming mass, bobbing each to their own rhythm, individuals together. School spirit, the performance suggests, offers a special kind of social glue—one not quite as stultifying as, say, nationalism or hero worship. Everyone takes the same tests and roots for the same team, but only so that they can, later, go on to excel on their own paths.