Your 2018 Oscars Crash Course
A roundup of all our best stories to get up to speed for the 90th Academy Awards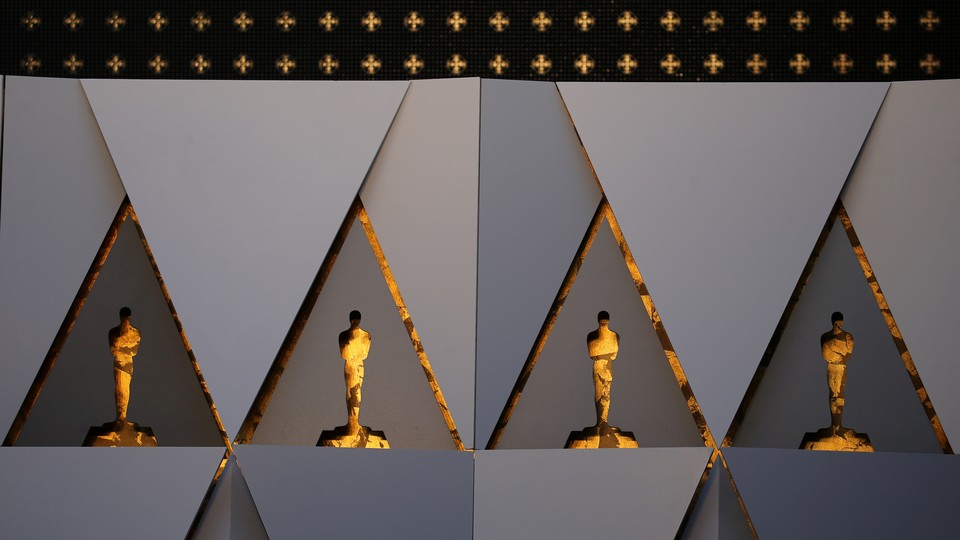 This year's Oscars ceremony may not be able to promise the excitement of last year's iconic envelope mix-up, but it's sure to be an entertaining show nonetheless. With no definitive lead in the Best Picture category, the night could end up being almost anyone's. As Sunday's broadcast approaches, the pressure is mounting for viewers, both casual and die-hard, to be up-to-date on all the nominees, as well as the themes and controversies that might dominate the show.
In case you're worried about drawing a blank when someone asks you, What movies do you think will win?, we've created a crash course of the most important Oscars-related stories Atlantic writers have covered over the past few months. Prepare your ballots.
---
Big Players
The most-nominated film this year is Guillermo del Toro's fantastical monster movie The Shape of Water. With 13 nods, including for Best Picture and Best Director, it stands a good chance of coming away with a number of trophies. Although there's no obvious frontrunner in the Big Picture race (perhaps leaving room for a surprise winner), Three Billboards Outside Ebbing, Missouri is also a strong contender after having won big at the Golden Globes. Though the film has drawn criticism for its depiction of race, Martin McDonagh's drama about a grieving mother seeking justice after the murder of her daughter is at least set to do well in the acting categories. Dunkirk, the second-most nominated film, is more typical Oscar fare, a stunningly spare war drama that won over critics and had the highest box-office gross of nominated films, which could help it come out on top. Jordan Peele's breakout directorial debut, Get Out, a social thriller that cleverly used the sense of sight to emphasize its racial horrors, is our critic Christopher Orr's pick to win Best Picture. (See the rest of his Oscars predictions here.)
Elsewhere in the field is the mesmerizing gay love story set in the '80s, Call Me by Your Name, which avoids the AIDS epidemic but hints at an underlying darkness, and the sensational coming-of-age film Lady Bird. Both have been favorites with critics and audiences alike, but neither has gained much traction in the Best Picture race. There's also the Winston Churchill biopic Darkest Hour and Steven Spielberg's newspaper drama The Post, both of which fit into the trend of films using history to comment on the Trump presidency. Rounding out the group of nine nominees is Phantom Thread, Paul Thomas Anderson's quiet, stylish movie about a perfectionist dressmaker and his muse.
---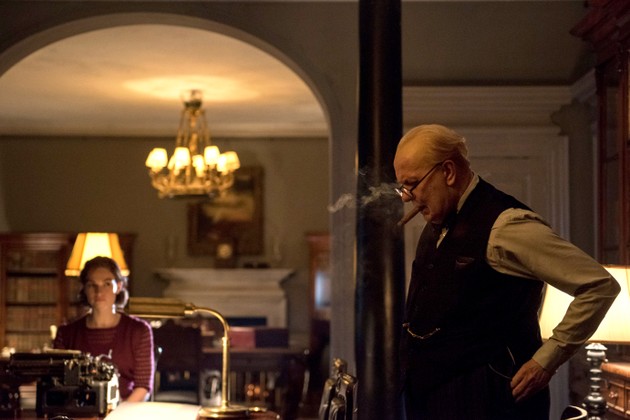 Individual Honors
Unlike Best Picture, almost all of the acting categories appear locked up. Both Frances McDormand and Sam Rockwell are expected to win Best Actress and Best Supporting Actor, respectively, for their roles in Three Billboards: McDormand as the feisty mother Mildred Hayes, and Rockwell as the racist cop Jason Dixon. Best Supporting Actress will almost certainly go to Allison Janney, who played Tonya Harding's abusive mother in I, Tonya, the biopic about the controversial figure skater. Best Actor is set to go to Gary Oldman for his true-to-life portrayal of Churchill in Darkest Hour. All four performers have already picked up a slew of awards for their roles, and any Oscar upsets are unlikely.
Oldman's nomination has been somewhat haunted by resurfaced reports that the actor's ex-wife accused him of assault in 2001 (Oldman has strongly denied the allegations). The Darkest Hour star is just one of many Hollywood figures facing scrutiny for alleged misconduct in the wake of the #MeToo and Time's Up movements, which shook up the industry after widespread claims of assault against the mega-producer Harvey Weinstein came to light last October. Though the Academy might be able to overlook the accusations against Oldman, James Franco may have been taken out of contention for Best Actor due to sexual-misconduct claims and despite his highly praised role in The Disaster Artist (Franco has said some of the allegations were "not accurate" but that he wouldn't "actively refute" his accusers out of respect for the #MeToo movement.)
---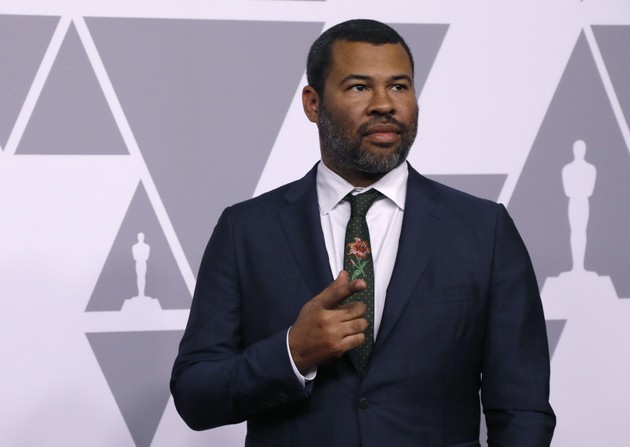 Record-Breaking Nominations
Perhaps the most talked about milestone in this year's class of honorees was Rachel Morrison becoming the first woman nominated in the Best Cinematography category for her work on Mudbound. But other first-time nods also abound: Dee Rees is the first black woman to be nominated for Best Adapted Screenplay (also for Mudbound). Logan is the first live-action comic-book film to be nominated for Best Adapted Screenplay, and Jordan Peele is the first African American to be honored in the Best Picture, Director, and Original Screenplay categories simultaneously.
Peele's nomination in the directing field fits with the larger pattern of auteurs being recognized for their work; Guillermo del Toro and Christopher Nolan also picked up their first nods in that category after years of snubs. On the performance side, Timothée Chalamet became the youngest Best Actor nominee since 1940 for his star turn in Call Me by Your Name, and Christopher Plummer, nominated for Best Supporting Actor after replacing Kevin Spacey in All the Money in the World, is now the oldest nominee for any acting award, at 88.
---
Musical Standouts
Across categories, musicals made a strong showing, echoing the success La La Land saw at the Oscars last year. The Greatest Showman, nominated for Best Original Song, had a quiet start in theaters, but the film and its soundtrack have proven to be major successes. Two music-heavy Disney films, Beauty and the Beast and Coco, received a few nods, and another of the company's properties, Star Wars: The Last Jedi, was recognized for its score by the legendary composer John Williams. Elsewhere, Baby Driver, which deftly explores the pleasures and dangers of music, picked up three technical noms (two in the sound department), while the dance scene in Call Me by Your Name, set to the song "Love My Way" by the Psychedelic Furs, became one of the film's most iconic moments.
---
Women to Watch
Following the avalanche of stories exposing the gender imbalances across industries last year, many viewers will find it heartening to see the Oscars recognizing talented women and female-centric stories across categories.
Nominations went not only to Frances McDormand and Rachel Morrison, but also to Emily V. Gordon for co-writing the acclaimed rom-com The Big Sick and to Greta Gerwig for her Lady Bird script. Gerwig notably picked up a nod for Best Director, becoming only the fifth woman in Oscars history to do so. In the Best Documentary category, the iconic French New Wave director Agnes Varda was recognized for her film Faces Places, and A Fantastic Woman, which offers a powerful depiction of a transgender woman (played beautifully by Daniela Vega) coping with her partner's death, is a strong contender for Best Foreign Language Film.