The Unsettling Familiarity of XXXTentacion
The rapper's No. 1 album suggests that being accused of terrible things, even now, is no obstacle to fame.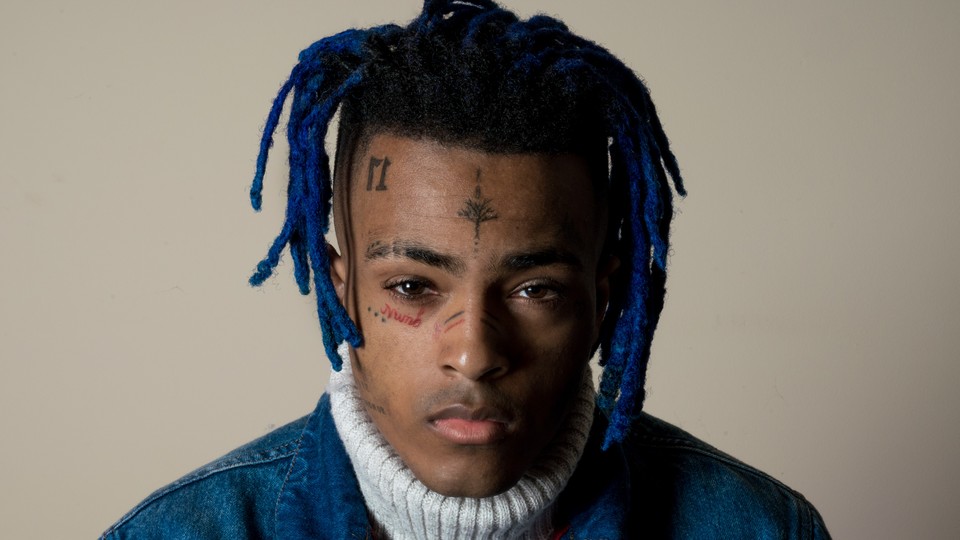 XXXTentacion, creator of what's now the No. 1 album in the country, is exactly the kind of artist who seems designed to make adults feel out of touch. But the funny thing is that if you listen to his album, ? , you'll hear a young man trying to sound like a lot of different people who've come before him. When the 20-year-old Jahseh Dwayne Onfroy raps, he can seem like another of the playful mumblers that his generation is associated with, or like a conscientious underground rapper from the '90s, sweating each syllable over tense snares. He does rock, too, emoting over simple and cinematic guitar or piano, as if in a Dashboard Confessional demo. When he screams, you might think of Minor Threat, or of Minor Threat's many descendants. "The only person who inspires me is Kurt Cobain," he's said.
Read up on XXXTentacion's backstory and you might be reminded of a diverse range of icons for more disturbing reasons. Onfroy has a history of violence, memorialized both in court records and his own brags. Most famously, he's awaiting trial for charges related to an alleged 2016 assault on his then-girlfriend while she was pregnant, which he denies doing. There are other stories too, like the one he told on a podcast about choking and bloodying an inmate he believed was gay, for looking at him wrong. He's gotten in fights with fans, and encouraged fans to fight other people.
In pop history, of course, the list of successful musicians given to brutality off stage is long: John Lennon, James Brown, Sid Vicious, Dr. Dre, and on and on. What's new is that we're supposedly in a moment of greater scrutiny toward male misbehavior, when celebrity careers are being ended on what seems like a weekly basis for alleged offenses ranging from lewd comments to rape. The #MeToo movement often gets discussed in generational terms, and progressives often claim that young people will eventually usher in a kinder, gentler society. Yet here is an alleged assaulter of a pregnant woman with a No. 1 album and a top-20 single, propelled by what appears to be a very young listenership that has also championed new rappers like Kodak Black, accused of sexual assault, and 6ix9ine, convicted of sexual misconduct with a child. Just this past weekend, rape accusations surfaced against XXXTentacion's former manager Adam Grandmaison, host of the scene-defining podcast No Jumper. (Grandmaison denies the allegations.)
XXXTentacion's story might be, in part, the same story about the weakening of old gatekeepers that the public sees playing out in politics. It's not like the media's been uncritical. "Stop giving your money to rappers openly who beat, rape, manipulate, and abuse women," wrote Uproxx's Aaron Williams last year in a wide-ranging piece. When XXL included XXXTentacion in their influential annual "Freshman Class" feature—because fans voted him into the one slot that the editors don't decide on their own—Highsnobiety's Stephanie Smith-Strickland wrote that the magazine was playing a "dangerous ethical game." Stereogum's Tom Breihan was more blunt: "We should not continue to make him famous. XXXTentacion should not be on this cover."
But he's getting famous still. ? didn't garner reviews in many major outlets upon its release in mid-March, and it's still the No. 1 album in the country, posting more formidable one-week streaming numbers than almost any other album this year. XXXTentacion built his fanbase via SoundCloud uploads over the past few years, with signal boosts from new tastemakers like Grandmaison, as well as musicians like Kendrick Lamar and The Weeknd, who have signaled their appreciation for his work. An image-rehab attempt appears to be underway, too. He's issued a general statement of regret about disrespecting women, promised to donate money to anti-abuse charities, and undertaken a campaign encouraging fans to do good deeds.
Artistically, he uses contradiction to sell a feeling of relatable, messy humanity: sensitive yet hardened, immature yet jaded, propriety-upending but also self-conscious. An interview with XXL last year had him talking about reading the Twilight series from jail—a weirdly apt image. One song on ? is called "Hope," and it's dedicated to the victims of the Parkland school shooting. Over gauzy flutes, he plaintively sings, "I think I'll find a way of envisioning a better life." The next song is "schizophrenia," and it begins rather like a Joy Division cover—monotonous vocals, rock thrum recalling a dimly lit factory—and ends in an explosion of thrashing hardcore. The mosh command: "DON'T GIVE UP!"
His eclecticism comes, he has said, from learning about music by browsing through YouTube. So the internet's mythological promise of widening peoples' tastes has, in this case, been fulfilled. Rock and rap have of course always flirted, but the most high-profile crossovers usually try to reconcile the two styles into a hybrid aesthetic, whether via the early-2000s nu metal that XXXTentacion clearly loves or via new rappers like Lil Uzi Vert, who makes hip hop with emo signifiers. XXXTentacion intermixes like this, too, with his voice taking on the inflections of AFI's Davey Havok even when rapping. But he also, somewhat unusually, tries on entirely different genre costumes from song to song.
Which isn't to say his sound lacks cohesion. The production is performatively lo-fi, crackling as if through broken speakers. If that approach begs for comparisons to punk rock, so does his penchant for short song lengths—which is in line with the larger trend toward hip-hop that doesn't break the two-and-a-half minute mark. Another constant is his voice, flitting between marble-mouthed drawl and whine, and his lyrical concerns, blending raunchy aggression with stark self-pity. On "the remedy for a broken heart (why am I so in love)," he flexes his rap talents as he name-drops wristwatch brands amid laments about lost love. You can hear him as a pop craftsman on "Sad!," the chorus of which has him inhabiting a few different vocal tones for a delicate, intricate call-and-response effect.
One of his claims to fame is that Drake might have swiped from his flow, but the truth is that XXXTentacion is absolutely one of that rapper's descendants. You hear it in the passive aggression of his introspection and of his boasts, and you hear it in his mercenary genre-hopping. One ? track, "I don't even speak spanish lol," joins the fad of pseudo-Latin pop, and it sounds, more than anything, like Drake's hit "Controlla"—but unfinished, knowingly shoddier. I'd pick the finished song every time: Drake may be corny, but not as corny as XXXTentacion's locker-door poetry ("Every single year, I'm drowning in my tears" goes one of ?'s catchier lines). Yet it's unsurprising that some folks raised in a pop environment defined by Drake's polish and careerism would gravitate to the rawer stuff.
It's also clear, though, how a reaction against respectability can justify and even glorify actual cruelty. On the lyrics-analysis site Genius, XXXTentacion's fans have written annotations insisting that each line about betrayal and heartbreak refers to the ex-girlfriend who has accused him of assaulting her. They're plainly calling her a fake and a traitor, and XXXTentacion has only encouraged interpretations that see no distance between art and artist (one 2017 song is named after his ex). All of which adds to the queasy sense that he is a product of the internet's double-edged power: connecting people, as much for comfort as for monstrousness.
But holding XXXTentacion up as some sort of dystopian symbol may be too easy, given how pop culture's fixation with human darkness has often come with actual human cost. He seems to be asking for comparisons to Sid Vicious, the nihilistic punk whose fans heaped ire upon Nancy Spungen, the girlfriend he was charged with murdering. The rapper obsesses over Cobain's self-destruction, the idolization of which has historically been bound up with the vilification of Courtney Love. As Onfroy and his fans maintain his innocence, he'd be happy, seemingly, to enjoy the same success as all the rock and rap stars for whom accusations of misbehavior weren't much of an obstacle. It's an uncomfortable story, XXXTentacion's rise—in part, simply, because it shows exactly what hasn't changed.