Can Inclusion Riders Change Hollywood?
Frances McDormand's Oscar speech encouraging diverse hiring in the film industry has sparked a mini-trend.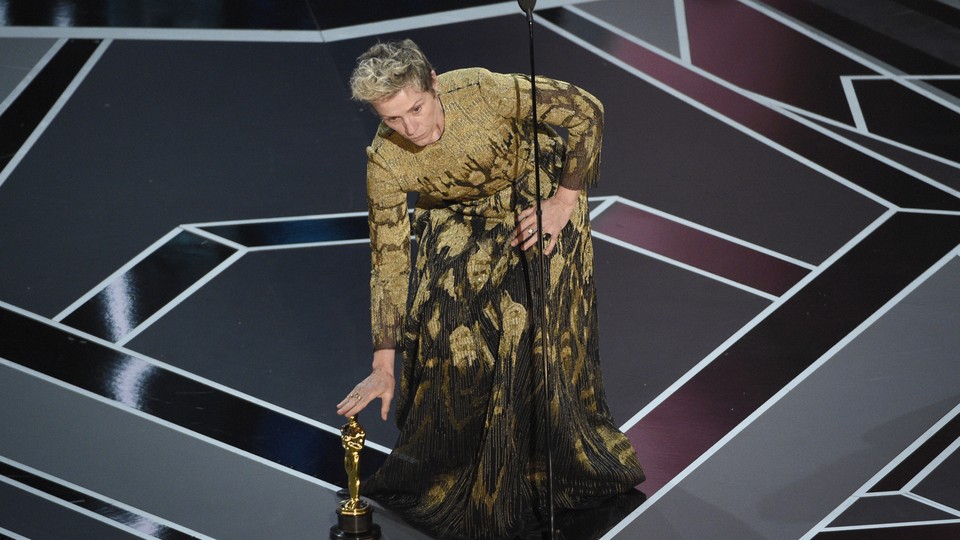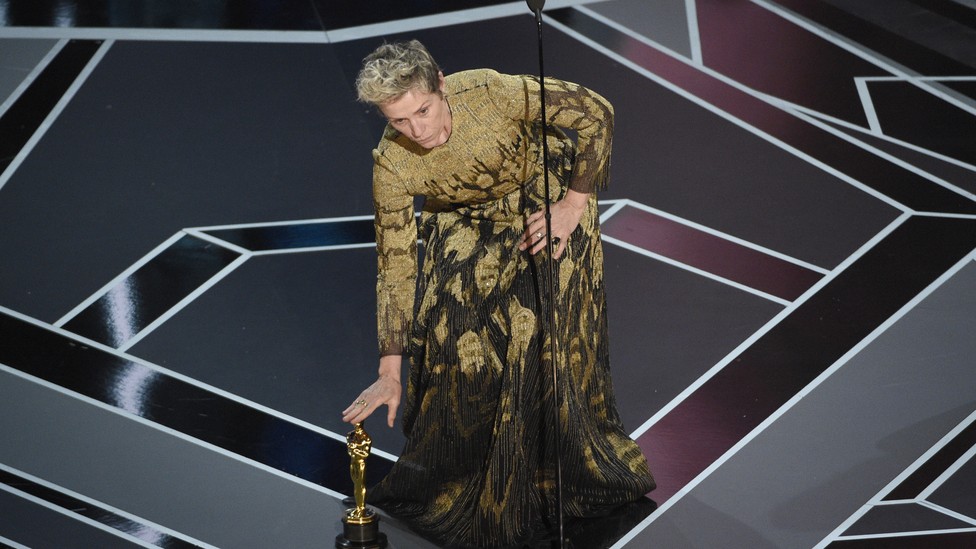 "I have two words to leave you with tonight," Frances McDormand told the audience at last week's Academy Awards as she accepted her Best Actress trophy, her arms outstretched as if she were a conductor. "Inclusion rider." She issued the phrase like a decree, likely prompting viewers at home to Google the term: It's, essentially, a contract stipulation that requires certain kinds of diversity in a film's cast and crew, such as racial and gender balance. It's not a foreign concept within Hollywood, but McDormand's speech has inspired new efforts to implement inclusion riders in the industry.
Like many a Hollywood reckoning, progress seems to be arriving well after things reached a breaking point, spurring an overdue public shaming of sorts. In recent decades, the Oscars have seen various milestones, like Halle Berry becoming the first (and only) black actress to win for a leading role, Kathryn Bigelow becoming the first woman to win for directing, and Rachel Morrison becoming the first female cinematographer even nominated in the awards body's 90-year history. Each historical "first" always feels shockingly belated, but the explanations that follow often amount to an institutional shrug. There just aren't that many female cinematographers, the refrain goes, but rarely do the underlying reasons for that dearth receive attention.
The concept of the inclusion rider was introduced in 2014 by Stacy L. Smith, the director of the Annenberg Inclusion Initiative, which conducts comprehensive studies on representation and diversity. Smith's idea was specifically designed to address systemic inequality in Hollywood; some of her suggestions included balancing out background roles so more female actors can find work, and demanding that executives and studio heads at least consider women when hiring directors for their films. According to a sweeping industry study, only 31 percent of speaking roles in movies go to women (and 29 percent to actors of color), and only 4.2 percent of women get to sit in the director's chair.
At the Oscars, McDormand said the inclusion rider was something she had only recently found out about and was encouraged by. "The fact that I just learned that after 35 years of being in the film business? We're not going back," she told press while backstage after the ceremony. Everything in Hollywood is governed by clout; McDormand was simply lending some of hers to promote a wider shift. And, because the industry loves a headline-grabbing trend, one has sprung up following her speech.
Three days after the Oscars, the actor Michael B. Jordan (riding high on the acclaim for his performance in Black Panther) pledged that his company, Outlier Society Productions, would adopt inclusion riders for any project it was involved in. Earlier this week, Matt Damon and Ben Affleck announced the same for their company, Pearl Street Films, as did the writer and director Paul Feig (Bridesmaids, The Heat, Spy) for his company, Feigco Entertainment. Though more will likely follow, these production houses are usually only involved with two or three movies a year—far less than major studios.
A move that could have an even wider effect was the WME CEO Ari Emanuel inviting Smith to address his company (one of the biggest talent agencies in the world), and encouraging his agents to talk with those they represent about inclusion riders. "It is imperative that you have a conversation with your film and TV clients about this critical issue," Emanuel wrote in a memo to staff on Tuesday. "We also know that talking about inclusivity is not enough. It must be institutionalized in order to create change."
If major studios like Disney, Universal, Sony, or Warner Bros. were to take serious steps to foster diverse hiring—not just at topline levels but also among crew members—it would send a powerful signal to the industry at large. Adopting inclusion riders in particular would be one way to do that. But so far, the only on-the-record statement from a top studio has come from Netflix, whose CEO Reed Hastings said he has no interest in the idea of an inclusion rider. "We're not so big on doing everything through agreements," he said. "We're trying to do things creatively."
That's a deflection that feels vague at best, coming from a man whose company is putting out more and more content every year and already rivals the strength of traditional studios. Other executives might be tempted to echo Hastings's sentiment, but Hollywood has tried to do things "creatively" for more than a hundred years now. Left to its own devices, the industry hasn't managed to implement meaningful and sustained change for women and people of color—not to mention other underrepresented groups—both in front of and behind the camera.
Only a few mainstream artists, like Ava DuVernay, already appear staunchly committed to prioritizing diversity in hiring. Meanwhile, inclusion riders can exert influence in parts of the industry that are otherwise taking a more passive approach. Without such mechanisms, Hollywood may remain a world where people maintain the status quo by hiring folks they already know, a place without institutional guardrails protecting against sexism and racism. The huge insight that's finally starting to catch on in the industry is the idea that change doesn't happen gradually and naturally. Rather, it requires the application of constant pressure from individuals with genuine clout, which will need to go beyond a few post-Oscar announcements.