Wild Wild Country: The Jaw-Dropping Story of the Cult Next Door
A new six-part Netflix documentary is a stunning dive into a utopian religious community in Oregon that descended into darkness.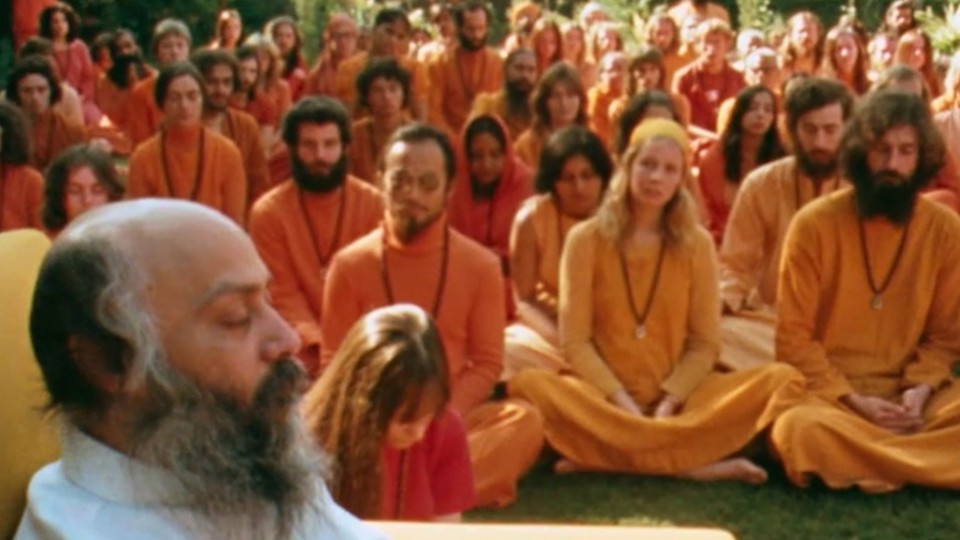 To describe Wild Wild Country as jaw-dropping is to understate the number of times my mouth gaped while watching the series, a six-part Netflix documentary about a religious community in Oregon in the 1980s. It's ostensibly the story of how a group led by the dynamic Bhagwan Shree Rajneesh purchased 64,000 acres of land in central Oregon in a bid to build its own utopian city. But, as the series immediately reveals, the narrative becomes darker and stranger than you might ever imagine. It's a tale that mines the weirdness of the counterculture in the '70s and '80s, the age-old conflict between rural Americans and free love–preaching cityfolk, and the emotional vacuum that compels people to interpret a bearded mystic as something akin to a god.
What's most remarkable is that the Rajneesh movement hasn't been documented more thoroughly before, given the scale of the media attention it drew during its height and the range of crimes (from immigration fraud to the largest bioterrorism attack in U.S. history) attributed to it. Recent fictionalized series about cults and cultlike groups, including Paramount's Waco and American Horror Story: Cult, have floundered somewhat, partly because it's difficult to dramatize the hold leaders like David Koresh and Charles Manson had on their followers. But with Wild Wild Country, it's all there on tape. The series's directors, Chapman Way and Maclain Way, have access to a wealth of news broadcasts, archival footage, and videos recorded by the Rajneeshees themselves. The first few minutes alone offer scenes of the group arriving in Oregon in their all-red outfits, members grinning vacantly, playing the flute, and dustbusting a red carpet for Bhagwan Rajneesh to walk on when he steps out of one of his Rolls-Royces.
What follows has more twists and turns than the Monaco Grand Prix. It would be cruel to spoil the more shocking reveals, but the structure of the series, which is produced by the Duplass Brothers, masterfully weaves the story of the incorporated township of Rajneeshpuram—how it was founded, what it wanted to achieve, and how it fell apart in dramatic and extremely public fashion.
Rajneesh, the eldest of 11 children living in a small village in India, claimed to achieve spiritual enlightenment in 1953 at the age of 21, sitting under a tree in Jabalpur. During the 1960s, Rajneesh espoused a vague philosophy of meditation and sexual freedom as the road to harmony on Earth. His message, which aligned neatly with the free-love movement happening in the West, gained him a devoted following during the 1970s, when he established an ashram with money donated to him by one of his acolytes, a Greek shipping heiress.
Wild Wild Country reveals little of this biographical information, though, at least in the first four episodes made available for review. The Way brothers seem less interested in the guru than in his followers, particularly Sheela Silverman (Ma Anand Sheela), Rajneesh's personal secretary, whom they interview at length. Sheela describes meeting Rajneesh for the first time when she was 16—how tears rolled down her cheeks, and how convinced she was immediately that he was a second Buddha. If she had died in that moment, she explains, she would have been happy. "My life was complete," she says. "My life was fulfilled." Sheela became invaluable to Rajneesh on his dual missions to spread enlightenment around the world and to acquire significant wealth. She was also instrumental in the purchase of the aforementioned tract of desert land in Oregon in 1981, which the Rajneeshees worked tirelessly to transform into a self-sustaining town.
The most immediate obstacle the group faced was the people who lived in Antelope, Oregon, a tiny town of fewer than 50 people located 19 miles from the commune. Wild Wild Country features interviews with some of the bemused locals 35 years on. Jon Bowerman, a local rancher, describes how a tight-knit community of mostly retired Oregonians, in which different members took turns to be mayor, was disrupted by the unexpected arrival of the Rajneeshees. The latter dressed only in red, smiled so consistently that they appeared stoned, and appeared to practice a mindboggling variety of sexual rituals whose nature and range caused the god-fearing Antelope residents no small amount of distress.
The collision of Antelope and Rajneeshpuram is one of those old-meets-new encounters in which discord seems inevitable. But the reality of what actually happened is breathtaking, and involves political maneuvering, combative TV appearances, the founder of Nike, a diner whose name is changed to "Zorba the Buddha," three explosions, the amassment of assault weapons, and an incident or two of domestic terrorism. The biggest asset Wild Wild Country has is its modern-day interviews with Rajneesh's followers, who include a softened Sheela sporting silver hair, glasses, and a patterned shawl; Jane Stork (a.k.a. Ma Shanti B), an Australian woman with a gentle manner and a grey twinset; and Swami Prem Niren (born Philip J. Toelkes), Rajneesh's lawyer, avuncular in his sweater vest.* They recount their devotion to Rajneesh, but what becomes most clear is what he represented for them: a path away from conventional middle-class life.
As for Rajneesh himself, who died in 1990, he remains something of an enigma. From the footage that exists of his public speeches, it's hard to sense the charisma that could have persuaded his followers to believe in a shamelessly avaricious guru with a million-dollar diamond Rolex and the largest collection of Rolls-Royces in the world. It's even harder to glean what compelled his followers to commit the acts they eventually did in his name, and to defend—still—the more egregious things that happened at Rajneeshpuram. "Everyone wanted to be part of Shangri-La," Sheela recounts. But few in the cult seemed to have her particular combination of fanatic devotion to the cause and extreme craving for control.
If Wild Wild Country were just the story of a cult gone wrong, it would still make for compulsive viewing, because its story is just that extraordinary. But the Ways have a broader focus, considering the eternal clash between church and state, the tendency of power to corrupt, and the strangeness of a period in American history that saw such a proliferation of false prophets and corrupt evangelists. They also display a deftness with craft, splicing their hours and hours of footage into a series that continually defies expectations. (The exceptional score by the third Way sibling, Brocker, amps up the series's atmosphere and tone.) "It was like a beautiful Fellini movie," is how Sheela describes the group's arrival in Oregon. But the real story, rawer and darker than any dramatization, is far more enticing.
---
* This article originally misidentified Swami Prem Niren as Paul Morantz. We regret the error.