Why a Podcast About R.E.M. Is a Must-Listen
Scott Aukerman and Adam Scott's newly launched R U Talkin' R.E.M. Re: Me? is as hilarious, passionate, and tangent-filled as their other work in the medium.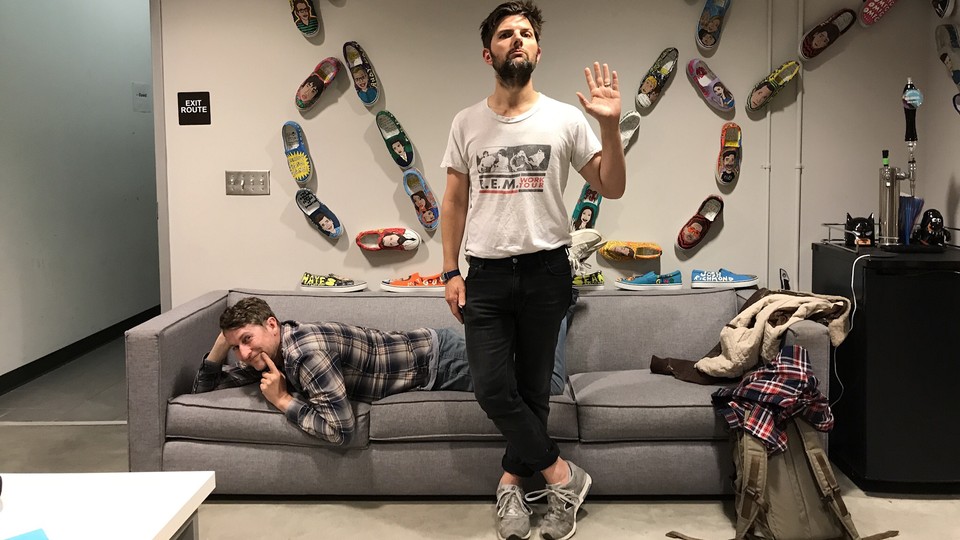 The premise of Scott Aukerman and Adam Scott's new podcast could never be described as topical. It's hard to imagine why the mere announcement of an ongoing series in which a comedian and an actor go through the discography of the rock band R.E.M. (the "Everybody Hurts" one, the one that broke up in 2011) caused such a stir in the comedy world. To describe it, R U Talkin' R.E.M. Re: Me? sounds like an absurd bit of niche normcore satire, two white celebrities in their 40s discussing a musical act that peaked sometime in the mid-1990s. It is that; it's also, somehow, so much more.
Aukerman and Scott began their podcast in 2014 discussing a different band: It was called U Talkin' U2 to Me? and jokingly billed as the "comprehensive and encyclopedic compendium of all things U2." Aukerman, the host of the hit podcast and (now-defunct) TV show Comedy Bang! Bang!, and Scott, best known as a star on NBC's Parks and Recreation, had recently discovered their mutual love of U2 and decided to host a short miniseries about it, covering three albums per episode. Almost immediately, that mission changed to maybe talking about one album per episode—maybe. Sometimes, the pair wouldn't get around to discussing the band at all; it took them two tries to tackle Achtung Baby.
It never really mattered. Aukerman and Scott are both fully capable of being hilarious on their own, but together they're a magical double act, sometimes (jokingly) at each other's throats, then a second later utterly in sync. It was fun to hear them talk about U2, but it was more thrilling just to hear them dive into their passions and obsessions, their busy work lives (which eventually made the podcast a sporadic affair), and whatever other tangents they wanted to pursue. Eventually, they ran out of U2 albums to talk about, and finished with the ultimate prize: an interview with the band itself in 2015. Since then, they've returned a couple times a year to check in on new material, but the feed has largely remained dormant. Until a week ago.
With little notice, Aukerman and Scott dropped a new episode of the now-retitled R U Talkin' R.E.M. Re: Me?, covering the band's first EP, Chronic Town. The banter is largely the same, as is the duo's propensity for improvising surreal sketches (they love to perform non sequitur mini-podcasts with banal names like "I Love Films" in the middle of every episode). The music being discussed belongs to the same maxi-genre: album-oriented rock that was at its critical peak in the '80s and its commercial peak in the '90s, as the hosts were growing up, figuring out their tastes, but never quite evolving beyond the bands of their youth. In the case of U2, the pair's fandom was about equal; this time, Scott seems to be the bigger R.E.M. fanatic, though Aukerman is no slouch when it comes to discussing the minutiae of every song on every album.
Why on earth is it all so funny? The repartee between Aukerman and Scott is special, but the subject matter is undeniably narrow. I have my fondness for both U2 and R.E.M.'s glory years, but am a little too young to have obsessed over them as a teenager. I've wondered at times why I love this podcast so much considering that I've sometimes never listened to the songs Scott and Aukerman discuss. Every year since U Talkin' U2 to Me? aired, I've gone back and listened to its whole run again, just to soak in the camaraderie, to revisit the weirdest jokes, even to ponder some of U2's lesser-known works. I anticipate doing the same once the R.E.M. run is over.
Aukerman, along with podcast luminaries like Marc Maron, Jimmy Pardo, Doug Benson, and Julie Klausner, helped invent the alt-comedy chit-chat podcast, which made the work of LA and New York stand-ups and improv comics widely accessible. Shows like Comedy Bang! Bang! are the baseline of what's become an entire industry, and Aukerman founded the podcast network Earwolf that's a huge pillar within it. In 2011, he started a limited podcast called Analyze Phish with the late comedian Harris Wittels in which they discussed the latter's obsession with the band Phish. That show was also a cult sensation (and another favorite of mine), and it certainly laid the groundwork for R U Talkin' R.E.M. Re: Me? (Scott even appeared on it as a guest).
When Wittels tragically died in 2015, I wrote about how important Analyze Phish felt, not just because it was funny, but also because it was about that kind of intense fandom that can define us when we're young, and how that devotion changes as we grow up. That's an idea that Aukerman and Scott are tapping into as well: the strange power of the pop culture that helps shape us. Listening to R U Talkin' R.E.M. Re: Me?, the biggest joy is just hearing the delight in Aukerman and Scott's voices as they cue up another song.
There should be many more exhilarating digressions to come in future episodes—Aukerman can now needle Scott about filming Big Little Lies (he played Reese Witherspoon's husband) as he used to bug Scott about the upcoming film Hot Tub Time Machine 2. And though U2 and R.E.M. cover similar time periods in music history, they emerged from entirely different scenes, giving the hosts plenty of opportunity to delve into the jangly college-rock world that produced albums like Murmur and Reckoning along with bigger, later hits like Automatic for the People.
"Music in your 20s, and 30s, and 40s becomes sort of a solitary experience. You're listening to music alone usually. You're listening to it in the car, you're listening to it on your computer, or on your stereo, or on your turntable, but there's no one else around you," Aukerman said in an interview about the show with Stereogum. "It's just fun to talk about music with other people—and talk about your different experiences with it." His shows capture that simple pleasure of hearing people talk about a thing they love, making it feel greater than the sum of its random gags.