Trust Is a Stylish, Hollow Spectacle
The new FX drama about the kidnapping of John Paul Getty III lacks emotional punch.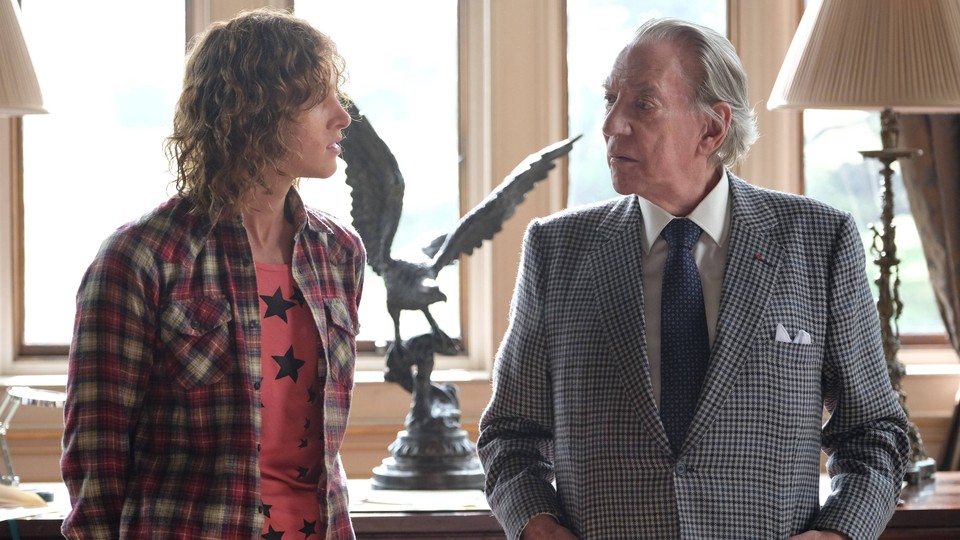 Last year, asked by a writer from The A.V. Club why there's so much running in his films, the director Danny Boyle was forthright. "I like momentum," he said. "Really, genuinely, I'm addicted to it … It defines the art form of cinema." But it's also one of those things that, over time, begins to feel less like a trademark and more like a tic. In Trust, the director's new 10-episode series for FX about the kidnapping of John Paul Getty III, there's plenty to identify his hand. A frenetic sex-and-drug-fueled set piece in the middle of Rome as police clash with protestors nearby. A traumatic come-down in a grimy basement during which Getty III, withdrawing from cocaine, defecates into a bucket. And the opening scene, in which the same character sprints furiously through a field of sunflowers, whose yellow petals burst against a brilliant azure sky.
Trust, written and created by Boyle's frequent collaborator Simon Beaufoy, is full of scenes like this—visual picnics that pop off the screen, and expensive interludes featuring single-jet engines and hundreds of extras that do very little to define the story at hand. It dazzles, but it doesn't entirely draw you in. If film is about momentum, as Boyle theorizes, television requires something else: the ability to make viewers care enough about the characters that they'll keep tuning in. Less propulsion, more emotion. Given that Trust is based on a true story—one that only months ago was adapted into All the Money in the World, the movie starring Christopher Plummer and Michelle Williams—it's on shakier narrative ground still. We know how the story ends.
The most promising episode of the three made available for review is the first, which focuses on the House of Getty, led by an irascible, miserly, priapic oil baron (Donald Sutherland) who lives in a stately home outside London with his official girlfriend (Anna Chancellor) and a harem of unofficial women she describes as "decoration." John Paul Getty's son George has recently killed himself in an amphetamine-fueled incident involving a barbecue fork, leading Getty Sr. to ponder, Lear-like, which one of his feckless heirs deserves the keys to his kingdom. (The Shakespeare comparison isn't allowed to be subtle.) The House of Getty is defined by opposing qualities of excess and restraint: Black swans are imported for George's funeral, and medieval tapestries adorn every interior wall, but guests are obliged to find pennies for a payphone in the lobby if they want to make a call.
Sutherland veers unnervingly between hornier Scrooge McDuck and tragic paterfamilias as Getty. He emotionally tortures his various lovers with the prize he has no intention of bestowing (his fortune), while expressing genuine pride when his grandson, John Paul Getty III (Harris Dickinson), drops in unannounced for his uncle's funeral and bonds with Getty Sr. over their shared love of art. Getty Sr. is deeply disappointed in all of his children, who've largely sought solace for the wounds from their emotionally unavailable father in drugs and alcohol. "You know what drugs have done to our family," he barks at Getty III. His preferred compulsion is money, the discussion of which provides the only impetus for his eyes to sparkle.
Trust is at its most fascinating when it's pondering wealth. There's barely a character in the show who isn't in some way informed by it, although Getty III's mother, Gail (Hilary Swank), is maybe the exception. Everyone else bows, scrapes, and schemes to get their hands on a piece of Getty's fortune, including German twin sisters living in Rome with his grandson and the doctor who fixes Getty's impotence with penile injections ("I am magnificent," Sutherland crows when an unapproved drug kicks in, cock of the walk once more). So the most obviously sympathetic character is the one who's the most openly transactional: Getty's fixer, James Fletcher Chase (Brendan Fraser). Despite being stuck with a handful of awkward straight-to-camera monologues, Fraser is winning as a Texan unafraid to sport a bolo tie in Surrey or negotiate with mafiosi in the catacombs.
The biggest hole in the drama is the question of the kidnapping itself. Beaufoy takes creative liberties in painting Getty III as the architect of his own abduction, having run up thousands of dollars of drug debts and failed in tapping his family for cash. (All the Money in the World portrayed him as an innocent victim.) This adds layers of intrigue to the plot, but also makes it hard to sympathize with Getty III, who seems much older in Dickinson's hands than the 16-year-old who was kidnapped. Boyle clearly savors the scenes of Getty III's hedonistic lifestyle in Rome (subtitled "La Dolce Vita"), as the heir rubs himself in gold paint to take metaphorical possession of his family fortune, and dances wildly in an empty club. The director's less adept at offering reasons to care about what happens to him, which is the show's main source of suspense. Getty III isn't a brat, or even a devious manipulator. He's not much at all.
Beaufoy and Boyle reportedly have plans for another two seasons of Trust, in which they expand on the story of the Getty family saga. Fraser's character is compelling enough for a spinoff, but the story of a family ruined by its privilege requires more than debauched pool parties in the L.A. sun or petulant heirs lamenting their lack of autonomy. Watching Trust means longing for some sense of the damage that caused America's wealthiest family to rot from within, but it never comes. In one scene in the third episode, Getty III briefly experiences a revelation about the three friends he's living with. It's a dramatic and sad realization that has the potential to destabilize the bohemian life he's constructed. Instead, he shrugs the moment off and basks in the evening light over the Colosseum. The scene is beautiful, but it could have been so much more.