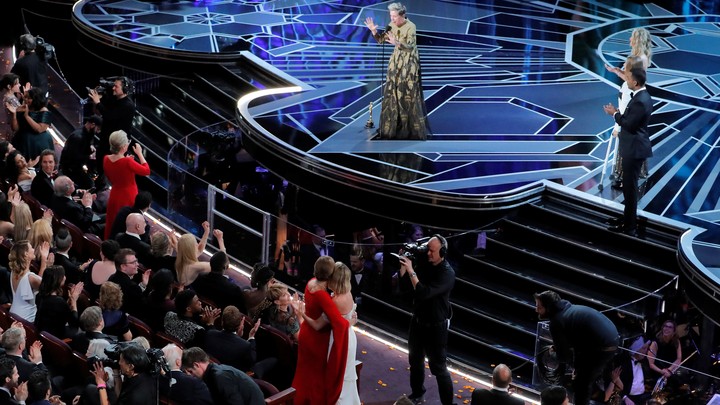 The Academy Awards began as an effort of appeasement. It was the late 1920s, and Louis B. Mayer—the studio head who was one of the founders of Metro-Goldwyn-Mayer—was worried about the spread of unionization throughout the movie industry. Wanting to keep the studio workers in his employ from organizing, he came up with a canny solution: He founded a collective, the Academy of Motion Picture Arts and Sciences, that would, among other things, distribute prizes to Hollywood's creators—and that would help, Mayer hoped, to keep producers and actors and other laborers of the film industry in his thrall. "I found that the best way to handle [moviemakers] was to hang medals all over them," Mayer would later note. "If I got them cups and awards," he reasoned, "they'd kill themselves to produce what I wanted. That's why the Academy Award was created."
Mayer would likely have been both confounded and pleased were he to have witnessed the 90th incarnation of his brainchild on Sunday—an Academy Awards show that featured a striking collision between progress and complacency. Sunday's Oscars telecast on the one hand featured the glittery self-regard that is the hallmark of such an event: Host Jimmy Kimmel kicked off the proceedings with a newsreel-ish treatment of the "Haaah-llywood staaahs" who, over the course of the show, would be plucked from the firmament to delight the audience below. The show's musical interludes—Sinatra, "Perfidia," Porter—celebrated the cheerful standards of Haaah-llywood past. Eva Marie Saint presented a statuette. There was a lot of talk of those hoary Hollywood truisms: movies as empathy, movies as dreams, movies as magic.
There was also, however, under the sparkling proscenium of the Dolby Theatre, talk of … pay equity. (In his monologue, Kimmel made a relatively biting joke about Michelle Williams getting paid less than Mark Wahlberg for the reshoot of All the Money in the World—an irony made all the more biting because the two shared an agency.) There was also talk, via Frances McDormand's Best Actress acceptance speech, of … inclusion riders (clauses in contracts that require the producers of a given work to meet stipulated levels of racial and/or gender diversity). There was also talk of … intersectionality. (Ashley Judd: "We work together to make sure that the next 90 years empower these limitless possibilities of equality, diversity, inclusion, intersectionality. That's what this year has promised us.")
In the week leading up to the Oscars, Kimmel and the telecast's producers had provided the American press with seemingly conflicting statements about the extent to which #MeToo and Time's Up would factor into the show's proceedings; their muddled commentary might have been a result of the simple fact that #MeToo, in the end, was both everywhere and nowhere on the Oscars stage on Sunday. It took on, often, a spectral presence (Tarana Burke, the movement's founder, was in attendance at the Dolby Theatre, but not prominently featured in the show). And yet #MeToo's message infused the proceedings—through, in particular, an attempt to recognize, and publicly grapple with, the systems that allowed the abuse the movement has laid bare to flourish for so long. Judd made her comment about intersectionality as the opener to a pre-recorded video, a kind of montage-meets-documentary, that featured a group of Hollywood directors and other creatives—Mira Sorvino, Lee Daniels, Ava DuVernay, Greta Gerwig, Geena Davis, Yance Ford, Sarah Silverman, Barry Jenkins, Kumail Nanjiani—discussing representation in film. The video officially served, as it was euphemized before the show, as the telecast's allotted Time's Up "moment."
What was striking about the video, though, as a work and as a Moment, was that it wasn't, explicitly, about Time's Up. Instead, the show's producers, in conjunction with the Time's Up leadership, tried to do something bigger and, in its way, much more radical, within the Oscars' platform: to use it to situate the problem of sexual abuse in Hollywood—which, according to a recent survey, 94 percent of Hollywood's women have experienced—within a broader recognition of the flaws in filmmaking's structural integrity.
The brief montage/documentary was an explicit attempt to recognize what many analysts, in the media and in academia, have been saying of the Weinstein story since it broke in October: that sexual abuse is not just about sex; it's about power. And that, as a result, if there is to be any hope of meaningful progress in Hollywood as a result of #MeToo's revelations, such progress will have to come not merely through the ad-hoc punishment of abusive behavior, but also through a wholesale transformation of the Hollywood system, both at its foundations and in its echelons: more women and people of color in positions of leadership. More diversity across the board. "Representation" not as a cosmetic solution, but as a structural one.
And yet: The video operated under the assumption that the remodeling process is already underway. It served, self-consciously, as a message heralded, a gauntlet thrown: The year 2018, the video suggested, marks a new era in Hollywood. (Nanjiani: "Some of my favorite movies are movies by straight white dudes, about straight white dudes. Now, straight white dudes can watch movies starring me and you relate to that. It's not that hard. I've done it my whole life.")
As always, though, in Hollywood and in the world beyond: The talk and the truth don't always align. Words are easy; action is hard. As Kimmel, celebrating the success of Black Panther as both a cultural and commercial enterprise, noted on the Oscars stage, "I remember a time when the major studios didn't believe a woman or a minority could open a superhero movie. And the reason I remember that time was because it was March of last year." He further noted that only 11 percent of last year's top films were directed by women—and that Greta Gerwig was the first woman to be nominated for a Best Director Oscar in eight years. And one of the striking elements of the rousing acceptance speech Frances McDormand gave—"If I may be so honored to have all the female nominees in every category stand with me in this room tonight," she requested, as the Dolby audience went wild—was how few people actually stood in response to her entreaty. Save for the categories that specifically award women … the Oscars still, for the most part, across the categories that recognize filmmaking as a holistic effort, reward men. Straight men. White men.
And the same awards show that so excitedly heralded a new age of egalitarian filmmaking on Sunday also, in classic Louis B. Mayerian style, reassured its viewers that the transformation will not be, do not worry, too transformative. Among the winners given glistening statuettes on the Oscars stage on Sunday were men who have been accused of misconduct, Kobe Bryant and Gary Oldman; at the same time, the presence of Ryan Seacrest, himself the subject of harassment and abuse allegations that an E! investigation found to be "completely baseless," brought notes of #MeToo tension to the evening's red-carpet proceedings.
Jimmy Kimmel also orchestrated a stunt—a follow-up to last year's "bring real people to the Oscars" bit—that involved celebrities traipsing over to a theater near the Dolby to shower the normals at a movie screening with candy and sandwiches and ambient celebrity. It was meant as a nod of gratitude, Kimmel suggested, to "the moviegoing public"; in practice, it ratified the awkward distance between the elites of Hollywood and the world beyond them. And Maya Rudolph and Tiffany Haddish, in an award-presentation performance that will ideally get the pair considered for next year's hosting duties, poked fun at the fact that Hollywood, for all the talk of its political progressivism, is so often deeply conservative: "Don't worry," Rudolph quipped, of all the on-stage talk of diversity, "there are so many more white people to come tonight."
The Academy recently expanded its membership to be more inclusive, across race and gender and generation; it's an important step, but it's a step whose effects, social collectives being what they are, will reveal themselves slowly. (One Academy voter recently admitted, anonymously, to having rejected Get Out, Jordan Peele's deeply innovative and urgently important Best Picture contender, out of hand—precisely because, the voter groused, "as far as I'm concerned, they played the race card.") And an Academy that is diversified in its membership will have little effect unless the movies that body professes to oversee undergo their own evolution. Representation has to be more than a word, more than an aesthetic; it has to be a structural reality. As Jordan Peele—writer, director, actor, producer—noted of Hollywood, after accepting the screenwriting Oscar he won on Sunday in spite of that anonymous voter's distaste for Get Out: "I didn't believe there was a place for me."
The project, Sunday's Oscars made clear, is now to make a place: for Hollywood to reconcile the easy language of structures and systems, of pay disparity and intersectionality, with the work those words demand. It has, in that—despite the jubilation on Sunday, and in some sense because of it—a very long way to go. The beginning of the Oscars telecast, Jimmy Kimmel's introductory bit about the old Hollywood giving way to the new, featured a symbolic transformation: the Hollywood of the past—black and white, but so deeply monochromatic—transitioning, just as the 90th Academy Awards ceremony began, to a depiction in full and vibrant color. It was a nice metaphor. It came just after Kimmel, in his old-timey, sing-songy voice, had been unable to resist making a joke about the location of the Dolby Theatre: The Oscars venue, the host reminded the crowd, enthusiastically, is "just a hop and a skip from Hooters!"
We want to hear what you think about this article. Submit a letter to the editor or write to letters@theatlantic.com.
Megan Garber
is a staff writer at
The Atlantic
, where she covers culture.