The Many Eras of Al Pacino's Stardom
Running through some of the best, and strangest, performances given by the legendary actor, who helped reshape Hollywood's masculine ideal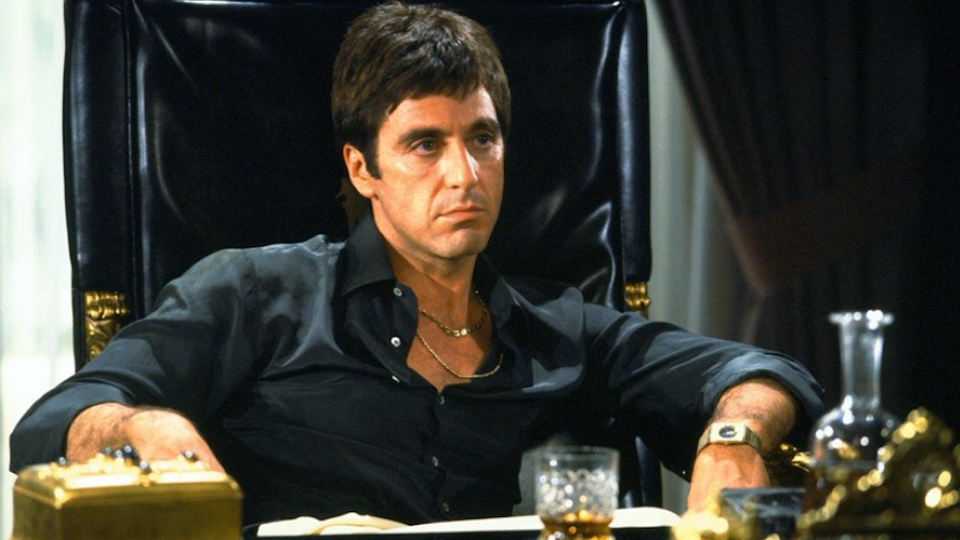 When Al Pacino was up for the lead role of Michael Corleone in The Godfather, according to Hollywood folklore, the studio balked at casting him. Not just because he was a relative unknown (Paramount wanted Warren Beatty, Robert Redford, or Ryan O'Neal, depending on who you believe), but also because Pacino was so far from their traditional image of a marquee idol. Short, bug-eyed, and intense, the young Method actor had made an impression on Broadway and in the 1971 film The Panic in Needle Park, an uncompromising look at heroin addiction that had drawn Francis Ford Coppola's eye.
But producers weren't that interested in Pacino. He was too strange-looking, too "anemic." Coppola fought to hire him, later saying, "His intelligence is what I noted first … this striking magnetic quality, this smoldering ambiance." The rest, of course, was history. Almost 50 years after Pacino began his Hollywood career, it's being celebrated with a retrospective at New York's Quad Cinema that delves into the hits, the flops, and his evolution from smoldering new talent to A-list star to beloved, oft-satirized, larger-than-life legend.
The arc of Pacino's career is a fascinating mirror of the film industry's own growths and regressions from the 1970s onward, as the freewheeling New Hollywood movement exploded into the commercial mainstream, then ossified into something broader and more blockbuster-focused. Pacino has been a bankable star, a washed-up ham, a luminary, and a living punchline—and he's still consistently working at the age of 77. Going through his entire filmography is a rewarding trip through American cinema's highs and lows; here are some (hardly comprehensive) highlights from either end.
---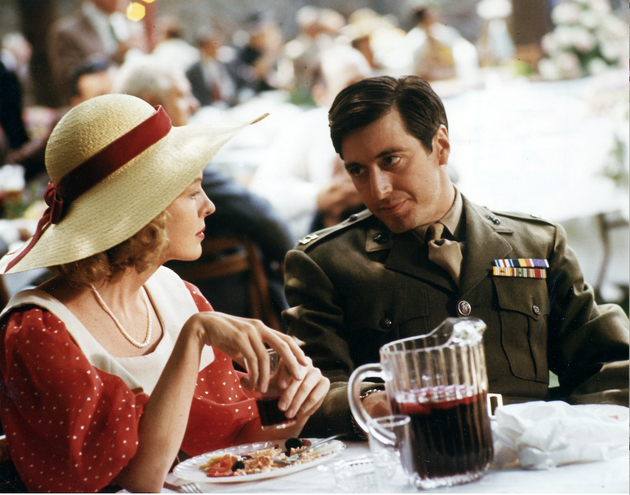 The Godfather (1972)
Pacino built on his incredible work as mafia boss Michael Corleone in 1974's The Godfather Part II, but there aren't many performances in the Hollywood canon as mesmerizing as the one he gave in the first film. Michael's journey from idealistic World War II veteran to hard-hearted gangster is the emotional crux of Coppola's crime saga, and Pacino sells it by never exploding with anger, or doing anything to make the transformation obvious. Instead, he makes his character's development about control; Michael dominates every room he's in by speaking very little, and wielding each word and command like a weapon.
It's a titanic performance—he's at once frighteningly godlike and recognizably human—but it's one Pacino hasn't really successfully given again, outside of the other Godfathers. With the role, he helped define a darker, more internal masculine ideal in Hollywood, distinguishing himself from the WASP-y idols he had beaten out for the part. Pacino, along with his Method cohorts like Robert De Niro and Dustin Hoffman, was an entirely different kind of star, and he quickly built out his forceful screen persona with movies like Sidney Lumet's Serpico (1973) and Jerry Schatzberg's Scarecrow (1973), and then cemented it with The Godfather Part II.
---
Dog Day Afternoon (1975)
If The Godfather remains Pacino's most famous performance (on its release, it was the highest-grossing film in history, unseating Gone With the Wind), his portrayal of an amateur bank robber in Sidney Lumet's Dog Day Afternoon is his most "Pacino" performance, all nervy energy and bouts of crazed shouting. The "Attica!" confrontation (which was ad-libbed) is an example, though, of just how much bigger Pacino would get in his later years. He slowly builds to that outburst, letting Sonny Wortzik's fears mount until they spill into anger and paranoia. He wants to root the audience in his character's flaws, knowing that'll help every surprising plot turn feel natural. Pacino, practically unknown in 1971, got his fourth Oscar nomination for Dog Day Afternoon; from Needle Park to this is a fully unmatched run of acting work in Hollywood history.
---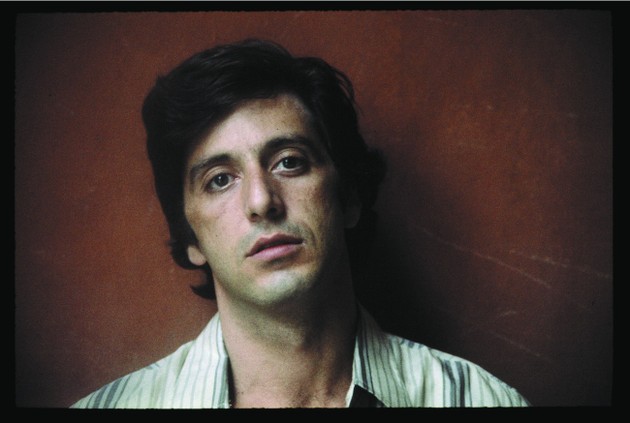 Bobby Deerfield (1977)
After that, Pacino took two years off before uniting with another major director (Sydney Pollack) for a romantic drama set in the world of racing, alongside Marthe Keller, whom he then dated. It was a colossal bomb, a strangely muted work that actually had very little to do with racing and was widely mocked by critics as a clumsy facsimile of contemporary European art cinema. Deerfield is interesting, if only fitfully rewarding, on rewatch (it's one of the flops that Pacino felt should be included in the retrospective) partly because it's one of the few times the actor comes close to the buttoned-down intensity of Michael Corleone. "It wasn't a performance that was coming at you, but it was something personal, and it showed," Pacino recently reflected on the film, which took him years to appreciate. "You saw something revealed in this character, low-key—something I was going through in my life at that time."
---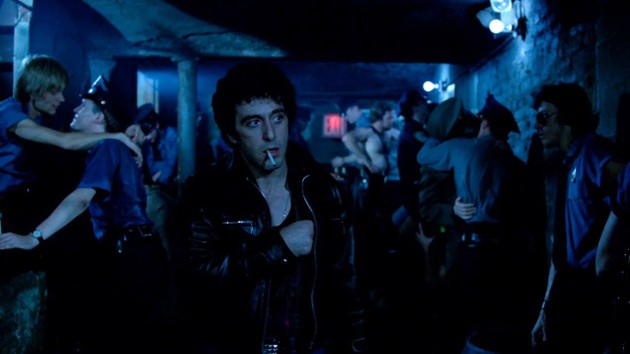 Cruising (1980)
Bobby Deerfield arrived the same year Star Wars took Hollywood by storm and the age of the blockbuster was properly underway. Pacino, a workhorse in his early years, became a sporadic screen presence, netting just one Oscar nomination in the 1980s (for his righteously furious defense attorney in Norman Jewison's ...And Justice for All). Some films, particularly William Friedkin's Cruising, might have appealed to him just because of how transgressive and off-putting to mainstream audiences they were. Here was Pacino defiantly zagging as Hollywood was zigging back to sci-fi and action epics.
A drama about an undercover cop (Pacino) infiltrating New York's gay fetish scene on the hunt for a serial killer, Cruising is shockingly explicit and at times deeply stupid; it was targeted by gay activists during production and widely condemned on release as homophobic. Pacino said it taught him to take greater care in understanding the wider import of the roles he picked: "You have to know what you represent and what you're doing and how it affects the world around you. A little bit, you need to know that stuff," he told the Village Voice this year. On rewatch, Cruising feels more clumsy than malicious, an othering peek into a world even Friedkin barely seems to understand. But Pacino comes off as somewhat lost in the movie, reduced to looking on impassively as the film offers only the barest hints about his character's own sexuality and changing mental state (there's a twist ending that confusingly hints Pacino might've been the killer all along).
---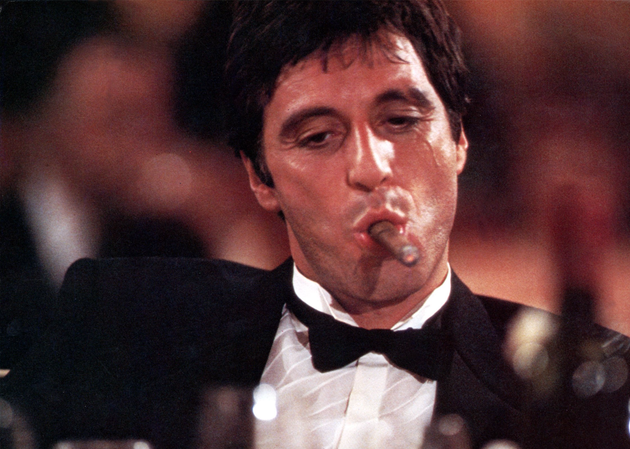 Scarface (1983)
The '80s were quiet for Pacino (he only made five films, including the major flops Cruising and Revolution), but they also gave him Scarface, the Brian De Palma gangster epic that endures as a cult classic for generation after generation of college students and stoned teenagers. Perhaps I'm selling Scarface short, but the comedian John Mulaney once perfectly mocked the notion that someone would say their favorite movies were The Godfather and Scarface, as if the two were of remotely similar caliber: "Oh yeah? Well my favorite foods are lobster … and Skittles. Those are equal in my eyes!"
The story of a Cuban mobster's rise to power and fall from grace, Scarface is a blast to watch, but it's the definite beginning of Pacino's "Skittles" phase, one where no choice was too outrageous, where yelling right to the camera was practically a matter of course. It's the Pacino that so many younger viewers are more familiar with. "I think sometimes I went there because I see myself kind of like a tenor," Pacino said. "And a tenor needs to hit those high notes once in a while. Even if they're wrong. So sometimes they're way off … I saw that character as bigger than life; I didn't see him as three-dimensional."
---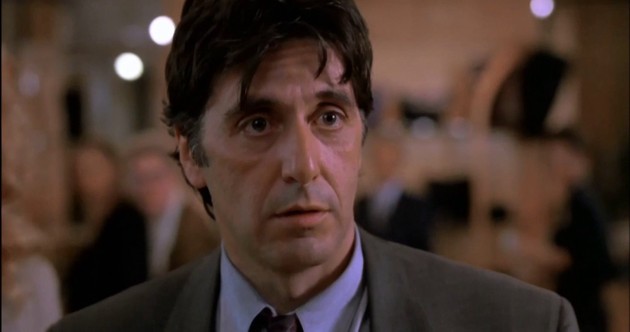 Sea of Love (1989)
After a four-year break from screen acting, Pacino returned to stardom with Harold Becker's thriller, playing a cop hunting for a serial killer who murders people using the personal ads. Pacino had gone broke and said he needed the money, but he was fond of the novelist Richard Price's script, which drew him to this particular project. I've always been fond of Sea of Love, too; it's a low-key New York movie with a genuine sense of the Upper West Side in the 1980s, a neighborhood that still fluctuated between upscale and dangerous from block to block. Fortunately, Pacino isn't dialing things up in his big return to the screen—his detective Frank Keller is a charming, but shambling screw-up, a perfect noir hero in what amounts to a solid genre exercise. That set the pattern for his 1990s, which were crammed with pulpy B-movies like Dick Tracy (1990), Carlito's Way (1993), City Hall (1996), and The Devil's Advocate (1997).
---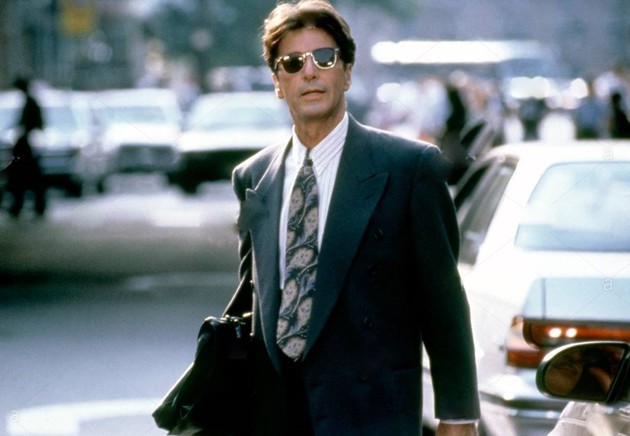 Glengarry Glen Ross (1992)
Carlito's Way might be the best Pacino performance of the '90s, in that it's a natural evolution of his bombastic gangland heroes of prior decades into someone worn out by the excesses of the era. But I'm partial to his supporting role in Glengarry Glen Ross, James Foley's adaptation of the David Mamet play, where Pacino was Oscar-nominated for his work as fast-talking salesman Ricky Roma: It's one of the few times you really see Pacino flexing his marquee charisma. Pacino would finally win his Oscar, but for another 1992 movie, Scent of a Woman, which represents the curdled peak of his indulgences as an actor. While that's a performance entirely screamed into the camera that verges on embarrassing from minute one, his work in Glengarry is far subtler and more memorable.
---
Heat (1995)
If I want grandiloquent Pacino, this is where I turn—to Michael Mann's superb L.A. crime epic, a tale of cops and robbers that feels like a battle between celestial gods. The pre-release hype for the movie revolved around the uniting of '70s icons Pacino (playing LAPD Lt. Vincent Hanna) and De Niro (as professional thief Neil McCauley), but of course they only share one major scene together, a conversation over coffee that sees them enter, and depart, as equals. De Niro is all locked-down coolness in Heat, while Pacino played his character as if he were always high on cocaine. But it's one of those movies where the tenor is actually hitting his high notes rather than just reaching for them; Mann's films have a symphonic quality to them, after all, and Pacino's bombast is a perfect match.
---
Donnie Brasco (1997)
Though so many of his movies from this era, including The Insider and Any Given Sunday (both 1999), see Pacino as a boss barking orders in his colleague's faces, Mike Newell's Donnie Brasco is an underrated entry in the actor's mob-movie canon. As real-life mafia soldier Benjamin "Lefty" Ruggiero, Pacino is playing someone firmly in middle management, trying to curry favor with his higher-ups by introducing them to jewel thief Donnie Brasco (Johnny Depp). Little does Lefty know, Donnie is actually an FBI undercover agent, and though Depp is the film's lead, Pacino gives Donnie Brasco a melancholy sense of time passing, and of old veteran actors like himself being surpassed by younger stars.
---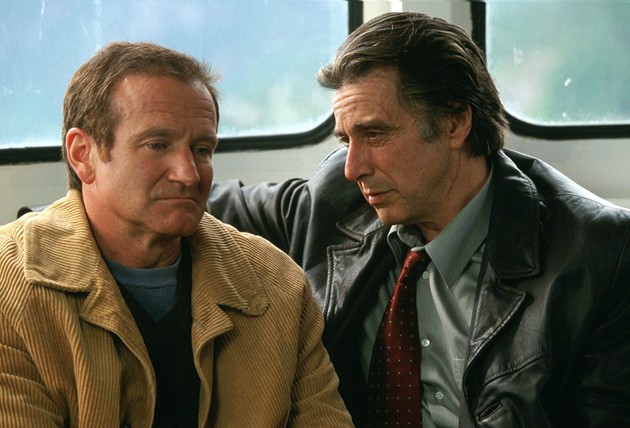 Insomnia (2002)
That tragic feeling of time passing persists in Christopher Nolan's superbly hard-boiled detective thriller, which seems as though it's following Pacino's character from Heat, only decades after his best days as a police officer. Will Dormer is a faded star investigator, brought to Alaska to work an unusual homicide, who accidentally shoots his partner and then gets drawn into a cat-and-mouse mind game with the killer he's hunting (played by an icy Robin Williams). This is Pacino at his most stripped-down and muted in the 2000s, playing a character who grows progressively weary in the endless Northern Alaska sun (the film is set during the summer, when it's always light out) until all he craves is sleep. It's the rare performance that taps into Pacino's own fading stardom, playing off his fame while acknowledging he was working with a depleted bag of tricks.
---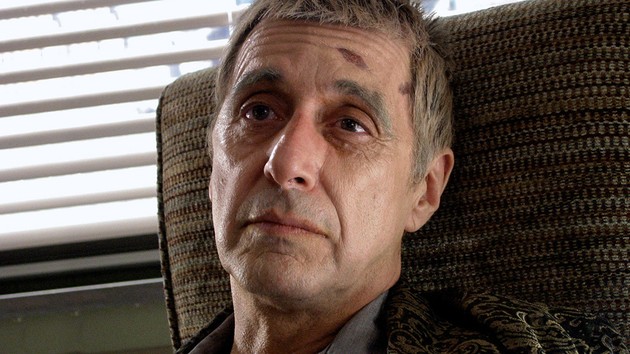 Angels in America (2003)
In the 21st century, many of Pacino's most memorable performances have been given on television, all for HBO, often playing controversial figures from recent American history like Jack Kevorkian, Phil Spector, and Joe Paterno (in the upcoming Barry Levinson film Paterno, which will air on April 7). By far the best was his work as Roy Cohn in Mike Nichols's miniseries adaptation of Tony Kushner's Angels in America. It's outsized Pacino, to be sure, but Cohn's monologues in that play brilliantly satirize the American id run rampant, an ideal subject for Pacino to sink his teeth into.
---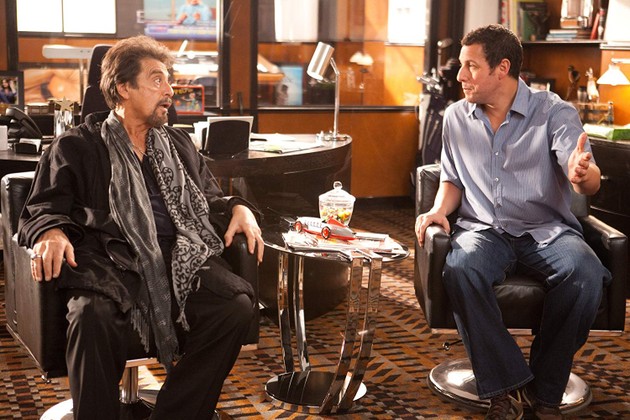 Jack and Jill (2011)
And what better counterpoint to Angels in America than Pacino's bizarre supporting performance as himself in Dennis Dugan's Jack and Jill, a bawdy family comedy in which Adam Sandler plays both a laid-back L.A. ad executive, Jack, and his twin sister, Jill, a brassy Jewish lady from The Bronx. Pacino falls for Jill and attempts to woo her with increasingly brazen tactics, finally dressing up as Don Quixote and singing "The Impossible Dream" from Man of La Mancha; there's also a sequence where he raps a Dunkin' Donuts advertising slogan. The film treats Pacino reverently, but the actor isn't afraid to use his own bluster as a punchline.
For all his career highs and lows, Pacino has maintained an incredible sense of self uncommon of such icons, as best displayed in the thoughtful interviews he's given in connection with the Quad retrospective. He's as unusual now as he was when he entered the industry, and he's never shied away from laying bare his insecurities through a performance. As New Hollywood fossilized into the more traditional star- and studio-driven system that exists today, Pacino has maintained his independence and pursued challenging new projects; this year, in fact, he's finally collaborating with Martin Scorsese for the first time, in the upcoming Netflix drama The Irishman. Another bold new era for Pacino may well await us.