Someone Was Missing at the 2018 Oscars
Last year, the Trump administration drew the ire of the Hollywood elite. This time around, it was the industry itself.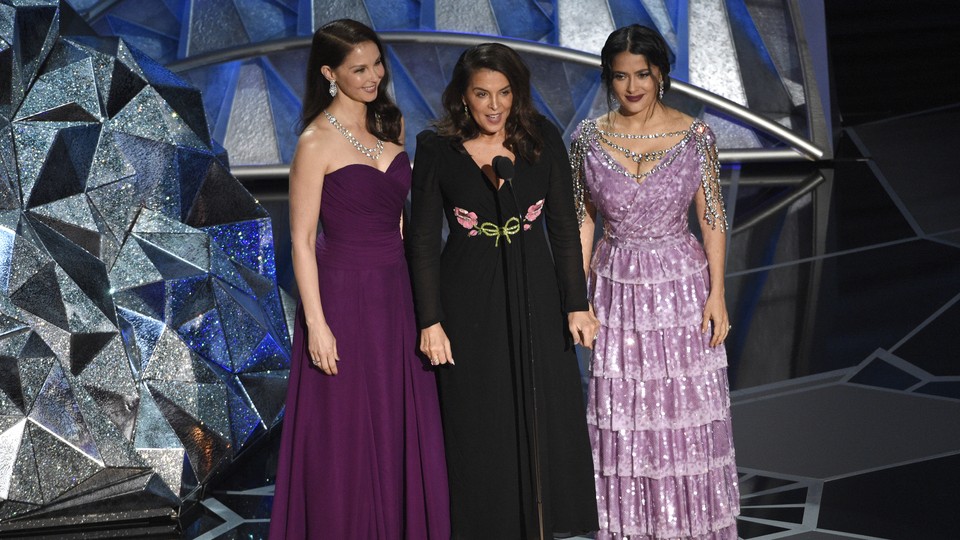 Last year, there was a discernible shadow looming over the 2017 Academy Awards, saturating Jimmy Kimmel's opening monologue, popping up in acceptance speeches throughout the night, and even making its presence felt via tweets projected onto the backdrop of the Dolby Theatre. Back then, the Donald Trump presidency was just a month old (even if it felt older, given the temporal slowdown of this administration), and the commander-in-chief was at the epicenter of the outraged pop-cultural imagination. Books were being hastily published. Dystopian plays were being staged. And at the Oscars, people including Gael García Bernal, Mark Rylance, and Alessandro Bertolazzi took the opportunity to dig at the president from the most visible podium of the year.
What a difference a year makes. (Note, if you will, that it wasn't 14 months ago when Trump called Meryl Streep "one of the most overrated actresses in Hollywood" after she spoke out against his presidency at the Golden Globes.) On Sunday night in Hollywood, though President Trump was barely name-checked. He came up in Common's blistering performance of "Stand Up for Something," and his immigration policies were alluded to, but Trump himself sparked barely more Kimmel jokes than his VP did (one). Whether this was a relief or an outrage for the notoriously attention-hungry Trump isn't entirely clear. Still, his relative absence seemed to signify two things: that popular culture has Trump fatigue, and that the Harvey Weinstein scandal and its subsequent movements for gender parity and inclusion have underlined more urgent things to focus on.
Last year, the president and his new administration were easy targets for aspiring virtue signalers in the entertainment industry. In February 2017, weeks into his presidency, Trump had already directed the Department of Homeland Security to start building a border wall and implemented a travel ban for people from seven majority-Muslim countries. It was a breeze for Hollywood to congratulate itself for its cultural diversity and artistic imagination by contrast.
But the allegations and accusations that came to light later in the year regarding Weinstein, Louis C.K., Kevin Spacey, James Toback, Jeremy Piven, Dustin Hoffman, Brett Ratner, Bryan Singer, James Franco, and many more key figures in film and television made it clear that the industry had bigger problems closer to home. Salma Hayek, writing in The New York Times in December, described the film community as "a fertile ground for predators," the reality of which made it much harder to be so self-congratulatory. At the Golden Globes in January, women wore black to protest a history of unequal treatment, harassment, and assault, while men mostly elected to stay safe by saying nothing at all.
So what viewers saw on Sunday night, watching on screens all over the world, was an industry rewarding itself while acknowledging how much progress still needs to be made. Greta Gerwig, Kimmel noted, was the first woman to be nominated for Best Director in eight years. Only 11 percent of movies, he added, are directed by women. Nodding to the phenomenal success of Black Panther at the box office, Kimmel said, " I remember a time when the major studios didn't believe a woman or a minority could open a superhero movie. And the reason I remember that time was because it was March of last year."
With all this in mind, nominees and presenters chose, rather than directly critiquing the president, to target more general attitudes of racism, sexism, and obfuscation that prevail in both Hollywood and Washington. Accepting the Oscar for Best Animated Feature, the co-director of the Pixar film Coco Lee Unkrich talked about trying "to take a step forward toward a world where all children can grow up seeing characters in movies that look and talk and live like they do." Representation, he added, "matters." The director Greta Gerwig, co-presenting the award for Best Documentary Feature, talked about living in a time "when, now more than ever, all of us need to understand the importance of what is real, what is authentic, and what is fact"—a statement that could be applied just as easily to the Trump administration as it could to the spin operations and NDAs used to protect Weinstein for so long.
You could interpret all this as a necessary amount of self-reckoning in an industry whose image has been bruised by the Weinstein moment and its reverberations. (It's worth noting two other stars who were absent from the ceremony: Last year's Best Actor winner, Casey Affleck, and the 2011 Oscars co-host James Franco.) You could deduce that, after a feverish period of trying to imitate and satirize and illuminate and diagnose a president whose own performances can't be bested, film and television has exhausted itself. But you could also conclude that the Trump presidency might be less significant than it once seemed, compared to the seismic shifts taking place in the country regardless of anything Trump says or does.
Consider Daniela Vega, the first openly transgender presenter at the Oscars, taking the stage after A Fantastic Woman won Best Foreign Language Film. Or Jordan Peele becoming the first African American winner for Best Original Screenplay. Or Frances McDormand spurring viewers to Google the words inclusion rider. Only time will tell whether the events of the last six months prompt meaningful change in the long run, but the president's status as an afterthought hinted that the momentum is moving forward, not back.