The Toothlessness of Saturday Night Live's Political Humor
A sketch involving Robert Mueller appearing on The Bachelor was the latest indication of the show's wavering topical relevance.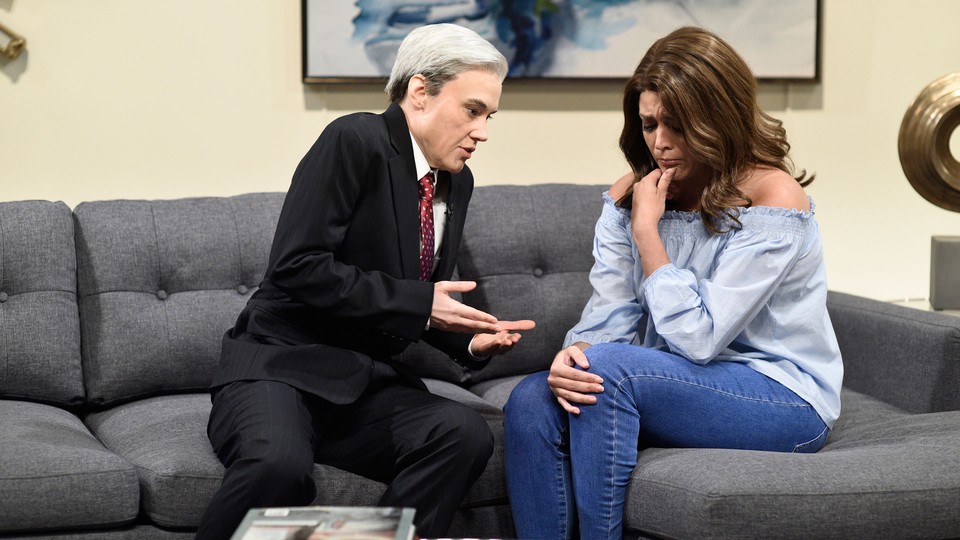 The first appearance of Special Counsel Robert Mueller (as played by Kate McKinnon in heavy makeup) on Saturday Night Live came in the form of one very funny joke. McKinnon-as-Mueller had appeared as a guest on Weekend Update in January and chatted with host Colin Jost about the ongoing investigation into the 2016 election and the Trump campaign. "Obviously, I can't discuss particulars of an ongoing investigation, but uh … yeah, we good," Mueller said, flashing a wry grin and popping a toothpick into his mouth triumphantly. "Just wait, you'll see." The whole sketch revolved around the simple premise of Mueller exuding confidence without being able to say anything; McKinnon, easily the most talented performer in the cast, stretched it out for a hilarious four minutes.
Last weekend, McKinnon's Mueller impression made a less than triumphant return to SNL in the opening sketch, which is always reserved for the hot political news of the week. This time, he was mixed into a re-creation of the shocking finale of ABC's reality show The Bachelor, spoofing Arie Luyendyk Jr.'s widely condemned, on-camera jilting of his fiancée Becca Kufrin. Here, Mueller was sharing the news with a woman played by Cecily Strong that he couldn't prove collusion between Trump and Russia; she reacted like a scorned lover as he said things like, "I'm just trying to be honest with you and tell you that I can't commit to collusion right now." It was an excruciating six minutes.
This pair of sketches aptly sums up Saturday Night Live's relatively dire 43rd season, the first to air entirely within the Trump presidency. Last season's renewed sense of energy that came with the charged political moment, and with Alec Baldwin's portrayal of the president, has completely dissipated. The show can still churn out quality sketches from time to time; it still has exceptional cast members like McKinnon that can carry a scene on sheer charm alone. But whatever topical import the series can summon amounts to careless mashups like "Robert Mueller on The Bachelor." As quickly as SNL had reclaimed its relevance, that buzz has already vanished—and it's hard to tell when the show will get it back.
Watching the Mueller-Bachelor sketch, I was bothered by the busted internal logic of the character McKinnon had created. Her Mueller had been a terrific send-up of the swagger and poise some Americans have about the implications of his investigation. Having him transform into a sobering reminder of political realities would've made more sense if there had been some kind of breaking news about Mueller's probe, but there hasn't—it remains ongoing, its ultimate findings still unknown. Beyond being an easy way to cram in a Bachelor reference, the sketch wasn't even funny, mercilessly driving its one joke (Mueller's reticence to commit) into the ground.
Episode after episode, SNL's political cold opens have struggled to do anything but try and recap the firehose of Trump-related news. Baldwin, when he appears on the show (about half the time), seems disconnected, and his Trump has gone from the malevolent, bruising figure of the campaign to a childish buffoon needling nearby pincushions like Vice President Mike Pence or Attorney General Jeff Sessions. The immense volume of satire-ready material about Trump seems to have induced a kind of system overload; there's no focus to SNL's parodies, no personality to its political sketches. Trump is hard to caricature for a myriad of reasons, as The Atlantic's Sarah Boxer noted in a recent piece; but mere reference humor (amounting to, "Hey, can you believe what these guys did this week?") isn't enough when people are already so inundated with news.
SNL's executive producer, Lorne Michaels, seems to be somewhat aware of the problem. In December, the Weekend Update hosts Jost and Michael Che were promoted to head-writer positions (joining Kent Sublette and Bryan Tucker) while also retaining their news duties. Though the duo's tenure behind the Update desk has drawn mixed reviews, Jost is an experienced sketch writer and Che is a comedian with a well defined point of view. The show had lost its previous head writers, Sarah Schneider and Chris Kelly, after Season 42; they had presided over SNL's ratings resurgence during the election. Jost and Che's promotion felt like a Hail Mary to try and recapture that magic.
I thought I had detected a change in the water with the January 27 episode hosted by Will Ferrell. His cold open, in which he reprised the role of George W. Bush, was both amusing and pointed, mocking the American people for missing the former president in the wake of Trump, and pointing out some of the thorniest parts of Bush's legacy. That flash of promise, though, clearly hasn't been sustained, as indicated by the Mueller-Bachelor mess.
The fix for SNL probably won't come until next season, which begins in September. The cast will likely continue to be shaken up, and Jost and Che should firm up their positions as head writers. Baldwin keeps threatening that his time as Trump is drawing to an end, which it probably should, in order to make way for a new, more engaged performer. But as the real-world cavalcade of political news gets wilder and wilder, Saturday Night Live is being left behind by comedians like Samantha Bee and Seth Meyers. It'll take something sharper, and far less lazy, than Bachelor sketches to catch back up.