The NFL Offseason Is Full of Quarterbacks
The next two months are shaping up to be a rare opportunity for teams in search of a steady hand under center.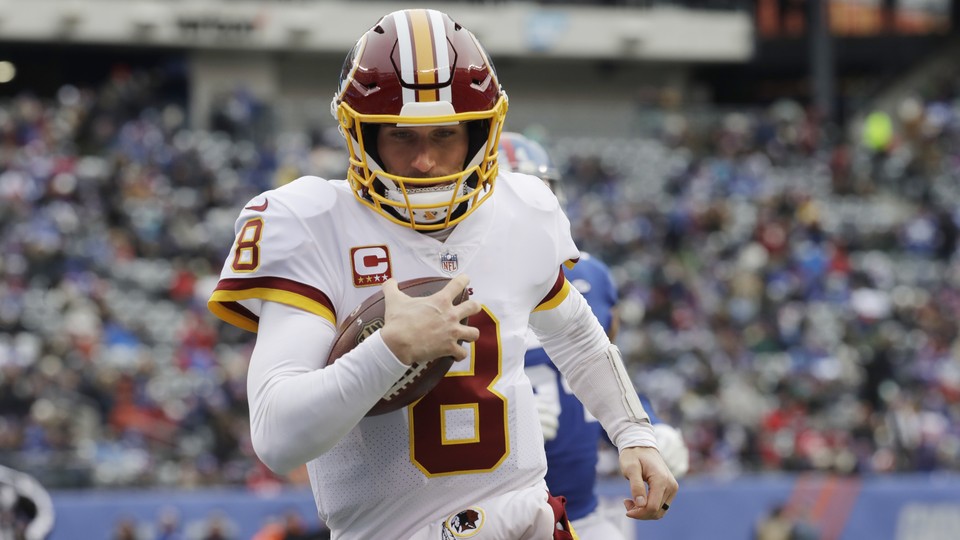 A great pro quarterback is a very particular creature: a born winner, a pinpoint thrower, a hunk. He is tall but not overly so, young and yet mature for his age, a leader who takes orders. He is easy to peg but near impossible to find.
Year after year, NFL teams dedicate time, energy, and millions of dollars toward finding the next Tom Brady or Aaron Rodgers. The pressure on the coaches and general managers leading these treasure hunts—as the Minnesota Vikings fifth-year coach Mike Zimmer pointed out recently at the NFL's annual scouting combine in Indianapolis—is crushing. "It's important for myself and Rick [Spielman, the Vikings general manager] and the organization [that] we pick the right guy that can help us continue to move forward," he told reporters. "If we don't do that, then I'll probably get fired."
Typically, the margin for error is slim. But this NFL offseason is shaping up to be the most talent-rich quarterback market in recent memory, with more than 15 quality prospects available between free agency and the draft. For the franchise desperate for a steady hand under center (and for those of you keeping score, at least one-quarter of the league's 32 teams might fit the bill), the next two months offer a once-in-a-generation opportunity to right past mistakes.
Quarterback is easily the toughest position on the field to evaluate. A passer can have all of the physical tools and flop. (See Marinovich, Todd.) A franchise can have every development resource at a passer's disposal and still be a talent graveyard. (See the Browns, Cleveland.) Most NFL teams are so desperate for quality prospects that they won't hesitate to overpay for one that seems even the slightest bit promising.
Had you scanned a list of the league's most expensive quarterbacks earlier this month, you wouldn't have found the 40-year-old Brady or the 34-year-old Rodgers among the top three. Instead, you would've found 26-year-old Derek Carr ($25 million), a three-time Oakland Raiders Pro Bowler with only one winning season to his credit, in third. Above him you would've found 30-year-old Matthew Stafford ($27 million), the fantasy-football dynamo who has yet to elevate the Detroit Lions into the NFL's elite class. And at the top you would've found 26-year-old Jimmy Garoppolo, the former Brady understudy who was shipped to San Francisco midseason and quickly parlayed a five-game win streak into the league's richest contract ($27.5 million). Meanwhile, Rodgers and Brady ranked eighth and 15th. It begged the question: Shouldn't Super Bowl victories (five for Brady, one for Rodgers) and league MVP honors (three and two) count for more?
Rodgers, at least, seems determined to get an answer. For some time now he has been in conversation with the Green Bay Packers about a raise that would make him the league's highest paid player. But he's unlikely to sign a contract extension until the rest of the quarterback free-agent market is set. (Also: Matt Ryan, the former MVP and Super Bowl 51 runner-up, is engaged in a similar stare down with the Atlanta Falcons.) Arguably, it all comes down to Kirk Cousins.
Cousins is the epitome of the high-ceiling QB—a former fourth-round draft pick who played his way out of the enormous shadow of Robert Griffin III and into a starring role with the Washington Redskins. Over the past three seasons he's proven to be a productive hurler (completing 67 percent of his passes, averaging 7.8 yards per attempt, posting a 2.25 touchdown-to-interception ratio). But his win-loss record, 24-23-1, with one postseason appearance (a wildcard loss to Rodgers's Packers), is uninspiring. What makes him so great? The fact that he's only 29 and rounding into his prime. So it figures that teams are now clamoring to meet his asking price—something Washington never wanted to do. Rather than sign Cousins to a lucrative contract extension after he played out his four-year rookie contract, Washington twice applied the franchise tag, a tool designed to keep a team's most valuable player from hitting the free agent market. (The kicker: That team has to pay that MVP a 120 percent raise, or pay him the average of the top five salaries at his position, which, in Cousins's case, amounted to roughly $44 million over the past two years.)
Funnily enough, Washington considered tagging Cousins a third time, but decided in the end to give up (quite publicly) on him and, instead, engineer a trade for the Kansas City Chiefs quarterback Alex Smith. On paper it was a blockbuster exchange (which cost Washington a third-round pick and Kendall Fuller, an ascendant defensive back). But in reality, the move, which won't be official until the start of the new league year on March 14 (and guarantees Smith a four-year extension worth $71 million), keeps things at a status quo.
A former first-overall pick of the 49ers, Smith, 33, has rebounded nicely from a near-bust in San Francisco to a solid starter there and in Kansas City. His statistics over the past nine seasons (64 percent completions, 7.14 yards per attempt, 2.52 touchdown-to-interference ratio) are virtually identical to Cousins's. And his advantage in playoff appearances (seven) is undercut by his losses (five), the most recent coming in a stunning wildcard upset by the Tennessee Titans at home this past season.
Drew Brees, on the other hand, is no one's idea of average. Over the past decade he's not only consistently rated among the league's most prolific passers, he also won a Super Bowl for the New Orleans Saints. His only downside is his age—39, which is ancient for a quarterback. Or at least it was before Brady was playing into his 40s. Technically, Brees is a free agent too, but all signs point to him staying home.
The Minnesota Vikings—the same team that a job-fearing Mike Zimmer saw upset the Saints in the playoffs on an improbable last-second pass—have three quarterbacks who are scheduled to become free agents: Sam Bradford, a former first pick who has largely underwhelmed; Teddy Bridgewater, a 2014 first-rounder whose slow rise was undercut by a gruesome knee injury; and Case Keenum, the journeyman who orchestrated Minnesota's fairy-tale season. And Zimmer, it seems, could just as easily stick with one of those guys as take a flier on Josh McCown (an old but trustworthy veteran, formerly of the New York Jets), Mike Glennon (an untried 28-year-old who found himself the odd-man out in Chicago), or AJ McCarron (the Cincinnati Bengals' auspicious backup).
Or: He could try his luck in this year's draft, which is loaded with star quarterbacks. UCLA's Josh Rosen is a classic drop-back passer with pro swagger. USC's Sam Darnold isn't as mechanically fluid, but strong-armed and accurate anyway. Wyoming's Josh Allen is even more raw, but scouts find his potential beguiling. Oklahoma's Baker Mayfield won the 2017 Heisman Trophy with a bold and inventive playing style that belied his 6-foot(ish) frame. Louisville's Lamar Jackson, the 2016 Heisman winner, dazzled as a thrower and a runner. (Still: At the combine, teams wanted him to try out at wide receiver, a request that dredged up creaky ideas about the aptitude of black quarterbacks.) All of these prospects are projected to go off the board within the first 90-odd selections. And if those choices still seem too iffy? Recall: Super Bowl MVP Nick Foles (who does not have a no-trade clause in his contract) could be pried away from the Philadelphia Eagles in exchange for maybe two first-round draft picks, and Colin Kaepernick (who just four short years ago was being touted as the future of quarterbacking) is still on the street.
For the team in the quarterback market, the options have never been better. But buyer beware: These are the orchids of the sports world; no matter how abundantly they are endowed, they won't flourish without intensive care and protection. It's a real commitment, and the small armies of pro talent evaluators around the league figure to spend as much time talking themselves into a quarterback as they will talking themselves out of one. (It's not unlike The Bachelor in that way.) Of course time will tell whether that choice actually turns out to be great.