What Makes for an 'Oscar Movie' Is Changing Fast
The fact that The Shape of Water was considered the "safe" choice out of the 2018 Best Picture contenders is revealing.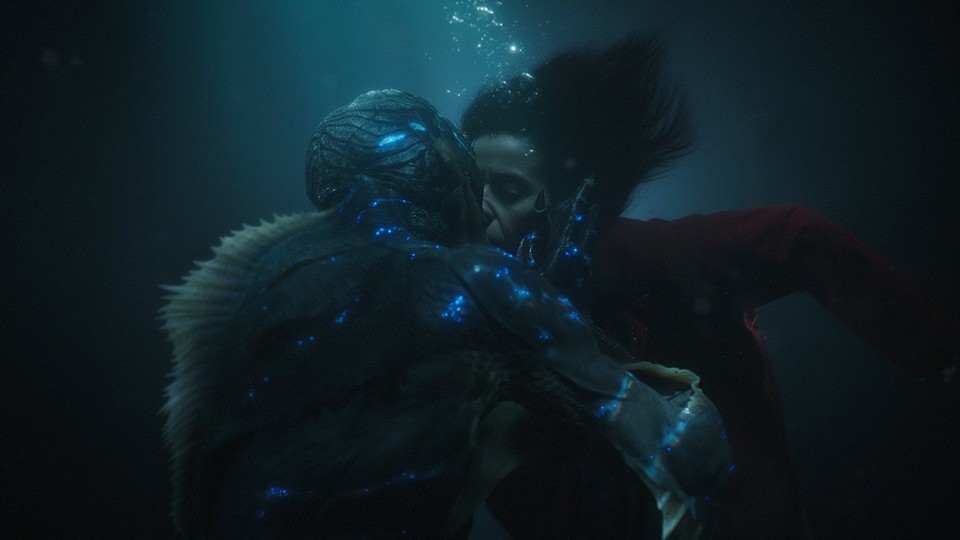 As the 90th Academy Awards drew close, prognosticators wondered if, like last year, an upset was at hand. The shocking triumph of Moonlight over La La Land at the 2017 ceremony hadn't just been great television; it had also been an indication that the Academy's push to diversify and modernize its member rolls was working. Could something similar happen this year? Could a horror movie like Get Out or a coming-of-age teen story like Lady Bird triumph over voters' perceived genre bias? Even though the other major awards—Best Director and all four acting categories—seemed locked, experts argued that the biggest prize remained wide open.
Perhaps it was (we'll never know the voting totals). In the end, The Shape of Water took Best Picture along with Best Director for Guillermo del Toro, only the second time those two categories have matched up in six years. Shape was the closest thing to a safe bet—it had won the top prize at the Directors Guild of America Awards, which often matches up with Best Picture—so its victory perhaps seemed a little routine. My colleague Spencer Kornhaber noted the "gauzy" intersectionality of del Toro's film, a Cold War–era fairytale that unites a mute woman, a black woman, and a gay man in a mission to rescue an amphibious creature from a government lab. Slate's Aisha Harris called it a "disappointingly safe" choice.
But The Shape of Water's recognition is actually a sign of how much former Academy president Cheryl Boone Isaacs's efforts to reshape and refocus the voting membership to deal with changing times in the industry has worked. It's the first film that could remotely be called science fiction to win Best Picture. It's the first movie centered on a female lead (Sally Hawkins) to win since 2004's Million Dollar Baby (and that was a grim boxing movie). It's certainly the first romance between a human and a … nonhuman to get the big prize (and believe me, I double-checked).
It's not that The Shape of Water is a truly radical film—it's designed as a heart-warming crowd-pleaser with a broad message of inclusivity that's anything but subtle. My colleague Spencer is not wrong for calling out its simplicity, nor is Harris for saying Shape might elicit little more than a shrug when viewers think back on it in the future (compared with a more pointed work like Get Out). But what's notable is that The Shape of Water is now the kind of movie that exists as a consensus choice for Academy voters. The Overton window of acceptable Oscar bait, as it were, has shifted.
Just a few years ago, a gory, sexually explicit, and fantastical monster movie by del Toro would have been a fringe pick in the Best Picture lineup. Indeed, that description partially applies to his 2006 film Pan's Labyrinth, which was nominated for six Oscars but failed to crack the top category. Not long ago, the consensus choice among this year's contenders would have been something like Steven Spielberg's The Post or Christopher Nolan's Dunkirk—robust, critically acclaimed box-office hits that tell inspiring true stories. These films also appeal to a broad audience with an older median age, similar to movies like Argo (which won in 2013), The Artist (2012), or The King's Speech (2011).
After the furor over the all-white acting slate for the 2015 and 2016 Oscar nominees and the growing influence of the #OscarsSoWhite campaign, Isaacs took genuinely drastic steps to reshape the Academy membership. In the years that followed, the group has invited record-breaking numbers of new voters. In 2014, the Academy was roughly 94 percent white and 77 percent male; Isaacs's initiative plans to double the number of women and people of color in the group by 2020. Following Isaacs's efforts, Barry Jenkins's Moonlight won Best Picture in 2017, a triumph mostly due to the stunning quality of the film, but nonetheless symbolic of the changes the Academy was trying to make.
Get Out would have been a surprising winner at the 2018 Oscars for many reasons. Most crucially, it only drew four nominations total and none in the technical branches, whose voters are crucial to any Best Picture victory (The Shape of Water got 13 nominations, including seven technical nods). Get Out's status as a horror film, the least "prestige" category of them all, probably lost it some support; though The Shape of Water is also a genre film, its period trappings may have helped disguise its more lurid qualities (the less said about what happens to that poor cat, the better).
Still, Get Out was undoubtedly the pop-culture phenomenon of the year, and there's the argument that the Oscars could do better to recognize films like that as the Best Picture when they come along. As Harris suggested, The Shape of Water likely won't be as well-remembered as Jordan Peele's directorial debut a few years from now; the same goes for some of the other Best Picture also-rans like Three Billboards Outside Ebbing, Missouri or Darkest Hour. But Shape's frontrunner status is still surprising to consider. The Academy will always be a consensus body—it's thousands of voters trying to pick the movie they like the most. In 2018, that consensus landed on fish sex. Who knows where it will land in 2019?