The NCAA Is Facing a Crossroads
The college-sports body must decide whether to double down on its amateurism rules—or to use an ongoing FBI probe as a chance to soften its stance on players making money.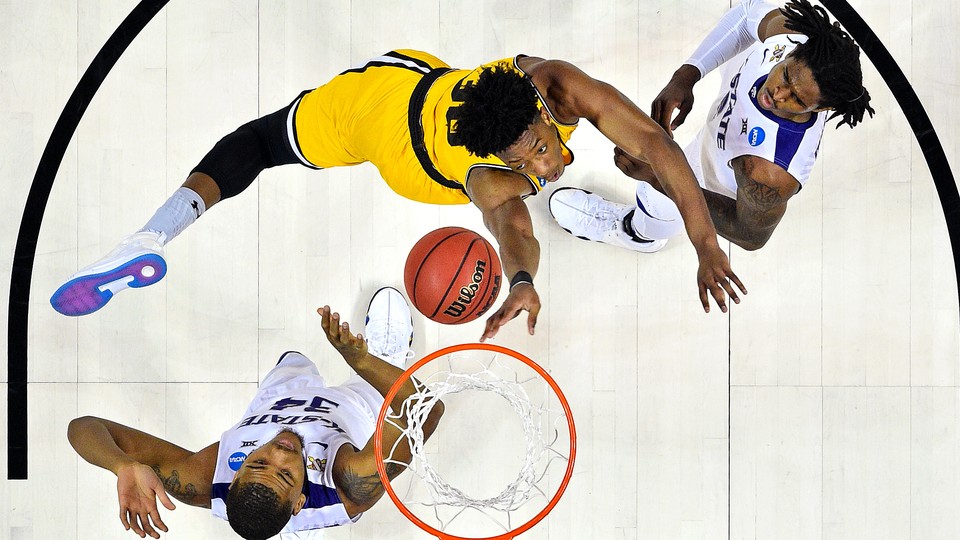 On Saturday, the Duke men's basketball team walloped Rhode Island, 87–62, in the second round of the NCAA Tournament, earning the program's 24th Sweet 16 berth in the past 33 years. The performance showed off many of the characteristics that make the second-seeded Blue Devils a national-championship contender: suffocating defense, balanced scoring, selfless passing. It was a satisfying win for one of the country's premier basketball programs.
But as impressive as the victory was, it's entirely possible that it could one day be vacated by the NCAA, as if it never happened. That's because one of Duke's five double-digit scorers in the contest was a freshman forward named Wendell Carter Jr.; he's among the many hoops stars alleged to have violated the NCAA's amateurism rules in connection with a national recruiting scandal.
According to a recent Yahoo Sports exposé, Carter's mother met with, and possibly accepted a free meal from, Christian Dawkins—a runner for the NBA agent Andy Miller and a central figure in the FBI's ongoing probe into college sports' underground economy. Per the report, the FBI has intercepted more than 4,000 phone calls in hopes of exposing under-the-table payments in college basketball. The agency has reportedly discovered infractions that could cause trouble for at least 20 programs, including Duke, North Carolina, Kentucky, and Michigan State.
The full extent of the investigation remains unclear, and no sanctions have yet been handed out, but Yahoo's report indicates that agents are slipping cash to recruits across the country, and that the federal government is cracking down on the practice. Already, four assistant coaches have been arrested as a result of the FBI probe, which appears far from finished. "When this all comes out," a source told Yahoo's Pete Thamel in February, "Hall of Fame coaches should be scared, lottery picks won't be eligible to play, and almost half of the 16 teams the NCAA showed on [a March Madness preview bracket that aired in February] should worry about their appearance being vacated."
The FBI's reported findings thus have produced two distinct reactions from college-sports observers. Some, expectedly, have been aghast at the scope of basketball's underbelly, arguing that payments to high-schoolers harm those players while creating a competitive imbalance between schools that can afford to pay up and ones that can't. But a growing number of people have noted the revenue the NCAA generates ($1.1 billion in 2017), considered the obvious monetary value that basketball stars create for their schools, and simply shrugged at the cash changing hands. Why, the latter group has wondered, should anyone be outraged at athletes being paid a fraction of their value?
Had this FBI investigation come along a decade ago, the NCAA would have likely sanctioned its way out of the scandal. But as public opinion turns steadily against college-sports amateurism, with more fans than ever supporting athletes being paid, the governing body faces growing pressure to try something new. The NCAA president, Mark Emmert, has already promised "significant, structural changes" before the start of next season. What form those changes take, and whom they're designed to benefit, will resonate for many Marches to come.
---
Typically, when the NCAA determines that players have received "improper benefits," it punishes all involved. Depending on the specifics of the infraction, athletes can lose eligibility; coaches can be barred from the sideline by show-cause penalties; and schools can be stripped of scholarships and even previous victories.
If the NCAA treats violations uncovered by the FBI as it has treated rule-breaking in the past, it'll investigate each alleged infraction and declare ineligible active players who accepted illicit payments. Schools found complicit in funneling cash to athletes would face severe sanctions. Some programs would fire their coaches to clean their hands of the scandal, as Louisville did when it axed Hall of Famer Rick Pitino last fall. The NCAA could wind up imposing the most dramatic suite of penalties college sports have ever seen.
Such a crackdown would show schools, agents, and athletes that the NCAA values amateurism as highly as ever. But while most fans might have previously applauded that approach, many have now become skeptical. A recent poll found that two-thirds of Americans believe college athletes should be compensated when their names and likenesses are used in video games or to sell merchandise. Additionally, 38 percent (significantly more than in previous polling) think players should reap a portion of athletic-department revenues. That helps explain why popular sentiment has felt different in the wake of the NCAA's latest scandal. On television, online, and at dinner tables, college-sports observers have wondered not only how a black market developed, but also whether it's such a bad thing. As the Washington Post columnist Jerry Brewer wrote this month, "It's disingenuous to lament how dirty money … is ruining college basketball without showing concern about how much the NCAA is profiting under the veil of amateurism."
America's divided reaction to the FBI probe gives the NCAA serious reason to consider another course: It could take a rare step back from amateurism, in an attempt both to placate critics and to prevent future recruiting infractions from blowing up into huge scandals. The easiest way to eliminate the college-basketball black market would be to let schools pay players their true value, but for now that remains about as likely as a 16-seed winning the NCAA Tournament.
Still, amid ever-loudening calls for players to receive a share of the revenue they generate, the NCAA might recognize there's too much money in college basketball to levy strict punishments every time it trickles down to athletes. The ESPN analyst and longtime NCAA critic Jay Bilas articulated this perspective last fall. "All of this results from how valuable these players are, and there is nothing wrong with that," Bilas said. "While I don't condone violating rules and laws, we need to change the rules to accurately reflect the current world."
With that in mind, the NCAA could ease up in its approach, perhaps pardoning some of the smaller-scale infractions, and forgiving players who, for example, accepted free lunches from agents. Or it could simply impose lighter sanctions than it has in the past, resetting its precedents. It could also decline to investigate the FBI's findings as doggedly as it usually does, punishing only the most blatant rule-breakers. None of those courses would upend the college-sports status quo, but all would represent tacit acknowledgment that in today's cash-rich landscape, shutting out players altogether is impractical.
The NCAA could also use this moment as an opportunity to explore more dramatic and enduring changes, such as an embrace of the "Olympic model," which would allow athletes to profit off their talent through endorsements, autographs, and licensing deals, without accepting salaries from schools. Such a plan would cost athletic departments nothing but allow players to benefit from their celebrity, while possibly lessening their incentive to grab the first greased palm that reaches out to them.
At the very least, the NCAA might consider loosening the rules surrounding contact with agents by allowing basketball players to sign with representatives while maintaining their eligibility (as athletes in other sports currently can) or decriminalizing small gifts such as free meals. By legalizing and regulating some of the practices that currently occur in a black market, the NCAA would, to some extent, prevent agents from exploiting players.
---
If history is any indication, the college-sports establishment will defend its status quo at all costs. Given that it took decades of anti-amateurism table-pounding (and litigating) for the NCAA to grant even slight concessions such as cost-of-attendance stipends and unlimited meals and snacks, sweeping reform seems quite unlikely—even following a federal investigation.
But although the NCAA has prided itself on upholding amateurism at all costs, the organization has its own reasons for leniency in this case. According to Yahoo, Duke, North Carolina, Kentucky, Virginia, Texas, and Notre Dame are among the schools whose players (or their families) reportedly met with Dawkins. If the FBI finds that the runner offered payments or loans to those athletes, and the NCAA determines that some or all of the involved coaches knew of such arrangements, would the governing body really be willing to sanction so many storied programs and famous coaches all at once, thereby damaging its own product?
Perhaps no example underscores the college-sports quandary better than that of Arizona's DeAndre Ayton. The 7-foot-1-inch freshman center led the Wildcats to a Pac-12 championship this season, scoring 20.1 points and 11.6 rebounds per game and submitting virtuoso performances in the final games of the conference tournament. Come June, he'll likely be a top-2 pick in the NBA Draft, then sign a contract that pays him more than $5 million for his rookie year alone.
Yet Arizona's coach, Sean Miller, might soon face strict penalties for allegedly conspiring to pay Ayton $100,000. If the allegations against Miller and the Wildcats prove true, one of America's most accomplished basketball programs could be gutted as punishment for paying its superstar less than 1/50th of what he'll earn next season. For most of college-sports history, that logic went largely unchecked. Now, with more people than ever wondering about the fairness and wisdom of amateurism, the NCAA has a perfect opportunity for reform. That is, if the organization has any interest in seizing it.