Mike Isabella, Top Chef, and the Capitalism of Bad Behavior
For years, the restaurateur played a jerk with a heart of gold. Now, he's the latest celebrity chef to be accused of sexual harassment.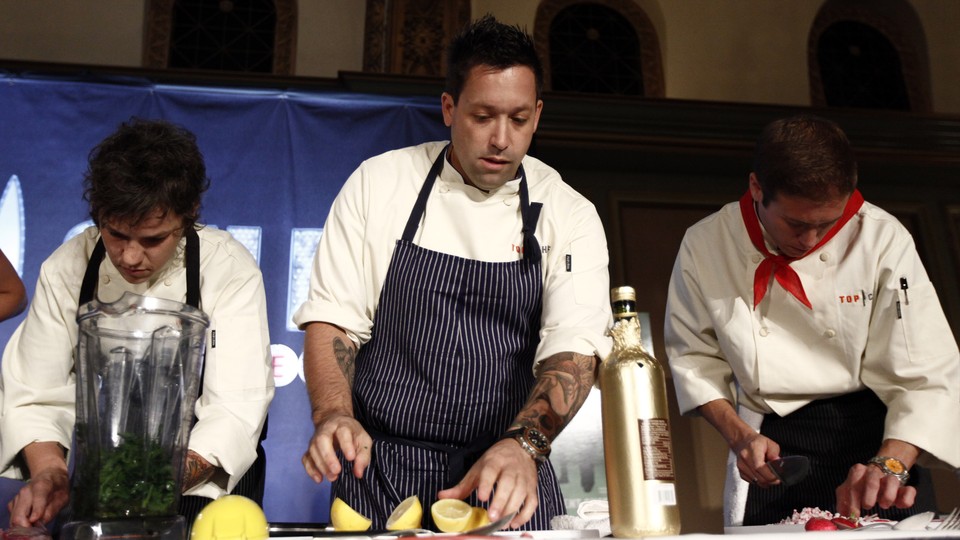 "There's no way—no offense—but a girl shouldn't be at the same level that I am."
That was Mike Isabella, celebrity chef and successful restaurateur, making his debut on the show that would make him famous. Bravo's Top Chef, to kick off its Las Vegas–set Season 6, had pitted its new group of contestants against each other in a mise-en-place relay race; Isabella, shucking clams, had looked over and realized to his great indignation that Jen Carroll, a sous chef at New York's iconic Le Bernardin, was doing the work more quickly than he was.
Top Chef is a simmering stew of a show—one that blends the pragmatic testing of culinary artistry with reality-TV sugar and reality-TV spice—and Isabella quickly established himself as Season 6's pseudo-villain: swaggering, macho, quick to anger, and extremely happy to insult his fellow contestants, including Carroll and, soon thereafter, Robin Leventhal (a self-taught chef and cancer survivor). Isabella was a villain, however, who was also, occasionally, self-effacing. A little bit bumbling. Aw, shucks, quite literally. He would later explain, of the "same level" comment:
It was meant jokingly. Me and Jen are great friends before, during, and after the show. I grew up in a broken family—with my mom, my sister, and my grandmother. I was surrounded by women so I would never, ever disrespect a woman like that.
Isabella was, in all this—as all reality-show contests will be—a persona. (As Carla Hall, a Season 5 contestant who also found fame with the show, noted of the show's all's-fair-in-reality-and-war editing process: "If you say it, they can play it.")
On Monday, though, reality TV and reality collided, revealingly: Isabella became the latest celebrity chef to be accused of sexual harassment. The allegation came from Chloe Caras, formerly a top manager at Mike Isabella Concepts, the company that oversees the chef's 11-restaurant empire. In the suit, Caras alleges that Isabella and his business partners called her "bitch" and "whore"; "routinely subjected" her to sexist comments and insults; commented on her body; and touched her without permission. Taha Ismail and another business partner, Nicholas Pagonis, the suit alleges, included Caras in a group chat that contained sexually graphic images. Isabella and Ismail, Caras claims, both grabbed her from behind and simulated sex with her.
The experiences, Caras tells The Washington Post, whose Danielle Paquette first reported the story, led her to develop anxiety. In the suit, the Post reports, she is seeking unspecified damages from Isabella, Mike Isabella Concepts, and four of his business partners, including Ismail and Pagonis. Isabella and those partners are denying the accusations.
Isabella is a celebrity chef of a particularly modern strain: He went on TV and then became famous as a chef, rather than vice versa. He owes his empire—and the power that Caras claims he abused so blatantly—in part to a cultural paradigm that tangles professionalism and pageantry in the guise of a genre that goes by "reality." On a show like Top Chef, in particular—which ostensibly tests, and rewards, real-world craft and skill—one's person and one's persona become commercially indistinguishable. Contestants go on the show, they will readily admit in talking-head interviews, to gain the kind of fame that will almost inevitably help their careers. The characters and caricatures they create—and embody—to that end will follow them through a post-show life that will often involve, for the most successful of the chefs, restaurant openings, regular appearances at cooking exhibitions, write-ups in Food & Wine, and cameos in future Top Chef episodes. The single mom; the determined immigrant; the assistant with something to prove; the tat-sleeved bad boy with a heart of gold: Their characters will be their currency.
Isabella's character? A brash-but-charming jerk. The guy on the show was loud and seemingly proud about his own machismo, seeming to understand intuitively that his job on Top Chef was to serve not only perfectly medium-rare tenderloins, but also perfectly well-done dramas. Gail Simmons, one of the show's judges, noted of Isabella's a girl shouldn't be at the same level that I am comment that she "was shocked and disappointed when I recently viewed this first episode and heard Mike Isabella's sexist commentary. Hot-tempered and foulmouthed indeed. He may have cooked us a delicious dish, but his attitude left a bad taste in my mouth." And when Isabella's competitor Robin Leventhal, after her exit, gave an interview about the bullying she had received on the show—bullying, of course, that Bravo had gleefully edited and aired—TVGuide.com asked her, "Who would you say was the ring leader of this anti-Robin club?" Leventhal replied, "That would be Jersey Turnpike—Mr. Mike Isabella. He really loved to hate me."
Things were so pronounced, trope-wise, that, on the occasion of Isabella's ouster from the show—the future restaurateur had served Natalie Portman a plate of undercooked leeks—Bitch magazine named him its "Douche de la Semaine." This was in part on the grounds that Isabella, the magazine argued, is "arrogant, sexist, annoying, loud-mouthed, and just not that funny." It was also on the grounds, however, of another incident with Jen Carroll: Isabella's suggestion, during a group-cooking challenge, that his fellow contestant serve not as executive chef, but rather as tournant: a more subservient role in the kitchen. (Carroll, being the girl who was at the same level Isabella was, declined the idea.) As Richard Blais, a former Top Chef contestant who would go on to become a judge on the show, noted of the suggestion, in a blog post for Bravo:
It's an interesting approach and reveals a lot about Mike's character. We now are getting to know the cast a little better, and this play is vintage Isabella. Let's ask the "girl cook" to take on an archaic title that can best be described as a substitute teacher. Classically, it refers to a cook who works all the stations in other cooks' absence. A position of skill, sure, but not really of certified rank; a position that may be the proverbial glass ceiling for a woman in Mr. Isabella's mind.

I said cook, earlier, intentionally. Because I get the feeling that Mike would have a hard time answering, "Yes, Chef!" to any woman.
Drama! Culinarily contextualized drama! This was the figure that Mike Isabella and Top Chef's producers created and served up to the American public: a guy who performs casual misogyny and then dismisses it as a misunderstanding. (I was surrounded by women so I would never, ever disrespect a woman like that.) A guy who bullies and mocks in the name of chefly camaraderie. A guy who is left to capitalize, literally, on his bad behavior: Isabella parlayed his Top Chef fame into a restaurant empire.
And Bravo capitalized on it, too. One of the network's officially sanctioned blog posts about Top Chef Season 6—a "web extension" of the show that would foreground the online-only Last Chance Kitchen—was titled, tantalizingly, "The Douche Is Back." (Guess who it was about?) When Isabella's cookbook was published, the network heavily promoted it on the Top Chef site. And Bravo invited Isabella back on the show, to participate in Season 8's Top Chef: All-Stars. He came in second—losing to Blais—but did so, this time around, with a retooled narrative: The Isabella of the latter season was given a conventional redemption story. He was regretful of the past; he wanted to be better; he wanted, in every sense, to win—in spite of, and indeed because of, his status as the show's resident jerk.
In an interview with Isabella after the All-Stars show, the Chicago Tribune noted, "It seemed like, of all the contestants, you made the biggest jump between your original season and this one." Isabella replied: "When I was originally on Top Chef, I had never watched too many episodes. I walked into the competition thinking I was better than anybody. And it kind of humbled me a lot when I didn't do what I thought I was going to do."
The paper then asked about Isabella's "bad boy reputation." Isabella answered:
I'm a New Jersey Italian who comes from a broken family, and I had to fight my whole life to get where I am. Sometimes it still shows in some of the things I say. I don't mean to be disrespectful. Unfortunately sometimes I am. I was apologizing afterwards. I just speak the truth. It is what it is. At the end of the day, I care for everybody I have relationships with, which is pretty much everybody on the show. People who know me and work with me really know who I am.