Listening to M.I.A., Finally
The excellent documentary Matangi/Maya/M.I.A. clarifies what the controversial pop star was fighting for all along.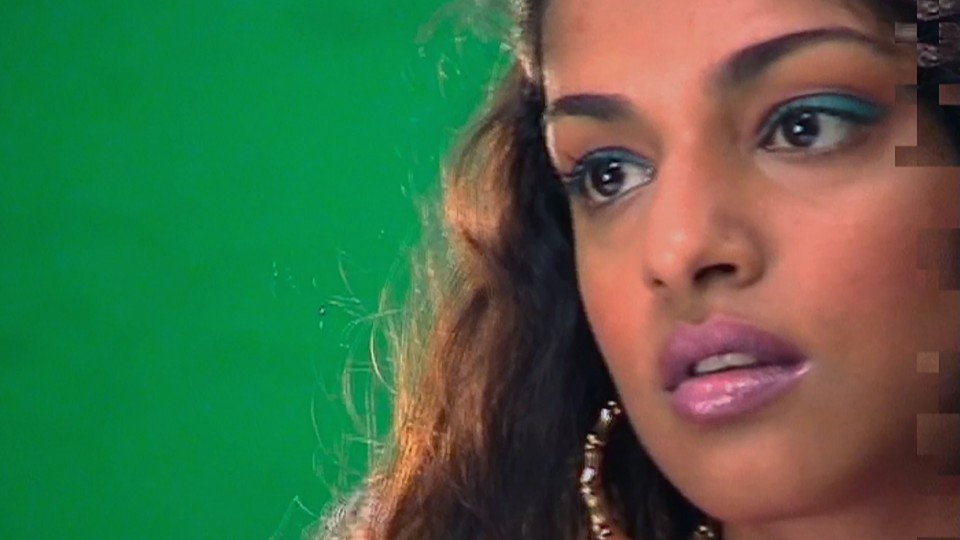 Black and white polka-dots covering her nine-months-pregnant belly, M.I.A. sauntered onto the Grammys stage in 2009 for a performance that would seem to announce the arrival of a supremely 21st-century sort of icon—artistically daring, unapologetically female, and from a part of the world the West has often ignored. But in retrospect now, the moment stands as the apex of her supposedly finished music career, a summit never reached again. Anyone unfamiliar with M.I.A. but familiar with the scripts of stardom could assume what came next: difficulty following up a barrier-busting hit, mistakes with the press, and personal setbacks.
Stephen Loveridge's documentary, Matangi/Maya/M.I.A., appears to start filling in that script, preluding the Grammys performance with footage of the rapper and producer's breezy home life in Los Angeles. Then we see her arrive on stage in those blazing maternal polka dots, with the Clash-borrowed groove of her smash "Paper Planes" twitching to life, and—
Bang. The film smashcuts to news footage about the Sri Lankan Civil War, entering its bloody final phase in early 2009. The country's military had, after decades of battle, beaten back the resistance fighters of the Tamil ethnic minority to a spot on the northern coast. "No-fire zones" for civilians to take refuge in were drawn by the government—and then bombed by that government, killing hundreds on a daily basis. The screen floods with images of the wounded and dead.
This is not a normal pop documentary, because M.I.A. was not a normal pop star. On Tavis Smiley's show earlier in 2009, she'd responded to a question about her artistic success by changing the subject to the "genocide" going on in her home country of Sri Lanka. On the Grammys red carpet, she sparred with a reporter over CNN omitting similar comments about genocide she made during an interview that, when it aired, focused on her music career. "You're the first person that we've interviewed that says, 'The piece was too much about me,'" the reporter shot back. "People mostly want it about them."
Loveridge's movie is a fantastic and kinetic fulfillment of Maya Arulpragasam's desire, back then, to be heard as more than an entertainer. Starting with her 2004 debut, M.I.A. beat an aesthetically game-changing and controversy-strewn path across pop culture, broadcasting her backstory as a Tamil revolutionary's refugee daughter who was trained in London art school and steeped in U.S. hip-hop. Her early aspiration of becoming a documentary filmmaker means Loveridge has a trove of electrifying pre- and post-fame footage to work with, which he uses for a smart, lively investigation of M.I.A.'s own vital themes: the lives of immigrants worldwide, the plight of the Sri Lankan people, and the question of whether pop stars can make effective political activists.
In 1985, the young Arulpragasam came with her mother, brother, and sister, alongside a wave of Sri Lankan refugees, to South London, leaving behind her father, Arular, whom she barely knew. That father, for whom her first album is named, has long held a contested, un-pin-downable place in her mythology. "This is what happened to a kid whose dad went off and became a terrorist," she says into the camera during a mid-'90s confessional she filmed, though later in the press she would emphasize his role as a peacebroker and humanitarian.
Remarkably, the viewer gets to meet the famous Arular, whom Maya films when he comes to visit his estranged family. He describes the conflict in Sri Lanka as a human-rights crisis, he says he was the founder of the Tamil resistance movement, and he tells a story of smuggling bombs by hiding them under toys for his kids. Two of the three Arulpragasam siblings consider him a deadbeat. "His whole life is a dead end," Maya's brother, Sugu, says. "So now he's talking about peace. Because he can't fight now." Maya, though, has a provocatively grateful take: "He's made us damn interesting. He's given us a bloody background!"
Her quest to understand this background—and document it—would send her on a 2001 trip to her childhood home in Sri Lanka. We see her hosts then were welcoming, but reluctant to share war stories, fearful of being caught in crackdowns on dissidents. They also appeared reluctant to take her interest in the Tamil struggle seriously—because she was a young woman, and because she was an expat. In a deeply striking moment, one of her subjects dismisses her credibility because she left the country as a child. "You never had the war zone experience," he says with a smirk and a swat at the camera. Right there is the paradox of the refugee: In Sri Lanka, she's an interloper, but in the West, she's that too, taunted with slurs like "Paki."
That sense of placelessness—which could be conversely channeled as everywhereness—fueled her vibrant, riotous sound. Bookending the movie is the video shoot for her 2015 song "Borders," whose valorization of refugees and migrants underlines M.I.A.'s significance in a post-Brexit, post-Trump world: If some politicians have their way, her story might not have been able to happen. Seen in the doc hopping across continents to record her classic 2007 album, Kala, she bonds with some of her collaborators, like the Nigerian rapper Afrikan Boy, as immigrants. "There's always going to be something different about us that doesn't relate to a white experience or a black experience," she says. "It's always something extra. Something else that you have to go and do, which is connect with your back-homeness."
It's her attempted connection to her home that generated some of the most contested moments of her career, which in turn underscore the difficulties of using the entertainment ecosystem as an advocacy platform. Her 2009 "genocide" comments were meant to bring international attention to Tamil civilian casualties. But they mostly only invited notice from government-sympathetic Sri Lankans who said she was too friendly with the Tamil Tigers, designated as terrorists at the time by many international authorities. "I tried to do it the way they wanted me to do it, which is learn a script, learn the five sentences you wanted to repeat in the news," she says. It didn't work.
But when she turned to more radical methods in her art, she met with even more blowback. At the height of her fame, she released the single "Born Free," a galloping punk-rock track with a big-budget music video in which red-headed white boys are rounded up and executed in graphic fashion. Today, it's obvious it was an allegory for real-life war crimes in Sri Lanka, but at the time, the discussion that ensued was mostly around whether M.I.A. had undertaken provocation for its own sake. Such was the gist of an infamously snarky 2010 New York Times Magazine profile of M.I.A by journalist Lynn Hirschberg, who's seen in the documentary raving about the "Born Free" video to its creator.
Rather than the bubbleheaded poseur that her critics made her out to be, M.I.A. comes across as sharp and articulate throughout the footage Loveridge chose, and there's zero doubt of her serious interest in her causes. But you still see how she could get in her own way. Included is old home footage of Arulpragasam fighting with her musical mentor, Justine Frischmann of Elastica, who gently, with a sense of fatigue, accuses Arulpragasam of being addicted to attention. We also get a fabulously revealing look at Madonna's 2012 Super Bowl halftime show, during which M.I.A. scandalously flipped the middle finger to America, generating a lawsuit from the NFL. Her post-facto rationale changes a few times—was she protesting backstage sexism and racism, or was she just shoring up the image implied in the title of her then-current single, "Bad Girls"? It's not clear whether she herself knows for certain.
The irony of the Super Bowl episode, which Loveridge underlines, is that Madonna's performance ended by spelling out the words "WORLD PEACE." Peace, for the Tamils and for displaced and marginalized people worldwide, is exactly what Arulpragasam's been agitating for all along—though with rude gestures, explosive percussion sounds, and the fictional genocide of gingers. Her post-Kala musical output has been patchy, but there's been enough brilliance that fans might lament how scandal has outdrawn the songs in terms of conversation (2010's Maya and 2013's Matangi: way underrated). Loveridge's documentary makes the music a somewhat secondary concern too, but it's not to fixate on the drama. It's to give M.I.A.'s deeper messages one more shot on stage, and it's, gratifyingly, a memorable one.