Love, Simon Is Groundbreakingly Ordinary
Greg Berlanti's coming-of-age drama, centered on a gay teen struggling to come out, is both pioneering and frustratingly bland.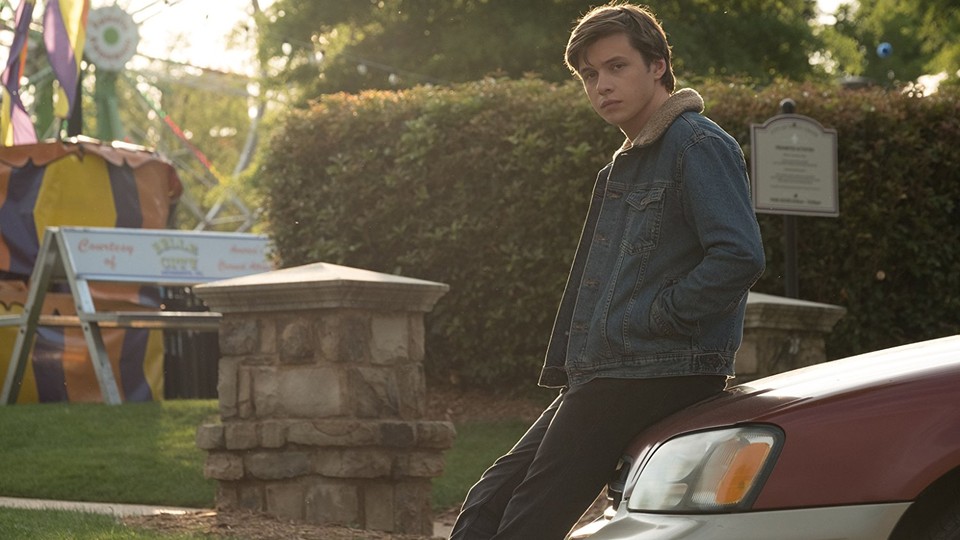 Simon Spier (Nick Robinson) is a normal teenager living a normal life. It's something he takes pains to remind the audience of in his voice-over narration for Love, Simon. Like the stars of so many coming-of-age rom-coms before him, he has an impossibly gorgeous family (his parents are played by Jennifer Garner and Josh Duhamel), a close-knit group of friends who carpool to their suburban high school together in the minivan he owns, and a burgeoning interest in a career as a video editor. Yes, Simon is just like any other kid in a teen movie, except for one big thing: He's gay.
It's enough to make Love, Simon a pioneering film. Here is a major-studio release—pitched at a wider adolescent audience rather than an arthouse one—about a boy struggling to come out of the closet to his friends and family, and also trying to find love. In attempting to appeal to the biggest possible crowd, the director Greg Berlanti's movie sometimes feels frustratingly safe, given that it's centered on a bland, upper-middle-class hero whose edges are sanded off. With that said, there's still something undeniably powerful about Love, Simon's ordinariness. After all, there have been dozens of mediocre studio films about straight teen romances over the decades; it says something about the direction of the film industry to finally see one centered on a young gay man.
Based on the novel Simon vs. the Homo Sapiens Agenda by Becky Albertalli, Love, Simon is centered on Simon's last year in high school, as he and his photogenic pals (all played by terrific up-and-coming actors in their 20s) navigate various romantic woes. Simon, who isn't out to his family or friends, begins an email correspondence with an anonymous student at his school who posts on a message board about being gay. Much of Love, Simon's overarching plot is dedicated to unraveling this mystery, as Simon pours his heart out online to someone whose real name he doesn't even know.
That's the best part of the film—the dramatization of a search for community and the isolation that many gay teenagers can experience even if they live in relatively supportive environments. As Simon himself acknowledges in voice-over, his parents and friends are warm-hearted liberals who will accept him for who he is, even if they occasionally tell mildly tasteless gay jokes that make him wince. But "Blue," his unknown pen-pal, offers the kind of understanding that his straight friends and family can't. It's a feeling of connection that Berlanti (an openly gay man who made the wonderful queer dramedy The Broken Hearts Club in 2000) translates with real empathy.
Unfortunately, the other major plot point of Love, Simon involves a troublesome classmate named Martin (Logan Miller), who discovers Simon's correspondence and uses it to blackmail Simon into helping Martin ask out their mutual friend Abby (Alexandra Shipp). This malevolent, inverted Cyrano de Bergerac tale dominates Love, Simon's goings-on for most of its running time. Martin's coercive scheme seems like it functions only as a convenient narrative roadblock, one that's simply dismissed in the film's third act—despite the fact that the cruelty of the blackmailing deserves to be properly reckoned with.
Another issue is that the characters around Simon are almost better-developed than the protagonist himself. Shipp is unbelievably charming as Abby, his newer, hipper friend who transferred to the suburbs a year before (and who talks about her life in the inner city with pained horror). Katherine Langford, the star of the Netflix hit series 13 Reasons Why, is extremely affecting as Leah, Simon's awkward and arty best friend who clearly carries a torch for him. Even Duhamel, usually deployed as a steely B-list action-movie hunk, is delightful as Simon's dopey, brawny, well-meaning dad.
But at the center of it all is Simon, who often feels like a personality vacuum. Since much of the movie revolves around him being blackmailed, Robinson mostly plays him as irritable or distant, his mind always on something else as he goes about his daily life. As characterization, that makes sense, but it also keeps Simon at arm's length from the audience; he's so preoccupied with people not finding out one big part of his identity that viewers never really get to learn about the rest of it.
As Simon finally begins to open up in the last act of the film, I was genuinely moved by some of the scenes of him coming out to different friends and family, each moment handled with grace and individuality, and never drifting into insipid afterschool-special territory. I'm happy to see a major-studio teen film wrestle with homosexuality and life in the closet as more than a comical subplot, even though I wish there had been a more engaging character to build that progress around. Love, Simon is the kind of movie you could easily catch up with on cable TV years later and forget just as quickly—but even that's a kind of step forward.