The Lesson Hollywood Should Learn From Love, Simon
Why the gay coming-of-age film, along with a low-budget Christian drama, were among the top movies this weekend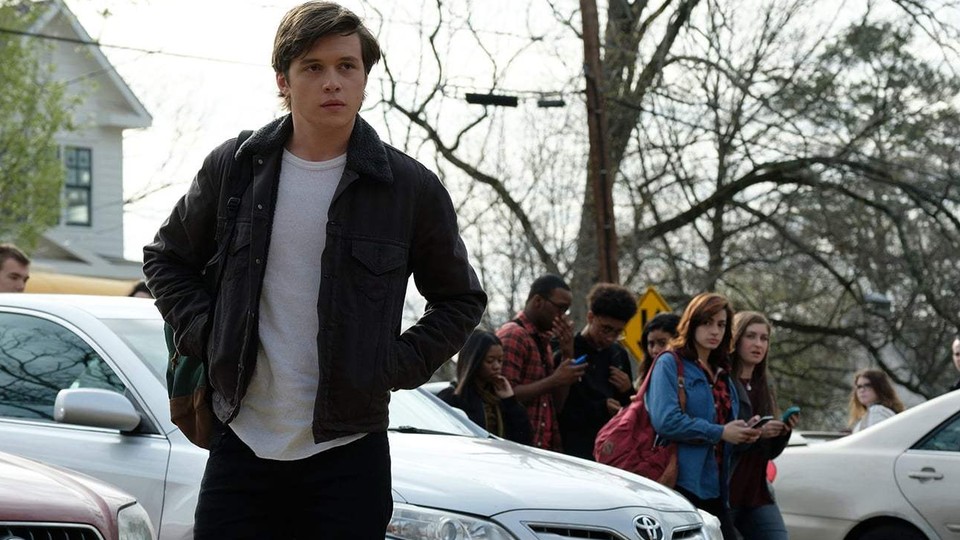 There was a strange bit of Hollywood ephemera in this weekend's box-office numbers. The big story, of course, was the continued success of Black Panther, which remains the No. 1 movie in America after five weeks (the last movie to have such an extended streak was Avatar, the highest-grossing film in history). One reason for the Marvel movie's impressive gross has been a combination of word-of-mouth and repeat viewings—it got a rare A+ grade from Cinemascore, the market-research firm that surveys theatergoers and predicts how long a film's "legs" will be (or how much staying power it'll have) based on audience satisfaction.
Black Panther was always going to be a big hit, but that A+ (and rave reviews) suggested it'd be something even more massive. And indeed, it now seems guaranteed to be the highest-grossing Marvel film domestically, and one of the five biggest films of all time. Typically, there are only three or four A+ movies released in any given year. But, nestled within this week's top five at the box office were two other titles that got Cinemascore's top grade: the gay coming-of-age film Love, Simon and the inspirational Christian drama I Can Only Imagine. Though they were made for far less money than Black Panther, these two smaller works are necessary reminders that movies don't have to be pricey blockbusters to succeed with audiences.
I've written many times in the past about the decline of Hollywood's mid-budget market: films made in the $10 million to $50 million range that don't have to aim for epic worldwide grosses to make a tidy profit. In recent years, major studios have grown disinterested in funding mid-budget adult dramas or romantic comedies, partly because they don't have the kind of splashy global appeal that action movies do. Most big releases are either expensive tentpoles or horror films like Get Out, Split, The Conjuring, and Don't Breathe, which are made cheaply and have a high chance of out-grossing their budgets.
Love, Simon was, in many ways, a calculated risk for its studio, 20th Century Fox. There had never been a wide, major-studio release of a film centered on a gay teenager. It's worth also noting that teen movies have suffered recently because it's hard to get adolescent viewers to go to the theater, period (what with the rise of online platforms like YouTube churning out youth-focused content). But Love, Simon was made for only $17 million and opened to a solid $11.5 million; with its Cinemascore, it should have a long box-office life that'll earn its budget back and more.
An even more unexpected hit was I Can Only Imagine, the Dennis Quaid–starring drama based on the popular 2001 song by the Christian rock group MercyMe. (Or, at least, the movie's success may have been surprising in New York and Los Angeles, where faith-based films are barely advertised.) Directed by Andrew Erwin and Jon Erwin, who have made several other Christian films including Woodlawn and Moms' Night Out, the Lionsgate movie opened huge even compared to most other Christian fare—only The Passion of the Christ, Heaven Is For Real, and Son of God have done better. Again, the A+ Cinemascore means viewers were happy, and the final box-office total should be strong.
In both cases, the films were distributed by major studios and opened against big-budget action epics (Black Panther and Tomb Raider). Both were also targeted at specific audiences: Love, Simon built up a word-of-mouth campaign with special screenings and a social-media feed focused on the story's progressive elements. I Can Only Imagine followed the "faith film" approach that appeals directly to church congregations and more religious moviegoers. And, judging by their A+ scores, both films hit the targets they were aiming for.
To be fair, the Cinemascore is a somewhat limited metric: It doesn't measure overall audience satisfaction, just the reaction of viewers exiting the theater on opening weekend. As a result, it's really a good indicator of how well a film was marketed, and whether it worked for its specific audience (previous A+ scores have gone to word-of-mouth hits like Wonder, Girls Trip, and Hidden Figures). The similarly unusual F Cinemascore is often a sign of misleading marketing—like audiences expecting mother!, the most recent honoree of that booby prize, to be a straightforward horror film.
Major studios like Disney and Warner Bros. will mostly keep their focus on sweeping blockbusters, seeing that approach as the only way to guarantee a cinema experience that's markedly different from just watching a movie at home. But Love, Simon and I Can Only Imagine both look poised to recoup their budgets and have long, meaningful viewing lives in theaters and beyond. Black Panther might be ruling the roost, but it's not the only Hollywood success story of the day.