The Musician Who Insists That Optimism Isn't Naïve
Joan As Police Woman's new record embodies a message that runs through all of her work: Embracing joy can be transgressive.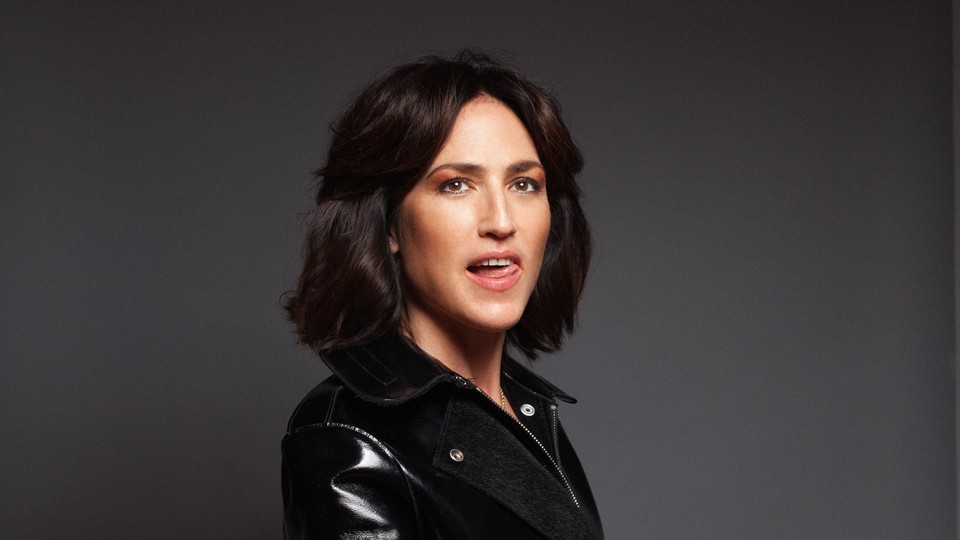 I first discovered the music of Joan Wasser—better known by her stage name, Joan As Police Woman—the year I moved to a tiny town in the Northwoods of Minnesota. It was the middle of winter. Far from most of the people I knew and loved, I felt lost and isolated. I'd often sit in my car before work blasting Wasser's debut album, Real Life, the wind battering against the window, and weep. Her music helped me thaw and dig out from under the snow.
In the decade since that winter, Wasser's subsequent releases have continued to accompany some of the most pivotal transitions of my life—not just because her music is good, though it is, but also because there's something deeply optimistic about it. This feels truer than ever on her tender, ruminative new record released last month: Titled Damned Devotion, the album is Joan As Police Woman's most powerful demonstration yet that hope doesn't have to be naïve.
If there's a central theme to Wasser's work, it's that joy can be born from an honest reckoning with pain and loss. For the musician, grief creates a relief against which an appreciation for simple pleasures—the thrills of going on holiday, reuniting with a loved one at a train station, or discovering chemistry with a paramour—can be cultivated. On To Survive, the 2008 album created as she grieved the death of her adoptive mother, Wasser sings, "I'm so happy to be loved," and her gratitude for something so simple is astonishing. "We Don't Own It," the closing track of Real Life, finds her singing in a gorgeous near-whisper, "It's all there in the moment / You understood / That he's not going on / And you're still going on." At its core, Wasser's music is about the act of going on. It's about how life's most devastating experiences can be transformative, and how understanding this can open up space for affection and happiness—and that makes her oeuvre profoundly vulnerable.
Which is why I've never understood how Joan As Police Woman has been so popularly overlooked. In just over a decade, prior to Damned Devotion, Wasser has put out four excellent studio albums—the aforementioned Real Life and To Survive, as well as The Deep Field and The Classic—plus a covers record in 2009 and Let It Be You, a collaborative album with Cuddle Magic's Benjamin Lazar Davis. She's also collaborated with big names like Anohni, Rufus Wainwright, Sufjan Stevens, Lou Reed, and John Cale. She's certainly gotten praise, but while her contemporaries consistently receive widespread acclaim, her albums are rarely included in prestigious publications' year-end lists. In fact, they increasingly aren't reviewed at all by outlets in the U.S. While there could be any number of reasons for this relative lack of attention, I've often wondered if Wasser's unique approach to vulnerability might play a role.
I suspect that some would take Wasser more seriously if her music wallowed more in lows rather than relishing in highs. For example, when reviewing The Deep Field in The Guardian, Hermione Hoby wrote of the track "Human Condition": "Scrutinize the lyrics at your peril. The words: 'The human condition / Makes me melt inside' are more likely to turn your insides than melt them." At Pitchfork, David Raposa said this of her third effort as Joan As Police Woman: "She aims for such critically acclaimed heights, [but] her shots often land in a middle-of-the-road, adult-contemporary wasteland."
I think the reason Wasser's work is sometimes dismissed as safe and shallow "adult-contemporary" music is actually diagnosed in Pitchfork's review of her debut record. After explaining that he had obtained a U.K. copy of Real Life a year before its U.S. release, the reviewer Stephen Trouss revealed that it had become an unexpected favorite. "One of the reasons Real Life has proved to be such a personal standby, and also why it's such a hard record to write about," Trouss wrote, "is that, just as it slowly insinuates its way into your routine, it's a record about achieving commonplace happiness, taking a breather from drama—the kind of thing that usually writes white, at least for a critic."
Many people have learned to understand vulnerability as unfiltered rawness. If artists are going to draw on traumatic personal experiences, some listeners want them to bleed red onto their sheet music. For women, the pressure to be unguarded can be especially acute. After her public breakdown in 2007, Britney Spears (whom Wasser covered on her 2009 record) returned with Circus, a largely celebratory album. Spears has spoken of making music as a way of healing, but I can remember laments from listeners that her album didn't pull back the curtain more on her recent hardships.
After the messy darkness of Spears's previous record, Blackout, many considered Circus a "psychological step backward," as Eric Henderson put it in Slant. On a similar note, Alexis Petridis wrote in The Guardian, "Circus isn't bad as pop albums go, but whether by default or design, it's substantially less edgy and exciting than its predecessor. You're left to conclude that the sound of Britney back on track is substantially less interesting than the sound of Britney going off the rails." Sinking to, and then returning from, the lowest depths wasn't enough; after years of tabloid drama, it seemed euphoria just wasn't as compelling.
As with Spears, you'd be hard-pressed to find a story on Wasser that doesn't get into the tragedies of her life. Many articles about Wasser open by referencing the deaths of her adoptive mother, her boyfriend Jeff Buckley, and her friends Elliott Smith and Lou Reed. And certainly, experiences of loss color Wasser's work. But to my ears, the defining feature of her music is the celebration of love. Time and again, Wasser has faced grief and found—discovered, chosen, or created—bliss. Her unapologetic pursuit of love, sex, and self-discovery in the face of pain is all too rare to see in music—especially because such an approach is so often dismissed as dreamy and ungrounded, as a denial of life's ugliness rather than as a way of engaging with it.
Fortunately, Wasser's new record, Damned Devotion, is the best distillation of her turn from tragedy to joy since her debut, and perhaps even her best yet. In song after song—like "What Was It Like," a tribute to her late adoptive father that begins with an echoey sample and drum machine before building to a propulsive chorus of distorted guitar and pounding piano—Wasser doesn't deny or erase pain, but rather acknowledges how it can blossom into beauty.
Damned Devotion's opening track "Wonderful" plays like a mission statement: "I've been stealing my tears / Pouring buckets out my window / Wondering / Even when the sky is naked / Will I need to fight to make it / Wonderful, wonderful / Wonder what will be / Wonderful, wonderful / Wonder if I'm right / Wonder if I'm ready," she sings, before adding,"Keep feeling the end is near / Must mean a new beginning's / Going in for the kill." Rich and textured with low, punchy percussion and a Rhodes piano, the song's minimal arrangement both envelops the lyrics and gives them room to breathe.
The second track, "Warning Bell," is a romantic ode to falling for someone despite the risk: "I have loved deceivers / I tend to trust the villain / I've been fine with learning it the hard way." The song is a steady '70s ballad reminiscent of Carole King, and the video is strikingly simple, with Wasser sitting in the back of a cab dressed in black, smiling and singing along as she holds a pink bouquet of flowers. The instrumentation and visuals make Wasser's choice to identify the positives in unrealized love all the more resonant.
Songs like the anthemic "Tell Me" and skittering "Rely On" make the case for finding fulfillment in self-actualization, but Damned Devotion reaches its emotional apex in "Valid Jagger"— a gorgeous song that, like many on the album, ranks among Wasser's best. On paper, lyrics such as "I've got a love inside me now / It's bigger than the Easter bunny on Easter day" could sound ridiculous and overwrought, and in lesser hands they might be. But Wasser delivers them straight-faced, her voice and the juxtaposition of deeper piano tones with layers of synths giving the words emotional weight.
Wasser manages to pack more words into the lines of "Valid Jagger" than should reasonably fit, but it never feels clunky. Near the song's end, the vocals give way to a stunning Omnichord solo, and then Wasser returns, nearly unaccompanied: "Sing, don't lie to me / Run, don't walk to me / Bring your love to me / Try this another way." The effect, like all of Damned Devotion and so much of her catalogue, is simultaneously wrenching and hopeful.
During the promotional cycle for Real Life in 2006, Wasser was quoted as saying, "Beauty is the new punk rock." Many listeners have come to believe that the edgiest thing that a musician can do is either to be jaded and disaffected or to give a visceral account of suffering. But when that becomes the norm, when depictions of agony are valorized as the highest form of art, it is the embrace of beauty that can feel comparatively transgressive.
Winters can be wearying, but a warm voice advocating for joy can make all the difference. In the final moments of Damned Devotion, on the sublime closer, "I Don't Mind," Wasser sings, "Through the snowfall / I am listening / And hope you're listening, too." The song's extended drone and subtle beat evoke a sun sinking ever closer to the horizon, ushering in feelings of an end, the anticipation of darkness and uncertainty, but also of closure, acceptance, and longing for a new day. Wasser's message about finding moments of happiness during times of trial is one many would do well to hear. I hope others are listening, too.