How Bollywood's Sridevi Should Be Remembered
The star's sudden death has captured headlines, but her boundary-breaking work is key to understanding her legacy.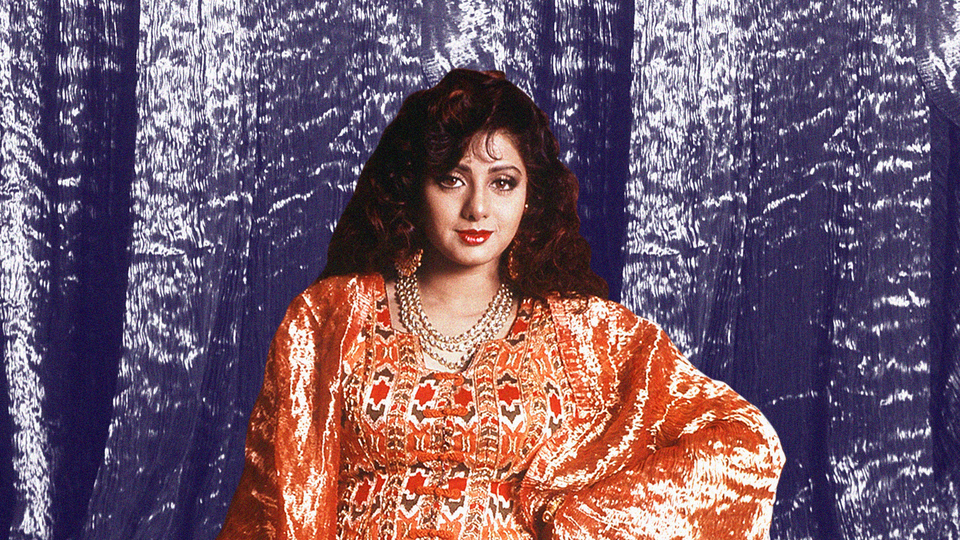 When Sridevi rose to prominence in the Hindi film industry, Bollywood, in the 1980s, it was at its tawdriest. The auteurs had left the building and a new, intensely commercial Hindi cinema had taken root. Appealing to the lowest common denominator became the industry mantra as more theaters cropped up around India and films became more profitable. Heroines were mostly cast for their sex appeal and paid much less than male counterparts. Their contributions were usually limited to romantic song sequences and weeping piteously when grabbed by the villain. Actresses would regularly be slapped and raped onscreen and groped offscreen.
Out of this emerged Sridevi, shining brighter than the hundreds of rhinestones and diamantes on her (sometimes) terrible outfits. Against all odds, she became the first modern, female superstar Bollywood has known and would remain one of its favorite actors over five decades.
On February 24, at age 54, Sridevi was found dead in her Dubai hotel apartment bathtub. According to the forensic report, she drowned accidentally. This summer, her daughter's debut film will be released. At the end of the year, Sridevi was slated to make a cameo appearance in a big budget Bollywood film. And before all of this, she had one of the best comebacks in Bollywood as the nervous, relatable entrepreneur Shashi in English Vinglish, one of the film industry's best mainstream portrayals of a middle-aged Indian woman. The film was a hit, and starring a female protagonist in her late 40s—something rarely seen, even in Hollywood.
The year 1989 was a banner year for Sridevi—she had two huge hits that year. Despite being paired with big-ticket actors in both films, Sridevi was the real star of Chandni (Moonlight) and Chaalbaaz (Trickster). Although Chandni is the better film, in hindsight, it's Chaalbaaz that deserves a place in popular Indian cinema's hall of fame. After all, this is the film that gave us the beer-guzzling, thug-punching, rain-dancing Manju, one of Bollywood's cutest, angriest, and most transgressive leading ladies. As played by Sridevi, Manju is magnetic. The first time we meet her, she pummels a group of men because she hasn't been given her due payment. Manju lives alone, loves to drink, makes her living as a dancer, and isn't above sweetly conning those who underestimate her. In short, she is the paragon of vice by Bollywood standards.
It's tempting to imagine Manju was an embodiment of the swagger that must have been in Sridevi's stride in the late 1980s. She'd managed the impossible in a deeply misogynist film industry—becoming an equal of male heroes. While her fees didn't match the likes of Bollywood's iconic men, Sridevi helped reduce the gap. At the height of her fame, she could name her price. "She's no fluke," said director Manmohan Desai, who recalled he didn't cast her in his films because he couldn't afford her. "Apart from her sex appeal she has enormous talent and is a superb actress. She deserves to be the number one." Reportedly, Steven Spielberg pursued Sridevi for a minor role in Jurassic Park. She was at the height of Bollywood stardom—and refused.
From comedy to drama and action, Sridevi did it all. In Sadma (Trauma; a remake of her Tamil film Moondram Pirai), she was earnestly childlike as Nehalata, a young woman who suffers from retrograde amnesia. The actor displayed comic genius when she played a nosy journalist in Mr. India, directed by Shekhar Kapur, the BAFTA winner who also helmed Elizabeth. Remembering the actress, Kapur wrote, "You were the most exciting actress I ever worked with. Your energy on camera was scintillating. There was not a moment on screen that you did not have the audience in your grip."
In a country with 22 official languages, several film industries, and diverse regional cultures, Sridevi was popular not just in Hindi-speaking Bollywood, but also throughout India—a rare feat. Over the course of her career, Sridevi made 81 films in Telugu, 72 films in Hindi, at least 71 films in Tamil, 23 films in Malayalam, and six films in Kannada. She somehow managed to deliver hit Hindi films in quick succession, despite not being fluent in Hindi (until Chandni in 1989, the half-Tamil and half-Telugu actress would have her Bollywood dialogues dubbed).
Conventionally, Bollywood leading ladies sought to woo heroes and audiences with their beauty and virtue. That changed in the 1970s and '80s, partly in an effort to reflect a changing society and partly to cater to growing male audiences. Sridevi belonged to the early set of Bollywood actresses who played heroines as overtly sexy, and while this made her a crowd favorite, it also proved to be a limitation.This is uncomfortably evident in the way this 1987 India Today profile depicts her:
If Meena Kumari was the eternal tragedienne and Amitabh [Bachchan] made it big with his angry young man image, Sridevi projects a quality that producers feel every Indian male craves for in a woman. As one producer says: "They want their wives to be an angel in front of the family and a mistress in bed. She has that quality."
The writer is talking about one of the most successful stars in Bollywood and the only actress of her time to demand pay and billing equal to that of her male peers. Straitjacketed by the scripts, costumes, and attitudes of '80s and '90s Bollywood, no actress should have been able to give the heroes a run for their money, but Sridevi did.
She disrupted Bollywood's status quo, but did so politely. Hers was a rebellion born, weirdly, of compliance. If she was told to wear shiny antlers and dance against a backdrop of gigantic seashells, she'd do it with full conviction. Playing a woman who can turn into a snake, she put on blue contact lenses and writhed like her life depended on it. Directors put her in situations that were designed to titillate male viewers and she complied with their every directive. But then, somewhere along the way, with a twinkle in her eye and a little wobble of those glossy lips, Sridevi subtly turned the tables. She became the queen of escapism, and the audiences loved her for it.
As Sridevi's stature grew, she veered toward roles of working women who were irreverent and left men perplexed. She cheerfully struck poses in outrageous costumes and over-the-top makeup, suggesting that it was okay—and perhaps even liberating—to be ridiculous rather than proper and poised. While literally dancing to a man's tunes in Nagina, her eyes shot daggers as she mouthed the lyrics, "Main teri dushman, dushman tu mera" ("I am your enemy, and you mine"), and the song suddenly became about gender dynamics rather than a snake charmer and a snake-woman. The slinky outfits and suggestive choreography Sridevi was given lost their sleaziness because of her performances. She exuded body confidence and frankly delighted in pleasure in her onscreen avatars. In the way she used her sexuality, Sridevi embodied the spirit of these lines from a Kamala Das poem: "I am a freak. It's only / To save my face, I flaunt, at / Times, a grand, flamboyant lust."
Sridevi's irreverent laugh and wide-eyed innocence may all have been an act, but her performances became templates of femininity, freedom, and joy. These are constructs that inform cinematic heroines and audiences even today. As grief strikes her countless fans and the greedy-for-eyeballs media try to sensationalize the circumstances of her death, the question becomes: How will we remember Sridevi? Will the lasting image of her be of a woman who was a pale shadow of her '80s superstardom? Or will it be of a dazzling actress in Technicolor warpaint, who, with her versatility and professionalism, dominated a deeply sexist Indian film industry?