Forgiving Jimmy Kimmel
It's a thoroughly modern irony: The host who will set the tone for the #MeToo Oscars got his start on a show that gleefully ogled women.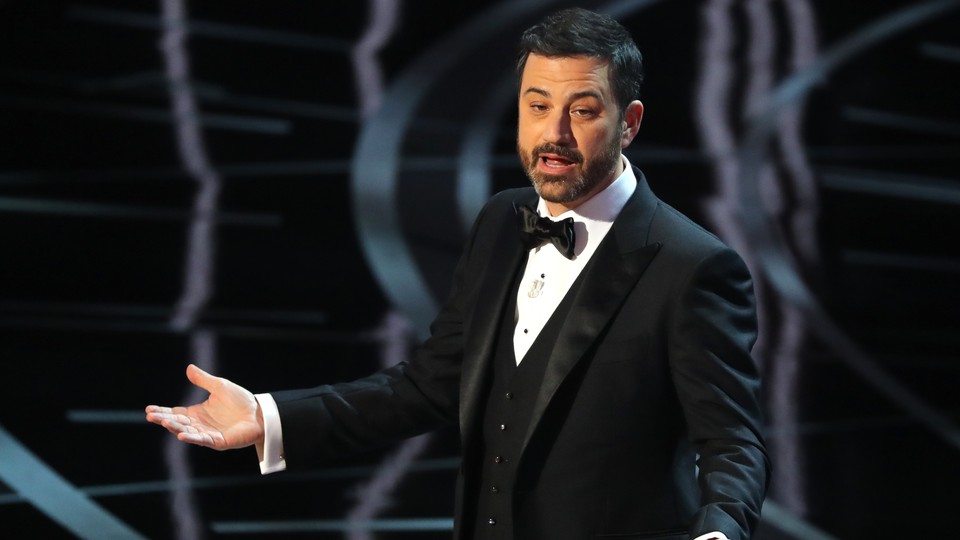 "That's what this show will be: a joyous celebration of chauvinism!"
That was Jimmy Kimmel, in 1999, announcing the guiding ethic of the new Comedy Central series he and Adam Carolla debuted that year. The Man Show, they declared, would be a show by men, for men, about men. It would be an exploration of Manliness itself, as an aspiration and an archetype: beer-chugging, boob-ogling, a little bit schlubby, a little bit sleepy, a little bit Bundyan. Such a cartoonishly narrow definition of what it means to be Manly would ultimately be unified, in the show's conception, by an overarching resentment of feminism and its encroachments: "NO MA'AM," basically, for the basic-cable audience. "After all, what do guys want to see on TV?" Kimmel asked The Man Show's studio audience, during its premiere.
Carolla answered for them. "We want girls!" he said. "Girls jumping on trampolines! And monkeys! And midgets!"
The Man Show propelled Kimmel, formerly a radio host of shock-jocky strain, to national fame: an everyman for The End of Men. And since he left the series in 2003—to become the host of ABC's Jimmy Kimmel Live!, a role he has occupied ever since—Kimmel has been engaged in a particularly slow-moving project of redemption. The show named for him, though now a traditionally formatted late-night program, began as a loosely sanitized version of its basic-cable forebear: Jimmy Kimmel Live! initially included an open bar, whose offerings Kimmel and his guests eagerly imbibed on-air (Kimmel conducted one early episode visibly drunk). Kimmel had trouble booking women for the show (a joyous celebration of chauvinism). Over time, though, the show's physical bar was removed, and the figurative one was raised; the guest list was expanded; and Kimmel himself, year by year, transformed from an impish man-child into, finally, a man—a televised bildungsroman fit for an age of anxious masculinity.
Over the past year, that story has found a new plot twist: Kimmel has become political, and politicized. He has spoken, tearfully—following the health struggles of his infant son, born with a congenital heart defect—about the failures of the American healthcare system. He has, in the name of making that system more equitable, publicly debated with members of Congress. After a shooter in Las Vegas killed 58 people last year, Kimmel used his show's national platform to advocate for gun safety. He did the same thing this year, after the mass murders in Parkland: "If you don't think we need to do something about it," Kimmel said, of the gun violence, "you're obviously mentally ill."
It's fitting, in that sense, that Kimmel will, for the second time in two years, host the 2018 Oscars telecast on Sunday: The awards show, as a genre, has itself undergone a form of political awakening of late. Americans now take it for granted that, far from the passive activism of colored ribbons that were popular during The Man Show era of American life, the ceremonies themselves—the red-carpet interviews, the monologues and songs and bits, the acceptance speeches—will double as political discourse. Last year's show was thoroughly saturated with fear and loathing of the newly inaugurated President Trump; this year's telecast, of course, is coming in the age of #MeToo. It is capping an awards season that has been, in its own way, infused with that movement's revelations. A report released last week found that 94 percent of the women in the entertainment industry have experienced sexual assault or harassment; many observers have expected that, following the pattern set by the Golden Globes and the BAFTAs, the Oscars would find ways to acknowledge the problem this version of #MeToo laid bare.
Such assumptions may or may not be proven correct come Sunday evening: Kimmel himself has varied in his public pronouncements about #MeToo's presence at the Academy Awards. On Thursday, an interviewer asked him whether he has jokes related to #TimesUp planned for the show; Kimmel responded, "I do, yes." In previous interviews, however, Kimmel has—as have Oscar producers and executives at ABC, the network that airs both the Academy Awards and, yes, Jimmy Kimmel Live!—suggested that the role #MeToo will play in the program will be minimal. As Kimmel explained to (ABC News's) Paula Faris on Tuesday, "This show is not about reliving people's sexual assaults. It's an awards show for people who have been dreaming about maybe winning an Oscar for their whole lives. And the last thing I want to do is ruin that for someone … by making it unpleasant."
It's an awkward juxtaposition: Kimmel, after all, has not previously had a problem with introducing pain into public platforms. (As he told Faris during the same interview, "We've matured enough … to the point where we can accept late-night talk show hosts speaking about a serious subject. And I think that it's almost necessary now.") Kimmel's political activism—a coda to the coming-of-age story that was occasioned, specifically, by his status as a father—has burnished his celebrity, not only as an entertainer, but also as a teller of truths and an influencer of public opinion. The late-night host is, Vulture has suggested, the new Walter Cronkite. He is now, as CNN put it, "America's conscience."
If so, though, it's a role he wears, like the oversized shirts he sported on The Man Show, loosely. Kimmel, precisely because of his background—precisely because he once produced a show named Crank Yankers, under the banner of Jackhole Productions; and precisely because he once starred in an elaborate and casually homophobic musical sequence titled "I'm Fucking Ben Affleck"; and precisely because he owes his fame to "a joyous celebration of chauvinism"—makes for a particularly awkward ambassador of the #MeToo message, however it manifests on Sunday. Kimmel may have matured before Americans' eyes; it is an evolution, however, built on his start as an irreverent prankster, ogling and giggling and refusing to take anything—politics, women, himself—seriously.
The first episode of The Man Show was shot in part at the Hoover Dam, just outside of Kimmel's hometown of Las Vegas. Kimmel and Carolla had chosen the setting for the premiere, they explained, because the dam was a work not just of men, but also of manliness itself: strong, hardy, hearty. The structure was also, they insisted, deeply symbolic. The world needed, Carolla explained, "a dam to hold back the tidal wave of feminization that is flooding this country"—a dam, Kimmel added, "to stop the river of estrogen that is drowning us in political correctness." And "a dam to urinate off of when we're really drunk."
As The Man Show's theme song—accompanying visuals for which included a guy using a leafblower to blow off a woman's dress, stripping her down to her lingerie as she struggled to cover herself—went:
Grab a beer and drop your pants
Send your wife and kids to France
It's The Man Show!
Quit your job and light a fart
Yank your favorite private part
It's The Man Show!
It's a place where men can come together
(Look at the cans on this chick named Heather)
Juggy girls on trampolines
Time to loosen those blue jeans
It's the … Man Show!
Kimmel and Carolla would remain true to their pilot's anti-estrogen stance. Episodes of The Man Show would include a segment in which Kimmel recruited women volunteers on the street to play a game: Guess what's in his pants. "I've stuffed something in my pants," he informed one of the players, "and you're allowed to feel around on the outside of the pants. You'll have 10 seconds to then guess what is in my pants." (He paused: "You should use two hands.") The segment included Kimmel asking another player to "put your mouth on it"; informing another, mid-pants-feel, that "you're gonna make a fine wife"; making sure another was older than 18 ("Uncle Jimmy doesn't need to do time"); and revealing to another that the pants-surprise in question was not a vibrator, as she had guessed, but "a zucchini with a rubber band on it." ("But you can use it as a vibrator if you want!" he assured her, exaggeratedly shaking the produce.)
There was also a parody ad for "Bosom Springs," a bottled water specifically designed for being poured onto "wet T-shirts"—cut to a woman, after a run, pouring the water onto her breasts, covered only by a sports bra—and a visit to Snoop Dogg's house ("I had my bitch bake you some muffins," Kimmel said, handing Snoop a basket of them). And the "Juggy Talent Show" (bikini-clad women demonstrating "talents" like the ability to fit bananas into their mouths), the "Juggy Academy" ("our principal commitment: to provide a comprehensive educational opportunity to young women with exceptional racks"), and "Juggy Auditions" (self-explanatory). And, also: jokes about underwear, about penises, about porn stars.
The Man Show also poked giddy fun at the politics of race. Kimmel, on several occasions, covered himself in head-to-toe brown makeup to play the role of the Utah Jazz player Karl Malone. Kimmel, as Malone—who has a penchant for referring to himself in the third person—mused on, among other topics, the existence of aliens ("Karl Malone read on TV about white people getting deducted by alien, stickin' all kinda hell up their butt—and that's a damn shame") and Mardi Gras ("Now, New Orleans nickname 'Big Easy,' and this here why: New Orleans big, and look at them girls, that's easy") and health ("That's why Karl Malone say, change name 'die-betes' to 'live-betes'"). In the premiere episode of The Man Show, as part of their effort to put the "man" back in manifesto, Kimmel and Carolla, speaking on behalf of Manliness, directed their resentments toward Oprah—and, specifically, toward the power she held over America's women. "She tells them what to read, what to eat, what to think, what to do," Carolla said.
"We're the ones that are supposed to be telling them what to do, right?" Kimmel replied. "Enough is enough. The Oprah-zation of America must be stopped!" As the show's camera panned to one of its Juggy Girls, who whooped appreciatively at the sentiment, Carolla declared, "This Oprah needs to do a little less brainwashing, and a little more sock-washing."
Ooooof. Later, Kimmel would explain the show's content in the way so many comedians have come to explain the less savory elements of their work: as a project of satire. He and Carolla were laughing not with the Juggy-gawkers and the race-baiters, but at them. They were embodying insensitivity in order to poke fun at insensitivity. "We always said The Man Show's audience was divided between people who thought it was funny and understood we were joking," Kimmel said in an October 2017 interview, "and other people who really thought we had some kind of an agenda." It's a strain of revisionism—"JK," insists J.K.—that leaves little room for the show's presumptive audience: people who simply like beer and boobs, people who, perhaps, feel truly put-upon and indignant and victimized. People who resent, without an ounce of irony, "the river of estrogen that is drowning us in political correctness."
The Man Show was, like everything else will be, a product of its time: It could have existed only during the heady years that came as the centuries shifted, lurchingly, beneath Americans' feet. Kimmel's antics, even then, were purposely provocative, and willfully out of step with the culture at large: The entertainer is known as a lover of pranks, both on Jimmy Kimmel Live! and in his personal life, and The Man Show—in the most generous reading of its ethic—was an extended gag played at the expense of a society that, the show insisted, took itself far too seriously. Another reading of things, though, is that Kimmel and Carolla, in the winky guise of guyness itself, did not merely respond to the culture that would come to prove itself complicit in the horrors #MeToo revealed; they also helped to extend that culture's life. Ben Stein, whom Kimmel worked with on Win Ben Stein's Money, made a cameo appearance on the "Juggy Academy" segment of The Man Show. "Now, suppose," Professor Stein instructed his sea of bikini-clad students, "Adam or Jimmy makes a joke you don't understand. What do you do?"
The women raised their hands, eagerly, en masse. Stein called on one of them. "Giggle like an idiot?" she said, cheerfully.
"Very good, Andrea!" Stein replied. Andrea's classmates shook their breasts in giddy approval.
The Man Show's antics, of course, are not strictly the stuff of #MeToo; they are merely in dialogue with the movement's revelations, and with a broader culture in which men look at women and women watch themselves being looked at. Still, it's remarkable that, on Sunday, the person who created Juggy Academy will be hosting the Academy Awards. It's revealing that, on Sunday, the guy who became famous through a joyous celebration of chauvinism will be the person who decides how #MeToo will be discussed within the biggest awards show of them all.
Americans love nothing more, the truism goes, than a good redemption story; Jimmy Kimmel, conscientious and Cronkitian, is currently starring in such a tale. He has, in recent years, run segments on Jimmy Kimmel Live! that one could read as de-facto apologies for the work of his earlier career: respectful interviews with women actors. Substantive conversations with politicians. Segments starring "one of my favorite characters in all of sports," Karl Malone—this time playing himself. Kimmel recently spoke of his embrace of equal rights for the queer community; he spoke, as well, of talking about that embrace with his good friend Ellen DeGeneres. He suggested that, in some sense, his opinion on the matter carries a special weight—precisely because he is still, in addition to everything else he has become, "the guy from The Man Show."
It is a weight, however, that Kimmel distributes unevenly. In October of last year, weeks after the first news about Harvey Weinstein's behavior had broken and just as #MeToo was becoming revitalized among the American public, Kimmel sat for an interview with Vulture. "Do you look back at The Man Show and cringe?" David Marchese asked the entertainer.
"Yes, of course," Kimmel replied, in part—"and not necessarily for the reasons you think. I just think, Oh, we could've done that better. It was a show people loved, and I got to work with Adam [Carolla], which was a dream at the time, and we did a lot of funny stuff. We also did a lot of stupid stuff."
Marchese followed up. "Could you get away with doing that show in 2017?"
Kimmel doubled down. "If we put The Man Show on today in its identical form, it would be an even bigger hit than it was back then," he said. "I believe that very strongly."
"Why?"
"Because there's more back to lash against," Kimmel said. "There's more scrutiny. There's more political correctness. That always offers more opportunity to run counter."
"I don't think people would be particularly kind to that show's idea of humor," Marchese countered.
Jimmy Kimmel—sermonizer, prankster, entertainer, America's conscience—was unfazed. The Man Show 2.0 "would absolutely result in a shitstorm," he insisted, "and there's absolutely nothing better for ratings than a shitstorm."