Why Ava DuVernay and Warner Bros. Are a Great Match
The Wrinkle in Time filmmaker will direct an ambitious comic-book movie—a decision that signals a big shift for the DC Extended Universe.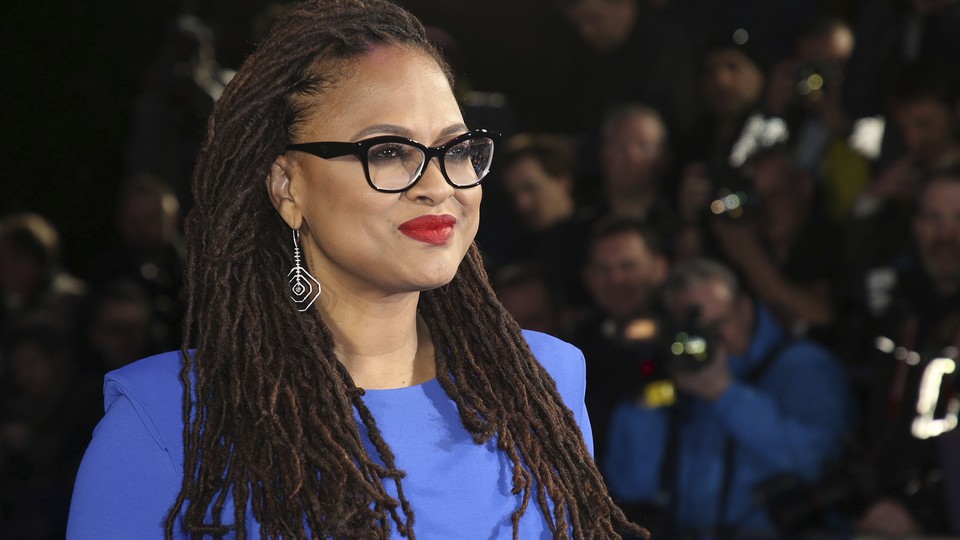 Last year, the critical and financial calamity of Justice League served as a bit of a wake-up call to Hollywood's embrace of the "cinematic universe." Just because the Marvel Comics brand had served as a box-office rubber stamp for nearly 10 years didn't mean the formula could be easily replicated elsewhere. Warner Bros.' attempts to copy it (with a sped-up timeframe) through its DC Comics property went a lot less smoothly. The studio's goal from the beginning was to quickly pave the way for a team-up movie starring the main heroes Superman, Batman, and Wonder Woman—but Warner Bros. didn't prioritize the kind of methodical, artist-led storytelling needed to pull off such a feat.
Increasingly, it seems that 2017 was a crucial teachable moment for the studio and the industry at large. Of Warner Bros.' two comic-book offerings, Wonder Woman turned out to be a huge success, getting rave reviews and grossing more than any other DC Extended Universe movie. Justice League was a comparative flop. The former was barely connected to the wider series of films and was built from the ground up by the director Patty Jenkins; the latter was subject to extensive reshoots and essentially created by committee. That contrast between the two works is why the studio's latest move, hiring Ava DuVernay to direct an adaptation of Jack Kirby's New Gods comic, made so much sense.
The argument could be made that DuVernay and Warner Bros. both need each other. DuVernay, riding high on the critical success of Selma in 2014, turned down Marvel's offer to direct Black Panther (the job went to Creed's Ryan Coogler) and instead signed on with Disney (the studio that owns Marvel) to adapt Madeleine L'Engle's classic children's novel A Wrinkle in Time. That film debuted this month to mixed reviews and solid, but unspectacular box office; though hardly a catastrophe, it was not the breakout hit that might have guaranteed a lasting relationship between Disney and the director. The mega-budgeted New Gods will be an even bigger challenge, but it's one that DuVernay appears eager to take on.
New Gods is one of the most exciting and experimental works in the DC canon, a celestial epic created by Kirby in the 1970s involving almighty characters like the evil Darkseid, the heroic Orion, and the bruising female hero Big Barda, whom DuVernay named as her favorite comic-book character last year. Though the New Gods have been hinted at in existing DC movies—the Justice League villain Steppenwolf is a secondary New Gods character—reports indicate that DuVernay's planned film won't interact much with the rest of the cinematic universe.
It's a wise call. Warner Bros.' approach to these films has been a muddled mess, with the studio announcing project after project, often with no talent involved at all. At one point, three different Joker movies were on the horizon; a planned Flash movie has reportedly had four different directors attached and still hasn't gone into production. As of now, 23 different DC movies have been announced, almost all of them "in development" (still in the hiring and scripting phase), and many without a director. It's the opposite of Disney's controlled attitude toward the Marvel movies; those films are governed by the producer Kevin Feige, who picks directors and has a firm hand in storytelling decisions.
Rather than trying and failing to copy this approach (as it has already done), Warner Bros. should focus less on interconnectedness and more on investing in talent. A Wrinkle in Time was far from a perfect movie, but it was a singular vision. The thought of DuVernay working on a film with the cosmic scope of New Gods (coupled with her obvious passion for the material) is much more intriguing than the prospect of another incremental Justice League entry. Her hiring also suggests that DC and Marvel are growing comfortable with looking beyond white male directors for projects, even in cases where the filmmaker's race or gender doesn't necessarily reflect that of the movie's protagonist.
Moving forward, Warner Bros. is indeed reportedly seeking to make good movies first and worry about the larger comic-book brand later. The Dawn of the Planet of the Apes director Matt Reeves was brought on to do a Batman film that he says may not connect to Justice League, et al.; the same goes for the Joker movie being produced by Martin Scorsese. DuVernay making New Gods is the biggest indication yet that the studio is looking to shape its future projects around the artists it hires, rather than around the series those projects belong to.
An oft-forgotten piece of Marvel's success story is that the first film in the franchise, 2008's Iron Man, was a colossal risk. Marvel hammered out a multi-year, $525 million agreement with Merrill Lynch in 2005 to fund its first slate of movies rather than sell the character rights to another studio. It also hired the action-film neophyte Jon Favreau (at the time best known for making Elf) and the washed-up star Robert Downey Jr. (who had not had a commercial hit in more than a decade). Iron Man wasn't a hero with the sort of box-office cachet of Spider-Man or the X-Men, but the gamble paid off because the movie was good—and it set up a roadmap for the company by turning a huge profit. Betting on artists is the approach Warner Bros. should've backed from the beginning, and it's one that the studio's finally pivoting toward now.