Atlanta and the Anxiety of Fame
The second season of the brilliant FX show explores the tension and the weirdness of dreams coming true.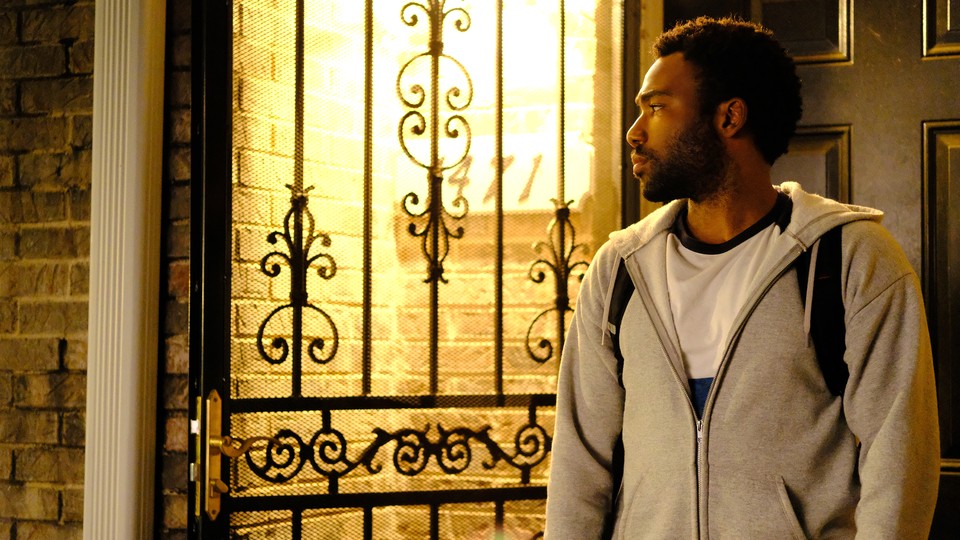 In 2016, when the first season of Atlanta debuted, Donald Glover was relatively famous. He'd been nominated for two Grammy Awards for his 2013 album, Because the Internet, he'd starred in the NBC sitcom Community, and he'd had smaller roles in hit movies including The Martian and Magic Mike XXL. But post-Atlanta, which became a critical and commercial hit and won Glover two Emmys, and two Golden Globes, he became really, really famous. He was cast as a young Lando Calrissian in the upcoming Han Solo prequel (a single shot from the trailer of Glover sporting a fur coat and blinking sent the internet into hysterics). He was cast as the voice of Simba in Disney's live-action The Lion King. And Glover and his brother Stephen are helming an animated TV adaptation of Marvel's Deadpool for FXX, set to debut in 2018.
All of which is to say, Glover's life has probably gotten stranger. The long-awaited second season of Atlanta, whose first episode airs on FX Thursday night, is as surreal and ingenious as the first, which featured a black Justin Bieber, a satirical episode framed as a TV talk show, and the final revelation that the constantly broke Earn (Glover) was essentially homeless and living in a storage unit. But the first three episodes made available for review also seem to respond to the weirdness and the anxiety of making it big, as the career of Earn's cousin, the rapper Paper Boi (Brian Tyree Henry), takes off, and both he and Earn—his manager—start to make more money. In the third episode, "Money Bag Shawty," the pair is harassed by a waiter who's trying to monetize his famous guest, and in the second, "Sportin' Waves," Paper Boi can't even find a new drug dealer who won't secretly photograph him and Instagram their encounters.
Atlanta is inarguably one of the best, most innovative shows currently being made. Written largely by Donald and Stephen Glover, and an all-black writers' room staffed by people with a deep knowledge of Atlanta, the series is rooted in a specific place, and its intimate relationship with a "magic city," as my colleague Vann Newkirk wrote in 2016. Its distinct visual style, created by the music-video director Hiro Murai, turns even the most dreary settings into punchy, saturated images. But the key element of Atlanta is its willingness to push boundaries—to flip from violence to humor and back again with unnerving speed, or to spend an entire half-hour episode without Glover's character, pondering the intersection of racism and transphobia via a fake show named Montague (punctuated by fictional TV ads for Dodge Chargers and Swisher Sweets).
The first episode of the new season, "Alligator Man," contains all these qualities and then some. The pre-credits sequence discombobulates viewers by opening with two entirely unfamiliar characters, who genially chat before heading out on an errand that jarringly shifts mood. The subtitle for the upcoming 10 episodes is "Robbin' Season," described by Darius (Lakeith Stanfield) as the time when "Christmas approaches and everybody gotta eat." Hardly anyone can be trusted. The most mundane situations are freighted with tension, and every single person Earn encounters has a hustle in one form or another. But Atlanta still finds humor amid the apprehension, poking at hypocrisy and racism with sly jabs. Paper Boi is thrown when he discovers the ubiquity of white girls doing acoustic covers of his music on YouTube. And another white woman who's recorded a tirade about Paper Boi's lyrics goes viral; she finally weeps not at his references to drugs and sex, but at his Colin Kaepernick shoutout.
Still, Earn's mounting anxiety as he intuits that everyone he meets is trying to take something from him begins to feel oppressive. It's hard not to interpret these moments as an allegory for Glover's own altered relationship with the world, his obligatory suspicions about what people want him to do, or to be. In a superb recent profile of Glover for The New Yorker, the writer Tad Friend observes his subject's state of uneasiness, how "he feels constantly watched but rarely seen." This translates in Atlanta as Earn and Paper Boi's increasing conflicts about money—not the lack of it, which saturated the first season, but the unexpected problems that come with getting it. In the third episode, Earn struggles to spend a hundred-dollar bill, simply because everyone he tries to spend it with reacts with distrust. "It's legal U.S. tender!" he says over and over, exasperated.
The four main performers (Zazie Beetz plays Earn's on/off girlfriend Van) are reliably brilliant. Stanfield's Darius, prone to moments of stoner philosophizing, is the show's comic relief ("I would say nice to meet you but I don't believe in time as a concept, so I'll just say we always met," is how he greets a new acquaintance), although other highlights from the new episodes include an exceedingly polite armed robber and the question of whether Paper Boi's uncle (Katt Williams) actually has an alligator in his bathroom. As Paper Boi, Henry gives such an understated, tight performance that his moments of rage or dismay are potent by comparison.
In the second episode, Paper Boi is robbed by his usual dealer. He finds a new one with incredible weed from Humboldt County, who seems like an ideal source. But then the dealer passes on the rapper's cell number to his girlfriend, one of the aforementioned YouTube acoustic cover artists. Hit with a barrage of incoming messages from a relentless fan, Paper Boi throws his phone out the window in disgust. This is his new reality: Even his drug dealers have changed what they charge. The more he gets, the more the world wants to take from him.