A Loving Portrait of Arthur Miller
A new HBO documentary, directed by the playwright's daughter Rebecca, is an intimate look at a ferocious talent.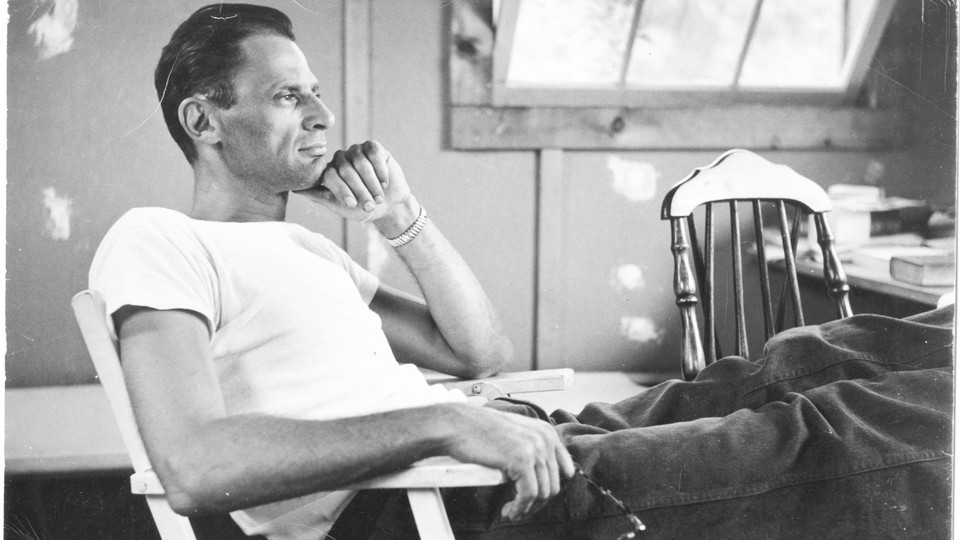 Rebecca Miller, the filmmaker and writer, has as good a sense as anyone of the events associated with the playwright Arthur Miller: his meteoric rise in the theater, his tangles with the House Un-American Activities Committee, and his five-year marriage to Marilyn Monroe. But the common perception of Arthur Miller didn't square with how Rebecca knew him, as his daughter. "Early on," she narrates in Arthur Miller: Writer, "I recognized that his public perception was so different from the man I knew."
That documentary, which airs on HBO Monday night, is a true labor of love—a charming 100-minute film that offers an insider's account of a complicated life. Miller doesn't shy away from the messier moments in her father's biography, including the institutionalization of his youngest son, Daniel, who was born with Down syndrome. But it isn't her intention to dissect him, either. Arthur Miller: Writer is a family portrait defined by intimacy with its subject, captured in footage the filmmaker first started shooting in her 20s. The movie's at its most intriguing when it's parsing the strangeness of being closely related to someone so celebrated, who put so much of his life in his work. Rebecca's sister, Jane, recalls how, conversing with her father when she was younger, "There were times when he was only interested in something because he could use it."
It's a surprise, though, how warm and goofy Miller is in scenes with his daughter, as she captures him working on carpentry projects in his studio in Connecticut or reminiscing in his kitchen. Rebecca Miller, when the camera turns to her, watches him intently, with palpable affection. She proceeds chronologically through his life, starting with his origins as the son of a Polish immigrant who could barely read but who made a fortune manufacturing women's clothing, which he lost in the Wall Street Crash of 1929. The subsequent humiliation and reduced status of his father seems to have inspired Miller's 1949 play Death of a Salesman, his second major hit, and a magisterial reckoning with the illusory nature of the American dream.
The filmmaker interviews members of her family about their father, but she also talks to Tony Kushner and Mike Nichols, the latter of whom posits that Death of a Salesman took something from its author that he could never recover. "Something burned out," Nichols says. "It's so close to the tragedy. It's so alive." In the years that followed, Miller's close friend and the director of the original Salesman, Elia Kazan, was forced to identify Communists in testimony he gave to Congress—another event that shook Miller deeply. The period famously inspired his play The Crucible, which explores the nature of McCarthyism through the allegory of the Salem witch trials. After it premiered in 1953, Miller himself was asked to testify to HUAC, although the head of the committee, the movie documents, offered to call the hearing off if he could have his photograph taken "with Marilyn." It was a confluence of politics and Hollywood that Miller describes in the film as characteristically American. "We're a country of entertainers," he says. "You've gotta be entertaining. Even the fascists have to be entertaining."
Monroe, Miller's second wife, is a substantial part of the film, although not an overwhelming one. It's almost as though Rebecca Miller feels reluctant to probe too deeply into her father's romantic life, even though he himself laid much of it bare in the 1964 play After the Fall. ("The best work that anybody ever writes is the work that is on the verge of embarrassing him," Miller says in one interview.) When Miller and Monroe were first introduced in 1951 he recalled telling her that she was the saddest girl he'd ever met—a line he later put into The Misfits, a film he wrote for her to star in. Their marriage captivated America, given the unlikely union of a brilliant intellect and an incandescent movie star. But Miller seemed to comprehend the pain within Monroe, who forged a bond with her new father-in-law that lasted until her death. "She couldn't really gain for herself the confidence she had to have to do this," Miller tells his daughter. Then he sits, silently, for what feels like minutes, his face distorted with pain. "Terrible," he says. "Well."
In 1962, Miller married the Austrian-born photographer Inge Morath, Rebecca Miller's mother, and their marriage endured until Morath's death in 2002. Arthur Miller: Writer offers glimpses of their easy, warm relationship, and of Morath's own talent and ambition. But it also tackles the impossibly difficult subject of their younger son, Daniel, whom it was revealed in 2007 had been institutionalized since birth. "I didn't know how to finish the film without talking about my brother," Rebecca says, although she declines to interview him or include photographs of him to protect his privacy. After Daniel was born, doctors advised Miller and Morath that he'd be better off growing up away from his family. Morath visited him weekly, without her husband. It's a profoundly sad and painful page in family history that Rebecca Miller clearly struggles with. Before her father died he offered to let Rebecca interview him about Daniel, but she was hesitant about doing so, and it never happened. "Now," she says, "we'll never know what the interview might have said."
It's a moment that offers some insight into the limitations of familial documentaries, informed as they are by deeply rooted relationships and biases, and in this case, by respect. Rebecca Miller doesn't have the same instinct to interrogate her father that another, more impartial filmmaker might have. But that isn't the point of Arthur Miller: Writer, a film whose mission is to share an insider's perspective of a ferocious talent. "Art is long," Miller tells his daughter, after one of his later plays has been badly reviewed. "Life is short." His work will always speak for itself, but as this film proves, there's a different kind of clarity in seeing him through a more intimate lens.