The Zombie Cheer of the Revived American Idol
ABC has brought back the recently canceled Fox franchise, with Katy Perry rather than Simon Cowell anchoring the eerily upbeat affair.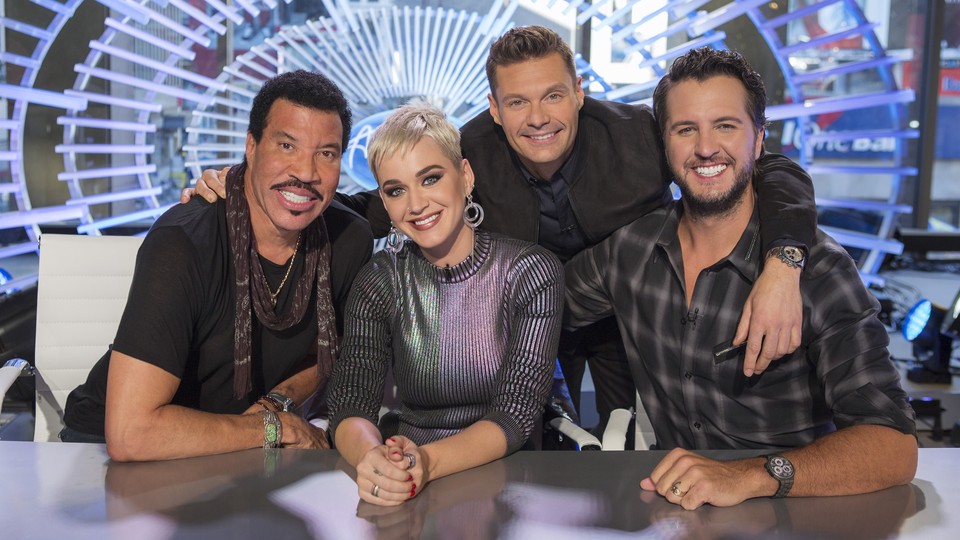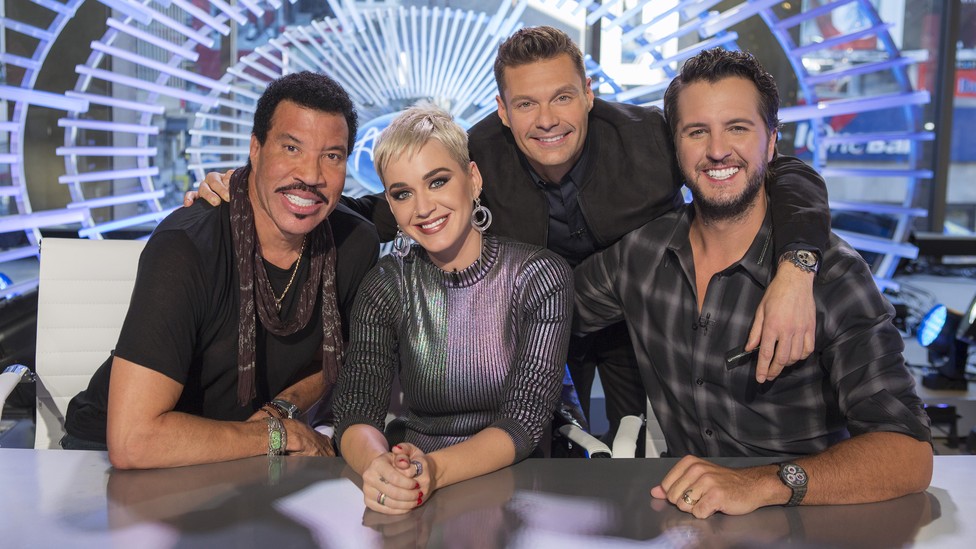 This post contains spoilers for the premiere episode of American Idol.
So much about ABC's reboot of American Idol seems, from the outside, cynical. It was only two years ago that the one-time TV juggernaut delivered its supposedly final goodbye after 15 seasons on Fox. ABC bought the rights and promptly undug the show's fresh grave, hiring Katy Perry as anchor judge for a reported $25 million, turning the pop star who recently began to falter as a hitmaker into one of the highest-paid reality TV personalities ever. The Fox version hadn't launched a smash singing career in years, and even more than before, there's little good in pretending that the main point of the show is talent discovery. The point is cash.
All of which makes it especially striking how much the new Idol, which premiered in a two-hour episode on Sunday night, packs an Epcot Center's worth of anti-cynicism. It is kind and gentle and proficient and fakey: Disneyfied in the classic sense. The opening montage crisscrosses the country with images of regular folks pursuing their dreams, set, naturally, to the sound of Coldplay. In the auditions that unfold, the focus is on the prospective stars who get told yes, with most of the nos relegated to a quick montage at the end of the episode. Even the folks who get the thumbs down are advised not that they are bad, but that this isn't the right time for them, or maybe not the right show.
"This is country, pop, R&B standing here in front of you," Lionel Richie says at one point, referring to judges Luke Bryan, Perry, and himself. But the panel thrives not on contrast, but on harmony. Simon Cowell the cruel, Paula Abdul the kind, and Randy Jackson the vaguely wise are rendered a distant memory. Richie does do an industry-veteran routine—telling long stories and trying to remind each teenage singer just how young they are—and Bryan does seem on the verge of saying aw shucks in every scene. But mostly, they're interchangeable nice dudes playing backup to a manic pixie dream diva.
Her outfits glinting like a rainbow trout, Perry quips and stunts endlessly, and it's undeniably entertaining. She steals a kiss on the lips from a waifish 19-year-old with a guitar. She ballroom-dances with another scrawny boy who turns out to have a surprisingly Sinatra-esque croon (there's anatomical innuendo from her, too: "Your speaking voice is going to change, obviously—something's already dropped"). She coos over a 7-year-old girl named Dyxie who's being used as a prop by her sister. She sets up a group text-message thread with her co-hosts. She, to the gay internet's amazement and eyerolls, exclaims "wig!" and pointedly declines to explain what it means to the straight guys sitting next to her.
In fact, it weirdly feels like the idol that's being discovered here is Katy Perry. For most of her career, the public could be forgiven for thinking of her as just another pop cypher with a big, malleable voice for producers to play with. But as her sales have dwindled, her personality has become louder, retroactively giving a flair of distinction to her catalogue of hits. Perry's deranged 96-hour livestream last year crystallized the shtick: self-consciously wacky, steeped in self-help rhetoric, but also oddly casual, deadpan, and not-so-secretly tinged with desperation. Listen to "California Gurls" and "I Kissed a Girl" after watching the Idol premiere, and they start sounding a little more interesting: knowingly uncanny facsimiles of pep.
Which certainly describes American Idol in general. Watching wells of talent be revealed in unfamous and unpolished people, many of whom have overcome personal struggles, really can be inspiring. But at this point in the franchise's life, the show has to acknowledge itself as a machine designed for uplift. "Your deal is why I signed up for this," Bryan tells a formerly homeless singer toting a guitar with a hole in it, before launching into keyword soup: "Just, this feeling—it's your journey, and what this show is about. American dreams." At another point, Bryan says, "This show will teach you, do not judge any human being on this planet," which is obviously a hilarious thing for someone on a judging panel to say.
The lack of Cowell-ian meanness in this Idol does cause the lapses from wall-to-wall encouragement to feel all the more awkward. Take the audition of Ron Bultongez, a smokey-voiced immigrant from the Congo, whose performance of a James Bay song is deemed by Perry to be too much of an imitation. She and Richie vote against sending him to the next round—but after the commercial break, we learn Richie felt guilty, summoned Bultongez back, and changed his vote. The reasons for the reversal are opaque, and though the end verdict is good, you feel a bit sorry for the singer. They've put him through a lot, including calling him "Congo Ron."
Host Ryan Seacrest is the only recognizable face from the original series to return, but for viewers, his presence onscreen will carry new dimensions due to the well-publicized sexual harassment allegations against him by a former stylist. He's denied the accusation, pointing to an investigation commissioned by E! that found "insufficient evidence" of misconduct, but on the Oscars red carpet in the year of #MeToo, he was necessarily a source of tension. The Idol episode that just premiered was filmed before the scandal broke, so if there's any eeriness to the host's palling around with the contestants and their families, it's because of the viewer's own knowledge of recent headlines. In light of the situation, Seacrest's ever-present gleaming grin is especially fitting for 2018 American Idol: a performance of equanimity that defies, and will be partly judged by, what's going on offscreen.