The Power of A Fantastic Woman's Oscar Win
Acclaim for the Academy Award­–winning Chilean film has helped revive a lagging gender-identity bill in its home country.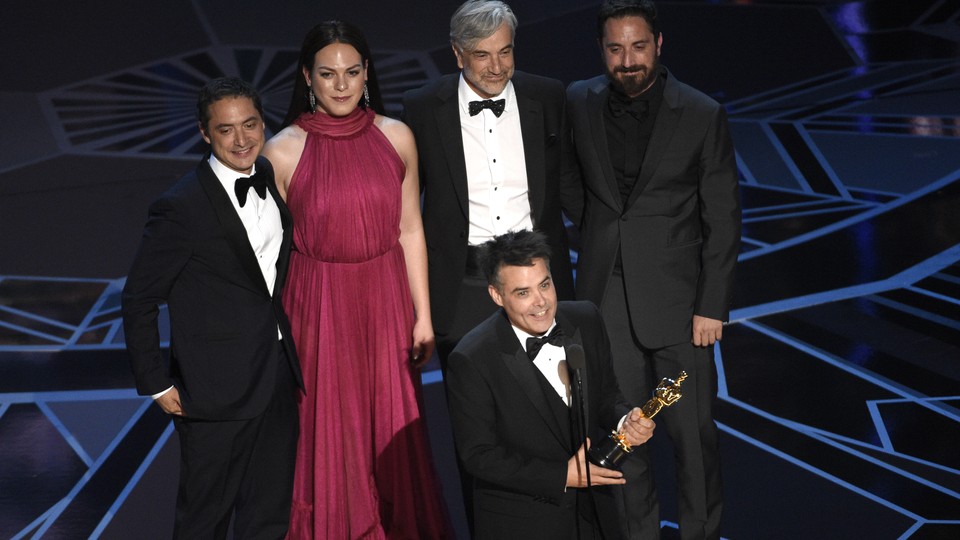 When A Fantastic Woman won the Oscar for Best Foreign Language Film last week, it marked the culmination of a year of acclaim for the Chilean drama. The movie, which centers on a transgender waitress dealing with the aftermath of her partner's death, nabbed its first big prize in early 2017 at the Berlin International Film Festival, with the Silver Bear for Best Screenplay. Then came more than a dozen other movie awards, glowing coverage by outlets around the world, and global screening tours featuring the cast and creators. Many praised A Fantastic Woman for its evocative, emotional, and delicately executed narrative, while also singling out its director and co-writer, Sebastián Lelio, and lead actress, Daniela Vega for their work.
But none of this quite compared to the film's Academy Award victory—and the spotlight that both preceded and followed it. It was the first win in that category for Chile, where the honor has already had a concrete political effect. The attention surrounding A Fantastic Woman (originally Una Mujer Fantástica) has been enough to rekindle debate over a gender-identity bill that had been lagging in Chile's Congress for nearly five years. What was once a proposal with partisan backing is now seeing support from both progressive and conservative legislators. The bill seeks to allow individuals to change their legal name and gender officially and permanently; a major point of contention is whether it should apply to children and teenagers.
Two days after the Oscars ceremony in Hollywood, A Fantastic Woman's cast and crew were received at the Presidential Palace by Michelle Bachelet, who left office on Sunday. After the meeting, Vega––who plays the lead character, Marina, and who is herself transgender—stood calmly in front of the media and delivered a moving speech. "In this country, my identification document bears a name that is not my name," Vega said. "Because here, where I was born, I am not given the right to replace it. And time goes by as the clock keeps ticking, while people are still waiting for a change." This issue comes up early in A Fantastic Woman, which delves into the discrimination and prejudice Marina regularly faces—when asked by a police officer for her identification, she reluctantly gives him a card printed with the male name assigned to her at birth.
On the day of the cast's visit, the Bachelet administration sent an ultimatum to Congress and officially labeled the gender-identity bill as "utmost urgent." "It was an opportunity to accelerate things," Bachelet's former Minister of Culture, Ernesto Ottone, told me last week. "We couldn't lose the momentum, nor the need to debate it today, now, after the Oscars." Under Chile's new conservative President, Sebastián Piñera, who was inaugurated Sunday, the bill's status has been downgraded to "simple urgency." This means that, as of Tuesday, the bill should be discussed and voted on within 30 days.
Historically, most of the politicians who make up Piñera's alliance have been firmly against the bill, which was filed in 2013 by lawmakers closer to the center-left leader Bachelet on the political spectrum. Piñera himself has faced criticism for saying, in a debate during his campaign in December 2017, that many cases of gender dysphoria are "corrected with age" (a claim that has been rebutted by neuroscience research).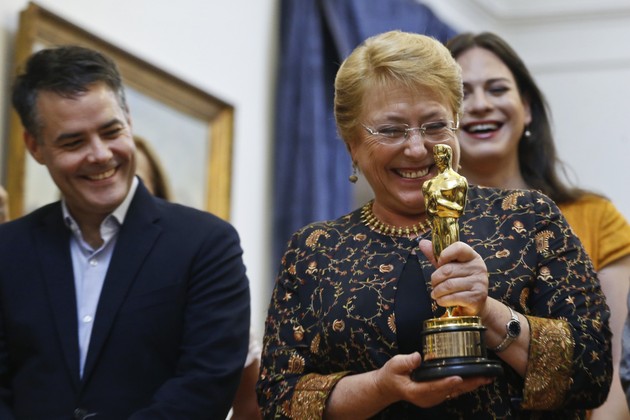 Following the Academy Awards ceremony, some lawmakers who had opposed the bill—including Javier Macaya and Andrés Allamand—expressed their openness to passing the gender-identity legislation. Another of these politicians is Hernán Larraín, a former senator now serving as Chile's justice minister. After the Oscars, Larraín said it "is important to pass a bill today so we can solve the situation in which trans people are in, who haven't had a solution." (He also happens to be the father of Pablo and Juan de Dios Larraín, the two main producers of A Fantastic Woman.) Similarly, Piñera said in an interview following the Oscars that his administration is "indeed in favor of advancing a gender-identity law for cases of gender dysphoria," but noted that the issue is still complicated in the case of children and adolescents.
Both politicians and observers have been crediting the Academy Awards for this shift. "The film had won more than 17 awards abroad, and yet [that] had not moved the needle," Ottone told me. "The law was still trapped and nobody was conceding anything. But the Oscar as such … allowed us to have this transcendental step that is to have the issue back on the table."
A Fantastic Woman's recognition by the Academy is more than a triumph for Chilean cinema and the internationalization of Latin American films. (It's worth noting that four of the last five Oscars for Best Director have gone to Mexican filmmakers: Guillermo del Toro, Alfonso Cuarón, and Alejandro González Iñárritu, who won it twice.) The achievement is also a potent reminder that movies, and cultural products in general, can become triggers of social change—especially when bolstered by the prestige afforded by an Oscar. The fact that Vega also became the first openly transgender presenter at the ceremony further demonstrated the Academy's institutional support for A Fantastic Woman.
"What we are experiencing with the visibility of the film—with the Oscar, and with the presence of Daniela [Vega] who has been the ambassador between the film and real life—[is an] exciting moment when it would be scandalous for Chile not to pass a gender-identity bill," the film's director, Lelio, told me. "This new government [led by Piñera] is between a rock and a hard place. Our lawmakers are obliged to legislate. Because if not, they would be exposed in their cultural backwardness and in their ignorance."
For Lelio, creators such as himself have the ability and responsibility to shed light on new perspectives. And much of their cultural power comes from the way a movie's viewpoint can be integrated into the audience's way of seeing the world once they leave the theater. Which is exactly what A Fantastic Woman did: According to Plaza Pública, a well-known national pollster, 67 percent of Chileans agree that individuals should be allowed to officially change their name and gender with the country's Civil Registry—a number the study directly attributes to A Fantastic Woman's Oscar success.
Lelio's film is part of a long lineage of Chilean cinema that has sought to tear up and remake the country's social fabric. The current generation of native directors in particular has taken on complex issues while being sensitive to Chile's history and reality. 2012's No, directed by Pablo Larraín, portrayed the 1988 plebiscite that ended the dictatorship of Augusto Pinochet and became the first Chilean film to be nominated for an Oscar. Sebastián Silva's The Maid (2009), which received the country's first Golden Globe nomination, satirized how unequal and economically segregated Chilean society can be. More recently, Bear Story (2016), which won an Oscar for Best Animated Short Film, was inspired by the exile many Chileans faced after the 1973 coup d'état. While each of these films prompted debate—over class divisions, over authoritarianism—none had the kind of influence A Fantastic Woman currently wields.
After Piñera's inauguration, the president entrusted the Minister of Justice Hernán Larraín with the processing of the gender-identity bill through Congress. According to national media reports, the law could be dispatched in the next month and become one of the first to be approved under the Piñera government. While it's still unclear exactly how legislators will vote, the power of A Fantastic Woman's narrative, story, and central character is unlikely to be forgotten anytime soon—both in its home country, and throughout the world.