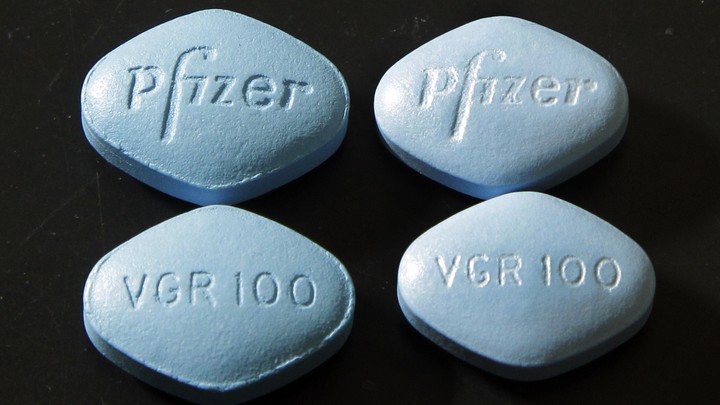 In April of 2000, Christopher Walken hosted Saturday Night Live. During the show, he would insist that Will Ferrell add "more cowbell" to Blue Oyster Cult's rendition of "(Don't Fear) the Reaper"; before that, though, he made an appearance in one of SNL's satirical ads. Clad in a lemon-yellow sweater and perched next to Ana Gasteyer before a roaring fire—and speaking in a classically Walkenian growl—the actor engaged in a bit of confession: "In a marriage," he intoned, the fire crackling behind him, "intimacy is important. Erectile dysfunction is a thief. It takes away something very precious." Walken went on to announce that he and his fictional wife had discovered, together, the virtues of Viagra. "It worked," he said, as Gasteyer smirked and the fire crackled and easy listening music played in the background. He paused. "It worked a lot."  
By the time that episode of SNL aired, Viagra had been on the market for just over two years: enough time, it would turn out, for the little blue pill to dissolve into American popular culture so thoroughly as to be mocked on network television. Formally approved by the Food and Drug Administration 20 years ago, on March 27, 1998, Pfizer's drug became instantly ubiquitous and, thus, instantly unavoidable—one of the medical elements of what the journalist Ariel Levy would come to call "raunch culture." There it was in ads aired during mass-televised sporting events. And in late-night jokes that delighted in winky double-entendres. And in music. And in movies. Viagra—and, later, drugs with different names but a similar effect—changed the way some Americans have sex. More than that, though, it changed the way many Americans talk about sex. Viagra, the sociologist Meika Loe put it in 2008, "has truly contributed to our intensified sexualized society."
Viagra doesn't have a history so much as it has, at this point, a mythology: one that starts, as so many myths will, in Sandwich, England. It was 1991. Pfizer, the pharmaceutical company, was testing sildenafil citrate for its potential ability to lower blood pressure. Male participants in the study kept noting, in their reports of side effects, that the drug "raised something else," NPR explained it, NPRily, thus "earning it the nickname 'the Pfizer Riser.'" (The U.K.'s The Independent noted that "in 1991, something stirred in Swansea—and the earth moved.")
Seven years later, the drug—now brand-named Viagra, the "vi" suggesting vitality and the "agra" suggesting the cultivation of human ingenuity—was released, and, as Abraham Morgentaler puts it in his 2003 book, The Viagra Myth, "The world has not been the same since." The American media helped to make sure of that: "U.S. Approves Sale of Impotence Pill; Huge Market Seen," The New York Times reported, noting in its story the Pfizer trial subjects who had asked trial administrators to keep their pills. Time magazine told Americans about "the Viagra craze." The San Francisco Chronicle informed its readers of "the pill that thrills":
Viagra, an innocent-looking little blue pill, proved that big things do come in small packages, lifting the spirits of millions of men who suffer from impotence. After its approval in March, the drug also raised a host of ethical questions, ranging from HMOs that wondered whether to pay for it to a 70-year-old New York man whose reignited taste for friskiness made him dump his 63-year-old lover, claiming, "It's time for me to be a stud again."
Viagra benefited, as a business venture, from the fact that, just seven months before the pill was approved, the FDA had eased its restrictions on direct-to-consumer medical advertising; as a result, the drug was among the first pharmaceutical products to be publicly advertised. Pfizer was aware that the public-messaging capability presented both a challenge and an opportunity: Its new product, being what it was, would need to overcome several taboos at once—about sex, certainly, but also about aging and masculinity. As Loe notes in her 2004 book, The Rise of Viagra: How the Little Blue Pill Changed Sex in America, Pfizer convened ethics panels to weigh the moral consequences of the pill it was unleashing on the world. It sent a delegation to the Vatican to test how the pill would be received among Catholic leaders.
The company, using its findings, focused its marketing efforts initially on selling Viagra as a medical solution to a medical problem. It focused its messaging on men with debilitating medical conditions. It recruited the urologist Irwin Goldstein (nickname: "the Paul Revere of impotence") to sell Viagra as a medical product. Its employee handbook advised brand representatives to "redirect humor" when people relied on it to defuse awkwardness; those employees were instead supposed to remind those consumers—those patients—about the medical seriousness of the topic at hand.
Pfizer also began a broader project: to, as Loe told NPR, embark on a wide-ranging "rebranding of impotence" itself. "Impotence" suggested, literally, a lack of power, a referendum on a man's masculinity and humanity; Pfizer, instead, chose to speak of Viagra in terms of "male enhancement." It adopted the medicalized language of "erectile dysfunction"—a problem easily solved with its convenient medical solution—in an attempt to shed the freight of "impotence." As part of its marketing of Viagra, the company announced that half of men over 40 are afflicted with "ED." How can something so common be shameful?
Pfizer also focused, in its early marketing, on gendered notions of power and patriotism: sexual function as a metaphor for a kind of masculine dignity. Bob Dole, who had, earlier in 1998, appeared on Larry King Live to discuss his own struggles with erectile dysfunction, was recruited to be a spokesman for the new pill. Seated, in an early commercial, on a blue leather chair situated in a corridor of gleaming white—and clad in a blue suit, white shirt, and red tie—the war veteran and elder statesman functioned, essentially, as a paragon of a certain strain of American masculinity.
"Courage: something shared by countless Americans," Dole said in the ad, as piano music strained in the background. "Those who risked their lives. Those who battle seriousness illness." He went on to talk about his battle with prostate cancer, and about the effect the battle had had on his body even after the battle was won—and to tell viewers about the medical solution he had found for the malady. He did not talk, however, about Viagra itself. "The company is weighing whether to use any ads that directly mention the product," the Los Angeles Times noted of Pfizer's initial marketing campaign; for Dole's spot, it declined to. The little blue pill, in all this talk of American heroism, was merely implied.  
Dole's ad became instantly iconic; it also became an instant joke. (Dole himself would go on to make fun of it—via an ad that found him strolling on a beach with pounding waves, extolling the virtues of a product that "helps me feel youthful, vigorous, and most importantly, vital again." That product? Pepsi.) After Dole's ads aired, however, Pfizer realized that its initial "target generation" had the lowest rates of success with Viagra. The company, as such, shifted its strategy to target a younger demographic and, in the process, shifted its marketing messages once more.
The early 2000s saw the arrival of Viagra ads as they are commonly remembered today: spots that sell the little blue pill as a "romance drug" (tagline: "Let the dance begin")—and that, indeed, market it as much to women as to men. These ads feature suggestive slow-dancing, oceanside frolicking, heterosexual and attractive and mostly white couples in their 40s, 50s, and 60s embracing and laughing and flirting and, one cha-cha at a time, challenging longstanding ideas about what it means to age. (Saturday Night Live's 2000 spoof of Viagra featured not only Christopher Walken, but also a series of over-romanced women reluctantly dancing and flower-arranging and cuddling with their partners—each chiming in with her own sarcastic version of "Thanks, Viagra.")
Pfizer also, in its marketing, attempted to reclaim notions of potency from the ideas of impotence it tried to make antiquated. The company recruited figures from the sports world—the NASCAR driver Mark Martin, the soccer player Pelé, the baseball player Rafael Palmeiro—to star in ads that emphasized men being classically manly: speeding, winning, overcoming. "Love life again," went one of those taglines. "Step up to the plate," went another. And, as always: "Ask your doctor."
Viagra—like Prozac, the anti-depression medication introduced in 1987—proved to be a "blockbuster drug": By the end of 1999, the pills had netted Pfizer more than $1 billion. By 2000, nearly 200,000 prescriptions for it were being filled each week; 17 million Americans had used it. In 2002, Pfizer became the fifth most profitable corporation in the United States. "Viagra has been embraced by the well off (4 percent of the total population of Palm Beach County has a prescription), but not only by the well off," The New York Times reported. "Not long ago, Wal-Mart and Kmart had a Viagra war that drove the per-pill price down from $10 to $7.80."
Soon, Viagra was everywhere: in comedy. In music. (Pfizer sponsored the European leg of Earth, Wind & Fire's 2001 tour.) Viagra shaped plots on Sex and the City, Mad About You, Ally McBeal, and Law & Order. Eminem's animated cartoon series, The Slim Shady Show, featured punch bowls overflowing with, yep, Viagra. "Dear Abby" columns—reality and satire tangling together—began featuring complaints from Viagra users' wives. Pastry chefs began serving up "love desserts," one of them made with passion fruit and Viagra's active ingredient. Viagra began to serve not just as a medicine, but also as a metaphor: for hypersexualization, for voracity, for excess. The pundit Jim Hightower described the Bush administration as "extremism on Viagra." Maria Shriver, then the first lady of California, titled one of the chapters of her book Ten Things I Wish I'd Known Before I Went Out Into the Real World, "Superwoman Is Dead … and Superman May Be Taking Viagra."
Lynne Luciano, in her book Looking Good: Male Body Image in Modern America, writes of ED as a "circular malady": "The more it was talked about," she notes, "the more of it there was." Something similar happened with Viagra: While it arrived on the market at the tail end of the 1900s, it eclipsed both penicillin and the birth-control pill to become the "most talked about drug of the century."
In the current era, as Viagra enters its third decade, another symbolic element of the drug—one not emphasized by Pfizer, but one lurking, nonetheless, in every marketing message about it—has been sharpened: The little blue pill is also a little blue metaphor about American culture's attitude toward sexual pleasure. It's the pharmacological distillation of a longstanding, male-centric view—and a heteronormative view—in which sex revolves around the needs and desires of men. There have been well-publicized efforts to create a female Viagra; those, however, have largely failed. ("That left pharmaceutical companies asking," CNN put it, revealingly, in a 2013 mini-documentary about the drug, "'Why are women so hard to please?'")
The aspirations for a female Viagra, however, have been—also revealingly—largely afterthoughts. And while erectile-dysfunction medication has often been covered by health insurance, birth-control pills—much more medically necessary—remain objects of dispute and vitriol. In 2016, the South Carolina state representative Mia McLeod, a Democrat from Columbia, sponsored a bill to establish a waiting period to obtain Viagra and other erectile-dysfunction drugs—a protest against the state's abortion laws. Isn't it only fair, she reasoned, that men's sexuality be regulated the same way women's is?
But while Viagra has emphasized an ongoing double standard in American culture, it has also—almost in spite of itself—done something to challenge that hypocrisy: The drug has helped, in its very ubiquity, to mutualize the notion of sexual performance. Before the 1960s, Luciano suggests, most of the burden of (and the blame for) sexual dysfunction fell on women. Women, who were "frigid." Women, who were insufficient. Women, who, should intercourse go awry, had failed in their duties. The introduction of the pill, Luciano argues, changed a lot of that thinking: It helped to turn (heterosexual) women into what the sociologist David Riesman called "critical consumers of male performance."
And Viagra, in many ways, continued that transformation: Much of the marketing of Viagra has focused on female desire—a man's ability to respond to a woman, at the moment she wants him to. ("Thanks, Viagra," all those slow-dancing SNL women say.) It's an approach that found its fullest embodiment in 2014, via a series of Viagra ads that starred women and thus, as one assessment put it, "targeted at women for the first time"; in truth, though, Pfizer had been engaged in such targeting, more subtly, for years. In 2007, the company aired its "Viva Viagra" spot: Set to the tune of "Viva Las Vegas," the ad featured a music group—seemingly 40-something guys, very happy to be there—singing, "Got me a honey, gonna set my soul, gonna set my soul on fire / At the end of the day / I'm not a guy who'll stray / 'Cuz she's my heart's desire."
For all the innuendo of the typical Viagra ad—and for all the jokes made at that ad's expense—Viagra's marketing has insisted on an overarching ethic of bluntness when it comes to discussions of sex itself. "You know, it's a little embarrassing to talk about ED," Bob Dole said in that early Viagra commercial, "but it's so important to millions of men and their partners that I decided to talk about it publicly." He'd begun the ad by talking about courage; his frankness, aired across America, was its own kind of bravery. And it represented the beginnings of a brand of radical honesty that is ever more common today, as Americans are coming to fight stigma with candor, to choose direct language over the vagaries of awkwardness. The movie Love & Other Drugs—based on the book Hard Sell: The Evolution of a Viagra Salesman—is one more work of recent pop culture that has wrestled with the meaning of Viagra. In it, Jake Gyllenhaal plays Jamie Randall, an early salesman of Pfizer's game-changing drug. "This isn't a pill," Randall declares, of the product he is selling. "This is a revolution."
We want to hear what you think about this article. Submit a letter to the editor or write to letters@theatlantic.com.
Megan Garber
is a staff writer at
The Atlantic
, where she covers culture.