Why Fashion Is Key to Understanding the World of Black Panther
The Oscar-nominated costume designer Ruth Carter on how she created the style of the film's fictional African nation of Wakanda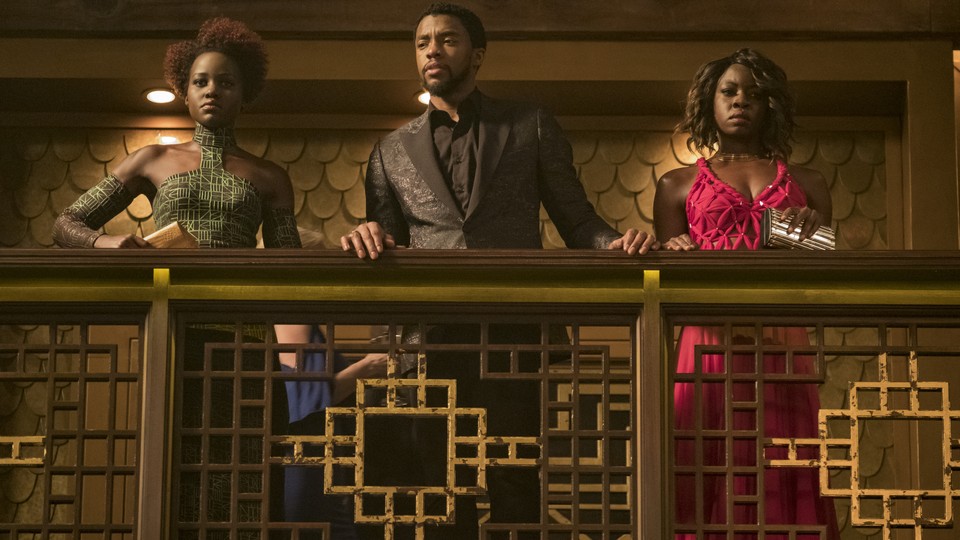 Black Panther is one of the most highly anticipated films of 2018—not just for its adaptation of the popular comic, but also for its fashion. Since the first teaser trailer was released last June, people have been raving about, and drawing inspiration from, the costumes in the movie's world of Wakanda. "What are you wearing to the Black Panther premiere?" became a prominent topic of discussion across social media. Black Twitter led the charge, posting memes and sharing outfit ideas with the hashtag #BlackPantherSoLit.
This chatter wasn't so much about cosplay—or dressing up as characters like the titular Marvel hero himself, T'Challa/Black Panther (Chadwick Boseman), the antagonist Erik Killmonger (Michael B. Jordan), or the special-forces operatives Nakia (Lupita Nyong'o) and Okoye (Danai Gurira). Many Black Panther enthusiasts seemed to want to dress like everyday Wakandans: to delight in this fictional African nation and transform their local theaters with brightly colored mixed-print ensembles, a playful call-and-response to the larger-than-life black characters on the big screen.
It's perhaps a testament to Black Panther's costume designer, Ruth Carter, that a two-minute trailer had this effect on viewers. With 30 years of movie experience and two Oscar nominations for her work (on Malcolm X and Amistad), Carter understood the role clothing would play in shaping the film's world. "Wakandans are serious about fashion," Carter told me of the inhabitants of Black Panther's tech-forward, eco-conscious, never-before-colonized country. Her vision for Wakandan dress draws from traditional and contemporary African fashion. Sartorial cues help viewers understand the social geography of a fictional place—its political ideologies, cultural norms, etiquette. It's easier to convey these unspoken elements when a film is set in a space and time the audience already has some reference for. For example, American viewers can read the message of a certain dress or hairstyle in, say, 1960s Alabama, which worked in Carter's favor when she was designing the costumes for Selma.
Of course, Carter couldn't rely on this familiarity for Black Panther. "We didn't really have … a visual model of people living in Wakanda," she told me. "So it was kind of a fantasy or an imagined place for me. It was very intimidating. Creating a world is no joke." The comic books alone couldn't explain everything Carter needed to know. So to pull Black Panther off the page, she and her team relied on the Wakanda "bible" created by the director Ryan Coogler and the production designer Hannah Beachler. Carter said she kept four words on her vision board as she designed: Beautiful. Positive. Forward. Colorful. The costumes had to fit seamlessly into the film, telling a story of their own but not competing with or distracting from the plot. The result is a dramatic look that makes clear that Wakandans use clothing as an important form of self- and community expression, to honor their ancestors, and to maintain a progressive social order.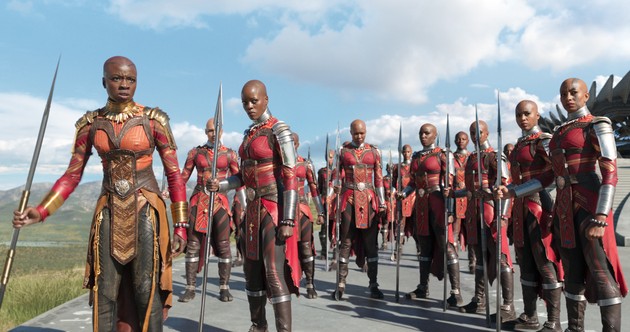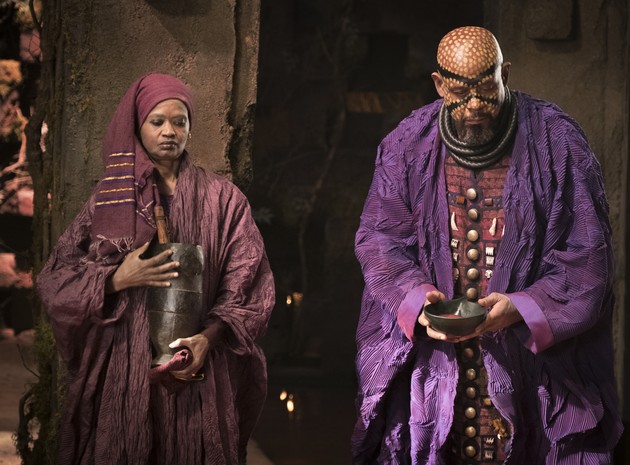 While American fashion-centric movies such as The Devil Wears Prada, Sex and the City, and Confessions of a Shopaholic elevate European haute couture, Black Panther looks to Africa. Carter's first step was to do a deep dive into the continent's diverse history of dress. "My approach was the same as [it is] on a period film: I did a lot of research," she said. The textile production, hand-dyeing, and beading techniques of the Tuareg, Zulu, Maasai, Himba, and Dinka peoples helped inspire an eclectic color palette: deep aubergine and crimson, effervescent chartreuse and tangerine, rich jade and silver. Carter explained that she wanted to "show the world the beauty of tribal dress and move that forward in a more modernistic way," adding, "I have seen some really bad African depictions of costumes where there's a bone in their nose and they're wearing some kind of hide and cross-strap." (Tarzan and Out of Africa may come to mind.) Perhaps unsurprisingly, the film's costumes have sparked discussions throughout the African diaspora about traditional dress, stereotyping, and cultural appropriation.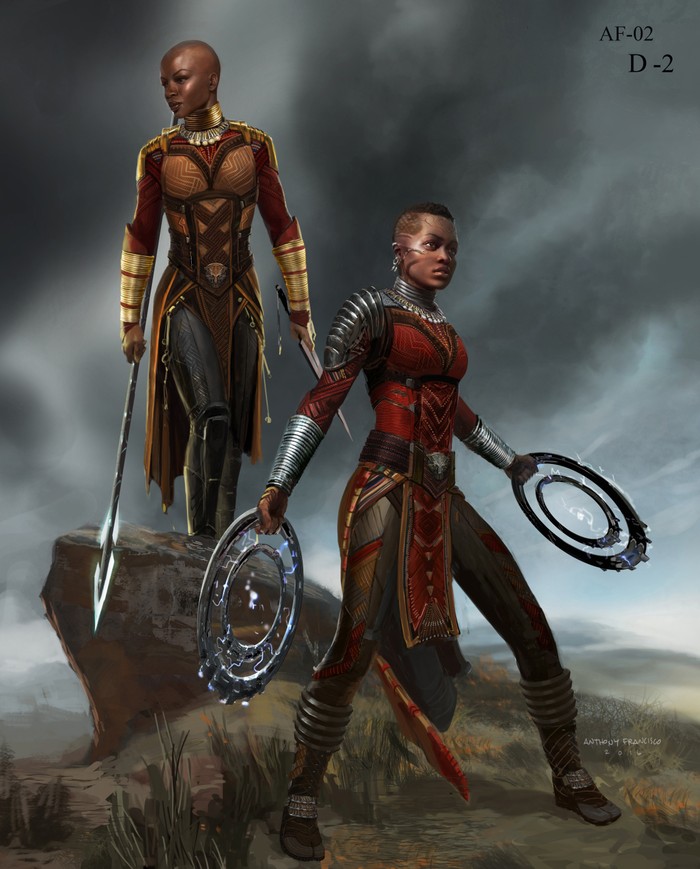 African fashion has always been cosmopolitan, and Carter was careful not to depict it as frozen in the past. Contemporary designers across the continent are remixing tradition, creating innovative silhouettes and combining prints and textures. Carter and her team collaborated with several vanguard fashion houses to reflect the range of tailoring and textile production that animates the current African fashion scene. She was drawn to the impeccable Ghanaian-inspired tailoring of Ozwald Boateng, as well as Ikiré Jones's florid textiles, which reimagine Nigerian culture through high Renaissance art. South Africa's MaXhosa by Laduma, with its futuristic knitwear based on graphic Xhosa prints, and the peculiar silhouettes and color clashing of Duro Olowu—the Nigerian designer who dressed Michelle Obama—add an avant-garde edge. Together, the styles channel the dandified elegance of Congolese sapeurs and the transgressive spirit of the Afropunk festival to express the characters' wide range of personalities.
A team of more than 30 designers and buyers (six times the size of the modest team Carter helmed for Selma) scoured the globe—from New York to Nairobi to Mumbai—to find robes, headdresses, and intricate jewelry to deliver on Carter's ambitious vision. The result is stunning sartorial storytelling that weaves the past and the present to imagine a future of fashion.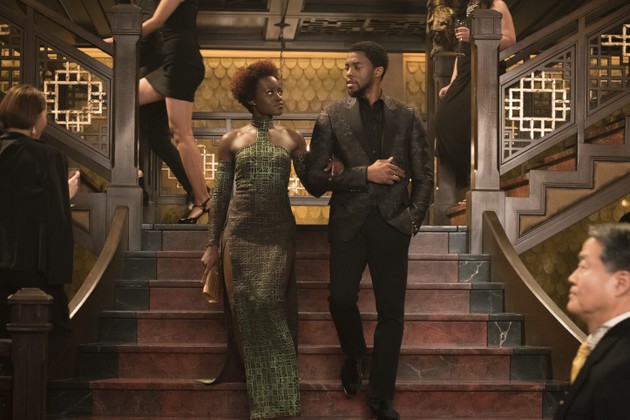 Take, for example, Nyong'o's character, Nakia—a Wakandan spy—in an exaggerated cold-shoulder, floor-length gown with splits to each hipbone. Carter and her team created this textile from scratch using design software, inspired by the kente pattern made by the Akan people of Ghana. Carter simplified its color palette to showcase the pattern's intricate geometric shapes. She then transferred it onto black fabric, using a 3D printer to make the graphic lines raised and textured. After constructing the silhouette, she hand-painted the dress in an electric chartreuse hue to accentuate that raised outline, creating an ombré effect as the green fades to black down the length of the dress. "As a member of the royal family," Carter said, "[Nakia] needed to be unsuspecting, but then she needed to be able to kick some ass."
Carter's black-centered worldmaking may be evident in her artistry, but she's reluctant to call herself an "Afrofuturist." Since the '90s, the term has been used to describe literature and art that meld African-derived histories, cosmologies, and technologies to imagine new possibilities for black survival and social order. Carter said she was concerned that the complexities of Black Panther might get lost as trendiness and camp take over discussion of the film. As the word Afrofuturism further enters the mainstream, there's a risk of its meaning being diluted—as it gets casually applied to any black-centric work with the slightest hint of sci-fi or magical realism, without a sense of the term's socially-conscious context.
Carter is quick to point out that her work has always centered a black conception of the future, one rooted in political determinism and creative self-expression. This vision was present in her earliest films with Spike Lee, including School Daze and Malcolm X, as well as in John Singleton's Rosewood, Ava DuVernay's Selma, and the 2016 TV adaptation Roots. "I feel like … if I am to embrace that term, and I am going to call myself an Afrofuturist, I can say I've been that my entire career," Carter said, noting that this ethos is getting more recognition now because of Black Panther's explicit use of technology.
That sense of complexity and contradiction is what Carter brings to Black Panther. She listened to James Brown's 1968 anthem "Say it Loud—I'm Black and I'm Proud" on repeat as she crafted the film's techno-funky wardrobe (the track became a theme song of sorts on set). For Carter, Wakandan fashion is "absolutely saying we're not falling into any kind of mold of the way things should be. We're going to create our own. The time is now."
In 2018, when African countries are still spoken of in sweeping, derogatory terms, that message is one that will likely resonate with audiences. That fans see clothing as a way to step into a film that conjures up new possibilities for humanity speaks volumes—not only about Carter's inimitable skill, but also about the political  power of black fashion. This week, those fans will finally have a chance to slip into their Wakanda-worthy Black Panther outfits and climb into the world that Carter made.