Why Don't More Female Figure Skaters Wear Pants?
Leggings and yoga gear are common sights at practice rinks. But in competition, gender-coded costumes still prevail.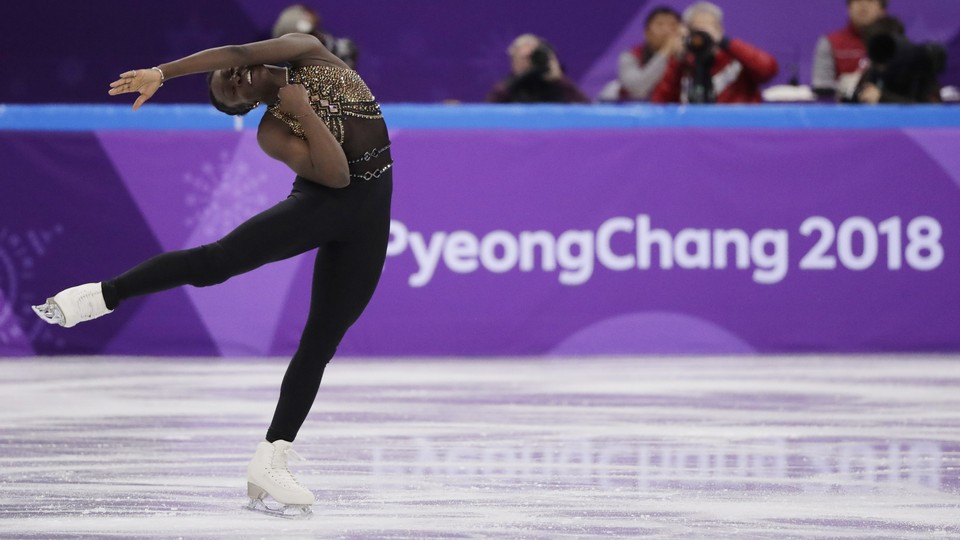 Last weekend, one of the buzzier stories out of the Olympic ladies' figure skating short program competition was one you might call … surprisingly surprising. The French figure skater Maé-Bérénice Méité made headlines: for the fact that she skated to a Beyoncé medley, and even more so, for the fact that she did it in pants.
More accurately, she did it in a bedazzled black unitard, but that didn't stop news outlets and viewers on Twitter from pointing out Méité's eye-catching, subtly subversive pants. "This French figure skater may not have won a medal, but her pants took people's choice," raved Yahoo! News, and AOL named Méité's bodysuit to its list of "most dazzling figure skating outfits" of these Olympic Games.
It's not that women never skate in pants. On the contrary, nowadays young skaters—influenced by 2000s-era stars like Michelle Kwan and Sasha Cohen, who ushered in an era of sportier practicewear—fill the local ice rinks of America with yoga pants and Lululemon workout tops when they practice. U.S. Olympic figure skaters Mirai Nagasu, Bradie Tennell and Karen Chen commonly train in gloves, a T-shirt or athletic top, and a pair of black leggings—even though until just two decades ago, women commonly wore (and in some clubs, were required to wear) practice dresses or practice skirts when they worked out.
When it comes to competition-wear, however, pants and unitards have a much murkier, more troubled history. The skirtless, body-shaped silhouette, common as it is in other women's Winter Games events like speed skating, skiing, ski jumping, biathlon, skeleton, luge, and bobsled, remains a rare sight, especially in ladies' singles. Even in recent years, with an increased emphasis on the athletic aspects of figure skating as a backdrop, the sport's insiders make it clear that a woman wearing pants in figure-skating competition is sort of like a woman wearing pants to the office in 1960: not illegal, by any means, but …
"It's definitely a bold move, for sure," says Katrina Nelken, a lifelong figure skater from Chicago who's competed, taught, and worked administratively at various levels of the sport. Nelken wears leggings for practice, and once, in her punk-rock teen years, she skated in an exhibition ice show wearing fishnet-nylon sleeves and pleather pants—but she's never considered wearing anything with a pant-leg silhouette for judged competition.
"Synchronized swimming, figure skating, and ice dancing are some of the only sports where you have to look pretty while you do it," she says. "It's hard to break from that after, what, 100 years of tradition?"
* * *
At the first Olympic figure skating competition in 1908, competitors in the women's division wore long, full skirts. The skating dress as we know it today rose to prominence with the first true superstar of women's figure skating: Norway's Sonja Henie, who first competed in the Olympics in 1924 and went on to make $2 million a year as a professional skater and star in Hollywood feature films as an adult. She was 11 at the time, "so she could get away with wearing a short skirt," says Ellyn Kestnbaum, the author of Culture on Ice: Figure Skating & Cultural Meaning. But Henie nonetheless managed to set a new standard for skaters of all ages, and by the time Dorothy Hamill and Peggy Fleming skated in the 1960s and 1970s, Kestnbaum says, short dresses were the unofficial uniform of the sport.
Perhaps it's unsurprising, as with all unspoken status quos, that disruption eventually came. In 1988, an American medical student named Debi Thomas wore a unitard to skate in the Olympics while her rival, the East German powerhouse Katarina Witt, wore a feathery, skirtless, posterior-revealing leotard. That year, the International Skating Union, the Switzerland-based federation that sets the rules for figure skating, speed skating, short-track speed skating, and synchronized skating worldwide, instituted a rule that a skirt covering hips and posterior was required for ladies' competition, thus barring both leotards and unitards; it is often referred to as the "Katarina rule" and occasionally called the "Debi Thomas rule."
The ISU later stripped its official dress code of its provision requiring skirts specifically, and in 2004, pants and unitards became fair game for competition again. At the 2006 Olympics, the 27-year-old Russian skater Irina Slutskaya wore a subtly sparkly black unitard in her short program, which helped earn her a bronze medal. (It was Slutskaya's performance 12 years ago, with her dazzling monochrome silhouette against the white ice, that made me sit up straight with wide eyes and wonder why every figure skater didn't wear a unitard.)
Today, the ISU's official handbook says only that competitors in ladies' singles must wear something "modest, dignified, and appropriate for athletic competition" and rules out that which is "garish," "theatrical," or gives "the effect of excessive nudity inappropriate for the discipline."
It's hard to find a dress code so insistent on preserving a minimum level of taste anywhere in sports, save for maybe Wimbledon—which, in its official rulebook, dictates that "any undergarments that either are or can be visible during play (including due to perspiration) must also be completely white except for a single trim of color no wider than one centimeter." But tennis and golf, by comparison—two other traditionally upper-crust sports in which athletes aren't beholden to a team uniform—are much more concrete and specific in their guidance; the Ladies Professional Golf Association, for example, dictates that female golfers can wear a top with a racerback provided it has a collar, while the Women's Tennis Association has a list of specific items that cannot be worn in a match and devotes nearly two pages of its official rulebook to the criteria that sneakers have to meet to be worn on court. (In both sports, for what it's worth, women can wear pants, skirts, or shorts, so long as they wear one of those options.)
That skating's international governing body gives only vague guidance on what to wear would seem to leave room for stylistic risk-taking—but sometimes bold sartorial moves find more fans among outside observers than within the figure-skating community. Méité's pants, for example, drew raves from fans online and from reporters, and when the American skater Polina Edmunds wore a purple unitard to the U.S. National Championships in January, the style site Racked ran a story titled "Figure Skating Needs More Dope Unitards Like This One," praising it as figure skating's answer to the gender-agnostic red-carpet trend of women in tuxes. When 2012 World Champion Carolina Kostner of Italy wore a green unitard to the 2018 European Championships, however, the former Olympian Johnny Weir, announcing for NBC, compared her to a "chartreuse Gumby."
And as many viewers saw in December's Tonya Harding biopic I, Tonya, judges often tacitly agree that the aesthetic in figure skating should be elegant, formal, and feminine, and the costs of subverting the norm—or insisting the aesthetic shouldn't matter—can be steep. "The thing with figure skating is, it's pretty conservative, for the most part," says Rene Gelecinskyj, a skating coach and skating outfit designer based in Minnesota. "You have a lot of judges who have been judging for a long time, and a lot of them just don't think that a young lady or a woman should not have a dress on. The dress is a more traditional way of dressing."
You do see more unitards on the competition ice these days than you used to—in the years since the rule change, skaters like Fumie Suguri, Elene Gedevanishvili, and Yukari Nakano have memorably capitalized on their newfound wardrobe freedom in international competition. Still, as Nelken remembers, "Dick Button or whoever was commenting on skating at the time would always make a passing mention of it because it's so unusual."
The designer Brad Griffies, whose skating-outfit creations have been seen at every Winter Olympics since 2002 on the likes of Gracie Gold and Kimmie Meissner, has designed multiple unitards for Méité, including the one she wore for her skate in Pyeongchang last weekend. Still, he says, in total, he gets asked "maybe once or twice a year" to design a unitard or bodysuit.
* * *
Talk to skating insiders and you'll start to understand why wearing a unitard can feel like such a big risk. There's no official ruling on when a woman can or should wear a bodysuit or a skirtless look in competition, but according to some within the sport, there are implicit rules for when a unitard is appropriate: First, your music choice has to be modern enough and upbeat enough to warrant one, and second, well—you have to look incredible in it.
"A really athletic piece of music could call for a unitard," says Lorie Charbonneau, a veteran coach at the Figure Skating Club of Bloomington in Minnesota. Charbonneau has suggested unitards as wardrobe choices for some of her pupils, but mostly to small kids; she remembers suggesting a black unitard with hot pink accents once to a little girl skating to the Pink Panther theme.
"Most people who ask me for a unitard are skating to James Bond or something—something really rock 'n' roll," says Griffies, the designer. But "most people are skating to classical music, or to movie [scores]," he says. A 2014 rule change, however, means this year's Olympics are the first in which skaters can skate to music with lyrics; Méité took advantage of that when she skated to a Beyoncé medley incorporating "Halo" and "Run the World (Girls)."
Beyond music selection, the other "rule" that dictates when a pant-leg silhouette is seen as acceptable is one that likely wouldn't apply most anywhere else in sports: It has to look good. As Griffies, Gelecinskyj, and Charbonneau all told me, not everybody can pull off a unitard. If it's ill-fitting, if it doesn't suit the skater's body type—basically, "unless it's done very well," as Gelecinskyj puts it — it will be considered by many to have been an ill-advised move. These concerns, it seems, take priority over whether a skater might feel more comfortable, more decent, or simply warmer in something other than a short dress.
* * *
Just about everyone in figure skating would tell you that, in theory, the sport works like any other: It shouldn't matter what you wear to do it, because what matters is whether you do it well. But for some, lurking behind that there's an uneasy sense that pants or pant-like silhouettes might dull the "prettiness" of women's figure skating.
"It's not flowy. You don't have the fabric going against the wind, so it almost makes ... I don't know. I haven't loved it," says Nelken. She corrects herself a moment later. "And I'm very hesitant to say that, because I want to love it! It doesn't freaking matter what you wear, as long as you're well put together."
Nelken touches on something important, though, which is that dresses project a ladylike image—one that's more in line with the quietly normative undercurrent in the sport often politely referred to as "tradition."
"Judges expect to see a certain type of girl, and if you're not playing that pretty little figure skater … Well, I think you want to do what you think the judges are expecting," Nelken says. "You don't want to be different unless you can back it up [with a strikingly different, well-executed program]. It's easier to play it safe and traditional." Charbonneau and Gelecinskyj also use the word traditional when they describe the skating-dress look; Griffies describes it as "classic."
And when I've asked active members of the figure-skating community about the future of skating outfits, on multiple occasions they've preemptively mourned a scenario in which everyone skates in a simple monochrome silhouette as a control variable. Has that ever been seriously discussed as a rule change? I asked. No, but apparently it's a popular thought experiment among skating aficionados. (Griffies says he'd support a standardized silhouette if skating expanded to include more technical events like a jump competition, however, or resurrected "compulsory figures.")
"There's so much art to it, and the art and the sport are all tied up together," Charbonneau, the coach, says. She doesn't think the end of flowy, traditional costumes would mean the end of skating being aesthetically pleasing, though: "Even if people skated without music and with a black leotard or turtleneck on, there's a rhythm to it that you can't get away from. Whether you're wearing a beautiful costume to just put it over the top, or whether somebody is out there in a plain ponytail and no makeup, the sport is still beautiful."
The overdetermined femininity of figure skating has, of course, been subject to a low, steady rumble of criticism. Even in the early '90s, back when pants and unitards were illegal in competition and discouraged in practice, and Nancy Kerrigan was scooping up medals and endorsement deals in her elegant Vera Wang dresses, it was not lost on feminist skating critics like Abigail M. Feder that "none of the stereotypical signs" of the athletic or the masculine—like "grunting, sweating, [or] bulging muscles—ever seemed to disrupt the ladylike Kerrigan package."
In other words, there's long been tension between the gender-coded masculine-athletic and feminine-artistic aspects of figure skating. And sentiments like Charbonneau's make one thing clear: Even in a discipline where the clothing has begun to reflect a widening acceptance of athleticism as an ideal, the rare, sensational spectacle of a unitard like Maé-Bérénice Méité's may remain just that.