The Tina Brown Diaries
In a memoir about her tenure at the helm of Vanity Fair, the legendary editor deftly crystallizes moments in social history.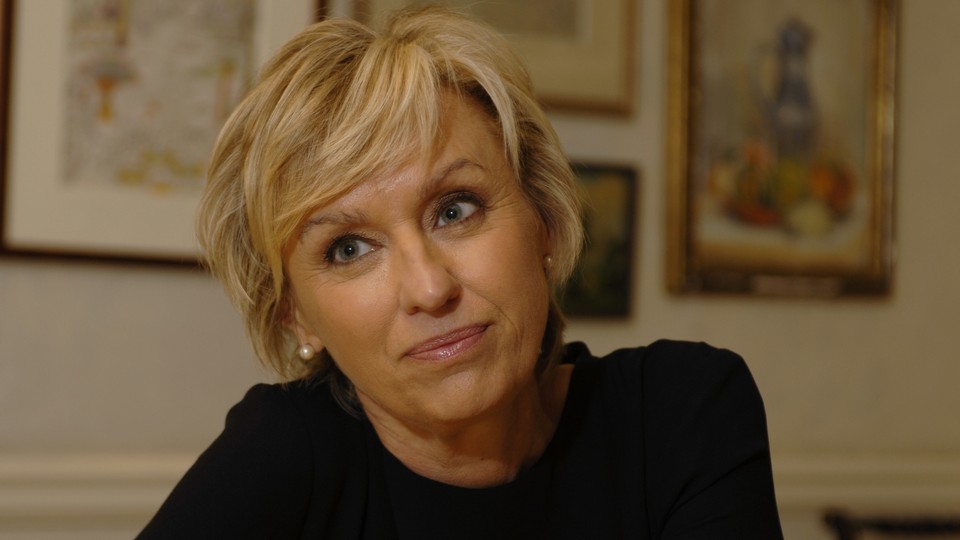 "There is no such thing as a succès d'estime in America. That's why it is a French phrase."
Tina Brown never lacked for success in the American fame-and-money sense of the word. Yet for all the acclaim that has come the way of this legendary magazine editor, Brown has also been persistently underestimated. Brown observes of herself: "The perception of me is flashy, fast, and scandalous." Now Brown has published a memoir of her spectacular journalistic career, based on the diaries she kept during her tenure as the editor of Vanity Fair from 1984 through 1992. The book has gained praise, yet even the praise often retains the familiar grudging character accorded to Brown's editorial accomplishments. As a reviewer wrote in The New Yorker (a magazine that owes its existence to Brown's rescue from a readership collapse under her two predecessors): "Brown's legacy remains controversial not because her success is in question but because, for some, too much was lost in her kind of success."
Brown's new book offers an opportunity to test that querulous judgment. Here not only is her voice and sensibility, but also her searching and candid self-assessment.
Through the 1980s and 1990s, Brown remade first British and then American magazine journalism. Brown reinvented the celebrity profile and celebrity photography. She printed close-up investigations of the murderous misrule of dictators like Haiti's Duvalier family and the Central African Republic's Jean-Bedel Bokassa. When a trove of new Picasso drawings was discovered, she hired the painter's most scholarly biographer to explain them. She published forensic profiles of the Gary Hart sex scandal and of the murder of the primatologist Dian Fossey in Rwanda. Her rule was high-low: high culture joined to low gossip, insisting on the highest standards of accuracy and narration for both. She deployed known writers in unexpected ways, while generously promoting new talent. It was Brown who assigned Adam Gopnik to Paris and who liberated Malcolm Gladwell from newspaper reporting. "An editor's job is to make people say yes to something they hadn't thought they could do," and that role Brown fulfilled to the utmost again and again.
Brown was never a "writer's editor" and always a "reader's editor": "Writers, unless guided and edited and lured out of their comfort zones, can go off-piste into dreary cul-de-sacs of introversion and excess and entirely forget about questions of content and pace." This is incontrovertibly true, and for that reason utterly unforgivable—by writers, that is.
Yet even as her titles gained readership, rewards, and respect, Brown's peers and rivals credited her achievement not to her own vision and drive, but to her willingness to pay large fees. The New York Times' then-description of her "sprinkling gold dust" still rankles her, all these decades later. It rankles me too, but for the opposite reason. I experienced the Brown editorial method personally, and while money certainly occupied a place in her instrument chest, it by no means predominated. At that time, just after the 2009 recession, gold dust lay a lot thinner on the ground for print journalism than in the gaudy 1980s. Brown had launched a website, The Daily Beast, which had just merged with the tottering Newsweek. She took me to lunch to ask: What would it take to hire me at the Beast? I suggested what seemed to me an attractive number.
She asked if she could consider overnight. Of course, I replied.
The next day she called me. Would I accept $5,000 more than I had asked for?
That isn't something that happens every day, at least not to me, and so I failed to perceive the metal cage suspended above Tina's tempting bait of cheese. That unsought $5,000 crackled in the air every time I got an email at 10 p.m. on a Sunday evening asking if there were any way I could produce 800 words on a fast-breaking news story by 7 a.m. the next morning—or if instead of the contracted three articles per week, I could just this one time squeeze in a fourth.
The strange thing was that somehow I always could squeeze in that uncontracted column—and enjoy doing it too. Tina rewarded effort not only in dollars and cents, but also in enthusiasm. She didn't just ask for an article before breakfast the next day. She asked for "one of your always brilliant articles." She didn't merely extract more work than contracted. She explained, "I never can have enough of you." Obviously, this was practiced art, but how amazing that she had practiced it so well.
If something was "lost" in Brown's editing career, as The New Yorker's reviewer suggested, the most important of those somethings—on the evidence of this book—was Brown's own voice. In all those years devoted to coaxing better work out of balky writers, one great writer was persistently sacrificed: Tina Brown herself.
"You can teach people structure," Brown observes early in her diary-memoir, "and how to write a lead. But you can't teach them how to notice the right things." Brown is a writer who notices and notices and notices.
Here is her brief observation of a legendary 1980s trophy wife:
Her eyes were starey with strain and the quest for perfection. She looked worn down by the French lessons and the piano lessons and the cordon bleu taster menus for every dinner party she hosts. She's a very, very talented designer … but that's not enough …. She never gets to collapse in her designer jeans … and recuperate from her week competing. She has to go to Florida to shoot with the Kluges. To Mar-a-Lago to a house party of the Trumps. She has to look wonderful, have inventive sex … and go to a black-tie dinner every night of the week. No wonder she looks like a zombie.
Here is her vignette of 1980s-vintage Donald Trump:
"What do you think of the Newsweek cover story on me?"

"I haven't read it," I told him.

"You know, Tina, I could have had Time. They wanted me and I saw them, too. But Newsweek scooped them. Who do you think's better, Tina, Newsweek or Time?"

"Time," I said mischievously.

"You really think so, Tina, you really think so?" His pouty Elvis face folded into a frown of self-castigation. "I guess it sells more," he said in a tormented tone. "I guess it does."
Here is how a truly wealthy man raises money for a fashionable cause:
Preening like a ringmaster, he surveyed the circle of high-roller guests and declared, "Okay, my friends, who's going to buy some tickets to these great literary evenings?" A business face from the back yelled, "For you, Saul, ten K" … Within 10 minutes Saul had raised a hundred thousand dollars for something he surely cares not a whit about, and the bidders care less … "I can raise up to a million in an hour," Saul told me cheerily, "more than that, it gets a little tougher."
Tina Brown's story is that American classic: the striver arriving to make a mark in and upon New York. This time, the striver is a woman and mother of two, struggling with those affections and those claims in a way no man-on-the-make ever has. She found herself locked in savage emotional competition with a psychotic nanny, whom she overhears on the phone saying, "I hate her. Georgie [Brown's son] hates her. He loves me … I want to choke her."
Brown grew up in Britain in the 1950s and 1960s, in a milieu in which money was too scarce to offer a scale of status. Her father worked in the threadbare British film industry, a comfortable but not a lavish life. She arrived in a New York that had plunged into a money mania unparalleled since the Jazz Age. The wealth geyser erupted, pushing the city's rich into a new social stratosphere—of which Brown designated herself the most astute and intimate chronicler. Her role both delighted and troubled her. "Why do I keep seeking out the things I deride?" she wonders. She never does find the answer. Yet also she never loses awareness of the discrepancy between her economic situation and that of the high society she mingled in, a discrepancy that provides many of her book's most comic moments.
In April 1985, the very young Tina Brown, just a year into the editorship of Vanity Fair, had already emerged as a dominant figure in American magazine journalism. But she had a problem familiar to many New Yorkers: an unsatisfactory apartment. After two days without running water, she decided she must move. Her landlord refused to allow realtors to show the apartment on behalf of Brown. The editor of Vanity Fair had to take time off work to buzz potential subtenants into the building. "Tell Tina Brown she just gotta sit there and let the parties in. Tell her, yeah, it's an inconvenience. But she just gotta live with it." Why must Tina Brown gotta live with it? Because "Jonny Guerrero don't deal with no intermediaries."
Thanks to Tina Brown's deft pen, Jonny Guerrero—wherever he may now be found—will live in the history of the 1980s alongside Henry Kissinger and Henry Kravis. Brown has preserved in vivid perpetuity a moment in social history. As John Bunyan, who coined the phrase vanity fair, wrote in The Pilgrim's Progress:
This fair is no new-erected business, but a thing of ancient standing … At this fair are all such merchandise sold: as houses, lands, trades, places, honours, preferments, titles, countries, kingdoms, lusts, pleasures, and delights of all sorts—as whores, bawds, wives, husbands, children, masters, servants, lives, blood, bodies, souls, silver, gold, pearls, precious stones, and what not. And, moreover, at this fair there is at all times to be seen juggling cheats, games, plays, fools, apes, knaves, and rogues, and that of every kind.
These were Tina Brown's interests as a great editor, and they are her material as a writer. If you object that her interest in such things should be dismissed as unworthy, go file your complaint at the same office where they are accepting petitions against the duc de Saint-Simon and Marcel Proust.