The Prowess of Nina Simone's Early Records
What the artist's early singles—made before she was famous, and newly released—reveal about the legend she'd become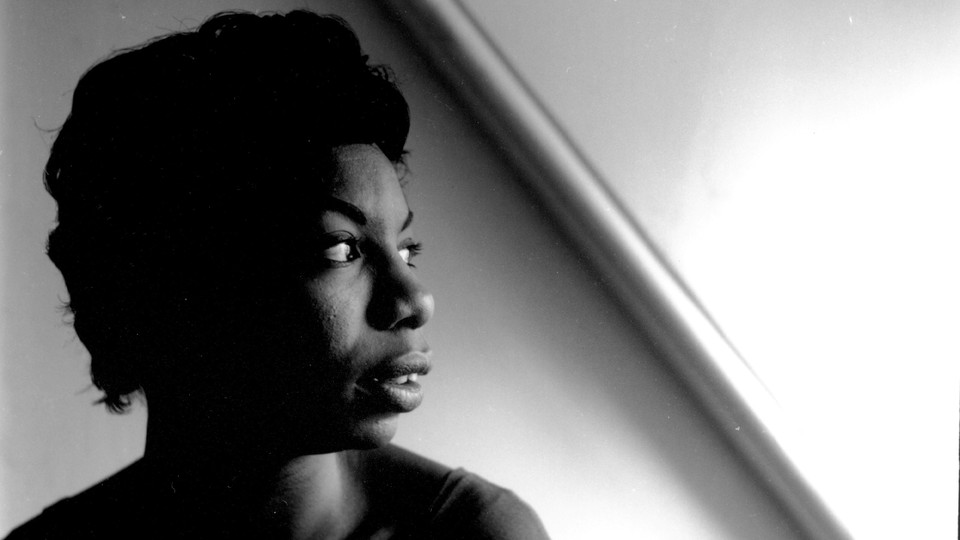 Sixty years ago, Nina Simone was not yet quite an icon. The legendary singer, pianist, songwriter, and civil-rights activist—who will be inducted into the Rock and Roll Hall of Fame in April—turned 25 in 1958. Her debut album, Little Girl Blue, had just been released on Bethlehem Records, an up-and-coming jazz label. Among Bethlehem's alumni were Duke Ellington, Charles Mingus, and a promising young saxophonist from Miles Davis's band named John Coltrane. Simone, on the other hand, had been signed as more of a pop-jazz artist; the label, after all, was also the home of Mel Tormé. Relatively unknown, Simone was a fresh face to find success by safely interpreting the standards of the day, albeit by using her uniquely husky voice and bluesy yet classically informed piano playing.
Little Girl Blue kicked off a run of singles Simone made between 1958 and 1963 for both Bethlehem and another New York label, Colpix Records. The singles she released during that period, many of them drawn from the Great American Songbook, have been collected on two anthologies out this month: Mood Indigo: The Complete Bethlehem Singles (via BMG Records) and Nina Simone: The Colpix Singles (via Stateside Records). These early singles have often been overlooked in favor of her original, historically important compositions such as 1964's "Mississippi Goddam" and 1970's "To Be Young, Gifted, and Black," both of which became rallying cries for the civil-rights movement. But viewed together, her pop-oriented output on Bethlehem and Colpix form a charismatic portrait of one of the 20th century's greatest artists in the first flush of her prowess.
Eunice Waymon was born into poverty in 1933 in Tryon, North Carolina, and the precocious singer-pianist made her way to the renowned Juilliard School in New York before adopting the stage name Nina Simone in 1954. She had grown up steeped in church music. Secular sounds, however, called to her. As she told the magazine Hit Parader, "We didn't have a record player, but we had a radio and a piano, and somebody in my family was always singing or playing or dancing. Oh, I heard a lot of boogie woogie too. That killed me, because I loved to dance. I had to play that when mama was out of the house because she didn't allow it." Blues, jazz, and classical music—including Simone's beloved Bach—all found their way into her playing style. After taking on a name she felt was better suited to show business, Simone began performing in bars in Atlantic City. Her notoriety there grew, and in 1957, she signed with Bethlehem Records.
At the time, only top-tier pop singers were given any significant amount of creative control over the material they would perform or the musicians they would work with. Simone insisted otherwise. In her 1992 autobiography I Put a Spell on You, she remembered of Little Girl Blue, "If I was going to make an album, I'd choose the material myself and pick the musicians I wanted to support me." She had no national name and no industry clout yet; her only leverage was her talent. It was enough. Bethlehem agreed to let Simone record with a stripped-down trio that included the drummer Albert "Tootie" Heath and the bassist Jimmy Bond (who in the '60s became a member of the legendary studio group the Wrecking Crew). Little Girl Blue reflected Simone's integrity. Her voice sounded decades beyond its years, an instrument of resonant sorrow and guarded joy. Her readings of the standards "Don't Smoke in Bed" and "Love Me or Leave Me"—the latter notable for Simone's playful blending of Bach's Fugue in C Major into her piano solo—were spirited and fresh. The album closed with its sole Simone composition, "Central Park Blues," a jaunty and dexterous instrumental displaying the mark of the bebop masters Oscar Peterson and Thelonious Monk.
Her most commercially successful single for Bethlehem—and ultimately for her entire career—proved to be her rendition of "I Loves You, Porgy" from Gershwin's Porgy and Bess. Billie Holiday had made the song her own with her popular recording 10 years earlier, and Simone's version showed a similarity in the smoky phrasing and sparse arrangement. The inspiration was undeniable, and Simone never denied it. "You couldn't find a better influence than Billie," she told Hit Parader. "God, she was something else. I got 'Porgie' [sic] from her, which I did in 1958. Billie happened to hear a tape I did of it long before it started selling, and she wrote me a note saying she liked it and hoped I would be successful." Holiday's blessing seemed to work, although it's hard to imagine Simone needing the help. The song became a hit upon its release as a single in 1959, and it launched Simone into the spotlight.
As the '50s segued into the '60s, Simone's life was in transition. She had found success as an artist, but the new decade was about to see a significant shift in how popular singers were expected to be songwriters in their own right. Additionally, the fight for civil rights was intensifying. Sit-ins accelerated throughout the South in response to segregation, and the NAACP's Robert F. Williams promoted armed resistance to racist terrorism in Simone's native North Carolina. This all affected Simone, as did her marriage in 1961 to Andrew Stroud, a New York police detective who became her manager as well as her abuser.
She left Bethlehem and signed with Colpix in 1959, and her output began to reflect both her growing confidence and her growing turmoil. "Every song that she put herself into she re-interpreted and used her own experience," said Liz Garbus, the director of the 2015 documentary What Happened, Miss Simone? Simone's early singles on Colpix such as "Summertime" and "Fine and Mellow," as excellent as they are, showed a lack of adventurousness and an eagerness to appeal to her "I Loves You, Porgy" fans: The former song is another tune from Porgy and Bess, while the latter is another drawn from Billie Holiday's repertoire. Both were released as singles in 1960, but so was "Nobody Knows You When You're Down and Out," her pensive interpretation of Jimmy Cox's blues classic, whose lyrics about a fallen millionaire gave Simone the opportunity to meditate on the dark side of success.
"I like to please the public, but not at my own expense," Simone confessed to Melody Maker. She found herself torn, as so many artists do, between the demands of commerce and self-expression. On top of that, her conscience was calling. "Trouble in Mind," her version of the blues standard written by Richard M. Jones, was released by Colpix in 1960, and it was steeped in the sorrow and frustration of the African American struggle. And in 1963, her final single for Colpix, "Little Liza Jane," was backed by an original composition titled "Blackbird." Up to that point, Simone had only recorded a handful of self-penned songs, which was typical of jazz and pop artists. "Blackbird," though, demonstrated her burning need to put her own thoughts and feelings into melody and verse. "Why you wanna fly, blackbird? / You ain't never gonna fly / No place big enough for holding / All the tears you're gonna cry," she crooned over mournful, minimal percussion. Coded in symbolism though it was, the song's expression of a black woman's plight in the early '60s—not to mention her own suffering at the hands of an abusive husband and a cutthroat music industry—was crystal clear.
When Simone left Colpix in 1964, she responded not with despair, but with righteous anger. Following numerous events the previous year such as Martin Luther King Jr.'s "I Have a Dream" speech; the assassination of the NAACP activist Medgar Evers in Jackson, Mississippi; and the 16th Street Baptist Church bombing in Birmingham, Alabama, Simone responded with the protest song "Mississippi Goddam." The incendiary single changed the course of her career; it became, along with Sam Cooke's "A Change Is Gonna Come," one of the potent civil-rights anthems of 1964 that endures to this day.
Taken as a whole, the new Bethlehem and Colpix collections stop just shy of "Mississippi Goddam," which was released by the prestigious Philips Records. From there, Simone experienced one of pop culture's great ironies: She became a true star only after taking a radically noncommercial stance. She told Melody Maker, "When I die I want to have left some particular mark of my own," and with "Mississippi Goddam," she indelibly did so for the first, and not the last, time. But her more mature and acclaimed body of work wouldn't have existed without the records that came before, crowd-pleasers and prototypes alike, that stand as a breathtaking chronicle of Simone's transition from an interpreter of popular songs to a barrier-shattering songwriter. In that sense, her early singles are just as potent and relevant as her politicized anthems. "I choose to reflect the times and the situations in which I find myself. That, to me, is my duty," she said in What Happened, Miss Simone?, adding, "How can you be an artist and not reflect the times?"