The Out Olympics
Adam Rippon and Gus Kenworthy show the entertainment value, and political power, of gay people embracing full visibility.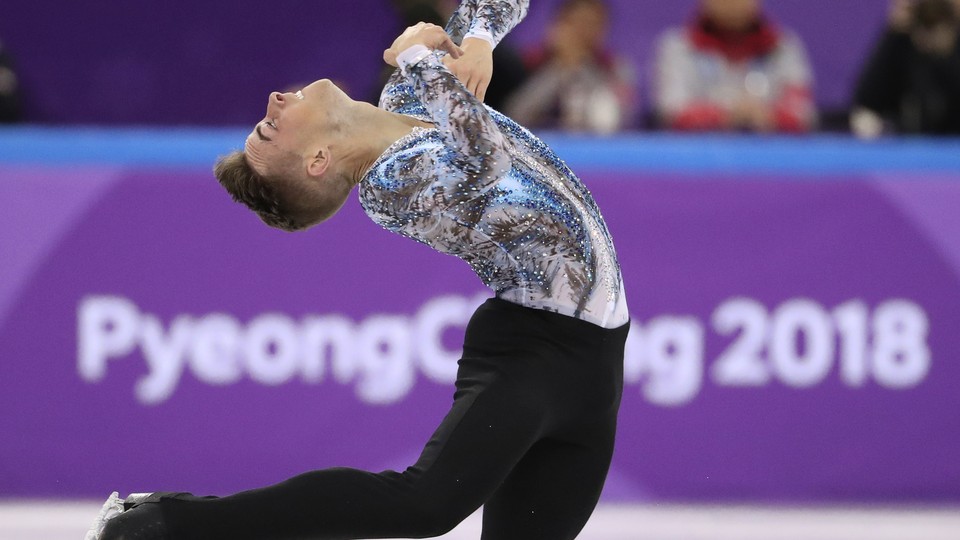 At the 2014 Olympics where he won the silver medal in slopestyle skiing, Gus Kenworthy toyed with the idea of finishing up one of his runs by skiing up to the crowd of spectators and kissing his boyfriend. It would have been a dramatic way for Kenworthy to become the first openly gay male from the U.S. in Winter Olympics history. But Kenworthy wasn't out, back then, to his parents and siblings. He decided it'd be too much, too soon.
"It would have not only been a shock to the sport and the Olympics," he later told Conan O'Brien about the hypothetical same-sex kiss in Sochi. "My family would have been like, 'What the hell?!'"
Instead, he came out to his inner circle, and then to the world with a 2015 ESPN The Magazine story. He's arrived now at the Pyeongchang Olympics as one of a pair of history-making gay competitors. His counterpart is Adam Rippon, the 28-year-old figure skater who, within days of the games' commencement, became a media sensation thanks both to his precisely pretty skate style as well as his quick, cutting, and decidedly queer wit. Rippon and Kenworthy are among 14 openly LGBT athletes from around the world at Pyeongchang—the highest number for any Winter Olympics ever. The results, so far, have been a crash course in gay aesthetics, politics, and personalities. Openness, viewers have been reminded, can make great TV—and a great difference in lives.
At the outset of these games, the average spectator might not have guessed there were many significant "firsts" left for gay people at the Olympics. The SNL gag ahead of Sochi was that the Olympics would have to strain to find straight male figure skaters to compete in repressive Russia. Brian Boitano and Johnny Weir, two of the biggest stars of the Winter Olympics' signature sport, skated during their heydays from inside a glass closet filled with fox furs and sequins. The past three Summer games featured the British diver Tom Daley, one of the BuzzFeed generation's gay pinups. And out lesbians have been part of a few U.S. Olympic delegations without much media fuss, a trend that continues this year with the outsized focus on Rippon and Kenworthy over speed skater Brittany Bowe.
But when it comes to the Olympics and sexuality, one dominant dynamic has been lurid, prying interest from the public—and careful discretion from athletes. Take for example the scandal of the 2016 Daily Beast story, in which a straight reporter catfished a number of athletes on Grindr, some from notoriously homophobic countries (the publication retracted the piece after outcry). The 2004 Summer games represented the last time the U.S. sent an out gay man to compete; that man, the dressage rider Robert Dover, has noted that many more queer people contend for medals than the public knows.
"I wish that all gay athletes would come out in all disciplines—football, baseball, the Olympics, whatever," Dover once said. "After six Olympics, I know they're in every sport. You just have to spend one day in the housing, the gyms, or at dinner to realize we're all over."
The sports world's homophobia is legend, and Kenworthy has been particularly canny in describing the cultural and economic factors that can keep an athlete in the closet. His ESPN coming-out story mentioned how frequently his peers tossed around phrases like skier fags. It also pointed out how athletes who depend on endorsements feel pressure to maintain a broadly acceptable image. So although his world of extreme sports may brag about rugged independence, it has a real conformist streak. "They say it's a community of individuals and everyone is doing their own thing and it's not a team sport, so you get to be yourself," Kenworthy said. "But you don't, really."
The fact that sports is a realm of rules-following is never far from mind when watching the Olympics. This extends even to the interviews and color pieces with competitors, in which the incentive not to ruffle judges or sponsors—plus the intense focus required for high-level performance—can stilt the dialogue. We all know the interview script: the runners-up hiding their disappointment as they talk up their training routines; the medalists dutifully crediting coaches and family.
Is it a coincidence that some of the competitors who most delightfully break from the template are the queer ones? Weir tweeted recently that he never copped to being gay while at the Olympics because, "I wear my sexuality the same as I wear my sex or my skin color … I didn't imagine it as a great secret." His "wearing" of his sexuality certainly was legible at the time to those paying attention at home. "His interviews can be as over the top as his costumes," read a 2010 New York Times story on Weir. "After Friday's short program, Weir was asked a clever question and gave an equally clever reply, almost all of the words being titles of songs by Lady Gaga."
Now, the similarly sparkly Rippon need not speak in code at all, though he can when he wants. His charm reflects a particular set of truths: Being gay can force someone into hyperawareness of how they're perceived, and being out can make them care less about that perception—while still remaining in mastery of it. Rippon's as unafraid of being seen as femme as Weir ever was, but his preferred style is less campy spectacle than savvy, casual shade. Calmly, Rippon turns to the camera and bats his lashes while recommending everyone come to the Olympics. With an air of consideration, he repeats back the interviewer's name to them, or shouts out Reese Witherspoon. Online, he replies to homophobes by mixing patriotism and RuPaul references. In his riskiest break with Olympian tameness, he joked about asking the judges for a Xanax.
Such openness is more than just amusing. It's part of why, for example, Rippon's the rare man in figure skating to break the silence around the prevalence of eating disorders in the sport. And even his sass can be seen as fulfilling the Olympics' inspirational mission. "FUN FACT," Rippon tweeted Tuesday. "Being true to who you are and not giving a shit about what others think about you is an awesome and liberating thing whether you are gay or not."
---
Rippon's contrast with Kenworthy, meanwhile, is almost too textbook, inviting overly simplistic description as the yin and yang of gay (perhaps specifically white, even) male archetypes. Kenworthy, a 26-year-old Coloradan, arrives from the outdoors world, and he easily fits the hetero ideal of masculinity: flannels, facial scruff, and Western bro drawl. He, like Rippon, has said that coming out allowed him to be a better-performing athlete—fear can weigh heavy—but his familiar, telegenic air may also be part of why he comes into the Winter Olympics as the sixth-richest American athlete thanks to endorsements. As he touted on Ellen, the Olympics spot he shot for Head and Shoulders is the rare national TV ad to feature the Pride flag (he actually said it was the first one to do so, which doesn't appear quite correct).
But Kenworthy has a sense of play—rooted in disregard for gender panic—not unlike the one you see in Rippon. On Conan, he interrupted his coming-out story to compliment the host's lavender shirt. On Twitter, he joined in on the internet's ogling of the U.S. bobsled squad. In interviews, he's talked about Britney Spears's importance to his pump-up routine. And though he and Rippon didn't meet in person till Pyeongchang, he's made a show of solidarity. "I'm a proud dad, today," he wrote under the photo he took with Rippon after the skater's team bronze win.
There's a valid critique often made that racial and cultural biases can overemphasize "outness" as the be-all, end-all for queer people (Kenworthy having donned then apologized for a Native American Halloween costume in 2015 certainly helps invite such scrutiny). But it's clear that pride flag–waving at a venue like the Olympics really does have real-world benefits—in humanizing queers for straights, yes, but also just giving queer people rare role models. On Monday, Vanity Fair's Richard Lawson published a lovely and tender essay reflecting, as a gay adult, on his childhood skating obsession. He talks about how revolutionary it might have been to have had Adam Rippon on screen back then.
Olympics outness matters, also, because it can force political confrontation. Rippon has said he decided to leave the closet after hearing a fellow skater, Ashley Wagner, speak out against anti-gay laws at the Sochi Olympics. Both he and Kenworthy now inevitably stand as live rebukes to Mike Pence, the ceremonial leader of the U.S. Olympics delegation—and a famous opponent of LGBT acceptance. Rippon has especially drawn headlines for saying he wouldn't meet with Pence, leading the VP to return fire on Twitter with a mention of "fake news," to which Rippon replied with "receipts" about Pence's policy positions.
It does appear that Rippon has a script with regards to talking about Pence. "I'm very lucky because legislation that he's pushed hasn't affected my life at all," he told ABC, echoing what he's said elsewhere. "I spoke out because there are people out there whose lives have been affected by change that he's tried to make. I spoke out for them because right now I have a voice." The line is a sly but savvy way of addressing his own prominence, tacitly acknowledging that being a white, cisgender man is part of what's allowed him to be himself, so openly, on the U.S. team. Rippon and Kenworthy may be the gay mascots of a mainstream-courting movement's dream, but part of the excitement around them is in imagining who, in years to come, might queer the games in other ways.