The Obamas' Official Portraits, Revealed
Kehinde Wiley and Amy Sherald rose to the occasion with their paintings of the former president and first lady, while—importantly—continuing their radical projects in black portraiture.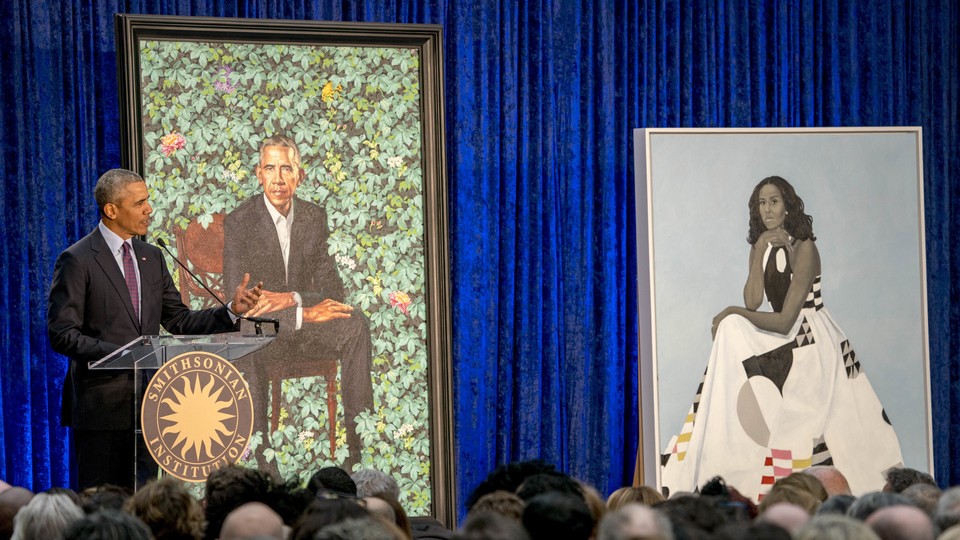 Jasmine, African blue lilies, and Chicago's favorite flower, chrysanthemum, flourish in the botanical backdrop of President Barack Obama's official portrait. The 44th president appears seated in an ornate chair, with leafy vines threatening to climb up his pant leg.
In her official portrait, First Lady Michelle Obama appears seated, too, in a flowing dress designed by Milly. Between her gown, with its touches of geometric patterning, and the sky-blue paint that frames her figure, the painting features a lot of hard-edged abstraction.
On Monday, the Smithsonian's National Portrait Gallery unveiled the Obamas' official portraits. President Obama's portrait, by the Los Angeles–born and New York–based artist Kehinde Wiley, will join the museum's hall of American presidents, where it will permanently disrupt the march of white presidential paintings. The portrait of Michelle Obama, the work of Baltimore's Amy Sherald, will be on view with recent acquisitions through November 2018.
These are the first portraits, of course, to depict a black president and first lady. They are not the first presidential portraits to be painted by African American artists—Simmie Knox painted both the Clintons—although they are a first for this museum's hall. In any case, these portraits represent something new. The black contemporary artists who painted them are known for making works that break down black images in American culture, especially within the world of fine art.
It will take historians many years and volumes to unpack the symbolism of the Obama era. The former First Family picked these artists to do the job in single strokes. They were the right artists to ask. On top of their contributions to the hall of presidents, Wiley and Sherald advanced the conversation about black art and portraiture with their paintings of the Obamas.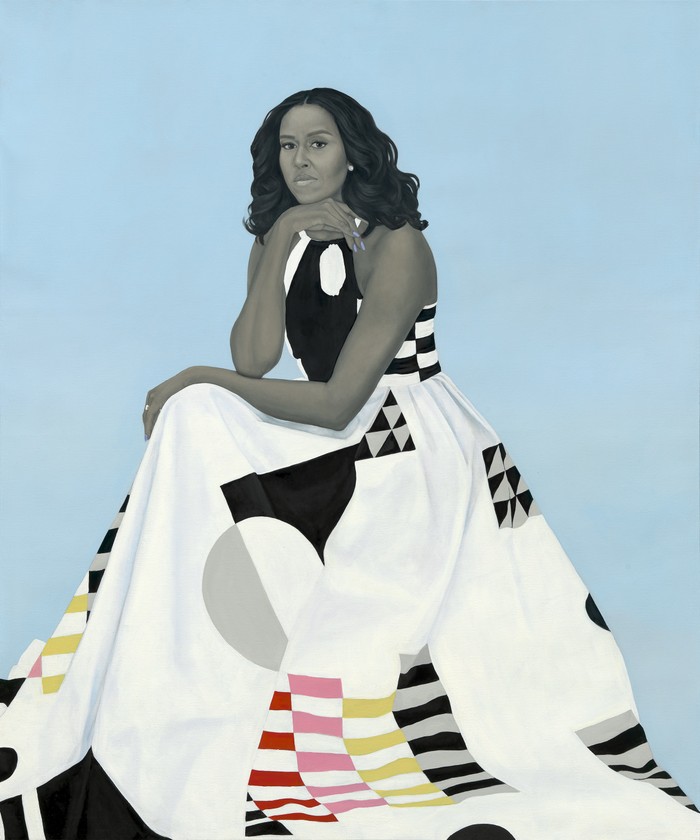 Wiley is one of the most celebrated artists of his generation, a painter who has successfully complicated portraiture by pairing black figures, usually men—sometimes stars, sometimes individuals plucked off the street—with Baroque motifs and Renaissance trappings. Sherald is earning a name for subtler portraits that subvert black stereotypes, especially of women. Both artists faced a challenge: Adjust their very stylized approaches to fit the office of the presidency? Or paint the Obamas the same way they paint their other subjects?
Wiley and Sherald both chose the latter approach. Given one of the most important commissions imaginable, Wiley did not back down from his high modernist arch. Far from it. Wiley laced his portrait with botanicals, drawing on flowers from the places that framed the president's life, namely Kenya, Hawaii, and Chicago. Sherald also chose to stick to her guns with her portrait of Michelle, finding a composition that flatters the first lady while giving over most of the painting to more abstract elements.
Sherald is a rising star in the art world. The debut of her painting at the Portrait Gallery represents a homecoming of sorts: Sherald rocketed to renown after winning the museum's Outwin Boochever Portrait Competition in 2016. Typical of her style, the first-place portrait, Miss Everything (Unsuppressed Deliverance) (2013), features a woman whose almost ethereal, charcoal-gray skin tone contrasts with the vermillion of her chrysanthemum fascinator and the crisp white of the ceramic teacup and saucer she holds in her gloved hands. The portrait of Michelle is a bit more straightforward: She is seated and posed and seems less like an allegory than most of Sherald's subjects. But the painting is also modern, unfixed in any time, very much unlike the typically prim portraits of first ladies.
While Sherald's work has only recently captured national attention, she has already made her mark on Washington, D.C. One of her portraits, Grand Dame Queenie (2012), hangs in place of pride in the art galleries at the National Museum of African American History and Culture. The image was broadcast widely in promotions for the museum's 2016 opening. Sherald has since joined the board at the Baltimore Museum of Art, and earlier this year, she received the prestigious David C. Driskell Prize from Atlanta's High Museum of Art. And in May, Sherald will have her first major solo show, at the Contemporary Art Museum St. Louis.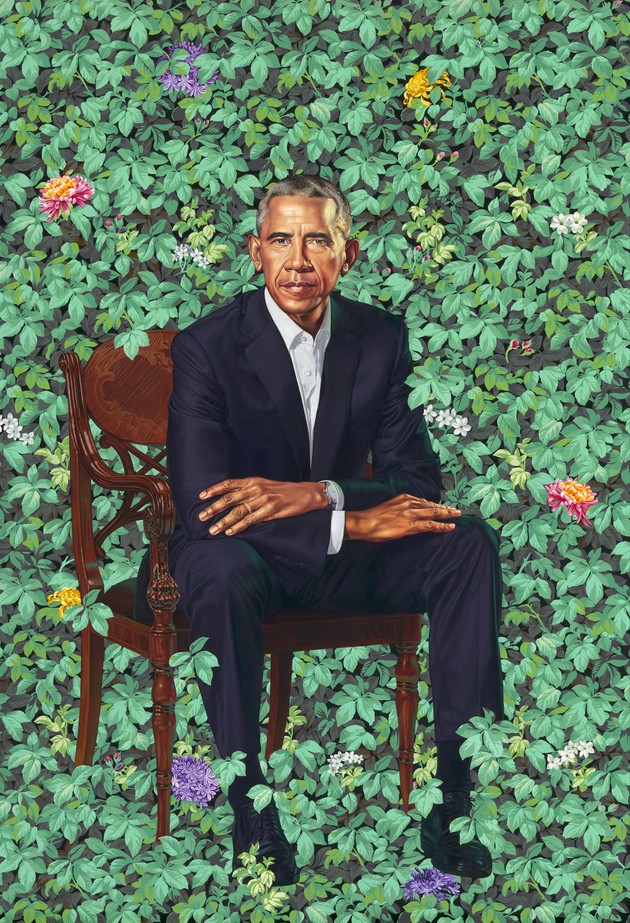 Wiley's work hardly needs any introduction. His paintings have shown up in numerous institutional surveys, most recently in "A New Republic," organized by the Brooklyn Museum in 2015. That solo show toured to museums in six states. Roberta Smith praised Wiley's grand ambition in The New York Times while jabbing at his "often thin, indifferently worked surfaces." He received the State Department's Medal of Arts late in the Obama years.
A 2012 profile in New York examined one of Wiley's studios, this one in Beijing, where assistants help to lay down the Renaissance patterns that Wiley uses for his abstract backdrops. The artist's reliance on studio painters hardly sets him apart from any other blue-chip artist at the height of his career, but the painterly nature of Wiley's work, plus his sheer prominence, sets his critics off. Some of them can't accept the audacity of his project—to sample from Old Masters even if his brushstroke does not match theirs. The writer Vinson Cunningham, for one, has questioned whether his portraiture is radical enough.
Market-friendly yet confrontational, historical yet anti-history, contemporary yet classical—Wiley embraces broad contradictions happily. The daring in swapping out Napoleon for Ice T in an Ingres portrait is obvious. It's an act of homage but also a rebuke of the canon. And with his painting of Obama, Wiley did not stand down from this project. It's an exquisite figure painting, perfectly capturing Obama's professorial nature, his hands folded across his lap as he leans forward—tieless—as if studying the viewer. Yet the backdrop is wild and flattened, as if he'd simply photoshopped the president into a meme. That's a painterly comment on every presidential portrait that has come before his.
Of the two selections, the pick of Sherald to paint Michelle Obama may be the bolder stroke. It is likely to mean more for Sherald's career, which almost never took off: The artist had a heart transplant, at age 39, in 2012. Her portraits can be inscrutable. Her subjects frequently appear straight faced or severe, and their dress ranges from Kennedy Camelot (gloves and hats, scarves and sashes) to contemporary casual. The focus on anachronistic fashions and everyday figures is reminiscent of the work of the late portrait artist Barkley L. Hendricks—or maybe it's just the similarly cool temperature of Sherald's paintings.
Most presidential portrait unveilings don't generate this much attention. With a couple of exceptions—John F. Kennedy by Elaine de Kooning or George Washington by Gilbert Stuart or Rembrandt Peale—the lot of them are records and little more. Important records, perhaps, especially when an official portrait conveyed most all that the public knew of a president, such as Mathew Brady's antebellum photograph of Abraham Lincoln. Tapping contemporary artists for the job raises the stakes. With their portraits of the Obamas, Wiley and Sherald have pushed the genre even further.