The Issue at the Heart of MLB's Free-Agency Debate
Baseball's labor rules are at odds with the larger, evolving understanding of the worth of aging superstars.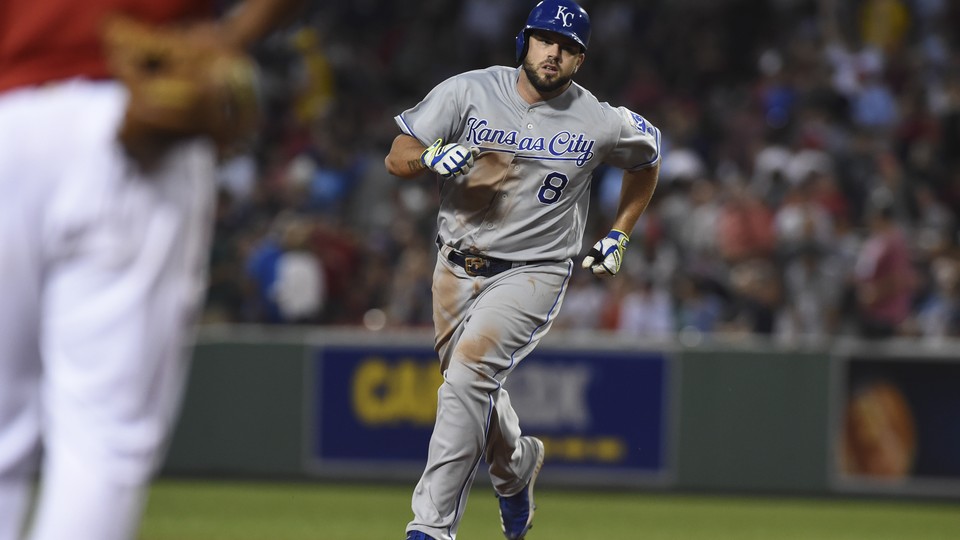 In some palm-treed parts of the country, Major League Baseball's 2018 Spring Training is underway in earnest. This is normally one of the most anticipated times of the year, with fans who have had to make do tracking the winter's transactions getting to see something akin to real baseball again, and the excitement always coalesces around the players who have found new homes, who might provide their teams with the needed extra magic. Even batting practice is fun when Shohei Ohtani's taking it.
This February, though, there's a dour note to the proceedings. Aside from a few major moves—Ohtani to the Angels, the reigning National League MVP Giancarlo Stanton traded to the Yankees—the offseason has been defined by a puzzling inaction. Far more free agents than usual remain unsigned, including numerous All-Stars coming off excellent years. The list of those currently out of work is long enough that the players' union is running its own satellite spring training, in Bradenton, Florida, allowing those still awaiting the call to keep their skills sharp.
The reasons for the spending stalemate are the subject of heated debate. Earlier this month, Tony Clark, the executive director of the MLB Players Association, released a statement condemning what in the union's view were clubs more concerned with pocketing profits than fielding competitive teams. "This year a significant number of teams are engaged in a race to the bottom," Clark wrote. "This conduct is a fundamental breach of the trust between a team and its fans and threatens the very integrity of our game." MLB was quick to defend itself, pinning the blame on avaricious agents: "It is the responsibility of players' agents to value their clients in a constantly changing free-agent market based on factors such as positional demand, advanced analytics, and the impact of the new Basic Agreement [which imposes steep luxury-tax penalties for crossing a certain spending threshold]."
Such narrowly focused accusations from league and union alike, though, threaten to obscure the deeper problem facing baseball. The MLB has enjoyed the greatest degree of labor peace in American major-league sports since a players' strike that started in August 1994 and lasted nearly eight months. But increasingly, MLB's basic financial pattern—talented players earn less than they're worth over their first few seasons before cashing in as free agents—runs up against an evolving understanding of the game, wherein aging stars seldom make for good investments. The new math no longer squares with the old way of doing things.
MLB players reach free agency, their first true opportunity to assert their value unimpeded by team-friendly wage scales, in their late 20s, after six seasons of major-league play. Studies have shown, though, that most players' peak years come in the mid- to late-20s, meaning that the first shot at free agency often coincides with the start of a decline. In a sport becoming ever more analytically advanced, it's a question of cost and benefit: A half-dozen promising prospects might be had for the same price as one superstar slugger due for a downturn.
No team epitomizes the trend more than the defending World Series champions, the Houston Astros, built on a cadre of young, inexpensive talent that they acquired, in large part, by eschewing high-price free agents in years past in order to lose games and secure draft picks. Their 27-year-old American League MVP, Jose Altuve, made $4.5 million last season—nothing to frown at, of course, but just a fraction of the tens of millions he'd garner on the open market in a $10 billion industry—and George Springer, the 28-year-old World Series MVP, made $3.9 million. Carlos Correa, who at age 23 is already one of the most feared shortstops in the game, earned only $535,000. From the club's perspective, it was simply good business; 17 teams had higher payrolls than the Astros last season. But though the average fan might find it difficult to summon much sympathy for players making millions, the Astros' approach was also a triumph of management over labor, an artificial tamping-down of workers' worth.
In years past, young players could rest easy knowing that their paydays would come eventually, but even some of the sport's best have been having a rough go of it this winter. Mike Moustakas, a World Series champion and two-time All-Star who hit a career-high 38 home runs last season, has not yet found a home for 2018. Nor have Logan Morrison, coming off a career-high 38-homer season of his own, or Jake Arrieta, the former Chicago Cubs pitcher who has a Cy Young award and World Series trophy to his credit.
Some frustrated players have insinuated that the lack of deals is the result of orchestration on the part of the clubs. "There is no reason why Jake Arrieta … should have to sign a one-year deal [just to find a team]," the Cubs pitcher Jon Lester said last week. "There's money there to be spent and for whatever reason it's not being spent." CC Sabathia, the longtime New York Yankee who took a pay cut to return to the Bronx this year, was more understanding, if no more pleased. "When I was a free agent," the 37-year-old said of the first time he hit the market, "you got paid for what you did. Now, guys are getting paid for what they can do throughout their contract … [General managers] are getting younger and smarter, and want to get more value out of a player."
The question, then, becomes whether or not MLB's decision-makers will be as clear-eyed in their assessments of the young stars who deserve more than they're getting as they have lately been with aging players. The league's current collective-bargaining agreement with the Players Association expires following the 2021 season, and the union will surely seek to bring the economic particulars more in line with the contemporary understanding of the game. If teams aren't going to give the Arrietas of the world $20 million a year anymore, the MLBPA argument will go, they shouldn't get away with giving the Correas a half-million either. The idea of allowing players to enter free agency earlier and maximize their prime years has already been broached; other potential fixes, such as tilting MLB's complex arbitration process more in the players' favor, could be on the way.
In the meantime, the start of the baseball calendar comes with less fanfare, and more sniping, than usual. Next offseason is likely to offer some measure of a compensatory corrective, with the arrival of a superstar-laden free-agent class expected to be led by Bryce Harper, a good bet to sign one of the largest contracts in MLB history, either with his own Washington Nationals or some other club. Fundamentally, though, this sluggish winter has been more than an aberration. It has shown that all of the strategic, team-building innovation around the sport still needs a business innovation to match.