The Game-Changing Success of Black Panther
Marvel has hit big with a movie that leads with the artistry of its storytelling and the diversity of its characterization. Hollywood would do well to take notice.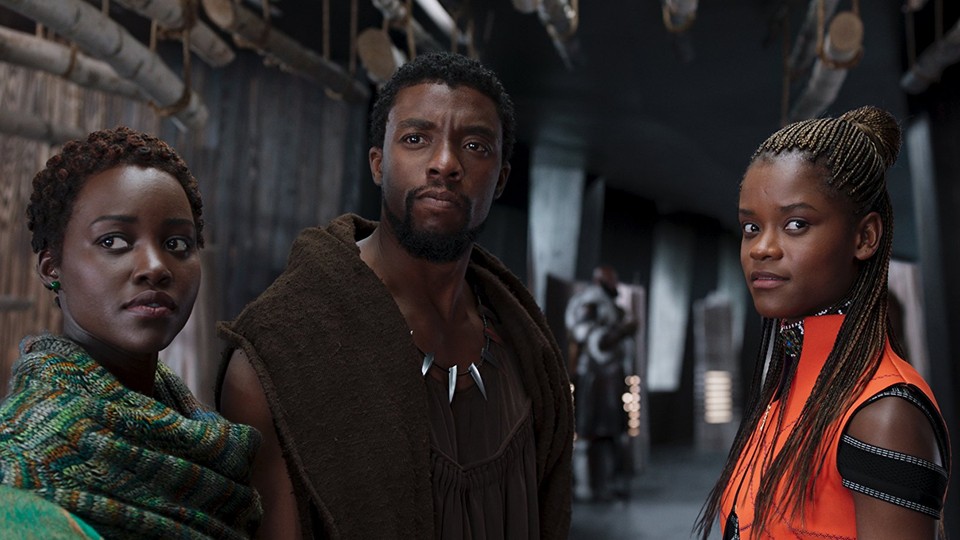 Over the last few years, a lot of pernicious Hollywood myths about what movies are "marketable" have been shattered. Old excuses about how blockbusters featuring actors of color don't appeal to worldwide audiences have been swept away by the success of franchises like the Fast & Furious series and the Star Wars sequels. Time and again, American audiences have responded to films with black leads like Hidden Figures, Get Out, and Girls Trip, all of them turning huge profits on smaller budgets. Even within this context, though, the box-office success of Black Panther this past weekend was basically unprecedented, and it's one that could dictate where studios direct their energies in the future.
Over the four-day President's Day weekend, Black Panther made $242 million at the domestic box office, far outstripping the previous record for the holiday set by Deadpool in 2016 (it made $152 million). The only movie to ever make more money in its first four days is Star Wars: The Force Awakens. Ryan Coogler's film, the 18th entry in the sprawling Marvel Cinematic Universe, has already beat the final domestic grosses of six other movies in that superhero saga (including Doctor Strange, the first two Thor films, and the first Captain America). Usually, it's the sequels and team-up movies that do best financially in the Marvel world, with the launch of a new hero carrying a little more risk. But that hasn't stopped Black Panther, which may go on to be the biggest hit of the year—a prospect unheard of for a film released in the doldrums of February.
When Black Panther was officially announced by Marvel in October 2014, one could have called it a risk for the studio. Black Panther is a somewhat less well-known comic-book character than Captain America or Thor, and he saw series after series canceled abruptly over the decades by the company. But that detail was seemingly outweighed by the important milestone of Marvel finally coming out with a movie starring a black superhero. In the intervening years, the company also launched an acclaimed, best-selling new Black Panther comic written by The Atlantic's own Ta-Nehisi Coates that continues to this day.
The character was introduced into the cinematic universe in 2016's Captain America: Civil War, where his portrayal by Chadwick Boseman was widely praised, but the reviews for Black Panther have been even more rapturous. It's the latest, and biggest example, of Marvel landing a critical and commercial hit by relaxing the cookie-cutter approach of many of its earlier films. Like Taika Waititi (the director of Thor: Ragnarok), Coogler made a movie that both felt like his own and that still managed to fit into the wider Marvel framework. Embracing that kind of auteurism means the long-running series can continue while feeling fresh and different, and it's a strategy other studios could benefit from copying.
In earlier years, Marvel often worked with directors who had a background in TV, like Joss Whedon, the Russo Brothers, and Alan Taylor, perhaps thinking they'd more easily adapt their projects to fit the overall tone of the franchise. Patty Jenkins and Edgar Wright, the original directors of Thor: The Dark World and Ant-Man respectively, left the projects due to creative differences with Marvel. But with Black Panther, the Marvel honcho Kevin Feige has talked about devoting a bigger budget to the project and encouraging Coogler to build out the movie's world of Wakanda as he saw fit.
"I'm not one to verbalize lessons that Hollywood should learn, but I know we had story lines and characters—and then a filmmaker and a cast—that we believed in tremendously," Feige told Vulture. He also dismissed the idea that a movie with a black cast wouldn't hit as big in important overseas markets. "Myths of what plays overseas or what doesn't, or what type of person someone wants to see in a lead role … that's all noise until somebody comes and disproves it," he said.
So much of Black Panther's success comes from the strength of Coogler's vision. The director (who also co-wrote the script) invests ample time in fleshing out Wakanda and makes the dynamic between its villain Killmonger (Michael B. Jordan) and hero T'Challa (Boseman) much deeper, and more philosophically murky, than most central conflicts in Marvel movies are. As my colleague Vann Newkirk wrote, "Wakanda and her sovereign act as stand-ins for those great what-ifs in black history, and for exploration of the examples of resistance to global white supremacy that have resonated from the Horn of Africa to the farthest shores of the Atlantic throughout the past half-millennium."
Marvel began its cinematic-universe experiment in 2008 by tossing a post-credits scene onto Iron Man (in which Nick Fury, played by Samuel L. Jackson, teased "the Avengers Initiative"). The company's ambitious approach has since become the wildest success in the film business, something that every other studio has quickly tried to imitate with ideas like Warner Brothers' DC Extended Universe, Universal's "Dark Universe," and Fox's stalling X-Men universe. At some point, all of these studios have made two mistakes: They assumed the mere concept of an interconnected franchise was enough to draw viewers, and they assumed these movies needed a homogenous tone.
Indeed, the non-Marvel films in these franchises that have done best more recently are the ones that stood out from the crowd, like Wonder Woman (which rejected the dark tone of other DC movies), Logan (which felt like a grown-up standalone film), and Deadpool (which loudly razzed the idea of being linked to X-Men movies). Black Panther is the first superhero film with a black lead since Hancock in 2008 (and the first based on a comic since Catwoman in 2004), and that's certainly contributed to its success. It's tapping into an audience Hollywood has long underserved—the analytics firm comScore reported that Black Panther's opening-weekend audience was 37 percent African American, well above the average of 15 percent for superhero movies.
But Black Panther is also a blockbuster that feels like it belongs to the artists who created it as much as the company that produced it. In a market dominated by sequels, the projects that actually break through with viewers tend to be movies that were made with more of a purpose than just being another link in a never-ending money-making chain. Black Panther is poised to make more money around the world than any Marvel movie aside from 2012's The Avengers. In response to The Avengers, studios started focusing on making big crossovers to mimic its success. In response to Black Panther, they may learn to focus on empowering great artists to make the films they want to make.