Peggy Fleming and the 1968 Winter Olympics
Fifty years ago in Grenoble, France, American figure skating's modern era was born.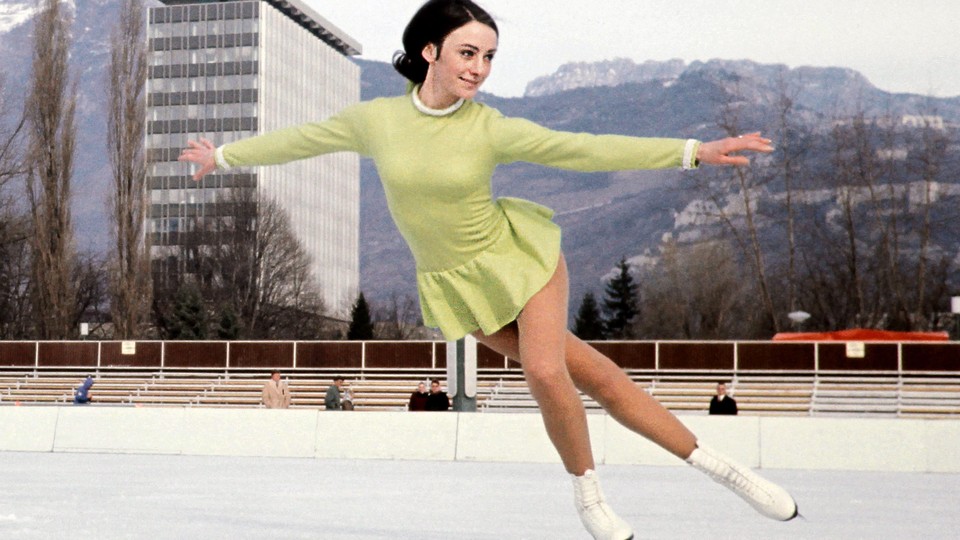 Editor's Note:
This is part of The Atlantic's ongoing series looking back at 1968. All past articles and reader correspondence are collected here. New material will be added to that page through the end of 2018.
Fifty years ago this week the 1968 Winter Olympics began in Grenoble, France, where 37 countries competed, including West Germany and East Germany, who were permitted to enter as separate countries that year for the first time.
The official film is unbeatable for a visual sense of the games. The bobsled events were held in darkness, as shown in the video, because the track was melting during daylight hours. Jean-Claude Killy won gold in all three alpine skiing events.
In hindsight, the most significant legacy of that year may be the introduction of doping tests and sex tests for women's events, though Norwegians could be forgiven for drawing attention to their performance: 14 medals, six of them gold, besting all other countries including the Soviet Union, which came in second.
Then again, maybe the figure skating competition had the most lasting legacy, at least here in the United States.
The U.S. won just one gold medal, in figure skating, and it could hardly have been more poignant––while heading to the 1961 World Championships, the entire U.S. figure skating team had been killed in a plane crash. Afterward, a memorial fund was set up to help rebuild the program. One beneficiary was a 12-year-old Peggy Fleming, whose coach had died in the plane crash.
She used the money to buy new skates.
Fleming ascended the ranks quickly to help the program recover. She won a national championship in 1964, qualifying for that year's Olympics, where she finished sixth. In Grenoble, she would win that gold medal. Here is one of her  performances:
In a retrospective, NBC Sports explains that her mother chose the color of her costume "after learning that monks in the Grenoble region of France made Chartreuse Liqueur at a nearby monastery. Doris believed that the particular green hue, reminiscent of the herbal liqueur, would subliminally cause French audiences to cheer on her daughter, which would in turn boost Fleming's confidence."
It wound up on the cover of Life.
Sports Illustrated later summed up the effect of her victory by writing that when she "glided into the adoring embrace of the American public by winning the gold medal at the 1968 Olympics in Grenoble, she launched figure skating's modern era. Pretty and balletic, elegant and stylish, Fleming took a staid sport that was shackled by its inscrutable compulsory figures and arcane scoring system and, with television as her ally, made it marvelously glamorous. Ever since, certainly to North Americans, figure skating has been the marquee sport of the Winter Games and an increasingly popular staple of prime-time television."
If your appetite is whetted for more Olympic history, don't miss Alan Taylor's look back at photographs from the first 12 Winter Olympic Games, from 1924 to 1976. And your emails about 1968 are still encouraged––write conor@theatlantic.com.