Could Netflix Be Giving Up on Prestige Films?
The surprise release of The Cloverfield Paradox, along with acquisitions of other schlocky genre movies, suggests the company is leaning in to its "direct-to-video" approach.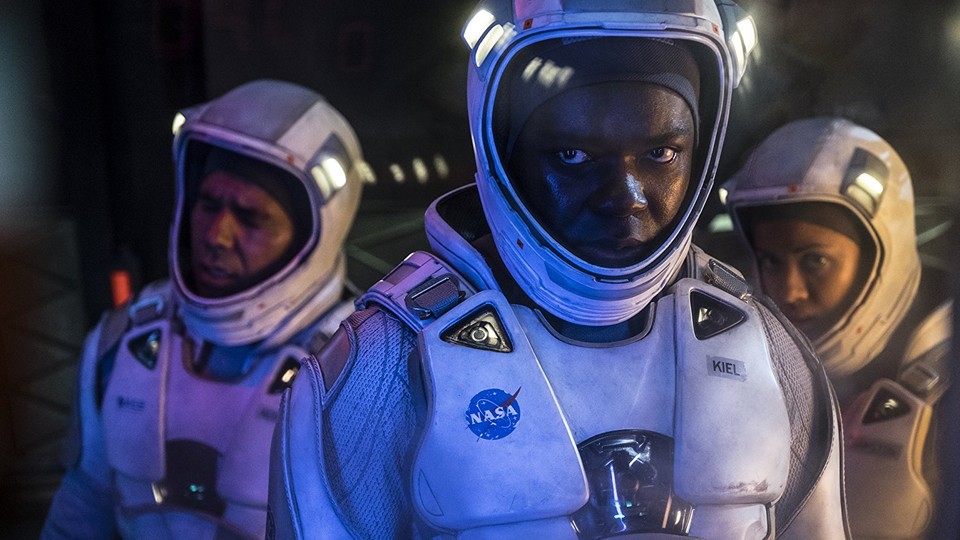 Just a year ago, at the 2017 Sundance Film Festival, Netflix was a big player. The streaming company was a little more than a year into releasing its own original movies for its subscribers, and it was looking for prestige hits to gain a foothold as a distributor Hollywood could take seriously. It acquired one of the best-reviewed films of the festival, Mudbound, for $12.5 million, and the Grand Jury Prize winner I Don't Feel at Home in This World Anymore, among others. In terms of prestige, Netflix was lagging behind its competitor Amazon, which had nabbed a Best Picture nomination for its major Sundance acquisition of 2016, Manchester by the Sea. Maybe Netflix's new slate of indie favorites would turn things around.
Cut to Sundance 2018 in January. The previous year, Netflix had bought 10 movies at the festival. This year, it acquired exactly none. Though the company entered negotiations on a few of the year's buzziest films, it was outbid every time, and industry reports from the festival suggested Netflix was hesitant to commit big money to acquisitions as it became more interested in funding its own original movies. In recent weeks, however, the company has pursued yet another approach. Forget acquiring or making its own films—Netflix has been buying up big-budget studio projects, all of them in the sci-fi/horror genre, and dropped its first prize, The Cloverfield Paradox, with maximum fanfare on Super Bowl Sunday.
This isn't to say Netflix has abandoned smaller films entirely—a family drama that it funded, Tamara Jenkins's Private Life, debuted to strong reviews at Sundance. But the company seems to be increasingly drawn to movies that can make an immediate impact and keep subscribers satisfied. Netflix's approach in both TV and film has always been to keep original content constantly churning, but while small-scale independent projects were the backbone of that strategy in 2017, glossy B-movies seem to be the name of the game so far in 2018.
Netflix's first move in this direction came in December when it acquired the international rights to Annihilation, an upcoming Paramount film budgeted at about $55 million. In exchange for reportedly covering most of that budget, Netflix gets to release the movie in every market except for the U.S., Canada, and China. For Paramount, it was a pressure-relieving move for a film that the studio's higher-ups didn't have enough faith in; this way, at least the studio's initial outlay would be mostly recouped if Annihilation underperforms at the domestic box office. Apparently satisfied with the parameters of that deal, Netflix began talking to Paramount about another of its troubled sci-fi projects, a movie tentatively titled God Particle.
Produced by J.J. Abrams, the film had been in development for years as a smaller-budget genre movie, before getting greenlit by Paramount at a more expansive $40 million cost. From then, it was consistently moved around the schedule, originally intended for a 2017 release, before finally being set for April 2018. Then, in January, Abrams and Paramount changed their minds and approached Netflix, which reportedly paid more than $50 million to take it off their hands. Retitled The Cloverfield Paradox, the film debuted with a splash after the Super Bowl to universally negative reviews.
But the reviews barely matter. For Paramount, another potential problem film was offloaded for a good price (although consistently selling off projects reflects poorly on the studio's trust in its filmmakers). For Netflix, it got to release an expensive-looking title as an exclusive without going through the slow production process. The word is now out to studios: If you have a movie you're not interested in releasing, give Netflix a call. Universal already answered, selling its alien-invasion film Extinction, starring Michael Peña and Lizzy Caplan, which it had planned for a January 2018 release.
It's a strategy that could prove very effective in distinguishing Netflix from other streaming services. Its TV offerings are consistent awards contenders, but the company has had more trouble attracting Oscar attention even for critically praised films like Mudbound (which got four nominations but missed out on Best Picture). That's because Netflix insists on releasing its films online the same day they hit theaters, a choice that has prompted many bigger chains to boycott the company.
Essentially, Netflix has "direct-to-video" built into its release strategy, so why not embrace the pulpier side of that approach? Films with broad genre appeal might hold more interest for viewers than very serious indie dramas. Some of Netflix's other 2017 acquisitions, like To the Bone and First They Killed My Father, focused on incredibly depressing real-life topics. Much of its upcoming 2018 slate, like the sci-fi mystery Mute and the action thriller How It Ends, is easier popcorn fare. Meanwhile, Netflix says the gritty fantasy film Bright was one of its most-watched original titles and ordered a sequel; and the company's association with the comedic star Adam Sandler shows no sign of waning.
As long as studios keep making movies and worrying about their box-office potential, seemingly, Netflix will be there ready to snap them up. Eventually, the company may tire of feasting on other studios' scraps, just as it tired of buying up festival hits. But for now, it seems like the easiest way to keep the content coming.