Looking Beyond Chief Wahoo
The Cleveland Indians will stop wearing the controversial logo on their uniforms next year. What's next for Native American–inspired imagery and names in the sports world?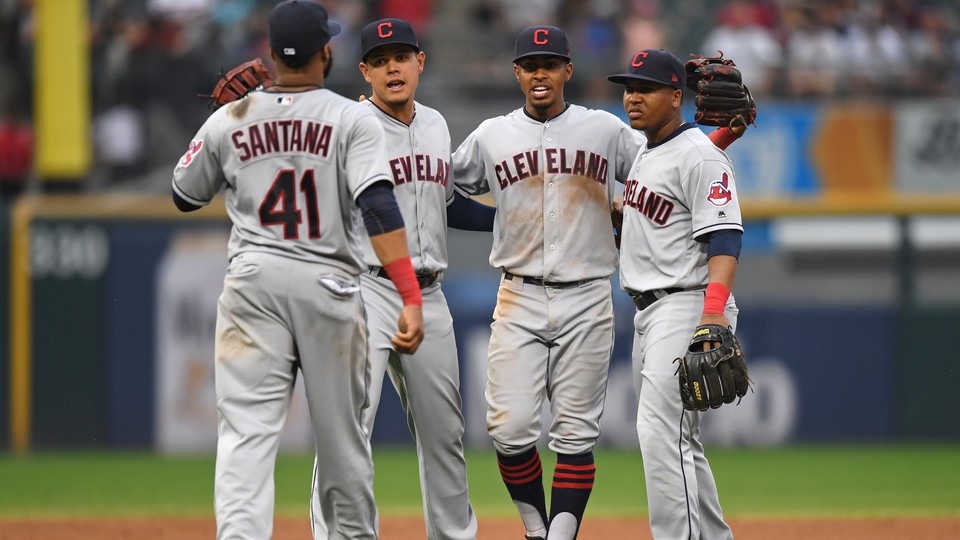 Last week, the Cleveland Indians announced that beginning in 2019 they would no longer use the red-faced Chief Wahoo logo on their hats and uniforms. They would continue to wear the image for one more season, and they would keep selling merchandise bearing the Native American cartoon (at least in part to maintain their copyright), but the most controversial insignia in sports was otherwise being relegated to history.
The downfall of Chief Wahoo, which had been demoted to alternate-logo status in 2014, was a victory for activists who had long decried the image as a racist caricature. It was also a sign that the growing pushback against Native names and symbols in high-school and college sports had finally found a foothold in the pros. "We're already pretty far into the dominos falling; it's just that the most visible dominos are the most stubborn," the Cherokee writer and organizer Rebecca Nagle told me. "It's in the arena of professional sports that people are really behind the times."
Professional sports in America have been dotted with Native American–inspired team names and logos since at least 1912, when Boston's National League baseball team first began going by the "Braves." The Cleveland Naps became the Indians three years later, and before long similar names had become a veritable trend. Today, Major League Baseball still has the Indians and Braves (now in Atlanta); the National Hockey League has the Chicago Blackhawks; and the NFL has the Kansas City Chiefs and, of course, the Washington Redskins. Several NCAA colleges, such as Florida State (Seminoles) and Central Michigan (Chippewas), have teams named for indigenous groups as well. Most, but not all, of these teams also use logos featuring some sort of Native imagery.
Pretty much wherever there is a Native nickname, logo, mascot, or tradition there is someone attempting to change it. The Washington football team draws the most attention, with protests and lawsuits earning headlines each season, but the outcry extends beyond the nation's capital. In Chicago, a fan named Anthony Roy who is part of the Ojibwe tribe has recruited several thousand people to support a Facebook page calling for a new Blackhawks logo. In Atlanta, the famous "Tomahawk Chop" chant has persistently come under fire. In Utah, the state's flagship university has resisted calls to give up its Utes nickname and drum-and-feather logo. And in Cleveland, many residents have long demonstrated against not only Chief Wahoo but also the team name. The Washington football team owner Dan Snyder has steadfastly insisted his franchise will never change its name, while executives and administrators with these other teams have mostly downplayed the subject.
Unlike with, say, the Minnesota Vikings, Native names and mascots affect a group of people who have been severely marginalized throughout American history and who are still around to weigh in on the subject. As of the 2010 Census, there were 5.2 million people in the U.S. who identified as American Indian and Alaska Native, and they possess a wide range of opinions on Native symbols in sports.
Some have no problem at all with them: A 2016 Washington Post poll that surveyed a random national sample of 504 Native American adults found that nine in 10 respondents were "not bothered" by the Washington football team's name. Those results, though, have come under much scrutiny, with critics claiming the Post's sample was not representative of the broader indigenous population. Others oppose Chief Wahoo and the Washington football franchise nickname but don't feel strongly about the rest. Still others think teams should be permitted to use tribe names with endorsement from the given tribes, which is already required for colleges wishing to compete at NCAA championship events.
And a loud and passionate segment of the Native population sees racism in the very act of naming teams after indigenous groups. To Suzan Harjo—an activist of Cheyenne and Muscogee ancestry who has been protesting Native team names and logos for decades—such references are inherently demeaning and objectifying. "And when you objectify, you dehumanize. And when you dehumanize, you target," Harjo said. In her view, the perception of Natives as "things" leads to discrimination and violence. "When you treat living human beings as if they are objects, that is wrong, and that is not honoring the living people," she said.
Harjo's position is echoed by the National Congress of American Indians, which condemns Indian mascots and symbols, citing research into the psychological and social consequences Washington's team name specifically has for Natives. The organization argues that teams don't honor indigenous people, as they claim, but rather perpetuate harmful stereotypes.
The Cleveland Indians' history is a useful example of the suspect origins of many Native nicknames. In 1897, the franchise, then known as the Spiders, signed a hotshot young outfielder named Louis Sockalexis who was a member of the Penobscot tribe. Impressed by the player and intrigued by the novelty of his background, newspapers began referring to the team as the Indians. Sockalexis's career fizzled after barely two seasons, but the sobriquet was apparently fresh in local sportswriters' minds in 1915, when they were asked by the franchise to come up with a new official name. So the Indians were born, with Chief Wahoo arriving more than 30 years later.
Defenders of the Indians' name and logo have long insisted they are intended to "honor" Sockalexis, but modern research has thoroughly debunked that notion. In fact, historians who have studied newspaper clippings from Sockalexis's playing career have come away jarred by the racism he faced, even in a public forum. Papers called the outfielder a "noble savage" and often made puns about the team scalping opponents. Sockalexis's biographer Ed Rice has said the Indians nickname often functioned as a "backhanded compliment." This prejudice was readily apparent on the day the Cleveland Plain Dealer announced the Indians' new official moniker, when the paper printed a cartoon full of Native caricatures, including fans chanting gibberish above the caption, "new rooting lingo for the fans." By the time Chief Wahoo was first drawn up in the 1940s, Sockalexis had been dead for more than three decades, making it unlikely that the team truly sought to celebrate him.
Paul Chaat Smith, a curator at the Smithsonian's National Museum of the American Indian who studies Natives' role in American culture, isn't ready to say whether the Indians should change their name. But he suggests the end of Chief Wahoo means teams and communities can further consider why Natives are largely invisible in American society but plastered all over the nation's sports leagues. "Basically there has been this low-hanging fruit. There's the Washington NFL team where the name is a dictionary-defined slur. And then you have this from-another-century caricature for the Cleveland Indians," said Smith. "For all these [other cases], what I'm interested in is, rather than being prescriptive and saying … here's exactly what should happen, I see this as a way to have a larger conversation about how completely bizarre and strange this phenomenon is."
In December, a group of Native activists, including Nagle, published and promoted fake versions of the Washington Post, ESPN, Sports Illustrated, and Bleacher Report websites on which they declared that the Washington football team had been rechristened the Redhawks. To accompany the faux news sources, they had created a new logo and even a Redhawks website, complete with a statement announcing that the new nickname would debut fall 2018. The hoax served a simple purpose. "Our main goal was to show people how easy, passable, and powerful the name change could be," Nagle said. "All we're asking for is four letters. It wouldn't be that hard."
That lesson seems particularly relevant in the wake of the Indians' decision to shelve Chief Wahoo. After decades of pushing back against activists and insisting their logo honored American Indians, Cleveland undid its offensive caricature in a single press release. ("We are cognizant and sensitive to both sides of the discussion," the statement read in part.) And though some fans have expressed unhappiness with the change, their resentment will likely fade with time. Hundreds of high schools and colleges across the country have already eliminated Native names and mascots, and successive generations of supporters seem to have adapted without issue. At Stanford University, for example, anger over the school's 1972 decision to change its nickname from the Indians to the Cardinal has mostly disappeared. Before long, Cleveland fans should similarly adjust to Chief Wahoo's absence.
Harjo, who is 72, told me she is optimistic that more Native names, mascots, and logos will follow Chief Wahoo into history's trash bin, if not in her lifetime then in her children's or grandchildren's. But in order to make that happen, she added, there's no room for complacency and no time to separate egregiously offensive symbols like Chief Wahoo from more innocuous-seeming ones, like the Indians' team name. "You have big racism over here, glaring racism over here," she said, "but even for the lesser racism, it's still racist."