LeBron James and the Frankness of the NBA
The outspoken athlete is at the vanguard of a league that has encouraged free expression more than most.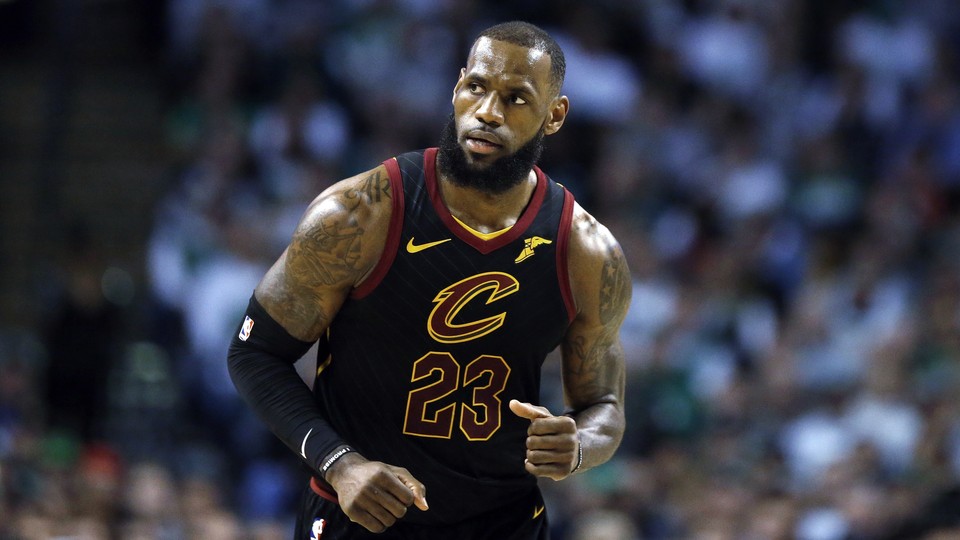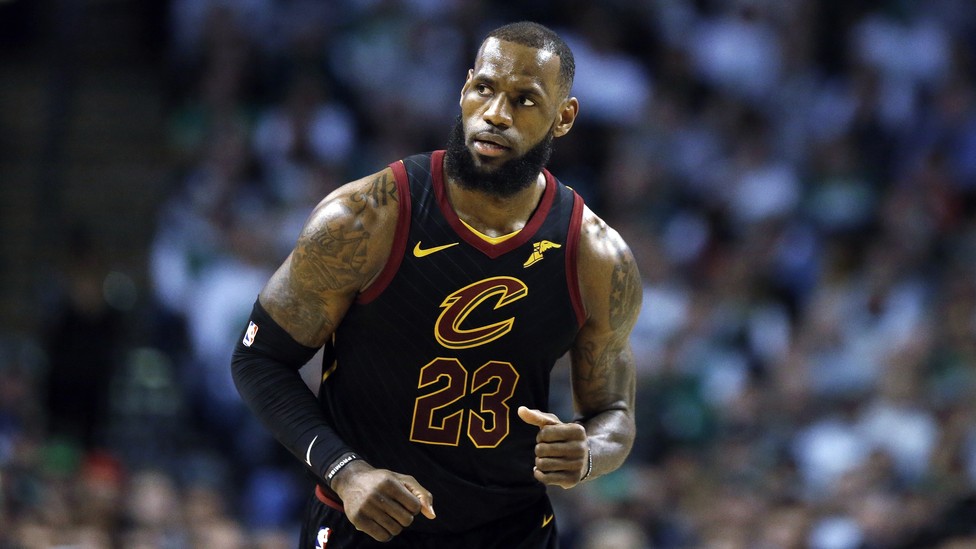 When Laura Ingraham of Fox News recommended that LeBron James and Kevin Durant "shut up and dribble" earlier this month, she conjured the standard, insidious argument that athletes should stick to sports. Her remark came in response to an interview with ESPN's Cari Champion, in which the two basketball stars discussed social inequality and the country's political divisions. In it, James said of Trump, "The No. 1 job in America, the appointed person is someone who doesn't understand the people, and really don't give a fuck about the people."
Perhaps unsurprisingly, Ingraham's remarks—in which she also called James's argument barely intelligible and ungrammatical—became the main topic of conversation at the NBA's All-Star weekend in Los Angeles."I will definitely not do that," James said, replying to the Fox News host's suggestion in front of a throng of media from all over the world. "I mean too much to society, I mean too much to the youth." Durant noted that Ingraham's comments were, in his eyes, "racist." (In response, Ingraham pointed to her longtime use of the "shut up and" critique and said there was "no racial intent in my remarks.")
Meanwhile, NBA commissioner Adam Silver said he was proud of the athletes' response to the comments; Michele Roberts, the executive director of the National Basketball Players Association, called Ingraham "intolerant and narrow-minded." The Spurs coach Gregg Popovich, asked on Sunday to weigh in before his team played in Cleveland, characterized Ingraham's words as "an unbelievable show of arrogance."
In sum, it was a remarkable display of league-wide solidarity, one that underscores the NBA's openness to its athletes' political and activist expressions, particularly since the 2016 election. It isn't only James, the best player in the league, who has been outspoken. The NBA, with its commissioner taking the lead, has created an environment in which athletes are encouraged to voice their own opinions.
It was Silver who moved swiftly in 2014 to issue a lifetime ban on the former Los Angeles Clippers owner Donald Sterling, after he made racist comments in a taped conversation which leaked to the public. Silver, along with deputy commissioner Mark Tatum and other employees, participated in New York's gay pride parade in 2016. That year, the league also announced it would move its 2017 All-Star Game from Charlotte to New Orleans, in a public rejection of North Carolina's House Bill 2, which limited anti-discrimination protections for lesbian, gay, bisexual, and transgender people in the state.
Under Silver's leadership, the NBA has shown a better track record for supporting their players' activism in a roiling political climate than most any other major North American sports league. In baseball, commissioner Rob Manfred only doled out a slap on the wrist last year—a delayed suspension without pay—to the Houston Astros first baseman Yuli Gurriel after he made an offensive racial gesture toward the Los Angeles Dodgers pitcher Yu Darvish. The NHL drew criticism recently for choosing to brand February as Hockey Is for Everyone Month, rather than taking the opportunity to celebrate Black History Month. As a contingent of football players followed Colin Kaepernick's example and knelt during the national anthem, in a season-long protest against the unjustified police killings of black Americans, Roger Goodell and the NFL spent that same period of time largely figuring out how to deter those efforts, putting corporate interests first.
The NBA hasn't always been a venue in which its athletes have felt the freedom to communicate on their own terms. In 1996, the Denver Nuggets guard Mahmoud Abdul-Rauf carried out a silent protest of the national anthem on his own and was punished with a one-game suspension. In 2005, the league implemented a strict dress code for players; the move, which forced athletes into more business-like and conservative attire, was interpreted by some observers as implicitly racist (it included rules that forbade players from wearing chains, pendants, or medallions over their clothes and was roundly seen as the league's attempt to erase fashion trends associated with hip-hop culture at the time).
Today, athletes' styles have evolved, allowing them to be more expressive than ever. Players like Oklahoma City's Russell Westbrook and Golden State's Nick Young arrive before games in carefully handpicked attire, creating a runway show that has become a gateway for many casual fans to gravitate toward the many personalities in the league. On social media, NBA players are among the most engaging and lively of the many athletes who occupy an online presence. Philadelphia's Joel Embiid will often troll opposing teams on Instagram and Twitter post-game, after wins and losses.
That freedom has, in turn, enabled athletes to speak out, whether for entertainment or activist purposes. And it hasn't just been the players. Some of the league's loudest political voices come from head coaches like Steve Kerr and Gregg Popovich, both of whom have been vocal about Trump and the country's racial divide. Kerr characterized the administration's handling of gun violence as "disgusting" after the mass shooting at Marjory Stoneman Douglas High School. Popovich called Trump a "soulless coward" last year after the president claimed, falsely, that Barack Obama and other former presidents did not call the families of fallen U.S. soldiers.
James, for his part, also noted during the All-Star weekend that he has been inspired by athletes who paved the way with their own political stances decades ago. One of them was the former Boston Celtics center Bill Russell, who advocated for civil-rights issues during and after his career and who was in attendance in Los Angeles. Russell tweeted in support of James and Durant, saying he was proud of them for "speaking truth against racism."
The NBA's athletes have, of course, garnered headlines for political outspokenness prior to the Trump era. In 2012, James and his Miami Heat teammates organized a group photo where they all donned hooded sweatshirts, as a tribute to Trayvon Martin. In 2014, James and many other players around the league wore "I Can't Breathe" T-shirts during warm-ups, voicing collective concern for Eric Garner's death. At the ESPY Awards in 2016, James, along with Carmelo Anthony, Chris Paul, and Dwyane Wade, took the stage together and called on athletes to do better when it came to social activism.
The league's athletes have seen, too, the repercussions of the issues they weigh in on, from gun violence to racial profiling, in their own lives. Miami's Wayne Ellington lost his father in 2014, when he was gunned down in Philadelphia. In 2015, the Atlanta Hawks forward Thabo Sefolosha suffered a broken fibula and ligament damage when he was arrested outside of a New York nightclub. He sued five police officers for false arrest, excessive force, malicious prosecution, and false imprisonment and received a $4 million settlement from the city last year. Wade's cousin Nykea Aldridge was killed in 2016 in Chicago after she was caught in the crossfire of a shooting.
When the league's players and coaches choose to speak—as James did last September with his "U bum" tweet to Trump, in defense of Steph Curry—the visibility of their statements is undeniable: They create headlines and spark a chorus of responses from teammates and fans. But players are also doing significant work behind the scenes. For example, the LeBron James Family Foundation has $41 million earmarked for full-ride scholarships for public-school students in Akron, Ohio. Durant committed $10 million last week to partner with public schools in Prince George's County, Maryland, on a 10-year program to help send disadvantaged kids to college.
Ultimately, Ingraham's comments served to highlight the united front of the NBA—from its commissioner, to its players and coaches. They also created an opportunity for a larger audience to better grasp what athletes like James, Durant, and many others in the league are doing, verbally and financially, to make an impact in their communities.
"When I was growing up, there were like three jobs that you looked to for inspiration, or you felt like these were the people that could give me life," James said in the original interview that sparked Ingraham's criticism. "It was the president of the United States, it was whoever was the best in sports, and then it was like the greatest musician at the time. You never thought you could be them, but you could grab inspiration from them." Today, it seems James and the NBA's various outspoken members are embracing the responsibility of being those voices themselves.