Justin Timberlake's Anti-Spectacular Super Bowl
The pop star's underachievement came off all the weaker with a tribute to the perfectionist Prince.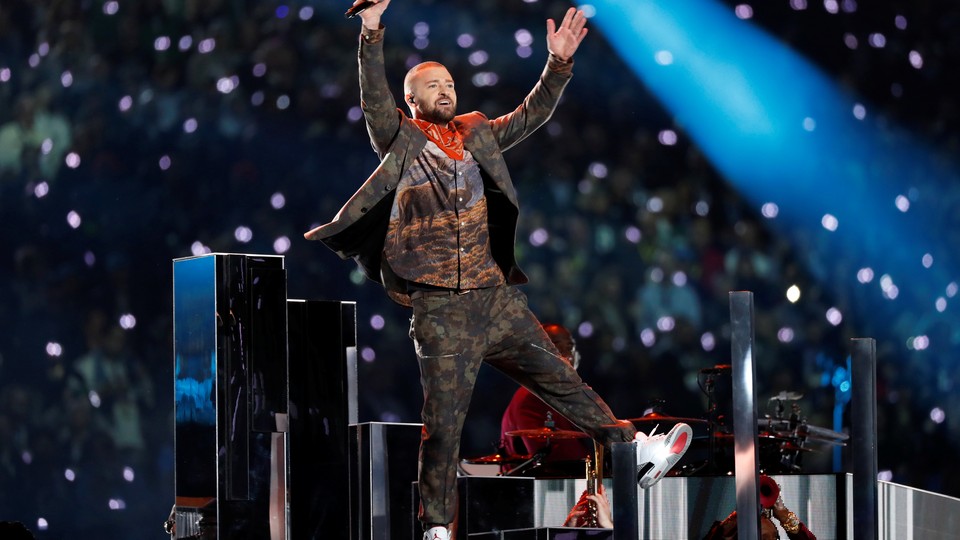 Justin Timberlake is among the very few performers to ever do multiple Super Bowls, and in a way, now so is Prince. But for a sense of how Prince, if alive today, would have approached the task of following up his 2007 performance—a strong pick for the best halftime in history—you can read this 2016 account from his production manager Patrick Whalen. It features the terrifying anecdote of Whalen trying to tell his boss that some fabulous idea was undoable, and then after a less-than-warm reply from The Purple One, finding a way to do it anyway. "He always demanded the best," Whalen remembered. "He never settled."

Can anyone imagine "he never settled" being said about Timberlake after his set on Sunday? It was a monument to underachievement. Quite literally the most-viewed concert of the year, the Super Bowl show can easily mint iconic moments—whether joyfully tacky or politically potent—as seen in Katy Perry's dazed shark, Beyoncé's "X" formation, Prince's phallic silhouette, and, yes, Janet Jackson's starburst boob. Even the less controversial parts of the better halftimes used blockbuster set design and choreography to awaken America from its nachos coma. But Timberlake, unconscionably, squandered the platform. The highlights, as they were, included that one song from Trolls, the angering of Prince nation, and a selfie.
Starting under the stadium stands on a small stage with a small crowd, Timberlake telegraphed that his show would be a more intimate, looser affair than usual. Fair enough. But the effect was that, right from the beginning, the focus was not on him but on all the audience members holding their phones up (those phones would, bafflingly, turn out to introduce the show's one big motif). You couldn't even hum along: The audio presented a garbled version of "Filthy," the already garbled single from his extremely garbled new album, Man of the Woods. It was the night's last taste of that album—a good call, but also a tellingly safe one (by all means, sell us on "Flannel"!).
From there, Timberlake sauntered from spot to spot in the stadium like someone blowing through video-game levels with the "easy" setting turned on. He hit his marks, it seemed, but often faded in with his entourage of paid admirers. What's even worth noting? The way he showily ended "Rock Your Body" right before the "have you naked" line associated with the 2004 Super Bowl scandal that he declined to riff on, atone for, or at the very least stylishly disregard? The fact that he botched two of his smoothest and best songs, "My Love" and "Cry Me a River," by turning them into choppy rock rehearsals? The resemblance between the visualizations on his bandstands and '90s Windows screensavers?
Then there was his outfit: a bandana atop a camo suit and a shirt imprinted with a mountain scene, all a visually horrifying play on his recently acquired persona as a glamper extraordinaire. Man of the Woods went mostly unheard at the Super Bowl, but the album's dad-who-dances concept provided the easiest explanation for Timberlake's low-key m.o. Perhaps, he would argue, there's old-fashioned virtue in using a more modest set with no living guest stars. Perhaps, in the abstract, his is the "authentic" way of being a radio singer who pops his hips and yowls about how the other boys don't know how to act. But as TV for the masses? At the Super Bowl? It's like he was asking viewers to just play with their phones.
Which he, literally, did ask of the audience a few times. In the night's big wannabe viral moment, for example, he ran into the stands and some kid snapped a selfie with him then fiddled with his device. The meme-makers then went to work: Was that kid googling "Who is Justin Timberlake?" on camera? Meanwhile, Timberlake himself receded. Maybe the mirrors his dancers had held aloft for, yes, "Mirrors," were meant to send a message: Don't look at the communal cultural experience; look at yourself. As if anyone in 2018 needs a reminder to check on their skincare regimen.
Stars should command attention—a fact Prince, Timberlake's supposed idol, absolutely understood. Before the show, a hotly discussed rumor said His Purpleness would appear in hologram despite evidence that in life, Prince disliked Timberlake and believed digital resurrection to be "demonic." In the end, we got not a hologram but a blurry projection on a sheet as Timberlake did "I Would Die 4 U" and downtown Minneapolis appeared to turn purple.
You can argue, as many Prince fans are now doing, that the sheet routine was just as sacrilegious—"demonic," even—as a hologram would be. You can argue, as many of them are, that using Prince in death continues Timberlake's career-long theft of black swagger, and even fits with the morally ickiness seen in the Dodge Super Bowl ad that repurposed the words of Martin Luther King Jr. Or: You could argue that some brief tribute was necessary and right, as this Super Bowl was in Prince's hometown and Timberlake's music owes Prince a debt. In even the most charitable scenario, though, Prince's role as the centerpiece of this particular set landed as a faux pas. If you're going to use the guy as filler, at least give the appearance of trying as hard as he did.
After all, the biggest misconception around great pop prima donnas like Prince—and Michael Jackson, and Janet Jackson, and Madonna, and Beyoncé, and down the list of song-and-dance masters that Timberlake presumes to be in the company of—is that they are only narcissists. Sure, crafting a spectacle requires ego. But excellence really isn't selfishness. It's a gift to the audience because it makes their attention feel earned—rather than, as it felt on Sunday, wasted.