Justin Timberlake's Manly Prance Through the Woods
Here's hoping the singer's Super Bowl show blends rootsiness and rhythm more effectively than his new album does.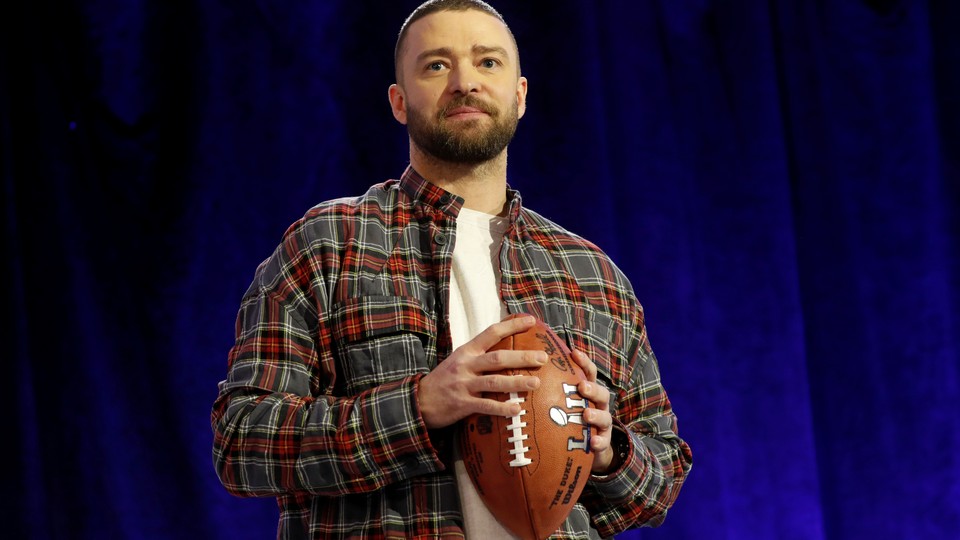 At some point in his Super Bowl halftime performance, Justin Timberlake really oughta bring out Janet Jackson. And not just as a mea culpa for her bearing the backlash to their collaborative nipple reveal in 2004, and not just as a way to troll the Parents Television Council. The truth is Timberlake may need fortification. He's lost the killer ear that makes an arena-commanding pop star.
Then again, he's got assets in the bank: that undimmable grin, those bendy joints, and the hunger among some segments of the public, still, for a great white savior of the song-and-danceman archetype. Back in the time of his post-'NSync breakout Justified in 2002 and FutureSex/LoveSounds in 2006, the Michael Jackson comparisons seemed more than about vocal style. Maybe one star could have it all—entertainment value and arty cred. He wrote smashes that flipped tempos midstream and broke the six-minute mark. He armored his pliant croon in Timbaland's and Pharrell's ornate fashions. Then he took a seven-year break.
Amid acting, comedy, and a tabloid-dream family life, his music got soggier. For 2013's The 20/20 Experience, he minted one perky comeback single ("Suit & Tie") and then meandered through a proggy lounge-lizard routine across two disks. In 2016, he boosted his checking account if not his coolness quotient by hitting No. 1 with a sugary Max Martin single for the Trolls soundtrack. That mercenary move may have ensured him the Super Bowl. But the album he's put out ahead of the big game, Man of the Woods, tries to recapture the FutureSex blend of experiments and crowd-wowing. Something's off, though.
The internet is so crazed nowadays that by the time the album actually arrived it had already triggered waves of counterwaves of analysis. Some critics riffed on the Man of the Woods promos that looked like Marlboro commercials, and others cackled as the robo-funk first single, "Filthy," seemed to render silly those who'd rushed to claim Timberlake was rebooting as lumbersexual. In fact, it does now appear that Man of the Woods is his "country" album. It shouts out the hospitable South and Montana's mountains, his homeland and vacation pad, respectively. It arranges hoedowns with Chris Stapleton and Toby Keith, both Nashville titans, one trendy and one very much not.
But Timberlake is, as the album's cover telegraphs, on a duality kick. So he very effortfully tries to scramble what country means, empowering his retro-futurist R&B collaborators—old pals Timbaland, Danja, and the Neptunes mostly—to incessantly fidget. Yes, mandolin and harmonica appear. But more noticeable are the chopped up vocal samples, helium-light funk guitars, and slabby synths. Yes, there's crooning about whiskey. But there's also a "Billie Jean" imitation. Imagine standing between the dance tent and the folkie tent at a music festival. Imagine having to describe this same concept after having already reviewed Lady Gaga's Joanne and Miley Cyrus's Younger Now.
Innovating is tough, and so Timberlake's ambitions are, fairly or not, easy to mock. You can imagine him working from an iPhone note of ungodly 3 a.m. ideas: "'(Sittin' on) The Dock of the Bay' + 'Wait (The Whisper Song)'" (resulting in "Man of the Woods") or "Boyz II Men covering Fleet Foxes doing 'I Saw Three Ships (Come Sailing In)'" (it's real, and it's called "Flannel"). He tends toward hammy-bad lyrics packed with sexual innuendos about faucets and food. But for the public to now reject Timberlake's dorky sense of humor and flair for genre-crossing would be inconsistent—is anything here much more embarrassing, on paper, than "Señorita" or "Sexyback"?
The problem's just mathematical. He hasn't stuck the choruses. Hence a song like "Sauce," strutting with grimy guitars and overt Prince references, which feels like a headache rather than a rush. Hence the need for a remixer to stitch together the finer grooves of "Midnight Summer Jam," which repeatedly interrupts its own party for Timberlake to do a Lonely Island chorus about the South being "the shit." Hence the lead single "Filthy" still, weeks after its middling charts debut, feeling like a prototype of a hit rather than the actual thing.
The schmaltzy back half of the album is the stronger half, leaning on not Timberlake's trickster pep but rather his honeyed voice. Remember, the truest highlights of his career glide: "Mirrors," "My Love," "Cry Me a River." The icy throb of "Montana" pulls a neat trick of transposing the feeling of a nightclub high onto the act of making out at a ranch. Timberlake's courtly manner and swooping melodies for "Livin' Off the Land" somehow magnify and therefore excuse the preposterousness of lyrics positioning him as a prospector fending for his family. And "The Hard Stuff," co-written by Stapleton, waxes sentimental about the unsentimental parts of life in nicely small-scale fashion.
Stapleton, the country ambassador of the moment—see recent appearances at SNL and the Grammys—is probably the best bet for who might join Timberlake and his band on Sunday. Timberlake likely hoped the Nashville songwriter's gruff gravitas would ground this album that, in its very title, reaches for authenticity through a traditional sort of masculinity even as it prances and falsetto-wails (at one point, Timberlake tells his young son it's okay to cry). Indeed, Stapleton can take credit for the roiling, bighearted Man of the Woods standout, "Say Something," which would seem perfect for the closing spot in Minneapolis. The video alone proves that the tune kills when gang-sung in a huge space.
Last year, the question going into Lady Gaga's hyperactive halftime performance was whether there'd be a Donald Trump reference, but this time—despite some muddled political imagery in Timberlake's "Supplies" video and a questionable Time's Up Instagram post—there's not much expectation of commentary. In 2004, after all, Timberlake's hand helped eclipse the social-justice sermon Janet Jackson tried to put on with "Rhythm Nation." Now the refrain of "Say Something" has him imitating the Wild West's strong and silent types: "Sometimes, the greatest way to say something is to say nothing at all."
Still, it'd be churlish to bet against as accomplished an entertainer as Timberlake somehow starting conversation with his Super Bowl return. By drawing from across his catalogue (don't discount an 'NSync interlude, but don't count on one either), the show's blending of rootsiness and rhythm should be more arresting than Man of the Woods itself. The promos for Timberlake's upcoming arena tour claim that his big idea is to "bring the outside in," so don't be shocked to see actual timber and a lake in U.S. Bank Stadium. But after an album this stiff, Timberlake may need help so as to not be compared to the trees.