How the Olympics Got Disneyfied
The 1960 Squaw Valley Winter Games were star-studded and futuristic—and broadcast to U.S. audiences for the first time.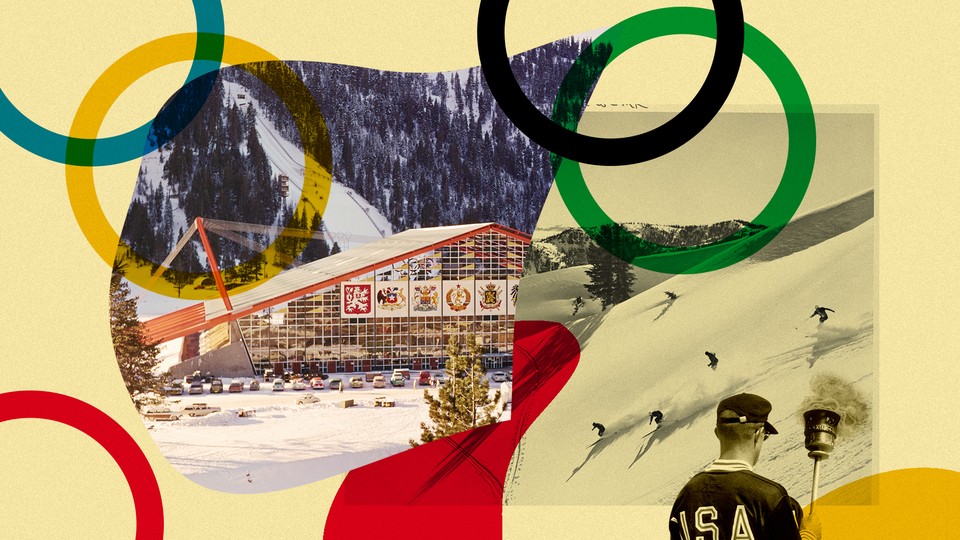 On Friday in Pyeongchang, South Korea, the Winter Olympics will officially kick off in a frenzy of K-pop and designer costumes, with a glitzy opening ceremony held in a roofless and potentially frigid $100 million stadium that will be used precisely four times before it is knocked down. It is the latest iteration of the kind of financial and cultural excess we've come to expect from a contemporary sporting spectacle populated largely with professional athletes instead of amateurs; it is also, perhaps not surprisingly, a notion born in America, at a remote ski resort in the Sierra Nevada mountains that managed to host the first truly ostentatious Olympics. Those Winter Games were held in 1960, in Squaw Valley, California, and, not coincidentally, their template of opulence sprang from a naked marketing ploy.
The story of Squaw Valley—and, one might say, the story of every over-the-top Olympic moment since then—begins with a silver-tongued entrepreneur named Alexander Cushing. In 1954, a few short years after he had abandoned his law career to take over an oft-impassable ski slope in Squaw Valley that was routinely bombarded by the elements, Cushing came across a brief newspaper article about nearby Reno's bid to secure the 1960 Winter Olympics. Cushing was wealthy and well-connected, and he immediately began calling in favors: to the sports editor of the San Francisco Examiner, which published a prominent story claiming that Cushing's resort would also make a concerted push for the Games; and then to a state senator, Harold "Bizz" Johnson, who used the Examiner article to convince the governor of California, Goodwin Knight, to help secure $1 million in taxpayer money for Squaw Valley's bid.
Within weeks, Cushing somehow found himself presenting the case for Squaw Valley to the United States Olympic Committee. The whole thing felt like such a ridiculous gambit that not even Cushing himself—who later admitted to a Time interviewer that he hatched the whole idea to publicize his struggling operation and had "no more interest in getting the Games than the man in the moon"—believed it was actually possible. Squaw Valley's amenities were spartan, and Cushing's property was subject to avalanches and floods; at one point, the lodge burnt to the ground. And yet Cushing was also a first-rate promoter, and he framed his pitch to the committee around Squaw Valley's roughly 450 inches of yearly snowfall.
When the USOC chose Squaw Valley over Reno (which it rejected for a "lack of morals") as its candidate for the 1960 Games, the president of the International Olympic Committee, an American named Avery Brundage, was incredulous. Brundage declared that the USOC, in promoting these "picnic grounds" for the Olympics, "obviously has taken leave of their senses." And yet the country rallied around Squaw Valley; President Eisenhower even signed a Congressional Resolution of Support. Cushing promised the IOC in his official proposal that his Olympics would be modest and economical and would offer athletes a meeting place replete with "privacy and dignity." Squaw Valley would, he said, serve as a gateway for the world to familiarize themselves with western North America, which at that point had never hosted a Winter Olympics. Cushing also appealed, in part, to lingering good will among European IOC delegates toward the American intervention in World War II. And his strategy worked: Thanks to Cushing's charm and salesmanship, Squaw Valley beat out Innsbruck, Austria, by two votes.
What transpired, five years later, was both far bigger than Cushing could have envisioned, and far more influential. Buoyed by emerging technology, televised live to Americans for the first time ever, and overseen by Walt Disney himself, the Squaw Valley Games were glitzy and star-studded and futuristic. They were also the first Winter Olympics to embrace the concept of an Olympic Village, where athletes bunked up to four to a room, challenged each other to games of ping-pong, danced in jitterbug contests, and watched free screenings of films. Disney paraded a series of Hollywood luminaries to northern California to entertain the athletes and participate in carefully choreographed opening and closing ceremonies; Bing Crosby and Roy Rogers made appearances, Danny Kaye performed, and Marlene Dietrich posed for a photo with the German hockey team.
"They had all of the folks coming up from Hollywood," Penny Pitou, an American skier who won a silver medal in the women's downhill in 1960, told me. "All I remember is that there was something going on every night."
Pitou also competed in the 1956 Olympics in Italy; video shows that the opening ceremony at those Games was a simple and unadorned parade of athletes. Pitou stayed in a hotel that year with her teammates, and because she couldn't afford to make a long-distance call to her parents in New Hampshire, they didn't find out about her results until they read the newspaper a day later. But in 1960 the athletes were centralized, and the Games were on network television, and everything got bigger in order to accommodate and captivate a worldwide audience. Those 11 days in Squaw Valley proved an ambitious melding of money and star power that forever altered the paradigm, elevating a sporting event into a spectacle—and helping to gradually push the Olympics, over the course of the following decades, from an amateur affair into a professional pursuit. Hatched from Cushing's entrepreneurial gambit, those Games wound up setting the standard, for better and for worse, for every Olympics that came after.
* * *
Cushing's love affair with Squaw Valley had begun almost entirely by chance. In an interview with the writer Seamus O'Coughlin for his book Squaw Valley Gold: American Hockey's Olympic Odyssey, Cushing detailed a post-war ski trip north of Montreal in 1946 with his wife and another couple. That excursion turned up nothing but slush on the mountain, so they boarded a train out West, having heard tales of California's "Sugar Bowl." Cushing broke his ankle on the first day, but was soon led by an airline pilot named Wayne Poulsen to the 8,900-foot Squaw Peak. "Here's a life you'll never do, Cushing," he said to himself. But recognizing he needed a change from the tedium of his law career, Cushing did decide to do that life—and eventually, in partnership with Poulsen (whom he later helped oust from the board of directors), he invested in the property.
Conventional wisdom at the time dictated you should never build a ski run in a place like Squaw Valley, which was located on the eastern side of a mountain and more prone to avalanches due to the wind direction, but Cushing tried it anyway. When it opened on Thanksgiving Day in 1949, Squaw Valley had one double chairlift, two rope tows, and a partially completed lodge with a single working toilet and no running water. His daughter broke her leg that first night, a guest ran over one of the family dogs, and the lodge flooded four days after its opening, O'Coughlin writes. Avalanches knocked down the chair-lift towers three times in the first five years, and the bridge to the lodge washed out twice. (When a guest tried to skip out on his bill, Cushing had him tied to a tree until the sheriff arrived.) And yet by offering prime skiing conditions and lively jazz sets at the lodge, Cushing managed to attract visitors to a spot so obscure that one IOC delegate, during Cushing's presentation, suggested it might not exist at all.
"Everything about the place is ideal for an Olympics," wrote the Los Angeles sportswriter Melvin Durslag, upon touring the property, "except for the trivial fact there isn't a darned thing there."
Cushing initially estimated that he could pull the whole thing off on a $1 million budget. As with much of what he told the IOC, it was utter hyperbole: The final price tag was around $20 million, according to The Wall Street Journal. Cushing gave way to more powerful bureaucrats once the bid was secured, and then the president of the organizing committee, Prentis Hale, landed perhaps the most important asset of all: He convinced Walt Disney to chair the Pageantry Committee.
In the wake of Disneyland's opening and the debut of The Mickey Mouse Club in 1955, Disney had become an entrepreneurial force. His participation—combined with the fact that CBS had spent $50,000 for the rights to televise the events live in the U.S. for the first time—helped transform the Olympics from a "pure" sporting event, at least according to the Games' high-minded amateur ideal, into something far more expansive, and something more driven by both bureaucratic and corporate interests. (David Antonucci, a Lake Tahoe historian and the author of Snowball's Chance, a book about the 1960 Games, points out that even the visitor's guide for Squaw Valley was packed with advertising, and notes that this may have been yet another symbol that the Olympics were slowly outgrowing their amateur ethic.) The opening and closing ceremonies blossomed into unprecedented tableaus, wrote the Disney historian Michael Crawford: Roughly 3,700 high-school musicians performed at the opening ceremony, 2,000 doves and 30,000 balloons were released, fireworks exploded in the skies, then–Vice President Richard Nixon (who was delayed for an hour by a massive snowstorm) delivered a speech, and the actor Karl Malden narrated a prayer. A symphonic carillon played music throughout the venue three times a day. Statues sculpted out of snow were placed throughout the venue, and two larger statues were created to flank a "Tower of Nations." While past Olympics had embraced pageantry and symbolism, this was the first time they'd truly gone Hollywood; the IOC's chancellor, Otto Mayer, reportedly openly worried whether the Games might turn into another Disneyland.
"A lot of the Europeans became skeptical when they heard about Disney's plans," Antonucci told me. "They would say, 'What's this got to do with athletic competition?' They had in their mind that the Olympics were a low-key thing."
Inside the Olympic Village—constructed largely out of necessity because Squaw Valley didn't have any nearby hotels for athletes to stay in—competitors like Pitou (who was dating the Austrian skier Egon Zimmermann) were able to relax free from fans and media, and mingle with Hollywood stars, not to mention Nixon, who wandered into the Village's cafeteria after Pitou placed second in the women's downhill, becoming the first American to medal in the  event. "I've come here to tell you how sorry I am that you lost today," Pitou recalls Nixon saying.
The Village itself was a modest barracks, but the entirety of the Squaw Valley operation extended far beyond the athletes themselves. Driven by television and Disney's powerful presence, it became a technological wonderland, an often-gratuitous display of post-war American ingenuity that seems to have foreshadowed the opening of Disney's Epcot Center more than two decades later. A $500,000 data processing center, Antonucci writes, housed an IBM mainframe computer operated by 26 employees that provided instantly updated results; for the first time, the outdoor speed-skating events were contested on artificial ice, and a futuristic machine known as a Zamboni was used to smooth that ice. The Navy constructed a 9,000-vehicle temporary parking lot out of a frozen composite of sawdust and ice. A powered tiller, invented on the spot, was used to groom the cross-country skiing course; an electronic timing system backed up the traditional hand-timers. Because the Games were televised, instant replay was used for the first time by officials to determine whether a slalom skier had cleared a gate. And because the Games were televised, the Americans who were successful graduated into a new level of fame.
But that network spotlight also meant the Olympics became more fraught, and more conflicted, largely because they became a far more valuable commodity. Because this was the first Winter Olympics where the majority of the infrastructure was constructed specifically for the Olympics, it led to cost overruns. And some journalists began to focus on those ostentatious Disney-esque touches in their coverage of Squaw Valley—the release of those 2,000 doves at the opening ceremony, for instance—as an example of how the Olympics had sold their soul. A headline in The Nation referred to the Games as the "Squaw Valley Snow Job." The Wall Street Journal reported soon after the Games that the state of California was losing $200,000 merely in maintaining Squaw Valley as a park.
"The cost of the whole show came to less than $2,000,000 a day for the whole 11 days," wrote The New York Times' Gladwin Hill in a caustic post-Games epistolary targeted at the organizers of future Olympics. "That's not bad for a chance to show the world that your athletes are second only to the Russians."
Cushing's successful boondoggle led other countries and governments to realize that they could accomplish the same thing. The Olympics could now showcase an otherwise overlooked area of the country to a national (and international) television audience; after Squaw Valley, ski resorts in the West began to proliferate, and Tahoe, long a favored summer locale, generated a whole winter economy around the resulting publicity (including at Squaw Valley, which grew to become one of the largest ski resorts in the U.S. by the time of Cushing's death in 2006). Russia spent $50 billion on the Sochi Olympics in 2014 and essentially created a destination spot in the middle of nowhere. Cost overruns and ostentatious spending are now the norm: The opening ceremony alone at the 2010 Winter Olympics in Vancouver cost $38 million, and NBC paid nearly a billion dollars for the rights to broadcast the Games in South Korea. While Pyeongchang's price tag is relatively modest compared to Sochi, the cost overruns still totaled nearly $5 billion, according to the Associated Press. And local officials still aren't entirely sure what they're going to do with some of the facilities built expressly for the Games.
Squaw Valley was not the first time Olympic organizers had to reckon with the attractions of spectacle, but the idealistic proclamations of men like Otto Mayer—"This hoopla has little to do with the Olympic spirit," he sniffed, according to Antonucci's book—seemed increasingly quaint in its aftermath. And those proclamations are nonexistent in the modern era (particularly since the U.S.'s Dream Team, made up of NBA players, essentially obliterated the notion of amateurism in 1992). According to a recent study by researchers at the University of Oxford, the average cost overrun for the Olympics since 1960 is 156 percent. At least some of this is due to the opulent standard that Squaw Valley set. "Disney brought this element of elaborate pageantry to the Olympics that had previously not existed," Antonucci told me, and more than 50 years after Squaw Valley, that's what the viewing audience has come to expect from the Games: The competition is merely one element of the show.